The Spanking Blog
This is an adult site dedicated to the exploration of spanking between consenting adults. The main focus is on disciplinary spankings portrayed in various spanking videos and pictures, with sample pictures and reviews of the spanking content. The most recent blog posts appear below, and the free spanking picture galleries on this site can be found on the menu on the left. All spanking content on this site is free, and any link leading you outside of this site is clearly labeled as such. You must be 18 years or older to view this site.
[ Tuesday, May 31, 2005 ]
More wood and more updates at Firmhand Spanking
firmhand_wooden_implements_updates1.jpg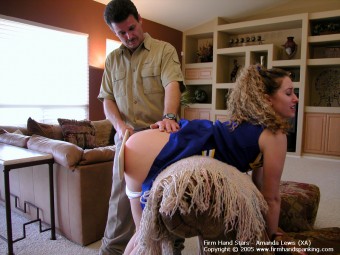 As you know, my main attraction to Firm Hand Spanking is the fact that they often feature videos in which large wooden school paddles are used in a realistic way. Well, it was a good month for the paddle and the hairbrush. In addition, they have announced that they will now update three days a week. This is good news indeed and they have added a bunch of new models. Click the "more" link to see some of the recent updates that feature wooden implements from Firm Hand Spanking.
Not too Happy
I stated before that the one common thread that most of the sorority paddling pictures had was that everyone seemed to be smiling. While there was not an actual pic that showed the paddling in progress, the caption with this picture was "_____ & ______ are not too happy after their paddling"
not_happy_about_their_paddlings.jpg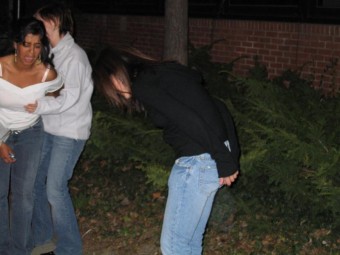 Undies Out Paddling for sorority girls
In my never ending sorority paddling pictures quest, I have found a few from different sources that are quite different. From the descriptions I have read with the various pictures, there seems to be a few different activities that the sororities put the pledges though that involve them wearing men's underwear on the outside of their clothing. On a few of these, the activity also seems to involve paddling. One of these sets of pictures was labeled "inititation", the others were labeled "scavenger hunt".
These three were labeled "initiation". All of the girls are blindfolded and wearing the men's underwear on the outside. They are lined up tp be paddled by guys from a fraternity as the active sisters look on: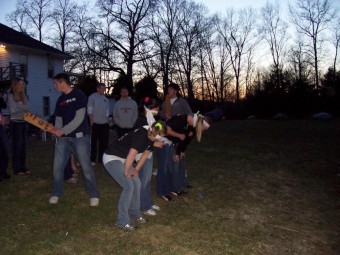 The rest of the pictures from this post were moved to their own page to spped up load time. Click the "More" link to view the rest of the sorority paddling pictures from this post.
[ Friday, May 27, 2005 ]
Women-Spanking-Men.com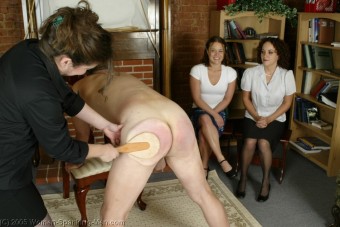 I have not posted too much about my site Women-Spanking-Men on this blog. Now that it has been redone, as well as the fact that we are once again filming content for the site on a regular basis, I thought I would let you all know about it.
As with most of my sites, I built it due to my personal frustration with sites of its kind on the web. While I know that there are many people out there that really like the Fem Dom aspects of this type of content, with mistresses in latex, lots of BDSM, slaves licking boots etc., this type of content really does very little for me. Just as with M/f and F/f spanking content, I like to see the scenes focus around strict discipline and punishment based spankings. Having a man crawl around on his knees, licking his mistresses feet, while taking the occasional smack from a riding crop just wasn't cutting it for me.
With Women-Spanking-Men I created a site that focuses on real discipline. I must warn you in advance that if you find my other sites to run a little too severe, then this is not the site for you. Every man that walks through our studio door knows that he is going to receive the punishment of his life. They do not have any say as to how they are punished. In addition, we frequently invite some of our female models to participate and it is clear that they take great pleasure in administering punishments of this severity.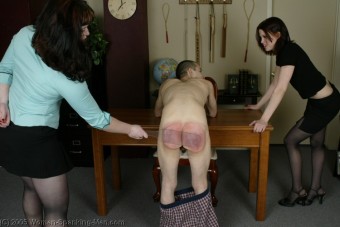 In many cases the men come to the studio looking to be punished for real life offenses. They are punished hard enough that it is generally many months before they even think about coming back. We now have a large variety of women who spank the men. Brandi from Spankingteenbrandi.com has become quite the Domme and seems to enjoy spanking the men more than most. Jessica also appears on the site, and while she cannot give it quite as hard as Brandi, she is very enthusiastic. The Bispanking.com girls have participated in most of the recent punishments and they are asking to be able to do it much more. This has greatly helped us in getting guys to come in a be punished. Many fantasies have been fulfilled as the men enter the room and are forced to remove all of their clothes and be punished by 5-6 gorgeous young ladies. Of course, Lady D is there to make sure they really get what they have coming, and our new spanker Elizabeth brings a great deal of experience to the whole thing. If you haven't checked it our before, or in a long time, you should have a peek. All of the free content is new and the new site design has worked out really well.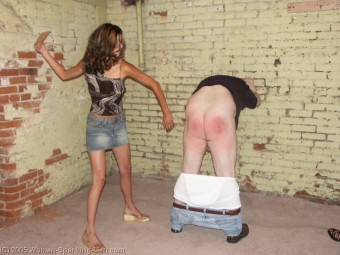 You can check out the free area at Women-Spanking-Men
[ Tuesday, May 24, 2005 ]
Future Updates for my sites
I was previewing some of the content that will be used for future updates on both Realspankings.com and RealspankingsInstitute.com today, so I thought I would give my dedicated readers some sneak peeks before they go live.
We did a fun scene recently for Realspankings.com in which both of the girls being spanked and the spanker were all fully nude. Kailee took naughty girls Michelle and newcomer Charlie over her knee for a long handspanking that ended with some extended cornertime.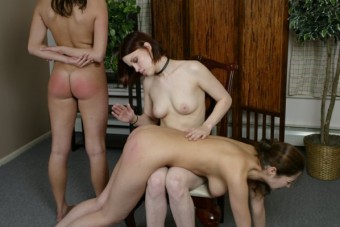 Click the "more" link for the rest of the free previews. This page was loading a bit slow, so the rest of the pictures have been moved to their own page. As always, there are no blind links on my blog. All links are internal unless otherwise noted.
What do you want to see as the next gallery in my free spanking galleries?
It has been a little while since I added a new spanking picture gallery to myfree spanking picture galleries and I wanted some input as to what you all would like to see. There are many people that have taken the time to register as a member to my blog, so I would love for you all to decide the next gallery. I have tried to come up with non-traditional galleries, exploring different areas of spanking that you do not always see as galleries. Currently, the galleries that I already have in place are: Anticipation, Assume the position, Brae Breasted Spanking, Cornertime, Expressions, Marked Bottoms, Naked Punishments, Sore Bottoms, Witnessed, and Wooden Paddle Punishments. What should be the next spanking picture gallery be? Let me know in the comments.
Spanking TGP- free galleries
Last Thursday, during some routine server updates, some of the scripts that generate my spanking thumbnail galleries became corrupt. While it took some time to figure out the problem, all is well. My apologies for leaving the same galleries up for five days. You can visit the the Spanking TGP here, it will now update with new galleries every morning at 6:00 AM.
[ Monday, May 23, 2005 ]
Are you tired of Sorority paddlings pictures yet?
more_sorority_paddling_pictures4.jpg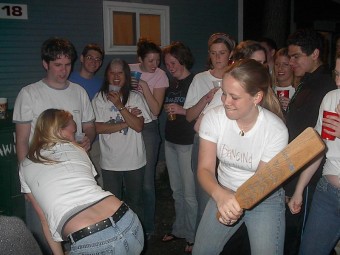 Well, you keep e-mailing and asking for them, so here goes another round of sorority paddling pictures. Most seem to be at parties, but once again, I feel that in most of these pictures at least one real swat was applied.
The rest of the pictures were moved to their own page to speed up load times. Click the "more" link below for the rest of the sorority paddling photos.

Bottoms of the Week
Today I added more pics to the Bottoms of the Week II gallery.
[ Tuesday, May 17, 2005 ]
Big paddles and big swings for sorority bottoms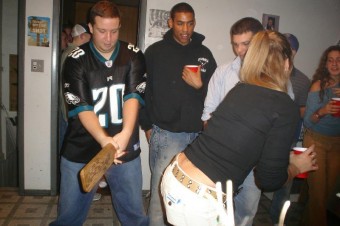 I really had not planned on posting so many of these sorority paddling pictures so close to each other, but I have had such a big response via e-mail asking for more of the same. I guess we will just have a few weeks that are sorority intensive.
One thing that I have noticed in the paddling pictures, that I believe that at least one real swat was applied, is that most people are using a two-handed swing. While this is not all that common in spanking videos, it seems to be the preferred technique for college students. I think a lot of this stems from the fact that they know they are only going to get one swat and they want to make sure it counts. Another factor seems to be that most of these paddlings are taking place at a party and the paddle being used was meant to hang on a wall and not to swat butts. Many of these paddles require two hands to even swing them. Sometime it appears as though the paddle is being swung for the first time, or as in the picture above, it looks like the paddle has swatted many sorority and fraternity butts.
The rest of the sorority paddling pictures from this post have been moved to a seperate page to spped up load times. Click the "More" link to view the rest.