The Spanking Blog
This is an adult site dedicated to the exploration of spanking between consenting adults. The main focus is on disciplinary spankings portrayed in various spanking videos and pictures, with sample pictures and reviews of the spanking content. The most recent blog posts appear below, and the free spanking picture galleries on this site can be found on the menu on the left. All spanking content on this site is free, and any link leading you outside of this site is clearly labeled as such. You must be 18 years or older to view this site.
[ Tuesday, May 14, 2013 ]
Spanking Mini Series
We are trying a new concept at Realspankings.com in that we are filming an ongoing mini-series following the life of two sisters, who while living in the dorms and attending a local college, are brought back home as they seemed to be getting into a lot of trouble. Their parents decide to go back to the last form of discipline that seemed to really work when they were younger…corporal punishment.
In this series you get to follow the ongoing progress of Lila and KJ as their parents attempt to bring a sense of discipline back into these college age girl's lives. Parts 1 & 2 have been filmed, with the next episode coming at the end of May,
This scene is from part 2 "The Family Meeting" in which both girls get one of the hardest bare bottom strapping of their lives.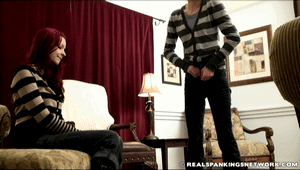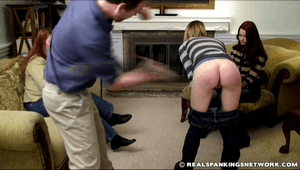 Realspankings Pass
I started my 1st spanking site, Realspankings.com in 1997 and it was as simple as me spanking my wife on camera based on requests from our members. We were the 1st company to film spanking videos exclusively for the internet and our business quickly grew. 16 years later we are still active and have the largest database of spanking videos in the world. Clearly our operation and sites have grown a lot since the early days and it is almost impossible to track all of the exclusive videos and pictures that we have created. But I am going to give it a shot here. With the all site membership offered with our Realspankingspass.com you have access to:
Realspankings.com
Current Images: 74,856
Video Files: 9,740
Total Scenes: 1,723
RealspankingsInstitute.com
Current Images:71,606
Video Files: 5,846
Total Scenes: 1,569
SpankingBailey.com
Current Images: 11,347
Video Files: 1,035
Total Scenes: 204
SpankingTeenJessica.com
Current Images: 19,135
Video Files: 1,398
Total Scenes: 322
SpaningTeenBrandi.com
Current Images: 28,084
Video Files: 1,872
Total Scenes: 470
OTK-Spankings.com
Video Files: 3,826
Total Scenes: 880
RealStrappings.com
Video Files: 4,741
Total Scenes: 997
BiSpanking.com
Current Images: 27,801
Video Files: 4063
Total Scenes: 284
There are many sites and passes that claim a ton of content, but these numbers do not lie and no one can come close to the sheer volume of exclusive spanking content available on our sites. With Realspankingspass.com you have immediate access to:
6449 Total Scenes
These scenes presented from multiple camera angles which always features a butt and a face view of the spanking provide:
32521 different video files
We shoot still images for all of our scenes, and with all sites combined there are currently:
332833 Total images
These figures are current as of today and these numbers are specific to the content that is available for download right now and is available to every member of Realspankingspass.com
Creative solution for dress code violations
I came up with a creative solution to the repeated dress code violations at RealspankingsInstitute.com, especially the repeated offense of young ladies not wanting to wear a bra. Roxie and Abigail were told to report to my office, 1st thing in the morning, wearing only shoes and socks. Once they arrived I informed them that for their inability to wear a bra on a daily basis that I would now give them new institute bras. Both of their breasts were tied tightly and they were then sent to their 1st class with the instructions to visit my office after 1st period. Upon their return they both returned for long and hard otk spankings. They were sent to their next class and told to reposrt to me after lunch for further discipline to their teen bottoms. We had a great day of filming these scenes and here is a peek at the 1st part. From yesterday's update at RealspankingsInstitute.com