The Spanking Blog
This is an adult site dedicated to the exploration of spanking between consenting adults. The main focus is on disciplinary spankings portrayed in various spanking videos and pictures, with sample pictures and reviews of the spanking content. The most recent blog posts appear below, and the free spanking picture galleries on this site can be found on the menu on the left. All spanking content on this site is free, and any link leading you outside of this site is clearly labeled as such. You must be 18 years or older to view this site.
[ Wednesday, January 26, 2011 ]
Amateur Spanking Home Videos
A little fun from the web as young couples explore their spanking fetish.
She is super hot, but he needs to find a proper implement.

[ Friday, January 21, 2011 ]
Three Girl Spanking
I had much fun in a recent shoot for both Realspankings and RSI. It is always great when we have multiple girls in the studio and on this day we had Betty, Sophie, and our newest model Frankie. They are all a joy to work with and life is always easy when all girls enjoy being spanked. This allows us on the spanking side of things to relax a little as we do some of the harder scenes. On this day we filmed 9 separate spankings, strapping, and paddlings. We even did a fun little scene in which Betty taught Frankie how to administer a proper OTK handspanking with Sophie on the receiving end. Frankie was quite the natural and spanked very hard. I anticipate using her for future shoots on Women Spanking Men, which has been seeing a lot of new content filmed lately. Here are some pics from our three girl spanking day...enjoy!!!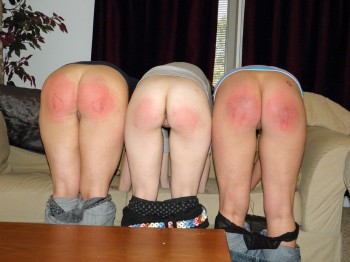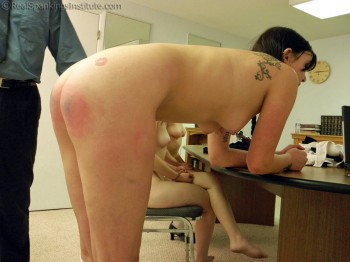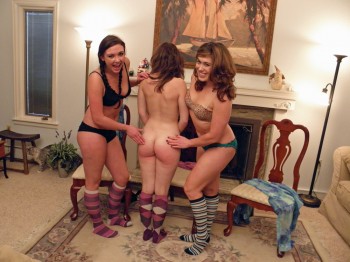 [ Friday, January 14, 2011 ]
Random Discipline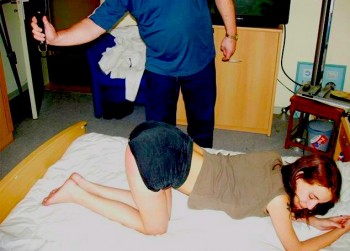 "If you are going to wear short shorts, I will damn sure spank any part of your bottom that shows"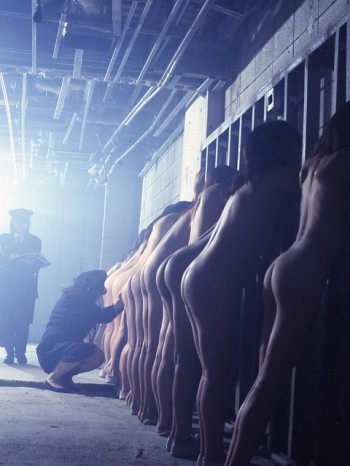 "Ladies...grab the bars and spread your legs"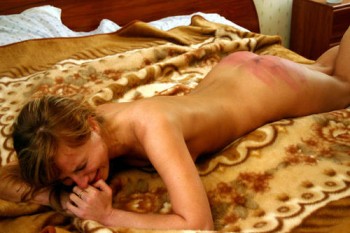 "I told you that if we ever had to deal with this again, it would be a punishment you would never forget"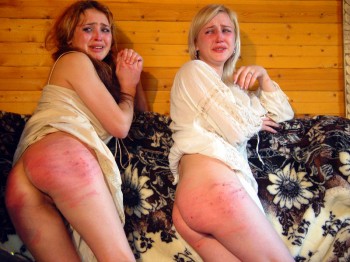 "Those who play together, pay together, now get your butts back in the air"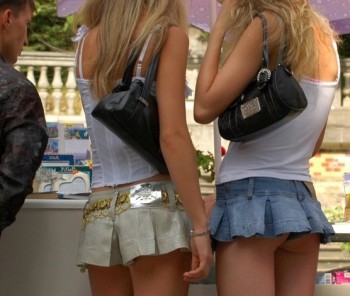 Clearly skirts that mommy does not approve of and would be blistering bottoms if she found out.
[ Monday, January 10, 2011 ]
New Free Spanking Videos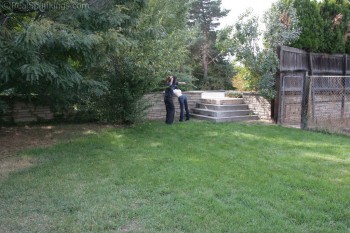 For those of you who have not looked at our work recently, I thought I would point you towards some of our new free videos. As most of you know, I returned to full-time production in early 2009 in our newly built studio. This was a return for us to the early days in which I was involved either on camera or off in all aspects of our spanking production. After a couple good years in our new studio, I grew tired of this space and the dealings with the owners of the building. I saw this as an opportunity to move into a new space, a 8000 sq. ft. estate on three gated acres. This new property is large enough to have all of the sets we ever dreamed of, not fake rooms intended to look like a real house. In addition to a pool, hot tub, wood shed, and every outdoor set we could ever dream of, we now have a fully functional kitchen, many bedrooms and bathrooms, a locker room, gym, and a brand new learning lab for the Institute and much more. We have not changed out the samples on Realspankings.comfor quite some time, so I thought I would highlight for you some of our recent work. These are not trailers or highlights; these are full clips direct from our member's area. These clips show you some of the work from the last studio and some of our most recent clips from the new estate. In addition, we now have MP4's which are viewable on your IPads and IPhones. Our member's area also has full flash clips which are viewable on newer smart phones such as the Droid, that have Flash support. Finally, we have just upgraded all camera to full HD. This means that we will soon be offering true HD at 1080P with encoding up to 3000KBPS. This means better than DVD quality and at full screen, even on your TV. To take a look at some of our most recent work for free, please visit the free videos area at Realspankings.com. Here is the link:
Realspankings Newest Free Videos