The Spanking Blog
This is an adult site dedicated to the exploration of spanking between consenting adults. The main focus is on disciplinary spankings portrayed in various spanking videos and pictures, with sample pictures and reviews of the spanking content. The most recent blog posts appear below, and the free spanking picture galleries on this site can be found on the menu on the left. All spanking content on this site is free, and any link leading you outside of this site is clearly labeled as such. You must be 18 years or older to view this site.
[ Tuesday, June 28, 2005 ]
More Sorority Spanking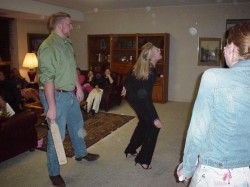 Just a few more sorority spanking and paddling pictures. Click the picture title for a full-sized image. Click the "MORE" link to see the rest from this post.
[ Sunday, June 26, 2005 ]
Thong spanking girls
Well, I have posted about spanking and I have posted about young ladies with visible thongs sticking up out of their pants. How about three cute girls, not only with visible thongs, but half of their bottoms showing spanking a fourth girl? It seems my long lost twin must be out there somewhere with a camera. Thanks dude!
NOTE: Any picture I post that has the title of the picture above it (like the picture below), you can click the text for a full-sized version of the image.
Spanking Stories
Over the years, and for various reasons, I have written many spanking stories. My style of writing is that of true spanking accounts, but fictional in nature. I tend to add a lot to my stories that are based on actual spanking accounts I have heard. I will go through my archives and begin to post stories I have written. Your feedback in the comments section will let me know if you have any interest in these stories.
Today's story is a result of a thread on the world spanking forum. A woman posted that she always liked stories about ladies getting spanked by military men and asked if someone would write such a story for her. Several of us wrote a story that fit her description and posted it on the forum. While mine was well received, a few people complained that I had an advantage as a writer in that a lot of what I had written came from real life experiences. This story is in no way true, but it does have a foundation built on my own past experiences. I will take the quote often used in movies and say that this story is "inspired by actual events". Click the "MORE" link to read my story about a young wife who has always fantasized about being spanked, learning about the world of very real discipline.
Punished hands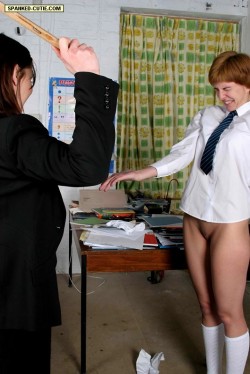 I think many of us that are into spanking also like to see videos that feature corporal punishment applied to the hands. It has not been all that long since this was a common practice in schools. It was nice to see a ruler used on the hands of a naughty young lady on a recent update at Spanked-Cutie.com. I speak from personal experience when I say that getting your hand smacked with a ruler hurts like hell. I personally feel that smacking the hands with a wooden implement is a little dangerous. Whenever a naughty young lady that I am punishing continues to put her hands in the way, I will indeed apply some strokes to her hands, but I prefer to use a leather implement. Leather is much safer for using on the hands, but makes the same point as a wooden implement. You can check out the video that goes with the above picture at Spanked-Cutie.com.
[ Saturday, June 25, 2005 ]
What is the deal with GUBA?
I have been seeing ads for quite some time now about a site called GUBA. This has become a common link on spanking blogs, but I never really paid much attention because I am generally not impressed with spanking content found on sites that are not spanking specific. But, I finally decided to check it out. As is my custom with spanking sites, I do not review any sites that I have not had a membership to. So I dropped $14.95 and signed up for a months membership.
Here is how it works. As we all know there are many newsgroups out there. I have always found newsgroups to be somewhat of a pain in the ass because there is so much advertising mixed in with the content. In addition, there are special programs needed to join files, strange video formats, and just too much crap to wade through to be worth my time. GUBA is a program that automates the process and only indexes complete files and no spam. They break all of the content into different categories to make it easier to find. You can also search all of the videos and pictures for whatever you are looking for. While skeptical at first, I must admit that I am impressed. There are very few online sites in which you get more than 1000 video updates a day.
I was also impressed at the amount of spanking content. Due to the volume of content, they only keep 1 weeks worth of pictures and videos in their database. As of this morning, there are 373 spanking videos, and 5665 spanking pictures. The Fem Dom category has 826 pictures and 81 few dom videos. The teen spanking category has 2176 pictures and just a few videos. The BDSM category has 1120 pictures and 72 videos. The Bondage category has 11808 pictures and 60 videos. There are many other categories within our genre such as alt.sex.femdom (828 pics), bondage.male (311 pictures), fisting, and too many more to name.
I like the fact that as a non-member, you can view thumbnail previews of all of their content, based on a keyword search, or by browsing the categories. I have never visited a site in which I could preview all of the potential content before signing up. While most of my adult online browsing is focused on spanking, my tastes vary and I sometimes seek out other adult content. Guba has actually opened my eyes to a few types of content that I did not know existed on the web. As you may have noticed, I am somewhat of a fan of voyeur style videos. My experience with voyeur siyes is that most of them suck and feature staged voyeur scenes. But my eyes have now been opened to the world of Web Cam Videos. I had no idea there was so much of this content around. I have been enjoying all of the college dorm videos in which young couples turn on their web cams and record their sex. There are literally hundreds of these videos on GUBA in the Web Cam Videos, amateur videos, teen female, and girlfriends categories. I guess it only makes sense that with the current prices of web cams that this would become a common practice, but I simply had no idea there were so many hot amateur scenes of this nature. The voyeurism category is actually that, real voyeur videos. We are talking about people actually peeping in other peoples windows, as well as spy cams, real upskirts, people having sex in cars and alleys, as well as hidden locker room and shower videos.
So, in all fairness to GUBA, the site rocks. There is more updated daily spanking cotent than just about any site on the web. Their claim of 22 thousand videos and 1.5 million pictures is actually true and for a large variety of pictures and videos, I think it is worth the $15. I am sure this is yet another membership that I will allow to rebill for many years. Check it out yourself by doing a search in the box below (spanking is a good start, but you get more returns by directly browsing the spanking videos and spanking pictures categories.
Search

2,000,000+

images and videos!
[ Thursday, June 23, 2005 ]
It is better to give than receive
sorority_girls_paddling_frat_guys5.jpg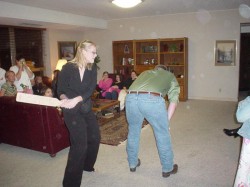 While we have now seen many pictures in which sorority girls bend over for a hard paddling from their sisters, as well as many young sorority girls taking some serious swats from frat boys, it seems they spend just as much time swinging the paddle. While I generally am on the swining end of a paddle, it would not take much convincing for me to grab my ankles and take a few well placed swats from some of these college hotties.
Click the "MORE" link for more pictures of sorority girls laying the wood on some college boy's butts.
My kind of party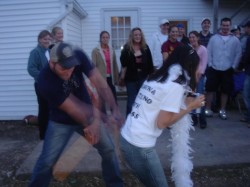 You just have to love a good party in which the girls bend over for hard paddle swats from the guys. Based on the captions that went with these pictures, it seemed that at this particular party it is the custom for the girls that are pledging the sorority to take a few paddle swats from their partner fraternity.
If you look closely at the above picture (click any picture with a title above it for a full sized version), as a result of the slow shutter speed used on the camera you can see both the paddle on its way, as well as actually hitting her butt.
Click the "MORE" link for the rest of the pictures from this party in which each sorority pledge was paddled.

[ Tuesday, June 21, 2005 ]
More true accounts of high school corporal punishment with a paddle
For the most part, when I discuss true accounts of spanking, I generally only post accounts that I have heard first hand from a trusted source. In most cases, the accounts are from kids and teens that I grew up with that were subjected to corporal punishment. In addition, I often discuss spanking accounts that were told to me by our various models during their interviews.
On occasion, I will post true spanking accounts from individuals that I have never met, but have maintained online correspondence with. With my profession, I am contacted by many people for a variety of reasons. One of the most common e-mails I get, come from women who have had spanking desires their entire life and have always hidden these thoughts from everyone. I guess they contact me because it is an easy and anonymous first step in coming to grips with their fetish. For them, it is major progress to write to someone and confess their secret desires. They are generally not looking for anything from me, they have repressed their feelings for so very long that they almost just need to confess that they want to be spanked. As a fairly visible member of the spanking community, it makes sense to them to contact me.
In some cases, I just wish them luck and encourage them to explore their sexuality without feeling the current guilt that they do. Some of the correspondence continues as I try my best to help these ladies understand their desires. A couple of years ago I began correspondence with a young lady who was having trouble coming to grips with her desires. To her, these thoughts made her feel ashamed, due to the fact that she received frequent corporal punishment for most of her childhood. We have discussed her childhood punishments in detail and I have no doubt that every word she has ever written me to be completely true. Due to the uniqueness of her true spanking accounts, and with her permission, I thought I would share some of the experiences she has sent me.
Click "MORE" for the complete account of the last paddling she received as a senior in high school.
Posted by
Michael Masterson
on 06/21 at 10:49 AM in
True Accounts
Descriptions of real life punishments. Please note that we find the spanking of children to be a dangerous and ineffective form of punishment. This category is only offered to explore the various forms of spanking that people endured growing up.
Permalink
•
Tell-a-Friend
[ Monday, June 20, 2005 ]
Paddling needed
Sometime I see certain pictures and the first thing that pops into my head is "where is a large wooden paddle when you need one". All of these pictures fit well into this category, plus you know I have a thing for the visible thong. With their panties hanging out of their pants, you just know they need a few well placed swats.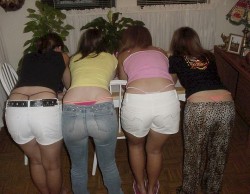 Click "more" for the rest.
Hairbrush spanking
One of the implements you see rarely see in spanking videos is a hairbrush. The reason is simple, it hurts like hell. We do our best to provide as much hairbrush content as possible, but it takes the right model with a very high pain tolerance to pull it off. Or, it takes someone like Claire from Bispanking.com. While her pain tolerance is not high, she loves spanking enough that she will submit to a hairbrush punishment when required. In the picture below, she takes a hard hairbrush spanking on her bare skin while otk. The big wooden hairbrush that Coach is using is a real stinger, forcing him to restrain her. PIcture is from a recent update, with videos on Bispanking.com.