The Spanking Blog
This is an adult site dedicated to the exploration of spanking between consenting adults. The main focus is on disciplinary spankings portrayed in various spanking videos and pictures, with sample pictures and reviews of the spanking content. The most recent blog posts appear below, and the free spanking picture galleries on this site can be found on the menu on the left. All spanking content on this site is free, and any link leading you outside of this site is clearly labeled as such. You must be 18 years or older to view this site.
[ Monday, July 20, 2015 ]
School paddling on security video
[ Friday, July 17, 2015 ]
Bruised bottom in private and on camera
If you have spent any time at all on this blog you probably know how I feel about a spanking resulting in a sore bottom. I have found over the years that as a result of my feelings that any spanking should result in a very sore bottom, that people either love the videos I produce or find them far too severe for their tastes. I understand this, as not everyone engages in spanking activities, as a means of punishment. For many, spanking is a playful, loving, and highly sexual thing that is often just a fun means of foreplay. I will not fault anyone for these feelings, as spanking means different things to different people. But for me, even though there is indeed a sexual element, there is never anything at all sexual about the spankings that I administer on or off camera.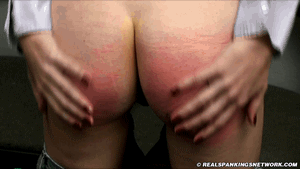 For me, spankings will always be about punishment and discipline. The most important parts of the spankings for me is the pain that they feel during the spanking, but even more importantly, the pain that they feel afterwards. A sore bottom really is the learning tool when it comes to a proper punishment. When I apply a serious disciplinary spanking in my private life, it rarely lasts more than five minutes. When we are dealing with serious behavior issues, five minutes is hardly enough time to really teach a proper lesson. That is why a sore bottom is so very important. I do not want, after a five minute punishment, for it all to just be over in the mind of the naughty girl. I want her to have a frequent reminder of her behavior for several days. The only way to accomplish this is to make sure that she was spanked in a manner that leaves her bruised and sore.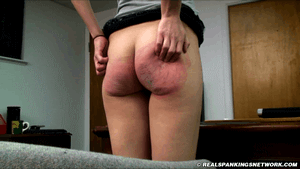 Many people think that a spanking that creates bruises is abusive. I would argue that the only way to actually create a change in behavior is to create a very sore bottom. We have to be honest in that a pink bottom does not hurt very much five minutes after the spanking is over. As someone who has some experience on the receiving end, I can tell you that five minutes after a spanking in which a bottom is only left pink, it kind of feels good. There is a tingly sensation, which spreads to your naughty regions, and leads to a much heightened sexual state. Does that sound like an experience that someone learns from? Of course not! What it does is promote bad behavior so they can feel that wonderful sensation again. But for many people, spanking is more of a game than an actual disciplinary process.
Within the relationships that I have had, beyond just being someone's disciplinarian, but actually being in a romantic relationship in which some aspect of domestic discipline was utilized, I think in those cases the young ladies were quite surprised at how it turned out. They sought me out as I have an online presence and they see me as being able to provide something that they have always been searching for. A few of those relationships eventually turned romantic, which led to a couple that practice domestic discipline on a regular basis. I think that in their minds they were going to enter this world in which they were held accountable for their actions and at the same time their spanking fantasies would be fulfilled. The surprising part for them was how little they were actually spanked. The reason that there was so little spanking is that when they actually got in trouble, they were not just spanked, they were properly punished.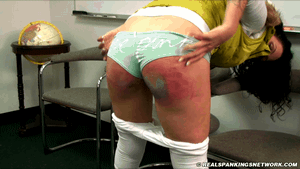 For many, spanking fantasies revolve around getting in trouble, getting lectured, having to bare their bottom, and assuming a position to be spanked. There is the idea of a strong man, who cares enough to take the time to discipline her, while providing love and comfort at the same time. Rarely in someone's fantasies do they process how much potential a spanking has to actually hurt. Yes, they see themselves crying in these fantasies, but the reality of how that actually comes about is somewhat diluted in their minds. They might picture a childhood spanking, with a strict but loving father, in which they are over his knee for a couple of minutes warming their bottom. But these are grown women, with a desire to be spanked, that actually want a realistic punishment that is suitable for the behavior they have engaged in. The reason that they sought me out in the first place is that I believe in administering a spanking for disciplinary purposes.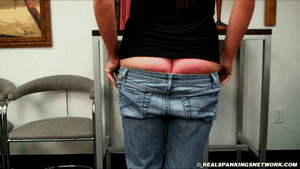 I take this role very seriously and each and every time I give a disciplinary spanking in my private life, it is with the expressed goal and purpose to make her never want to ever feel this again. This might seem a little counter-intuitive when it comes to a spanking relationship. For most couples, both parties to a certain degree look forward to the next spanking that is going to take place. This leads to her getting a little bratty, or making little "mistakes" on purpose, so she can get her bottom warmed. But I see things much differently. I am not quick to spank for just any little thing. There are ample warnings, undesirable behavior is clearly defined, and there is very little room for misinterpreting rules and expectations. But when the time comes, that a spanking is required, it is going to be an event that she does not want repeated anytime soon.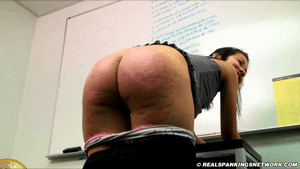 The reason it will not be repeated anytime soon is because of where I started this post…pain and long term soreness. From the very first swat, she is going to not only regret her behavior, she is going to wish that this never happened in the first place. Her spanking fantasies go right out the window when I begin just as hard as I am going to end. I am not giving her some sort of silly warm-up, what purpose would that actually serve? I know that she likes to be spanked on some level, but this is an actual punishment, not role-play, so I am going to punish her. I am going to do nothing at all to feed her fantasies, instead I am going to provide her bottom with far more pain than she can handle and make her regret the decisions or actions that led her here in the first place.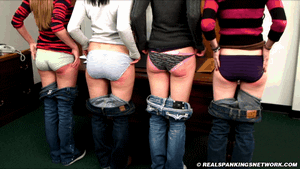 I am also going to do this is such a way that when it is over, it is really just beginning. There will be lots of tears, there will be forgiveness, and I will comfort her when all is said and done. But I know that if I did my job properly, her lesson is just starting. I cared enough to make sure that her bottom was black and blue when I was done. Remember, this is not role playing, this is not foreplay, this is real life discipline for real offenses. These are offenses that we agreed she should be disciplined for. The purpose of this discipline was to decrease or eliminate this behavior all together. If I have just provided her with a spanking that she would want to receive again because it was sexy or made her all wet, then I failed. One of the ways I make sure that I achieve success in this area is to make sure her bottom not only hurts when she sits, but is unbearable. I want every second of the next few days to be all about her sore bottom. I do not want her to be able to put it in the back of her mind and dismiss it. Every time she takes a step, tries to sit, or even lay in bed at night, I want her focus to be on her sore bottom. More importantly, as she sits on a hard wooden chair the next day, and her eyes fill with tears again, I want her focus to be on why her bottom is that sore. Many may call it cruel, mean, or even abusive, I prefer to call it learning, an appropriate lesson, and progress.
I take the time to do the job properly, in a manner designed to achieve results. I was not fulfilling her spanking fantasy; I was providing much needed discipline. You would be very surprised at how well this actually works. Yes, I am talking about a relationship that was formed as a result of a mutual desire/need for spanking, a woman who actively sought me out as a result of the type of spankings that I can provide. But the reality of it all, once she found herself receiving a very real spanking, she was in no hurry to repeat it. Certainly behavior is as good as it gets for several days after her last spanking. My policy is that no previous spanking will affect the next one, only behavior influences when a spanking takes place. When it is almost too painful to sit, behavior becomes perfect for fear of what my paddle would feel like on that sore of a bottom. The progress really is made as a result of the sore bottom. There might be parts of the spanking that feed the very core of her fantasies, but spending days with a completely bruised bottom is not fun or sexy at all. More importantly, she will go out of her way to make sure that she does not feel that way anytime soon. So there have been many young ladies that have come to me to fulfill all of their spanking fantasies, only to realize that they would rather behave and work on achieving goals in their lives. Their lives become a big contradiction as they fantasize about nothing more than being spanked, yet they rise to the occasion to make sure they do not end up having their bottoms bruised.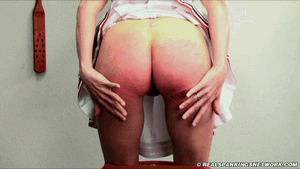 While the models in my videos, for the most part, have not done anything to earn a proper punishment spanking, it is still what they are signing up for. The whole concept of my sites was to present spanking as it actually exists in the real world for discipline. This basically leaves us with parental spanking, school corporal punishment, judicial punishment, and to a lesser extent domestic discipline. In all of these instances, spanking is used as a punishment. There are no warm-ups in parental spankings or school corporal punishment, and that certainly is also not the case with judicial punishment. The goal of all of those spanking is to tear up the offender's butt in such a way that they will no longer act that way. This is what I try to provide in my videos. Yes, concessions have to be made to account for the fact that this is a paid model, with very real limits. She has not actually done anything wrong and does not fully deserve what she is about to receive. But I believe very strongly that a real and proper spanking ends with a bruised and sore bottom.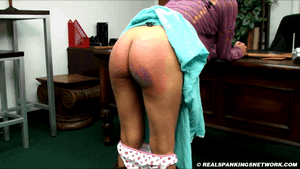 My videos have achieved a lot of popularity as a result of the fact that the spankings are administered in a realistic manner. They in no way compare to the type of discipline I administer in private, but I do the best I can while still trying respect our model's limits. This is not to say that limits are not pushed and expanded, as every model eventually ends up taking some pretty serious spankings. Many are quite surprised at how far they were really able to come. Because I feel so strongly that a real spanking results in a very sore bottom, that is the reality of our videos. It might happen over the course of a few different spankings scenes in one afternoon, but when all is said and done, these young ladies leave sitting gingerly for a few days. The whole point is that the spankings are very real and very real spankings result in bruised bottoms. Many models show up in skin tight jeans, but have learned over time to have a nice pair of baggy sweatpants to change into when they leave, as their sore and swollen bottoms no longer want to squeeze into those tight pants.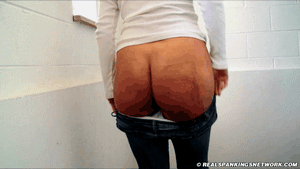 I often follow up with our models, especially after a fairly intense scene, and there is no doubt that these spankings results in long term discomfort. On the average, most models still display the results of their spanking for at least three days. Pretty much every shoot now includes a school paddling scene, which always leaves fairly long lasting bruises. It seems pretty typical that their bottoms are sore enough that sitting hurts the next day. We are not talking the same amount of discomfort as a private spanking with me, but they are certainly more than aware of their previous spanking. I have had models in the past; take the next day off from their desk jobs as they knew that eight hours in a chair was not an option for them at the moment. There is one current model, who has a very professional job, and I know she gets off on "her little secret". She just loves the fact that she is sitting there, in a professional work environment, barely able to hold still because her butt is so sore. She loves that her bottom is black and blue and that only she knows. She has told me that she checks her bottom each and every time she uses the bathroom at work, and just loves the marks. Now, if I was only single, I could actually give her the real spanking that she deserves, one that makes it difficult to sit on at work, but it would be one that she would never again want to have repeated.
All animations used in this post come from scenes filmed in our new studio, in 2015, from the member's area of Realspanking.com.
Realspankings Network Pay-Per-Views
We have put in a lot of time recently editing some of our very best work and putting it in a PPV format. I have personally indexed some of our best new scenes and grouped them into very specific categories for those that are specific in their spanking tastes. As I have always tried to do, I am giving you your money's worth with each and every new PPV offering. If you look at the standard spanking PPV prices, you typically pay between $10-20 for way less than an hour's worth of content. I tried to be very fair in my pricing and all of our new PPV movies run between 83 and 93 minutes and cost between $12-18 dollars. There is no better deal for a spanking PPV and clearly, there is no content as hard and as realistic as ours. Here are the trailers for our recent offerings. If you see something you like, please consider ordering. All of these movies are long, with hard content, and represent our very best work over the last two years.
School Paddling Punishments is a unique video that features scenes that recreates school corporal punishment as it is administered in real life throughout the Southern United States. The paddlings administered in this video are very realistic, with many leading to tears. You will witness the real reactions as young ladies feel the sting of a large wooden school paddle applied full force to their young bottoms. Highlights of this video include: - 14 separate scenes, with as many as 1-4 girls being paddled at a time. - 13 different young ladies are paddled, by 3 different male administrators. - Traditional school positions are utilized including bent over a desk, grabbing ankles, hands on knees, and hands on the walls. - Most punishments are administered over tight jeans, but we have also included a locker room paddling over gym clothes, and two punishments that are applied on their bare bottoms. - As a bonus, some scenes show the after effects and the young ladies drop their pants and show their bruised and sore bottoms. - All of the school paddlings show you the face view and the butt view of the paddling, so you are able to see each girl's unique reaction to her punishment. - This video is 1 hour and 40 minutes in length, with a total of 199 swats applied in a very severe manner. These are not fun, or playful paddlings. This is real corporal punishment, with very real school paddles, swung full force, leaving this young ladies with very sore and bruised bottoms for days.
93 Minutes- $15.00
Girls getting a good whoopin'
When it comes to how corporal punishment is administered in the real world, most young ladies will tell you that they received the belt growing up. This video explores exactly how corporal punishment is actually administered in the homes of the US. This video is 1 hour and 28 minutes long and features 15 different young ladies receive strict and severe corporal punishment with a belt. There is nothing gentle about any of the scenes and the belt is applied full force from the beginning to the end. You will see blistered and bruised bottoms with many of these young ladies crying very real tears. There are both bare bottom and over the jeans whoopins applied, and for many of you out there, this will bring back very real memories.
87 Minutes- $12.00
Naked, Embarrassed, and Exposed, Part 1
There are those times is which a basic spanking is just not enough to get the point across. Some punishments require the addition of something else to make that spanking truly memorable. This 90 minute production features punishments in which naughty young ladies are required to strip fully naked for a very embarrassing punishment. From single girl punishments, all the way up to four girls being spanked at one time, they are required to assume exposed and embarrassing positions while hard corporal punishment is applied. In most cases, they are left naked and on display in corner time, as a reminder to others as to what happens when they misbehave. Through the use of the hand, belts, straps, paddles, rulers, and the wooden spoon, these young ladies learn very real lessons while Naked, Embarrassed, and Exposed.
88 Minutes- $15.00
Naked, Embarrassed, and Exposed, Part 2
83 Minutes- $15.00
Punished to tears- 2015 Part 1
The purpose of corporal punishment is to provide enough pain to a young lady's bottom to teach her a very real and a very proper lesson. The best indicator that a lesson is learned is TEARS. It is not until she is crying like a little girl that we know that the job is done. In this 84 minute video, you will corporal punishment administered as it was intended leaving each and every girl crying. WARNING- this is very real corporal punishment, these are not fun and playful spankings.
85 Minutes- $18.00
All clips available at our store at Spanking Library
[ Wednesday, July 08, 2015 ]
Making the position part of the punishment during a spanking
I have always stated that I feel that position is a very important part of a punishment spanking. Previously I have discussed the importance of her properly presenting her bottom, as I feel this really helps her with ownership of her punishment. Today I am going to dive a little deeper into how much position can really help with the overall effectiveness of the punishment. For the purposes of this discussion I am not fully addressing which position is best for which implement, but more how to make the position part of the punishment itself.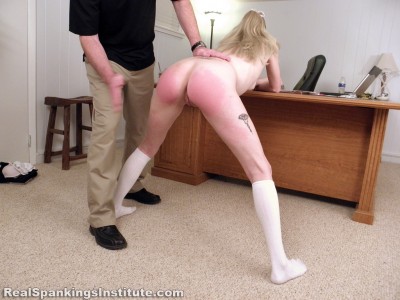 If you think that all positions are equal, you are doing a great disservice to the person whose behavior requires the punishment. Our goal as disciplinarians is to provide an event that will not only punish someone for their current behavior, but to serve as a reminder as to future behavior. I say "event" because for most of us, we are spanking someone who fantasizes about being spanked. But within this relationship, we are trying to make things as real as possible and actually create a punishment experience. This is not an experience that we want them to fantasize about, what we really want is for them to learn from it, and hope that we actually have an influence on their behavior. So we are not just looking to give them the spanking that they fantasize about, but to create a punishment "event" that will burn into their memory.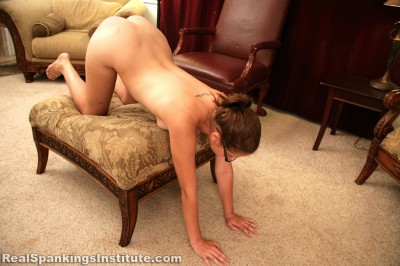 I have discussed over the years, many different ways to enhance the overall punishment through the use of corner time, nudity, and various other things that help make a punishment as uncomfortable as possible, but today the focus is on positions. The easiest spanking in the world for someone to endure is one in which they are simply laid over an object, such as a bed or couch, and allowed to just lay there and endure it. Even worse are the punishments in which disciplinarians hold the naughty girl down for her spanking. First of all, it is her responsibility to stay in place for her spanking, not ours, so if you have to hold someone down, they are showing complete and total disobedience and that needs to be addressed. Secondly, why allow her to just lie in a comfortable position for a spanking that she fantasizes about anyway? To be as blunt as possible, the position should suck for her. Ask yourself if you are doing the best job possible if she is allowed to be comfortable for her spanking. Jail sucks, so do the beds in the cells…you do not go to jail and find a tempurpedic mattress in your cell. They committed their crime, a punishment was handed down, and at no point does comfort become a factor.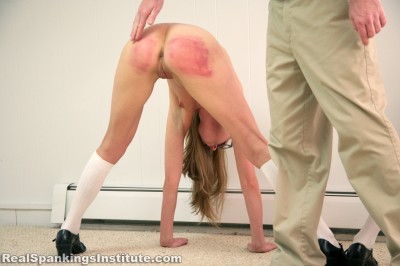 I have talked about nudity before, but it is worth talking about again for the purposes of this post. When someone requires a proper punishment, one that is worthy of being an "event", you can count on the clothes coming off. The first purpose this serves is that it reinforces my authority over her. When she is in trouble, I am not just sentencing her to a spanking, but for the duration of the punishment I am assuming full control over her body. She has trusted me with the authority, that when she misbehaves, that I will do everything in my power to punish her in a manner that will prevent that behavior in the future. With that trust and authority, as long as it is safe, sane, and consensual, her body becomes mine to what I want with, for the benefit of the punishment. She does not get to decide what she wears for her spanking that is now my decision. Because I care, and I will do whatever it takes to help her, I will choose for her to be naked.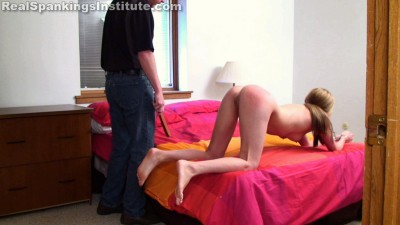 A fully nude punishment adds quite a bit to the overall experience and will help her remember it in the future. Yes, there are many women out there who are quite comfortable naked. There are many models that work for me that choose not to put any clothing on in between shoots and just hang out naked as we move lights around and such. But being comfortable naked, and being comfortable naked in the various positions I have to choose from are two very different things. But for the typical woman, even one that you are intimate with, being naked in the bedroom and being naked and on display for her spanking are two very different things. I require her to be naked because I am going to put her in a positon for her spanking that will make her feel embarrassed, vulnerable, and exposed. Please note there is a strong distinction between embarrassed and humiliated. I never humiliate someone during a spanking, but if I can make her feel embarrassed, as a result of her behavior, then I will do my best to do so.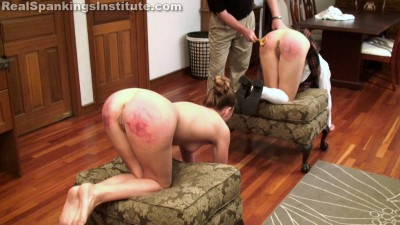 Something else that I think is of great importance when it comes to positioning is complete and total discomfort. She might fantasize about being spanked, but she does not fantasize about being put in a position for her spanking that is a workout in itself to hold. By bringing in different muscle groups, we can make the position itself a punishment. Have you ever tried to hold a lunge for very long? With her hands and feet on the ground and her ass in the air, this position becomes very hard to maintain and is no fun at all. A assure you that when she masturbates to thought of being spanked, she never once thought about how sore her abs were going to be.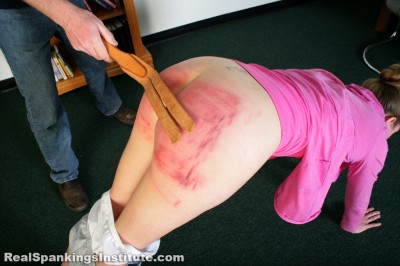 So let's go into detail about how we can make the position itself part of the punishment. The first, and most common, is to simply make it a freestanding position. She is not getting the benefit of being able to lay over something, or even put her hands on something. This may involve her bending over and putting her hands on her knees, or even grabbing her ankles, but she assumes full responsibility for the position, without anything to support her. This makes it more difficult to maintain her position during the spanking (which she already should know is a requirement) and also makes her an active participant. She cannot just check out, let her endorphins kick in, and endure the punishment, she actually has to help. It keeps her mind on the process and does not allow her to escape into some sort of "sub space". She has to stay mentally present in order to stay in position and that is exactly what we want.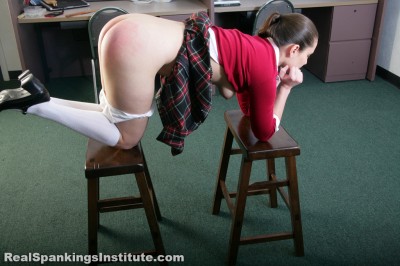 Any position can easily be modified to become less comfortable. Even for the young lady with the benefit of being bent over with her hands on a table, by requiring her to stand on her tiptoes, we have once again brought her mind back to the punishment. She has an actual task that she must perform while she is being spanked, and as easy as it sounds, her being on her tiptoes adds quite a bit. At the very least, it tends to start to burn the calves pretty quickly and that in itself adds to the overall discomfort of the punishment. But if she is being paddled hard, and with each swat she is rocked forward, typically a process that ends with someone back on their heels. But in this case, she does not have that luxury and she has to remain ultra-focused to make sure her heels do not touch the ground. Once again, we are bringing her mental focus into play and she cannot just try to suffer through her punishment as she has a job to perform during her punishment.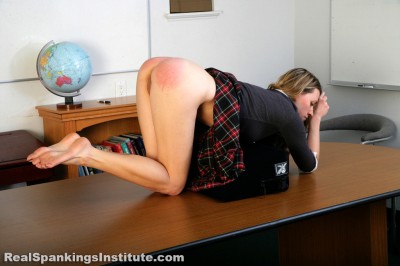 Many young ladies like a good over the knee spanking, as it tends to be intimate and is not all that uncomfortable. Just as with the tiptoes, this position can also be easily modified to make her part of the overall process. For most OTK spankings, the person being punished has their toes touching the ground. This can often get in the way as it allows them to push forward, which can allow them to easily start to struggle out of position. In my private life, all otk spankings are given in which the young ladies are required to have the tops of their feet on the ground. This takes away their ability to push, but more importantly, it is unnatural and requires thought to keep them in that position. If she finds herself kicking her legs during her spanking, the normal movement would be for her to go back to having the bottom of her foot on the ground. But this is not allowed, this is not what I require, so she has to stay mentally present to make sure her feet do exactly as I have told her.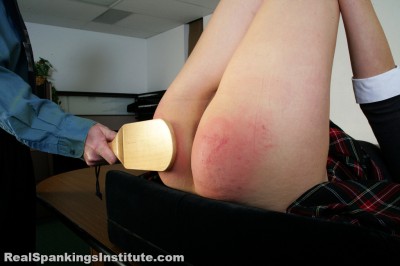 Another modification, and one that I use a lot, is to bring elbows and knees into play. Take any spanking position in which a young lady is supporting herself with her hands, and simply make her elbows go there instead. If she is bending over, with her hands on a desk to be paddled, make her elbows touch the hard surface with her hands in the air. This takes away any leverage that she has, so when she is knocked a little off balance from a paddle swat, she cannot just fight the momentum by pushing back with her hands and arms. With the arm bent, and being on her elbow, all of her leverage has been taken away. Now her whole body and core become involved in order for her to maintain her position. Now it is not just her bottom and her brain that are part of the process, her whole body has to work to assist in her discipline. It is easy to take this a step further and have her place her knees on a hard surface, while her feet are required to be elevated.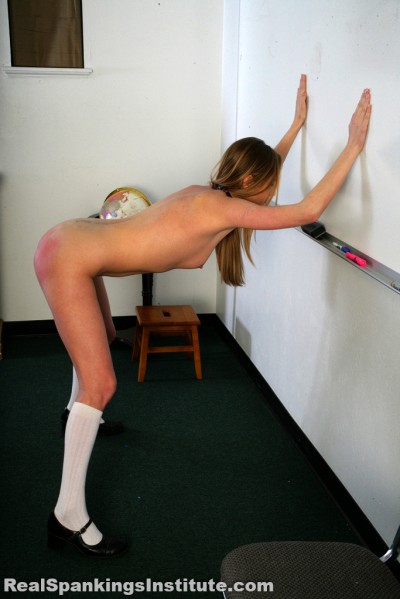 Discomfort can be taken to many different levels when it comes to position, far beyond the easy fixes that I just described. The easiest way to accomplish this is to bring different muscles into play. As discussed before, a spanking in the lunge position is not an easy thing to endure. Now her arms, legs, and core have become part of the punishment and fatigue easily sets in. You can also modify any position by requiring that her arms or her legs be a little bent and not straight. When we lock our legs out straight it becomes more of support from the joints that support from the muscles. But when the arms or legs that are supporting us are required to be bent, the muscles have to become part of the process. Yes, a hard spanking while grabbing her ankles is no walk in the park, but if she is required to bend her knees just the slightest bit, over the duration of her five minute strapping, this all becomes that much more difficult. Remember, difficult is the very least of what we are looking for.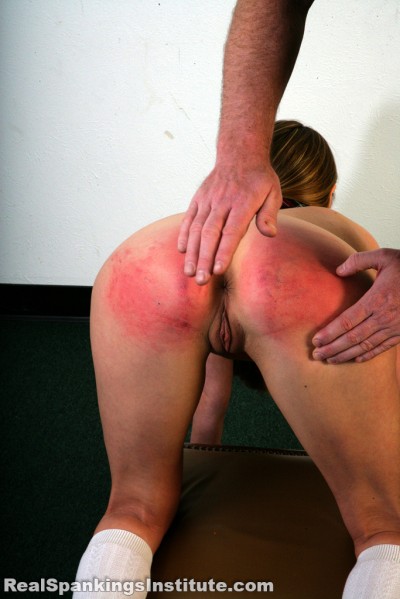 Ideally, we are going to take all of the above factors and combine them effectively with nudity. I am not only going to choose a position that is hard to maintain, that requires her to assist, and that is going to bring various muscle groups into play, I am going to make it terribly exposing and embarrassing. I want to put her fully naked in a position that she would never in her lifetime find herself in. I am talking about something that exposes all of her naughty bits to the world in a way that she never could have imagined. I want her to be embarrassed that her behavior brought her to such an exposed and vulnerable position. I want her to be concerned and embarrassed about how everything between her legs is currently being presented. I want her to her to fully realize, that at the moment, how and where I choose to present her most private of areas, is fully up to me. It was her behavior that brought us here, but the rest of this is in my hands.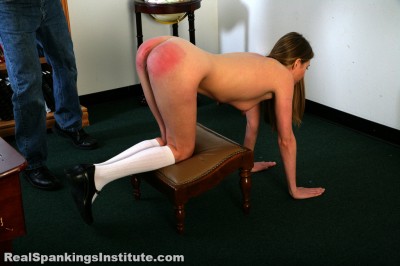 The spreading of her legs is always going to be the starting point in this type of position. If the situation calls for it, she is not just going to be presenting her bottom to be spanked, I am going to make sure everything is presented in a very exposed manner. There is huge sense of vulnerability, when she is bent over for a spanking and her vagina is completely exposed. She should know by now that I am very accurate with whatever implement I am using, but this still adds a lot, as any stroke that is off just a little bit could indeed hit her vagina. In addition, and with the hopes of not being too graphic, most women are not all that comfortable in a position in which their butthole is exposed. However, had she not misbehaved, she would not be before me at this very moment, with her legs spread so wide, that everything is now very exposed. Even before the first stroke I want her uncomfortable as possible, so if exposing her vagina and butthole helps, then I will include it every time. Having her spread this wide also allows me (assuming my hand or a very specific implement) access to areas of her bottom that I might not otherwise be able to spank.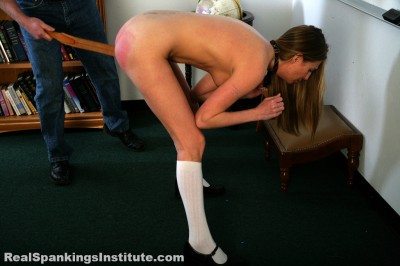 This exposure can be greatly enhanced by how far she is required to bend. Someone presenting their bottoms with wide spread legs, but only bent at 90 degrees at the waist, is still limited in their exposure. We need to get their hands closer to the ground to really open things up. This is why you will often see videos I have filmed in which the young lady if kneeling on something such as an ottoman, but her hands are on the ground. To further enhance the vulnerability of these types of positions, I often require that she arch her back as much as possible. With spread legs, a greater than 90 degree bend, and an arched back, she is feeling as exposed as she possibly can be. Hopefully she is embarrassed, hopefully she is miserable, and hopefully she will never want to find herself in this position ever again.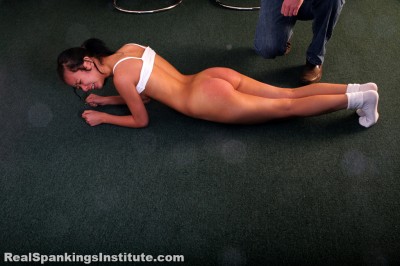 None of this is all that hard if you are willing to just be a little creative. Maybe she only requires a handspanking today, but it is still our job to do the very best each and every time it is required. Instead of bending her over that kitchen chair for her handspanking, why not have her straddle that chair leaving her just a little more exposed?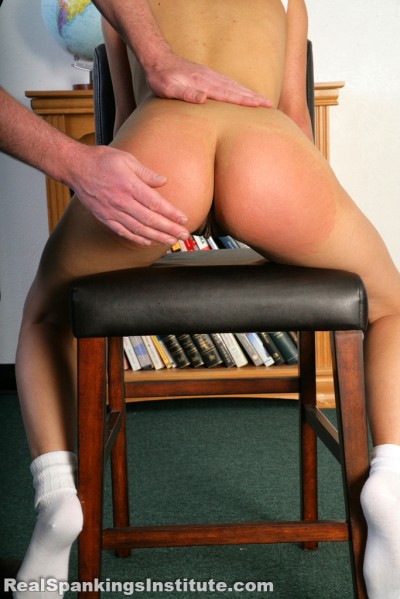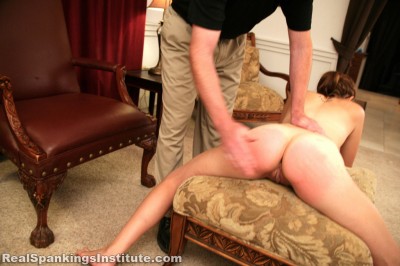 Maybe she needs a little session in which she is required to lay down on the bed for a long strapping. Why just lay her down on the bed and get the belt out? Require her to fully undress before you as you go through your selection of belts deciding which one will hurt the most. Then lay a few pillows down on the bed, so her ass is nice and high in the air. But don't stop there, now it is time for her to spread her legs as wide as she can get them. We just took a comfortable and effective spanking position and made it embarrassing and exposed.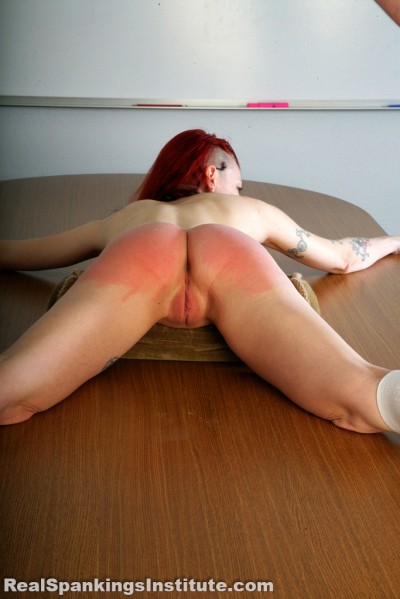 What about those times in which you take her into your home office and bend her over the desk for a little school type discipline? Is it really best for her development that you just have her barely bare her bottom and bend over the desk? We want this to be a punishment that is remembered, not one that just blends in with all of the other spankings she has received. She needs to get naked and she needs to do it now. I am putting her completely up on the desk, on all fours, but there will be no hands involved, she will be balancing on her elbows. Her legs are going to wide enough that her vagina is open and on display for the world to see. And I am not going to start right away, I am going to let the full physical discomfort and mental embarrassment sink in for a good long time before I ever get started. If she does not like it…good, then maybe she will get her act together.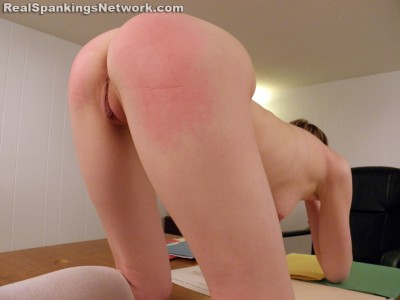 It does not have to end there; I will make it as uncomfortable and embarrassing as I possibly can. What is more embarrassing and uncomfortable than being fully naked, bent completely over, with her legs spread, her back arched, and her legs a little bent…doing so while elevated. If she thinks that feels vulnerable, then she can assume that same position while standing on a chair. Now all of her naughty bits that she is embarrassed to have exposed are now at eye level for me.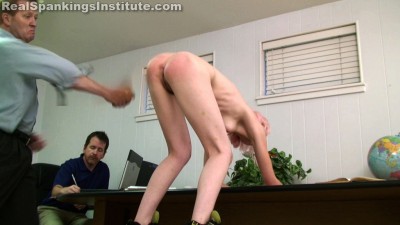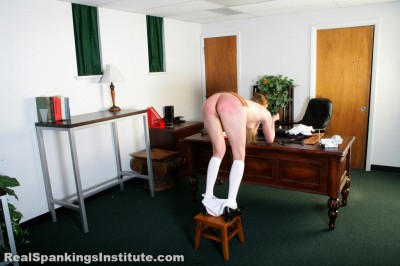 When we begin to get complacent as disciplinarians then the behavior eventually wins. When we are simply spanking her when she is in trouble, we are only feeding her fantasies and the behavior just gets worse. You owe it to that special person, the one you have made this commitment with, to do your very best, with each and every offense and behavior that is presented to you. You are doing her a disservice by not making each and every punishment as bad as you can make it. Most people just spank harder, but we need to be better than that. Yes, it might be football night, or you were about to head out the door for a few drinks with some buddies, but you have to stay committed to providing the discipline that is required, when it is required. She needs to be naked, uncomfortable, embarrassed, exposed, in a physically demanding position, and generally hating every single part of her punishment, if not, then her behavior is now your fault.
All pictures come from punishment videos in the member's area of RealspankingsInstitute.com

[ Monday, July 06, 2015 ]
Tears 2015- Part 1
Our latest PPV- Available now HERE
The purpose of corporal punishment is to provide enough pain to a young lady's bottom to teach her a very real and a very proper lesson. The best indicator that a lesson is learned is TEARS. It is not until she is crying like a little girl that we know that the job is done. In this 84 minute video, you will corporal punishment administered as it was intended leaving each and every girl crying. WARNING- this is very real corporal punishment, these are not fun and playful spankings.
[ Thursday, July 02, 2015 ]
Spanking Story
Many years ago, I am guessing about a decade, on my forum a woman requested that I write a story for her, one based on the fact that she was a military wife who had always dreamed about being in a domestic discipline relationship. As far as I can recall, this was my first real attempt at spanking fiction. You will see the same themes that have always held true to me in all of my writings. I came across this story again recently and thought I would share it with you all.
While she had never admitted it to him, after a few years of hints he began to get the idea that his wife had a desire to be spanked. On more than one occasion, she teased him during an argument with, "what are you going to do, spank me?". The whole concept was pretty new to him, but when he could find the time, he explored a little on the web to better understand her kink. Just as with his military career, he took on all things with vigor and enthusiasm. He just wasn't one to approach things half-assed and he wanted to fully understand what it was his wife desired, before he ever tried to attempt spanking her.
[ Wednesday, July 01, 2015 ]
Spank-O-Matic
Spanking machines have come a long way, and there is no doubt that the Spank-O-Matic is leading the charge. I recently had a couple of naughty girls before me that needed a little work done on their bottoms. I simply got behind my laptop and took care of things with my mouse. For those that think that these machines cannot spank hard enough, look below and think again.