The Spanking Blog
This is an adult site dedicated to the exploration of spanking between consenting adults. The main focus is on disciplinary spankings portrayed in various spanking videos and pictures, with sample pictures and reviews of the spanking content. The most recent blog posts appear below, and the free spanking picture galleries on this site can be found on the menu on the left. All spanking content on this site is free, and any link leading you outside of this site is clearly labeled as such. You must be 18 years or older to view this site.
[ Thursday, March 31, 2011 ]
Bruised Bottoms at Realspankings.com
For those of you who have forgotten the type of discipline that I used to administer at Realspankings.com, then you might want to take a peek. Whether I am doing the spanking, or if I am behind the camera, you can be sure of one thing...the butts will be well spanked. No more Coach and Miss Burns, just myself and a crew of hard hitting spankers. Realspankings.com is filming new content everyday from our new studio, and as you can see below, many young ladies are having a hard time sitting down following their shoots. Real punishments, real discipline, and once again Realspankings.com. We just filmed our 1400th original and exclusive scene for the site, and every scene is online. One membership, 1400 spanking scenes, check us out again.
Schoolgirl corporal punishment and bruised bottoms
I thought I would share with you some of the recent work in the new studio that we have been doing for Realspankings Institute. We have a new studio, some new models, a couple of new spankers,but as you can see the results are the same...Bruised Bottoms and lessons learned. All pictures from 2011 updates at Realspankings Institute. Click any image for full-sized picture.
Nice weather for an outdoor butt paddling
It is beginning to warmup in Colorado, the perfect weather for a little outdoor paddling. Miss Ivy takes a hard paddling with our new rice paddles. It is a good thing I bought more than one, as the first one was only good for a dozen strokes. Coming soon to the member's area of Realspankings.com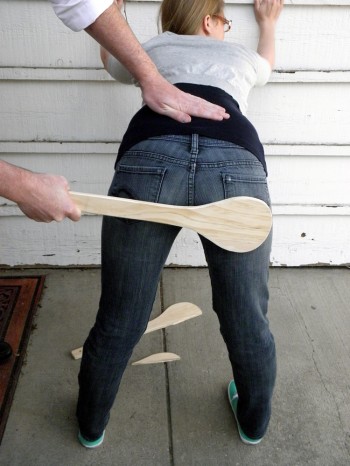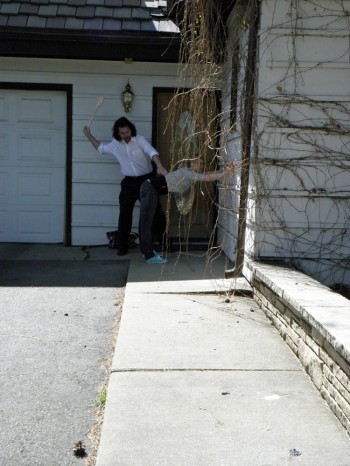 [ Wednesday, March 30, 2011 ]
Tomorrow's Shoot
Tomorrow's shoot with Monica has been entirely scripted by fans, based on posts to my Twitter account and my Facebook page. Thanks for everyone's input, I will post pictures on Twitter tomorrow during the shoot, so you can see real time images of your suggestions. The winning suggestions were:
1) A Hard paddling with a wooden paddle while bent over the arm of a couch.
2) Spanked in the position of having knees on a chair, but elbows on the floor.
3) Ending the day with a long and hard otk hand spanking, over an already marked and bruised bottom, as opposed to beginning the day with a handspanking.
Thanks to those who participated. Next week we will also do member/fan input for three additional scenes.
Cheers,
Michael Masterson
Real Discipline with Michael Masterson Part II
A couple of months ago I decided to film and share another private session with Monica. As is the case with the personal discipline I administer (generally off camera), these sessions tend to far exceed the severity of the scenes I film for my pay sites. I generally only do private sessions with young ladies who really have a desire to learn from their discipline. As you would expect, even those these girls come to me for very real discipline, 90% also have a spanking fetish. I have covered this concept in previous articles (such as "how to effectively punish someone who likes to be spanked"), and it is quite a bit more difficult to truly make a point and teach a proper lesson when to some degree the girl has fantasized about being spanked. As you would expect, the severity has to be increased to a level in which I am very sure that she is gaining no pleasure from the spanking portion of the punishment. I then try to be creative in incorporating other aspects of discipline that I am sure she will not enjoy.
So for this private session with Monica I used a little bit of everything. First of all, she showed up 25 minutes late, for her own discipline session, not a good start. I actually setup a camera and point it at the driveway, so you can see her show up late and practically run to the front door. Her excuse for being late begins with "you would not fucking believe...", which is never a good idea when you are there to be punished. There is very little in the way of talk, she knew why she was there, so I get right down to business. The spanking is long and hard, and she a great deal of trouble holding still. Her inability to hold still costs her dearly and as a result her thighs come into play. Her thighs are spanked quite severely (see picture below). Further inability to hold still gets her hands involved. She takes one of the hardest hand punishments I have ever given and as this results in something we have not seen on camera with Monica...TEARS. Not just a couple down the cheek, but full on crying. We then go back to the punishment and the paddles come out. At some point in there I add in a very long and bad tasting mouth soaping. The whole thing ends with her being taken outside for some fully naked corner time.
So, if severe spanking, strapping, and paddling of a gorgeous young lady's bare bottom appeals to you, along with severe hand strapping to tears, more strapping and paddling, mouth soaping, followed by fully naked, outdoor, semi-public corner time...then this might be the video for you. If you are a member of Realspankings.com then it is free with your membership and is already online (along with Real Discipline with Michael Masterson Part I). If times are tough and you are not doing much in the way of monthly memberships, this can be purchased as a stand alone scene Spanking Library. There is also a one minute trailer at that same link with additional photos.
Here are a couple of pictures from the punishment. One shows her well spanked bottom and thighs, the other some of her outdoor corner time.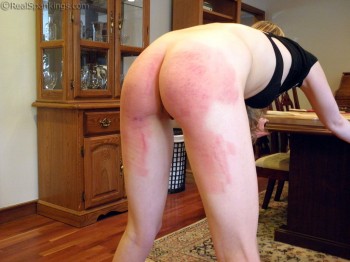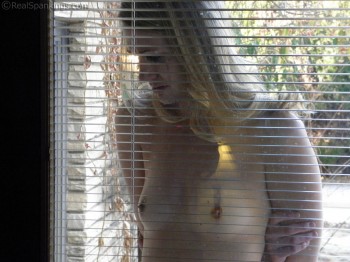 [ Wednesday, March 23, 2011 ]
Getting my tweets on
Now that I have figured out how to Tweet from my phone, I am trying to once again tweet before and after each shoot. For many, this will give you a chance to give your thoughts on scenes and help with the script for the day. You can follow my tweets at Michael Masterson Twitter.I post exclusive pictures minutes after the shoots. My twitter account is now associated with my Face Book Account, so all posts and pictures are cross posted there. There are exclusive pics from yesterday's shoots posted at both locations.