Undies Out Paddling for sorority girls
In my never ending sorority paddling pictures quest, I have found a few from different sources that are quite different. From the descriptions I have read with the various pictures, there seems to be a few different activities that the sororities put the pledges though that involve them wearing men's underwear on the outside of their clothing. On a few of these, the activity also seems to involve paddling. One of these sets of pictures was labeled "inititation", the others were labeled "scavenger hunt".
These three were labeled "initiation". All of the girls are blindfolded and wearing the men's underwear on the outside. They are lined up tp be paddled by guys from a fraternity as the active sisters look on: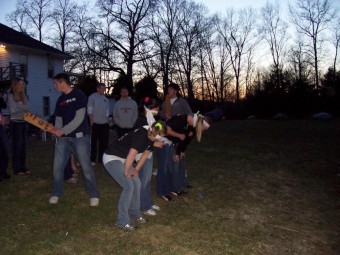 The rest of the pictures from this post were moved to their own page to spped up load time. Click the "More" link to view the rest of the sorority paddling pictures from this post.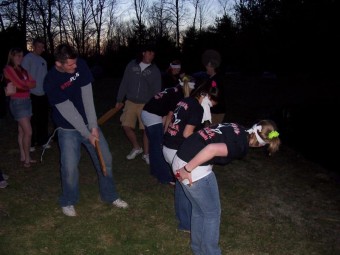 If you look close in this picture, you can tell that this was not a spontaneous paddling, the girls have "paddle me" written on their underwear, so it is clear they came to this location to be paddled: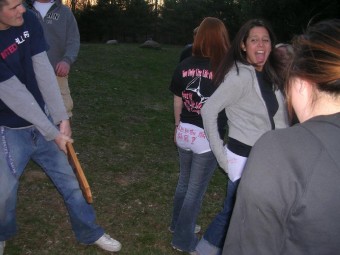 These two came from a different sorority and while labeled "scavenger hunt" there is clearly something related to the big sis/little sis relationship during this paddling: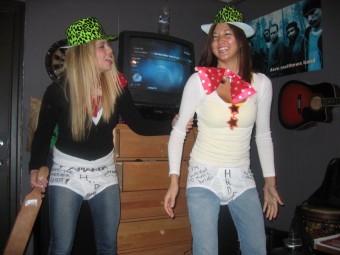 If anyone has any insight in to the "undies out" tradition with sorority girls, please leave a comment.
Comments:
i like these pic but for some reason to me thoses girls look young to be going to college.
another thing those girls must had been embrassed to to be wearing underwear and getting paddle by thos guys.
Fantastic find! Keep these coming if you can possibly find more like it. Even better, if you can find any Bare Bottom paddling pics(girls only please)

That would be awesome!
Onegr8om