The Spanking Blog
This is an adult site dedicated to the exploration of spanking between consenting adults. The main focus is on disciplinary spankings portrayed in various spanking videos and pictures, with sample pictures and reviews of the spanking content. The most recent blog posts appear below, and the free spanking picture galleries on this site can be found on the menu on the left. All spanking content on this site is free, and any link leading you outside of this site is clearly labeled as such. You must be 18 years or older to view this site.
[ Monday, January 30, 2017 ]
Spanking Awards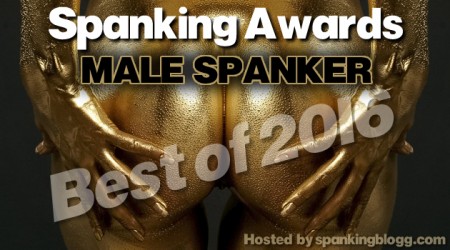 The voting has begun for the 2016 Spanking Awards. I would appreciate your support if you feel my content deserves it. Currently, I am nominated for Male Spanker of the Year, I would appreciate the vote. There will be new categories added soon and several of our models are nominated in other categories. Thanks.
[ Tuesday, January 17, 2017 ]
Realspankings.com
People are a little hesitant currently to pay for a monthly membership to a spanking website. I would like to better inform you all what you actually get and what you can expect from my flagship site Realspankings.com. First of all, I know that people are paranoid regarding monthly billing sites, as it often seems impossible to actually cancel. We have been using CCBill for close to 15 years and there is no mystery there as to how to cancel your subscription. Hell, I will make it nice an easy for you before you even think about signing up. Just want a membership for 30 days and never want to be rebilled? Having spent a couple of months on my sites and have now downloaded everything (it takes a couple months to do so as there is so much content), then simply click HERE to cancel your membership no questions asked.
The main question for most people is what do you really get with your membership. Here is a little snapshot of Realspankings.com, as of our most recent update yesterday. First of all, we update three days a week with a new scene and photo gallery, and have done so since 1999 without ever missing an update. Currently you will find:
- 2297 Scenes (this is not how many different video clips, this is total number of actual scenes online that you have immediate access to).
- 98,068 Photos (there are dozens of still pictures taken for every scene).
- 179 Models (the total number of girls who have been spanked for this site).
- Media- We offer files as a Flash file that can be viewed on your computer, without having to save and download (good for computer privacy). We also offer downloadable versions, in various sizes, both .wmv and .mp4 files, up to 1920x1080 resolution. All scenes include a face view and a bottom view for the duration of the punishment.
You have the ability to search our giant database based on implement, position, spanker, and model. To give you a sense of what you may find, here are the number of results from some of our more popular searches:
- Wooden Paddle- 467 Results
- Belt- 240 Results
- Leather Strap- 405 Results
- OTK- 600 Results
- "Monica"- 199 Results
The primary focus of our scenes is how corporal punishment is actually administered in the real world. We do not do the fantasy sort of spankings such as doctor/nurse or boss/secretary as real discipline does not take place in those scenarios. Instead you will see a very strong focus on how spanking are actually used to correct behavior in the real world. We film many domestic scenes that have the feel of very real parental discipline, as well as many scenes that focus on exactly how corporal punishment is utilized in the high schools throughout the Southern United States. The concepts are the same throughout all of our videos...a young lady engaged in a behavior that she knows was wrong, is caught, and she is then punished in a manner designed to punish her and change her behavior. As you would find in typical parental discipline and school corporal punishment, there are no warm-ups in our spanking scenes. No parent ever started with a gentle spanking in order to make sure it was easy for their daughter to get through the punishment. Our scenes start as hard as they end, with the goal of teaching a very real lesson from the beginning. You will see why we have been the number one spanking site in the world for almost two decades, as tears and bruised bottoms are very common in many of our videos.
I will be honest in saying that we do not do fun, playful, or romantic spankings on our site, so if that is your thing, this is not for you. Below is an example of exactly what I am talking about, so please watch it and see if this type of parental feeling corporal punishment is for you. If you like what you see, please take a chance with us and signup for a monthly membership. You will find another 2296 scenes in the member's area, and I am certain you will find something that you like. Take a look at our free area to see pictures from some of our latest updates and to browse our entire model index.
Visit Realspankings.com here and we thank you for considering us as your next membership site.
[ Friday, January 13, 2017 ]
Individual Spanking Clips
I am quite aware that there are many people that will not buy a subscription to a website, especially with reoccurring billing. With the popularity of Clips4Sale, i have begun a store that sells clips individually for download, with single time billing. I am slowly populating it with what I see as some of the best scenes I have ever filmed. Each clip is at the very lowest price point that Clips4Sale will allow based on the length of the video. All current videos are HD quality at 4000kbps resolution. Link below for those that are interested.