The Spanking Blog
This is an adult site dedicated to the exploration of spanking between consenting adults. The main focus is on disciplinary spankings portrayed in various spanking videos and pictures, with sample pictures and reviews of the spanking content. The most recent blog posts appear below, and the free spanking picture galleries on this site can be found on the menu on the left. All spanking content on this site is free, and any link leading you outside of this site is clearly labeled as such. You must be 18 years or older to view this site.
[ Wednesday, April 27, 2011 ]
More Real Discipline
I previously posted about the Real Discipline with Michael Masterson II. This is a very severe video featuring Monica getting a real punishment spanking from me. In additon to a butt bruising spanking, paddling,and strapping, her hands are punished, her thighs receive discipline, and her mouth is washed out with soap. This video features her 1st on screen all out sobbing. Here is the preview video.
This video is included in the Member's area of Realspankings.com or for sale as a pay per view clip at our studio at Spanking Library.
[ Thursday, April 14, 2011 ]
Very Realistic School Corporal Punishment Paddling
Yesterday I decided to try and film a very realistic school paddling scene with Lila and Frankie. Both girls were made to wait outside my office and were called in one at a time by Miss Kay (a new spanker in training). Each girl was made to place her hands on the wall, and extend them way out and then received 8 swats, with a heavy wooden paddle, on her jean covered bottom. The pic below is an after picture showing the results of a serious school type paddling. I know for a fact that both girls are sitting very gingerly this morning. Video will be posted in the member's area of Realspankings.com.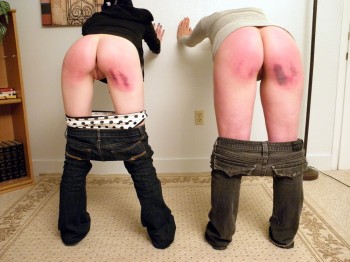 [ Thursday, April 07, 2011 ]
Naughty Asian Wives
On occasion in a domestic discipline relationship, the offense requires quite a severe punishment. The results of such a punishment are not always pretty, but do assure that a lesson is learned. A few days of not being able to sit down makes sure that the memory of the spankings do not fade too quickly. These naughty Asian wives had to learn the hard way, and it is clear they will be sitting gingerly for days to come.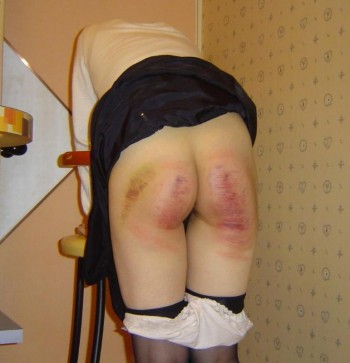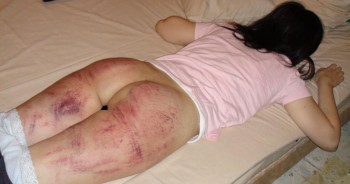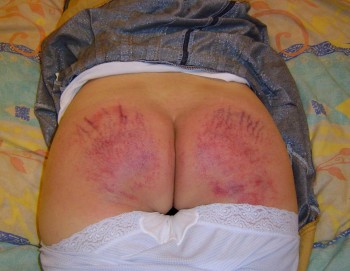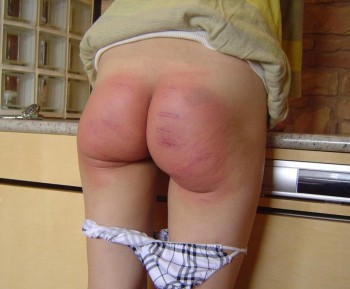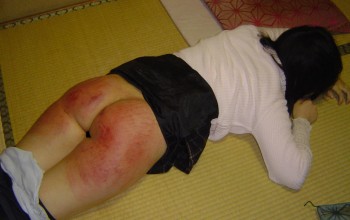 [ Wednesday, April 06, 2011 ]
Mass Schoolgirl Caning from Vietnam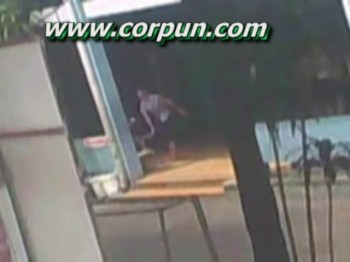 In today's world of cell phones and tiny video cameras, real school corporal punishment being captured on camera is becoming more common. You often wonder how much of this still goes on throughout the world, but as this clip from Vietnam shows, corporal punishment is alive and well. In this clip, there are more than a dozen teen school girls (possible dozens based on the line) being punished by female school teachers, using a cane. These are not playful little strokes, these are full on strokes with a follow through like a strapping. One at a time the girls come up and lay down on a bench of some sort. The actual contact is not visible, but you can see and hear the punishment taking place. Each girl gets five strokes and then gets back into a line of girls, that probably all just went through the same thing. I am not hosting this clip, it is located at Corpun.com.
[ Tuesday, April 05, 2011 ]
Fetlife
I am becoming more active with my Fetlife account, as they allow my types of pictures and video to be posted without any restrictions. Two videos were posted there yesterday. You can view my Fetlife profile at Michael Masterson Fetlife
Some of our spanking shoots from the last few weeks.
Greetings! I thought I would highlight some of the latest shoots for both Realspankings.com and RealSpankings Institute.



Lila raises her skirt and drops her panties for a well deserved strapping.

Pulled from gym Lila gets a bottom bruising paddling.

Riley is forced to remove all of her clothing and submit to a strict and severe fully naked caning.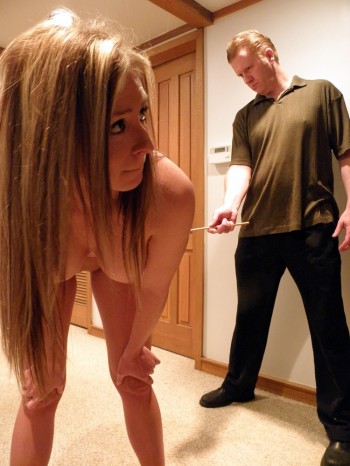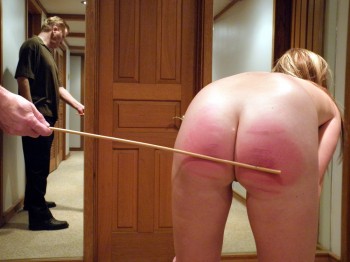 A very realistic scene with Monica is which she gets a hard paddling over jeans in her bedroom.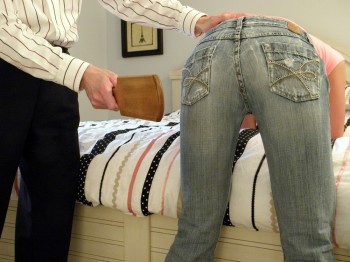 A one cheek hand spanking.

A strict paddling over jeans and then bare in the living room.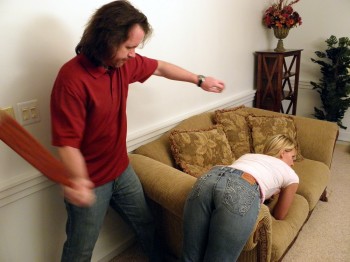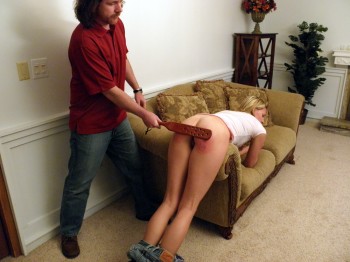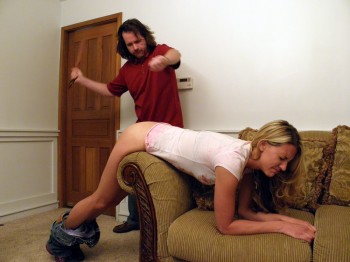 Bare bottom discipline with the strap for Riley.

Brooke spies on Ivy as she receives a fully nude paddling in her bedroom.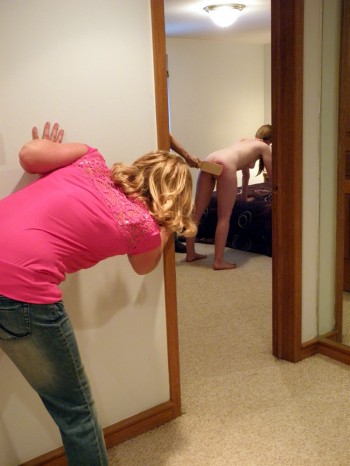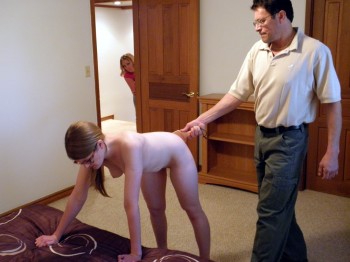 [ Monday, April 04, 2011 ]
OTK Hairbrush Spanking from Mom
Pictures like this are still my very favorites. Maybe it is because they are some of the very 1st I saw growing up, or maybe it is because this truly looks like a naughty older teen getting a well deserved hairbrush spanking from mom. Either way, it represents classic corporal punishment pictures at its very finest. Classic spanking picture courtesy of Ed Lee and Nu-West/Leda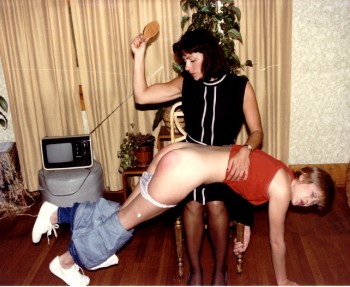 [ Friday, April 01, 2011 ]
Asian Discipline- A focus on Embarrassment
Whether it be through bare bottom corner time after a spanking, forced public nudity, lowering panties in front of a large group, or undressing in a room full of strangers, the addition of embarrassment to a punishment can really make a punishment more effective. These pictures that show similar such punishment being applied to young Asian girls demonstrate my point. While two of these pictures are most likely from some sort of adult production, two of them are clearly pulled from real life. One is a repost on this blog, but fits nicely within this theme. If anyone has any information about the last two pictures, please post a comment, I would be curious to know the origin, o rexactly what is going on in these pictures.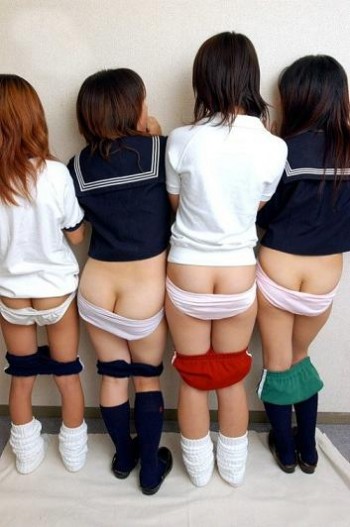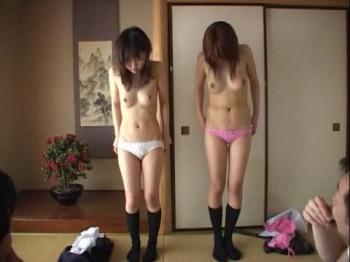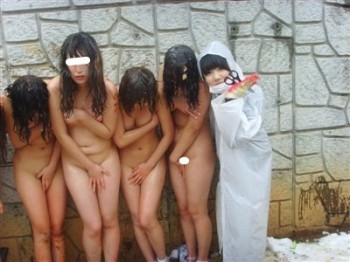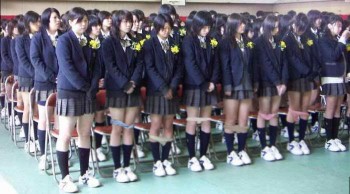 Young, Helpless, Willing
College age, bound, naked, needing a good spanking, will do whatever they are told, eager to please, properly punished, perfect eye contact, moist, new experiences, red bottom, kneeling, begging, ready, willing, no limits, experimentation....hmmmm, did I actually type that. My mind was wandering a little, memories of 2010.