The Spanking Blog
This is an adult site dedicated to the exploration of spanking between consenting adults. The main focus is on disciplinary spankings portrayed in various spanking videos and pictures, with sample pictures and reviews of the spanking content. The most recent blog posts appear below, and the free spanking picture galleries on this site can be found on the menu on the left. All spanking content on this site is free, and any link leading you outside of this site is clearly labeled as such. You must be 18 years or older to view this site.
True Accounts
Descriptions of real life punishments. Please note that we find the spanking of children to be a dangerous and ineffective form of punishment. This category is only offered to explore the various forms of spanking that people endured growing up.
[ Tuesday, June 21, 2005 ]
More true accounts of high school corporal punishment with a paddle
For the most part, when I discuss true accounts of spanking, I generally only post accounts that I have heard first hand from a trusted source. In most cases, the accounts are from kids and teens that I grew up with that were subjected to corporal punishment. In addition, I often discuss spanking accounts that were told to me by our various models during their interviews.
On occasion, I will post true spanking accounts from individuals that I have never met, but have maintained online correspondence with. With my profession, I am contacted by many people for a variety of reasons. One of the most common e-mails I get, come from women who have had spanking desires their entire life and have always hidden these thoughts from everyone. I guess they contact me because it is an easy and anonymous first step in coming to grips with their fetish. For them, it is major progress to write to someone and confess their secret desires. They are generally not looking for anything from me, they have repressed their feelings for so very long that they almost just need to confess that they want to be spanked. As a fairly visible member of the spanking community, it makes sense to them to contact me.
In some cases, I just wish them luck and encourage them to explore their sexuality without feeling the current guilt that they do. Some of the correspondence continues as I try my best to help these ladies understand their desires. A couple of years ago I began correspondence with a young lady who was having trouble coming to grips with her desires. To her, these thoughts made her feel ashamed, due to the fact that she received frequent corporal punishment for most of her childhood. We have discussed her childhood punishments in detail and I have no doubt that every word she has ever written me to be completely true. Due to the uniqueness of her true spanking accounts, and with her permission, I thought I would share some of the experiences she has sent me.
Click "MORE" for the complete account of the last paddling she received as a senior in high school.
Posted by
Michael Masterson
on 06/21 at 10:49 AM in
True Accounts
Descriptions of real life punishments. Please note that we find the spanking of children to be a dangerous and ineffective form of punishment. This category is only offered to explore the various forms of spanking that people endured growing up.
Permalink
•
Tell-a-Friend
[ Monday, May 02, 2005 ]
Sorority Paddling, Hazing, and Initiations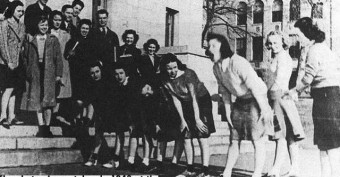 Click for full-sized image with article text
I think most people that are into spanking find the thought of cute sorority girls paddling each other to be quite sexy. Unfortunately most of these activities are kept a secret and most of us will never get the full details. As illustrated in the image above, (which I believe to be from Life magazine) in the past these activities were not as frowned upon as they are today. There are enough current news stories to demonstrate that sorority paddling as an initiation and as hazing is still alive and well, but we hear little about it because it is a very quick way to get your sorority charter revoked. Most of the news I have read tends to focus on the injuries that resulted from sorority paddling and there is certainly nothing sexy about internal bleeding as the result of abuse.
But we love to fantasize about a row of cute pledges with their skirts lifted being paddled by their pledgemaster. I was a member of a fraternity as an undergraduate in college, and as a result, I knew my fair share of sorority girls. As pledges and active sisters they are very dedicated to keeping all of their pledge activities a secret. But, not everything is a secret and I was able to obtain some minor details in regards to sorority girls being paddled. First, I have never heard a verifiable account of a modern sorority paddling their pledges as a form of discipline. I have read articles in which pledges were paddled as an inititation, but never when they were in trouble. This is not to say that it does not take place, but I do not report on things that I do not have a reliable source on. The one consistant paddling account that seems to be universal is based on a pledge giving her "big sister" her paddle. Most fraternities and sororities honor the tradition that the "little brother" or "little sister" is to make and give the paddle to their "big sister" or "big brother". I have yet to meet a sorority girl that owns a paddle in which she did not get at least one swat from it. All of the sorority girls that I knew in college that would talk about it admitted that when the paddle was presented that a single swat was exchanged by the girls. In most cases this was done in front of the entire sorority membership. More than one girl admitted to me that it was not uncommon for the active member (having already received her swat first) to raise the pledges skirt. With as competitive as many of these girls are, the swats were administered in an attempt to apply the swat harder than it was received. The distinction for them that seperated this from hazing, is that this was a voluntary ritual and was not a requirement. In addition, the pledge and the active sister got to swat each other, so this was not considered hazing of the pledges.
One girl in particular also told me that there is an exchange of swats between the president of the pledge class and the president of the sorority, when the pledge class presented their pledge paddle to be hung on the sorority house wall. These paddle are traditionally very large, often over four feet. While I am sure they are difficult to swing, from her accounts this exchange is one of the highlights of each semester. She felt that both presidents felt pressure to lay it on as hard as they could and that a two handed baseball swing was common and almost required to swing a paddle so large. She told me that the year she was a pledge that the paddle that they had spent many hours glueing letters and decorations on, had to be redone because half of the ornaments went flying after her pledge president took her swat from the sorority president.
There are many women who visit this blog, and do so in a anonymous way, so help fuel our fantasies and give us a few juicy details. You do not need to provide a school or sorority name, just let us know if you had any real life experience being paddled in a sorority. Regardless, next time you are visiting a friend who still hangs her sorority paddle on the wall, you can feel confident in knowing that her bottom knows what that paddle feels like.
On a side note, I noticed that agony auntie posted a picture that she felt was a modern day sorority paddling. I had not seen this picture before, so if you have any details of the source I would love to know. The picture is below and this is the full resolution version that I have. It certainly looks like it could be on a college campus and just as with the historic picture above, this paddling seems to have drawn a crowd and is being administered with a very large paddle swung with both hands. If you have details please send me or post in the comments section. Thanks!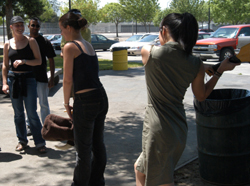 Posted by
Michael Masterson
on 05/02 at 02:05 PM in
True Accounts
Descriptions of real life punishments. Please note that we find the spanking of children to be a dangerous and ineffective form of punishment. This category is only offered to explore the various forms of spanking that people endured growing up.
Permalink
•
Tell-a-Friend
[ Saturday, April 30, 2005 ]
A unique true account of corporal punishment at home and school
Early on in the days of Realspankings.com when I was still shooting content out of my house, I was contacted by a woman who had always fantasized about being punished as an adult. She so desperately wanted a real punishment for real life issues that she was willing to fly to my city from Oklahoma, get spanked, and then fly right back home on the same day. Obviously, I took her up on her offer and we set a date for her punishment.
As I have always done when dealing with real life discipline issues, I spent a great deal of time communicating with her to determine not only what she was looking for, but also trying to get a better understanding for her motivation. We spent a couple of months communicating via e-mail and chat and she clearly described for me her extensive experiences with corporal punishment as a child and teen.
She grew up in rural Oklahoma and never left. She currently works as a teacher in the same school district that she attended while growing up. While we often see progress in the United States, it was clear from her accounts that not much had changed in the small town she lived in. This town might as well be the poster00.
child for the "Bible Belt". Just as when she was a kid, corporal punishment is the primary form of discipline that is still used today. The schools not only use the paddle as the primary form of discipline, it is clearly encouraged by just about every member of the community.

Posted by
Michael Masterson
on 04/30 at 08:30 AM in
True Accounts
Descriptions of real life punishments. Please note that we find the spanking of children to be a dangerous and ineffective form of punishment. This category is only offered to explore the various forms of spanking that people endured growing up.
Permalink
•
Tell-a-Friend
[ Monday, March 28, 2005 ]
Public Display of Implements
I have always wondered if the displaying of implements that are used to spank really works as a deterrent to bad behavior. It seems to me that if the spanking is applied forcefully, then the person who was spanked has a clear mental reference, that will either deter future bad behavior or it will not. I question if the public placement of the implement used has any additional effects.
Regardless, at least when I was growing up, this seemed to be a common practice. I related the account of Traci, in which her parents stored a small wooden stake with sanded edges on the mantle above the fireplace. It was not super obvious; she actually had to point it out to me before I ever noticed it on my own. I did however notice it every single time I went in her house after that day. My best friend, who along with his sister, was punished with a belt until at least the age of 15. The belt seemed to be used exclusive for smacking their bottoms and was kept in the family room, folded over a cart that held TV trays. Three doors down from me was a girl a couple of years younger than me and we did not really hang out all that much, but I did end up in her house on various occasions. Hanging on the doorknob of the hall closet was a large wooden brush, what I think you would refer to as a "clothes brush", and when I asked her what it was for, it was clear from the various shades of red she turned and her stuttering response, that it was applied to her and her sister's bottoms. She would not admit it, but there was no doubt that this was its intended use in her house. Dee has also described for me that paddle that hung on the wall of her best friend's living room. It was the first time she had ever seen a "Spencer Paddle", a wooden paddle with holes drilled into it. Apparently it became a fixture in their living room when her friend's mom remarried. I guess the step-dad decided that his hands were full with the discipline of his two teenage step-daughters and that a paddle would help.
I can't even imagine how horrifying it must have been to not only be in a house in which you were punished with various implements, but to also have these implements displayed in a public way for your friends to ask about. Some of the implements were pretty obscure and had various uses around the house, but a wooden paddle with holes, hanging on the wall of the living room is a hard one to explain to your friends.

Posted by
Michael Masterson
on 03/28 at 02:41 PM in
True Accounts
Descriptions of real life punishments. Please note that we find the spanking of children to be a dangerous and ineffective form of punishment. This category is only offered to explore the various forms of spanking that people endured growing up.
Permalink
•
Tell-a-Friend
[ Sunday, January 23, 2005 ]
True Account, M/ff, Severe
A couple of years ago a girl named Andrea posted a true account on The World Spanking Forum that I have always found to be one of the best I have read. It recounts a very strict strapping she witnessed as a teen and then details her six year search in trying to find out what it would be like to endure a punishment equal in severity. Needless to say, she finally finds the discipline she was looking for and learns the hard way to be careful what you ask for.
From Andrea at the World Spanking Forum
This is account is the result of a 6 year search to try and recreate and receive a very severe strapping I saw a good friend of mine receive.
The event that affected my life in such a deep way happened when I was 15 years old. A good friend of mine, Gina, had very strict parents and her dad was a Pastor at our local church. On several occasions, I had seen her well-marked bottom after a strapping from her father. Already very curious (and excited) about the whole concept of spanking, I often asked her about her punishments. While she was not shy about letting me view the results, she would not give me the details that I craved about her punishments. About as much as I could get out of her was that they were applied very forcefully on her bare bottom with a strap. She was always too embarrassed (and I think thought I was pretty weird to ask) to give me a blow-by-blow account. One Wednesday afternoon, this all changed.

Posted by
Michael Masterson
on 01/23 at 06:20 AM in
True Accounts
Descriptions of real life punishments. Please note that we find the spanking of children to be a dangerous and ineffective form of punishment. This category is only offered to explore the various forms of spanking that people endured growing up.
Trackbacks
(1) •
Permalink
•
Tell-a-Friend
[ Thursday, January 13, 2005 ]
True account of school corporal punishment
A description of a school paddling that a good friend of mine received in a public school in Texas during the late 80's.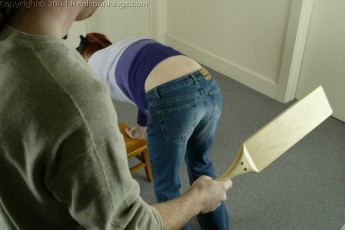 It should be clear by now that I have a fascination with school corporal punishment. I think one of the main reasons is the fact that it was my only personal experience with spanking growing up, being that I was never spanked by my parents. As I have stated before, as a teen, I would do just about anything I could to get girls I knew to talk about their experiences being spanked. Today, I thought I would detail one of my favorite school paddling accounts that was actually told to me directly by the girl who experienced it.
The girl in question is the younger sister of one of my good friends. While a couple of years younger than the group I hung with in high school, she was close with her brother and as a result, we were often at the same parties together or just hanging out on the weekends. Being that this is still a person that I communicate with, I will change her name and the school involved, but everything else is 100% accurate. Even though "Laura� was a sophomore when I was a senior, every guy considered her to be one of the hottest girls we knew. She was unbelievably gorgeous with the kind of ass that fuels every school boy's fantasies. The summer before her sophomore year, her brother, mother, and her all moved to a different school district. The school was actually closer to my house than the one I attended, but it was a different district. I lived in a suburb of Ft. Worth Texas, which was a small town that was about as far away from the city as you could get without being in the country. The town they moved to was maybe ten miles from where I lived, but it was considered "the country�. This was a town that had three different schools, a primary, middle, and high school. Although small, they were their own independent school district.
While they had moved, we still hung out just as much because they were not any farther away. One day I was asking her brother what he thought of the new school and his response was "it is Hicksville�. He explained some of the differences between the new school and the one I attended. One thing that I found odd was that they had a dress code. Things like concert shirts, shorts, and ripped jeans were not allowed. If you wore a button up shirt, every button had to be fastened. It was clear that this was a much different school environment than they were used to. Through further probing, he mentioned that each and every week he had heard at least one paddling take place in the hallway. This of course got my attention, so I asked him if he had been paddled. He laughed and said "Hell no, but Laura managed to get one during just her second week�, I just about fell out of my seat. The thought of Laura presenting her beautiful bottom to be paddled was almost more than I could bear. Trying not to cross the line between being curious and being perverted, I simply asked him how that went. He responded with "you would have to ask her, but she said it hurt like a mother fu****�. I left it at that but knew that at some point I would have to get all the details.
It was several months before I found a chance to talk to her about it without being in a room full of people. It was a Friday night and we were having our typical gathering at an older friend's place that had his own apartment. Most of us were there and my friend got a call from his sister asking him to come and pick her up and bring her to the party. He told her no and that he was not going to drive an hour round trip to pick her up. I quickly made up the excuse that I was going to run and get cigarettes anyway and that I would swing by and get her and bring her over. He told her that I could come and get her and she was happy and said she would be ready. I drove the 20 miles to get her, considering how to explore the topic of her school paddling. As I pulled up she came running out and was very grateful that I had come all that way to get her.
I went right into a school talk and her if she was making new friends. I continued with the small talk in the hopes that she would mention that she had been paddled. If never came up so I finally just said, "oh yeah, your brother said that someone paddled you, is that true�? She answered with, "Hell yeah, he busted my ass good�. Trying not to focus too much on the paddling, I asked her what she had done to get paddled. After finally breaking the ice, Laura detailed the entire experience during the rest of the drive. I will leave out the additional probing I did to get all the details and simply leave you with her full account. There may be a few details I have missed, but for the most part this is exactly what she experienced with her first school paddling.
As hot as she was, she obviously received a lot of attention from the boys in her school. This is what led to her first paddling. In a class with a female teacher, she had been extra chatty with a couple of the boys. They flirted and past notes throughout the class for several days. One day the teacher had enough and singled Laura out as the trouble maker. She was given a stern warning about the distractions she was creating in class. Near the end of her second week of school it happened again and this time she was "sent up� for it. There was no warning, she was simply asked to come to the front of the room. The teacher handed her a "pink slip� and told her to go see the Vice Principal. While at my high school there was a girl's VP and a boy's VP, there was a single male at her school who handled the discipline problems. She told me that what annoyed her the most was what she read on the pink slip as she walked to the office. It said "disrupting class, multiple warnings, disciplinary action required�. She was pissed because she had only been warned once, not "multiple� times. She was also bothered that on both occasions, the boy she was chatting with was never included as someone else that was also disrupting class. She knew she was pushing the teacher's limits, and felt that she might get in trouble, she just didn't like the way what had happened was represented on the pink slip.
She went to the office and asked the secretary where to go. She took Laura's pink slip and told her to have a seat. The pink slip was taken to the VP's office and she waited. After about 5 minutes the secretary told her she could go in. She entered his office and was told to take a seat. She stated that she was pretty intimidated because she had never even seen this man before. He took her pink slip and then spent a minute creating a file folder for her. He asked her if "disrupting class� meant chatting with her neighbor and such and she replied "yes�. He also told her that based on the teacher's notes that this seemed to be an ongoing issue. She replied that is had only happened one time before. She felt that he was used to students flat out lying to him and basically just dismissed what she had to say. She felt that he did not even really listen to her and had already made up his mind as to how to handle it. After he got her side of the story, she said that he became a little more stern and gave her a brief lecture. It seemed his main point was that he had very little tolerance for things that "interfered with the educational process�. He stated that most students see things like whispering in class and being late as minor offenses, but he saw things differently. His problem was that these were things that did not just affect a single student, they had the potential to distract everyone in the classroom and that all of these little distractions greatly affected how much learning could take place over the course of a day. She said that he made a few references to "how things were done at your previous school� and that he really made it sound like she came from a terrible school where discipline was out of control.
After the lecture he told her that she would get three "licks� for this offense and three "licks� for the previous offenses that had only resulted in warnings. He told her that a warning is basically a free pass, assuming the behavior is corrected, and that if it is not corrected, then there must be accountability for previous actions. She said that she was basically stunned. She said that she was not an idiot and knew what "licks� were, but the fact that this was actually going to happen to her, at that very moment, greatly concerned her. A school paddling was not something completely foreign to her as a concept; they had paddled at her junior high, but never girls. She also never knew of a paddling at her previous school in which it was not offered as a choice. She said her heart rate increased and she basically just sat there staring at the floor, wondering what was next. She told me that she had heard two paddlings take place in the hallway since she had been at school and that they were very loud. She looked up when she heard him open a file drawer and she then saw the paddle for the first time. She described it as "big as hell� with black tape wrapped around the handle. Unlike the paddling schools I had attended, there were no signatures on this paddle. She told me that it look as though it "had a lot of miles on it�. When I asked her to estimate the size she held up her hands about three feet apart.
He stood up from his desk and went and closed his office door while she just sat nervously in her chair. He then grabbed what she called a "Kindergarten chair� from next to a file cabinet and pulled it into the center of his office. I asked her what a "Kindergarten chair� was and she described it as "the little bitty chairs that you see in a daycare�. He instructed her to stand up and approach the chair. He told her to bend over, put both hands on the chair, and to position her feet so that were at least two floor tiles between them. I guess this is politically correct way to say "spread your legs�. She stated that he was very specific about her position and that she was to keep her hands in place and legs straight at all times. She told me that even before it started that it really sucked. She found grabbing the seat of that little chair to be difficult and really put a strain on the backs of her legs. Once in place he took his spot behind her and announced her sentence, "Laura you are getting six licks for disrupting the educational process�. She felt the paddle on her bottom for a moment and then received the first "lick�. She said that at first it did not hurt as much as she suspected, but very quickly the pain set in. Before she could catch her breath the next one fell, followed by the third. She was given a several second pause and then the next three were laid on just as fast.
She described the pain as "unfu***** believable�. She told me she had had her share of spankings from her mom when she was younger, but it was nothing close to this paddling. She honestly did not believe a spanking could hurt this much. She said that "it burned and just would not go away�. He walked back around his desk and put the paddle away. She told me that she was a little confused and was not sure if she could stand up. To be safe, she stayed in place until he told her to have a seat. I know how tough Laura was, so I asked her if she cried. She told me that tears streamed down her face after the first swat, but "I was not going to give the prick the satisfaction of seeing me blubber�. He filled out her pink slip and sent her right back to class. She told me that she went to the bathroom to pull herself together but ended up actually crying once she got there. I wanted to ask her how her butt looked afterwards, but felt that that might come off as a little perverted. Instead I asked her if it hurt for very long. Her exact response was "dude, my ass burned for days�. As a side note, she felt that the words on her pink slip "disciplinary action required� was the teacher's code for "this student needs to be paddled�.
This account has always stood out in my mind for many reasons. First, it was one of the most detailed accounts I had ever heard from a girl about being paddled at school. Second, she had one of the greatest asses I had ever seen and I had personally fantasized about spanking her prior to hearing this account. This is also one of the few accounts I have heard in which a female was paddled by a male without a witness present. It is also one of very few accounts I have heard in which the paddling was not an option, it was the only course of action. Right or wrong, this was very real and it did take place in a public school in Texas. Beyond paddling in the office, this was a school (and still is as far as I know) that allowed teachers to paddle students in the hallway where everyone else could hear. I asked her a little bit about this and she told me that she only knew of a few teachers (mostly coaches) that paddled themselves and that most teachers just sent student up. It was a drive that I will never forget and I was very disappointed when we made it back to the party. Thanks to "Laura� for fueling the spanking fantasies I had as a teen.

Posted by
Michael Masterson
on 01/13 at 02:02 PM in
True Accounts
Descriptions of real life punishments. Please note that we find the spanking of children to be a dangerous and ineffective form of punishment. This category is only offered to explore the various forms of spanking that people endured growing up.
Trackbacks
(3) •
Permalink
•
Tell-a-Friend
[ Sunday, January 02, 2005 ]
Growing with spanking in Texas
Getting the girls of my childhood neighborhood to talk about their punishments.
For me, as I suspect is the case with many, my spanking fetish started at a very early age. I was having spanking related fantasies well before I was at a point in which I was thinking about having sex with girls. While I was not looking at girls sexually at an early age, that does not mean I did not think about those same girls bending over for a spanking. Let me be very clear that I do not think the spanking of children is an effective form of discipline and it is a practice that should not take place. But as a child, I was not aware of the concept of "consensual spanking� between adults. I did not know that I would grow up and be in a place in which I spank dozens of different girls a month. The only thing I had to fuel my spanking fantasies was the thought of girls I knew being spanked in their home.
As I have stated in previous posts, I moved from California to Texas the summer before I started Junior High. While spankings took place in the neighborhood I lived in California, they were not the norm, and if they happened very often to people that I knew, I was not aware of it. The whole concept was much different in Texas and being spanked or "getting a whuppin� was a common enough occurrence that most kids were not embarrassed by the fact that it happened to them. It happened enough to all of the kids in the neighborhood that is was just a fact a life and one that they did not hesitate that much to talk about it. Like most into the fetish I suspect, as a kid I went out of my way to get the various girls in my neighborhood to talk about times that they were spanked. While always trying to appear uninterested and casual, I pressed them for as many details as I could get without seeming like a pervert.
There was not a single girl in my neighborhood that I talked to, that denied that she was spanked. While some would not tell me anything about their experiences, they would confirm that they were spanked. For me, the stuff that childhood spanking fantasies were made of, came from a girl named Traci. She was a year younger than me, and at the time, I thought she had one of the cutest bottoms I had ever seen. I was good friends were her older brother, so I had almost daily contact with her. Her brother loved to embarrass her and would often announce to us that Traci had been spanked the night before. While it would often make her blush, she would never deny it. After about a year of getting information about her spankings this way, I began to press Traci in private for more details. To my surprise, she had no problem not only taking about her punishments, but describing them in detail.
For Traci, a spanking at home occurred three to four times a month. Anytime she got in trouble, it involved a spanking. There were times that extra chores or being grounded were added on top of the punishment, but a spanking was always the first step. She was most often spanked with a little wooden paddle that her father had made in the garage. It was really just a wooden stake that her father has sanded the edges for a handle. The first time I asked her if I could see it, she simply walked up to the mantle in their family room and pulled it down. As many times that I had been in their house, I had never noticed the little piece of wood that was tucked away behind some family photos on the brick mantle above their fireplace. It was the first time in my life that I had touched an implement that was designed and used for spanking. It wasn't all that big or intimidating, but I had no doubt in my mind that it must have hurt like hell. Traci told me that it was generally used right there in the family room with her grabbing her knees. Her mom was the only one that ever paddled her and she stated that she generally got between 5 and 20 swats with it. I asked her is she cried when she was spanked and her response was "hell yeah, wouldn't you?�.
Of course I wanted to know if she ever got it on the bare butt and she stated that she had never been paddled that way. She did explain however, that a couple of times a year when she was in serious trouble, she would be taken to her parent's bedroom and strapped on her panties, with her pants around her knees. To me the belt seemed like a step down, not a step up in severity, from the paddle. She told me that a single paddle swat did hurt more, but that a "session with the belt� was a long and drawn out process that was far worse than any paddling she ever received. She related that a belt spanking was always for the worst offenses and was generally followed with being grounded for a month or so. As she described it, she would follow her mom upstairs and be told to lower her pants and bend over the edge of the bed. She told me that this was not bending over, but more laying over the edge of the bed. Her mom would then go to the closet and retrieve one of her father's large Western belts. While she waited with her pants around her knees her mom would yell at her for several minutes. After a long lecture the spanking would start. Unlike the paddle swats which were always spaced out, the belt spanking would be as fast as she could swing and last for more than a minute. She felt her mom spanked with the belt until she ran out of breath. Depending on how much trouble she was in, she could expect this process to happen between two and five times. Her mom would simply catch her breath, lecture a bit more, and then give another painful flurry of strokes with the belt. She estimated that her worst one had probably involved 4-5 separate applications of the belt, spread out over close to 45 minutes. She guessed that over the course of that entire punishment that she was probably smacked close to 150 times with the belt.
I am not sure what happened to Traci, she moved away when I was sixteen, but I will always remember the first girl to really fuel my spanking fantasies. I can only hope that somewhere she is still baring her bottom for a very lucky husband. While there were many girls in my neighborhood that were spanked, only Traci would give me a blow by blow account of her experience. If it helps at all, there was never a spanking that she was given that she did not feel she deserved.

Posted by
Michael Masterson
on 01/02 at 07:32 AM in
True Accounts
Descriptions of real life punishments. Please note that we find the spanking of children to be a dangerous and ineffective form of punishment. This category is only offered to explore the various forms of spanking that people endured growing up.
Trackbacks
(0) •
Permalink
•
Tell-a-Friend