The Spanking Blog
This is an adult site dedicated to the exploration of spanking between consenting adults. The main focus is on disciplinary spankings portrayed in various spanking videos and pictures, with sample pictures and reviews of the spanking content. The most recent blog posts appear below, and the free spanking picture galleries on this site can be found on the menu on the left. All spanking content on this site is free, and any link leading you outside of this site is clearly labeled as such. You must be 18 years or older to view this site.
[ Tuesday, September 15, 2015 ]
Behind the Scenes
A little peek behind the scenes from this morning's shoot.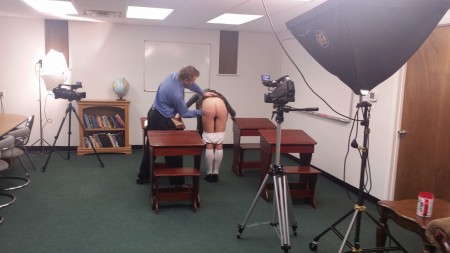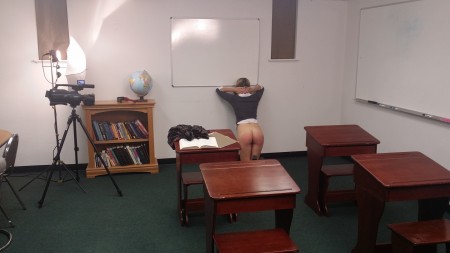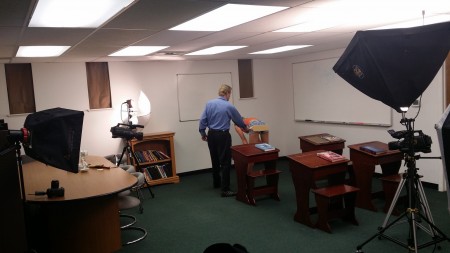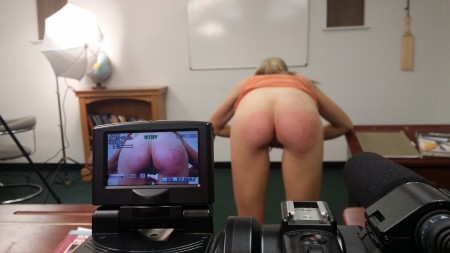 [ Tuesday, September 08, 2015 ]
Washing her mouth out with soap as a proper punishment
I find washing a young lady's mouth out with soap to be a very effective punishment, especially if you know that on some level a spanking is something that she enjoys. As I am one to do my very best to make a punishment fit the crime, a mouth soaping is applicable in many situations, as a young lady's mouth often gets her into trouble. But just because there is no physical application of pain, this does not mean a mouth soaping is a walk in the park. Just as with a spanking, I work very hard to make sure the punishment is very effective, and I spend the time to make sure it is severe and that a proper lesson is learned. I would never give someone a handspanking, over their clothing, which only lasts 30 seconds, as lessons are not learned this way. That is why when a mouth soaping is applied it cannot be as simple as her holding a bar of soap in for mouth for a given period of time. Let's take a look at what I see to be the proper steps for making a mouth soaping a true punishment.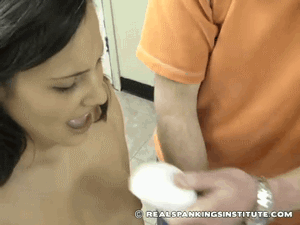 You have to be careful with your soap selection, and want to choose a bar of soap that is free of chemicals and perfumes. My go to bars, which I buy in bulk at Costco, are the Dove pure white bars. I prefer the largest bar that they sell, as it allows me better coverage of her mouth. I never give a mouth soaping with soft soap, as it does not provide the same experience as a bar of soap. Simply pumping a few squirts of soap in someone's mouth is hardly a punishment at all. With a full size bar of soap I am able to provide a longer lasting and more memorable experience for the young lady whose mouth requires discipline.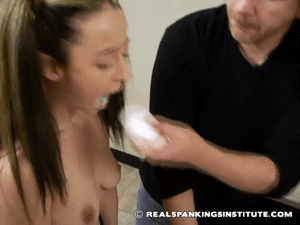 The first step is to place her in front of a sink and get the water to the proper warm temperature. I prefer to do this in a bathroom, as opposed to the kitchen, as I want to administer her punishment while she can see herself in the mirror. This allows her to see the soaping take place, which I believe adds to the overall effectiveness, as she can see exactly what her behavior has produced. While I run the bar of soap under the water and begin to get it frothy, I require her to open her mouth and wait. This is very similar to someone presenting their bottom to be spanked. She has to stand there with her mouth open, as she watches me lather up the soap, leading to her anticipating exactly how bad this overall experience is going to be. Once I have gotten the soap to a state in which it is completely covered with bubbles it is time to begin her punishment.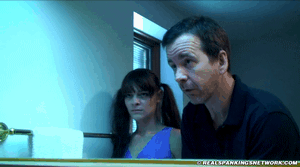 On the first trip into her mouth, my goal is to cover as much area as possible. I am certainly not gentle, and I make sure that the bar covers everything from top to bottom and side to side. Once I have achieved good coverage, it is time to re-lather the bar. I scrub the bar hard under the warm water to achieve as much lather as possible. On the next trip into her mouth, the goal is to really work her tongue with the soap. This is obviously where the taste buds are and I want her to fully experience the bad taste of the soap in her mouth. I will require her to stick her tongue out to make sure that I can cover every single inch of it. I will once again do this until all of the lather has been transferred from the bar to her tongue.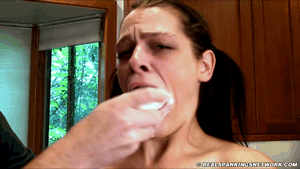 Again, I go back to the running water and work the bar back up to a frothy mess. It really is important to continuously go back to the warm water as the goal is as much suds as possible, and as the bar heats up, it becomes easier. On the next trip into the naughty young lady's mouth, I am basically going to brush her teeth with the bar of soap. While the previous trips were done with the goal of leavings as much suds as possible in her mouth, while using it on her teeth, my goal is to begin to leave small pieces of soap behind. I will have her close her mouth and smile, allowing me to work the fronts of her teeth. She will then be required to open her mouth wide and I will grind it on her molars, top and bottom, on both sides of her mouth. This is why a larger bar of soap is much better as it allows me to really grind it into her teeth, leaving as much of the bar behind as possible. From this point forward, each time I pull the bar from her mouth, I will pull up on it and scrape it across her front teeth. If done right, the bar should start to form little grooves as the soap is being left behind.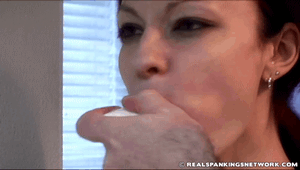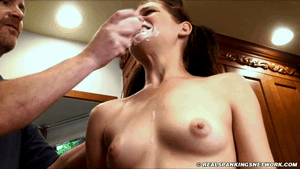 At this point, I will have achieved full coverage, but I am nowhere near being done. This is typically a good time to begin a conversation. She is able to limit the areas that the soap go in her mouth, especially the back of her mouth and throat, but by engaging in conversation, the soap tends to travel a little more. I will now ask her many questions and make sure that she is required to talk. This will also start the process of the soap running out her mouth and onto her chest. This allows her to see in the mirror exactly how ridiculous she looks, as a direct result of her behavior. Sometimes I will require her to hold the bar in her mouth why she answers my questions.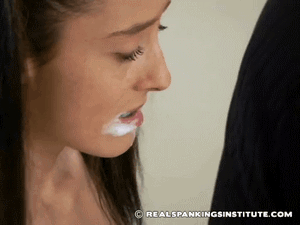 Now that I am sure that there is no area of her mouth that is untouched, and I am confident that bits and pieces of soap are trapped in her teeth, it is time to begin again. Remember, the goal is to change an undesirable behavior, so a few trips into her mouth with the soap is just not enough. The soap should be much more responsive to lathering at this point, and it is easier to get achieve even more suds. Once again, I am going to cover her entire mouth with the now extra sudsy bar. I will then re-lather and go to work on the tongue again. This time when I make her stick her tongue out, I am going to work the bottom and top of her tongue. The goal is not to just leave suds behind, but basically paint her entire tongue white.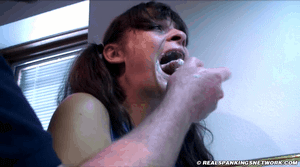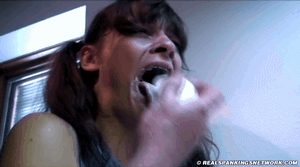 With each new trip into her mouth I am going to be a little more aggressive with the soap. I will not be shy at all with it, and at some point I will make a little effort to spread it around the outside of her mouth as well. I want there to be a very visual indicator as to the trouble she is in, so the more soap she can see the better. Around the halfway point, I will make her hold the soap in her mouth for an extended period of time. Instead of making her hold it flat, I prefer to put in in her mouth sideways and make her hold it that way. This forces the mouth open wide and typically causes the soap to once again run from her mouth, down her chin, and onto her chest. While she holds the soap in her mouth she is able to watch, as she stands and drools the nasty froth down the entire front of her body.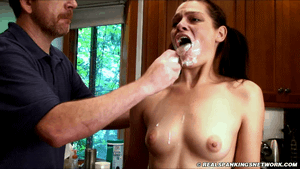 Depending on the offense, I will make anywhere between six and twelve total trips into her mouth. The entire process of me actually applying the soap will typically last at least 10 minutes. Remember, this is not a spanking, so longevity and total coverage is the key to making it as memorable as possible. Once I have finally made the last trip into her mouth, she will once again be required to hold the bar in her mouth for an even longer period of time. For at least 10 minutes, she is required to stand there and look at herself in the mirror. Being that she will not want to swallow, for the duration of this period of time, the nasty froth will continue to run out of her mouth.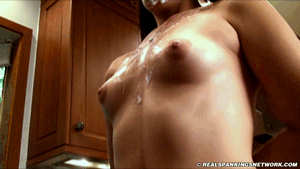 Once her corner time with the soap is complete, the punishment is in no way over. Just as with a hard spanking that leads to long term soreness, I want this punishment to last well beyond the actual application of the soap. This can be accomplished in a couple of different ways, depending on the severity of the offense. The more severe version is to allow her to spit into the sink as much as she needs to, to get as much soap as possible out of her mouth. Once that process is complete, she is to go about her normal day, but not allowed to rinse at all. This might create a little bit of a sour stomach, but sometimes this just needs to be part of the process to maximize learning. The other variation is to provide her with a small glass of water, and allow her to rinse, but only with the amount of water I provide. In both cases, there will absolutely be no brushing of her teeth until bedtime. I want there to be a considerable amount of residue in her mouth, and especially her teeth. This allows for additional learning for the remainder of her meals that day. Each and every time she chews, she will have an additional reminder to be on her best behavior as the soap will continue to present itself with each bite.
If this entire process is done right, it will indeed serve as a very good deterrent for future bad behavior. Unlike a spanking, there will be no pleasant glow to her bottom, leading to heightened sexual feelings. Instead, over the course of her day she will have a very bad taste to her mouth, with bits and pieces of soap constantly presenting themselves. There is nothing fun or sexy about a mouth soaping and it truly can be a very effective punishment if done properly and with the right amount of severity.