The Spanking Blog
This is an adult site dedicated to the exploration of spanking between consenting adults. The main focus is on disciplinary spankings portrayed in various spanking videos and pictures, with sample pictures and reviews of the spanking content. The most recent blog posts appear below, and the free spanking picture galleries on this site can be found on the menu on the left. All spanking content on this site is free, and any link leading you outside of this site is clearly labeled as such. You must be 18 years or older to view this site.
[ Tuesday, June 30, 2020 ]
A Proper School Corporal Punishment Paddling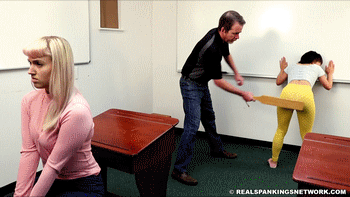 In the US, corporal punishment within the school systems is alive and well. There are still 22 states that allow it, and during the last school year alone, more than 250,000 bottoms felt the paddle. At Realspankings.com we have always worked very hard to bring you the most realistic school corporal punishment videos anywhere to be found. We do not do "warm-ups" when it comes to school paddling, as a proper lesson is not learned without the hardest of swats placed on a young lady's bottom.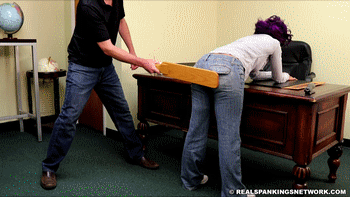 You will see young ladies paddled in the principal's office, kept after class, marched into the hallway, and even grabbing their ankles in the locker room. The one constant to all of our school paddling videos are proper swats delivered in a manner to teach a lesson.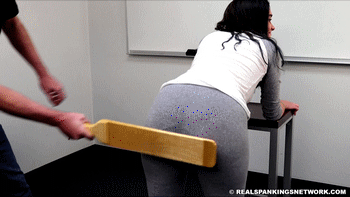 We utilize all of the traditional positions used in the school setting including bent over a desk, hand on her knees, grabbing her ankles, or hands on a locker or a wall.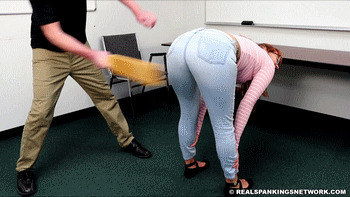 We even have many recent videos in which the scene is shot from a voyeur's perspective, so you can be a fly on the wall and see how real school corporal punishment is actually used in the high schools of America.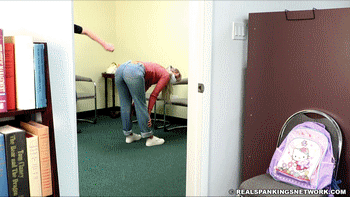 All of our school paddling videos are filmed from two angles so you get to see both her bottom being paddled and the reactions on her face during her punishment. While the majority of our school paddling videos are very realistic in nature, which involves the young lady being paddled over jeans or yoga pants, we always do a "reveal". This is shot after her paddling, and involves her baring her bottom and showing you the results of what an actual school paddling looks like. These young ladies are not left with pink bottoms, they are left black and blue.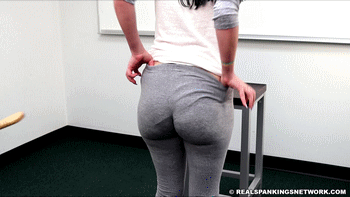 At Realspankings.com we currently have over 600 videos in the member's area that utilize a wooden paddle for the proper punishment of a young lady's bottom. All of our school scenes are hard and realistic, showing exactly how a school paddling is administered on a daily basis in the high schools across the South, and in many of our videos...leads to tears. Realspankings.com is part of the Realspankings Pass family of sites, which is currently half price, and includes all of our sites and all of our videos that we have ever filmed (more than 7000 videos for $34.99).
If you are a fan of school paddling videos, these are scenes that are not to be missed.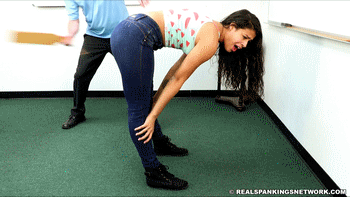 [ Monday, June 15, 2020 ]
Bruised Bottoms- Vol 3 & 4
Authenticity in a spanking video is generally demonstrated in two way…Tears and Marks. Within volume 4 of one of our most popular series, you get plenty of both. You do not have to fear purchasing a spanking video in which there are gentle smacks with pretend screaming and crying. This 100-minute video features 25 different scenes in which you will watch the bottoms of young ladies turn black and blue before your eyes. There is nothing playful about any of these spanking and this video is only for those that like to see real and proper punishments that leaves bottoms blistered and bruised. Now available at Spanking Library and Clips4Sale
Now available at Spanking Library and Clips4Sale