The Spanking Blog
This is an adult site dedicated to the exploration of spanking between consenting adults. The main focus is on disciplinary spankings portrayed in various spanking videos and pictures, with sample pictures and reviews of the spanking content. The most recent blog posts appear below, and the free spanking picture galleries on this site can be found on the menu on the left. All spanking content on this site is free, and any link leading you outside of this site is clearly labeled as such. You must be 18 years or older to view this site.
[ Monday, May 02, 2005 ]
Sorority Paddling, Hazing, and Initiations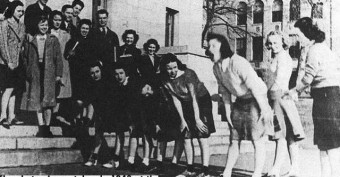 Click for full-sized image with article text
I think most people that are into spanking find the thought of cute sorority girls paddling each other to be quite sexy. Unfortunately most of these activities are kept a secret and most of us will never get the full details. As illustrated in the image above, (which I believe to be from Life magazine) in the past these activities were not as frowned upon as they are today. There are enough current news stories to demonstrate that sorority paddling as an initiation and as hazing is still alive and well, but we hear little about it because it is a very quick way to get your sorority charter revoked. Most of the news I have read tends to focus on the injuries that resulted from sorority paddling and there is certainly nothing sexy about internal bleeding as the result of abuse.
But we love to fantasize about a row of cute pledges with their skirts lifted being paddled by their pledgemaster. I was a member of a fraternity as an undergraduate in college, and as a result, I knew my fair share of sorority girls. As pledges and active sisters they are very dedicated to keeping all of their pledge activities a secret. But, not everything is a secret and I was able to obtain some minor details in regards to sorority girls being paddled. First, I have never heard a verifiable account of a modern sorority paddling their pledges as a form of discipline. I have read articles in which pledges were paddled as an inititation, but never when they were in trouble. This is not to say that it does not take place, but I do not report on things that I do not have a reliable source on. The one consistant paddling account that seems to be universal is based on a pledge giving her "big sister" her paddle. Most fraternities and sororities honor the tradition that the "little brother" or "little sister" is to make and give the paddle to their "big sister" or "big brother". I have yet to meet a sorority girl that owns a paddle in which she did not get at least one swat from it. All of the sorority girls that I knew in college that would talk about it admitted that when the paddle was presented that a single swat was exchanged by the girls. In most cases this was done in front of the entire sorority membership. More than one girl admitted to me that it was not uncommon for the active member (having already received her swat first) to raise the pledges skirt. With as competitive as many of these girls are, the swats were administered in an attempt to apply the swat harder than it was received. The distinction for them that seperated this from hazing, is that this was a voluntary ritual and was not a requirement. In addition, the pledge and the active sister got to swat each other, so this was not considered hazing of the pledges.
One girl in particular also told me that there is an exchange of swats between the president of the pledge class and the president of the sorority, when the pledge class presented their pledge paddle to be hung on the sorority house wall. These paddle are traditionally very large, often over four feet. While I am sure they are difficult to swing, from her accounts this exchange is one of the highlights of each semester. She felt that both presidents felt pressure to lay it on as hard as they could and that a two handed baseball swing was common and almost required to swing a paddle so large. She told me that the year she was a pledge that the paddle that they had spent many hours glueing letters and decorations on, had to be redone because half of the ornaments went flying after her pledge president took her swat from the sorority president.
There are many women who visit this blog, and do so in a anonymous way, so help fuel our fantasies and give us a few juicy details. You do not need to provide a school or sorority name, just let us know if you had any real life experience being paddled in a sorority. Regardless, next time you are visiting a friend who still hangs her sorority paddle on the wall, you can feel confident in knowing that her bottom knows what that paddle feels like.
On a side note, I noticed that agony auntie posted a picture that she felt was a modern day sorority paddling. I had not seen this picture before, so if you have any details of the source I would love to know. The picture is below and this is the full resolution version that I have. It certainly looks like it could be on a college campus and just as with the historic picture above, this paddling seems to have drawn a crowd and is being administered with a very large paddle swung with both hands. If you have details please send me or post in the comments section. Thanks!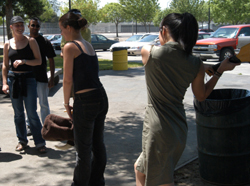 Posted by
Michael Masterson
on 05/02 at 02:05 PM in
True Accounts
Descriptions of real life punishments. Please note that we find the spanking of children to be a dangerous and ineffective form of punishment. This category is only offered to explore the various forms of spanking that people endured growing up.
Permalink
•
Tell-a-Friend