The Spanking Blog
This is an adult site dedicated to the exploration of spanking between consenting adults. The main focus is on disciplinary spankings portrayed in various spanking videos and pictures, with sample pictures and reviews of the spanking content. The most recent blog posts appear below, and the free spanking picture galleries on this site can be found on the menu on the left. All spanking content on this site is free, and any link leading you outside of this site is clearly labeled as such. You must be 18 years or older to view this site.
[ Thursday, November 19, 2009 ]
Bare bottom paddling they will both remember
Scenes three and four from today, to be posted in the member's area of Realspankings.com. Not much of a storyline for these two videos. One at a time, each girl is made to wait with her pants and panties around her ankles, with the paddle to be used on their bare butts in their hands.
While there is no stated offense for Monica's paddling, off camera I let her know that this was her 2nd shoot in a row to be more than 5 minutes late for. Her and I have a long history and she knows better than to make myself, another model, the director of photography, and Betty sit around for any amount of time waiting on her. When you see the video, there will be no doubt in your mind that I meant business. Her bottom is bruised and sore when I am done with her.
For Lila's paddling, it was all about testing and exploring limits. This is only her second shoot with us, but I have let her know that I am grooming her for greatness. While the previous strapping she took earlier in the day was fairly rough, nothing tests limits like a wooden paddle. However, she was 15 minutes early for her shoot and did not get it quite as bad as Monica. But, as you can see from the pics below, she will be sitting on a bruised bottom for days to come. I was not sure she was going to get through it and she has the most unique verbal responses to a severe spanking. I assure you her reactions are quite real, I think her purple bottom proves that point.
Once again, both of these videos will be added to the member's area of Realspankings.com in the coming weeks. I am slowly phasing out the Coach and Miss Burns content (which we still have much of) and beginning to supplement with our latest and greatest work. I still have three new models that we have hired that have yet to shoot for us...their first shoots will happen in the first few weeks after Thanksgiving. Here are pics from today's 3rd and 4th scenes: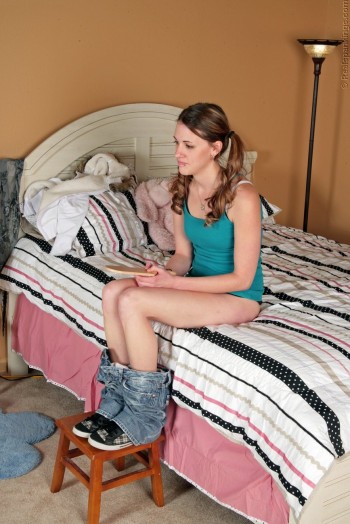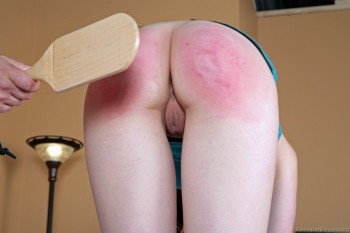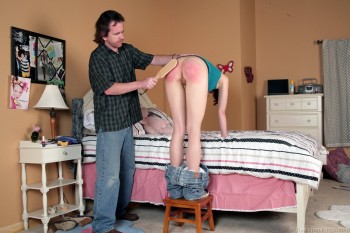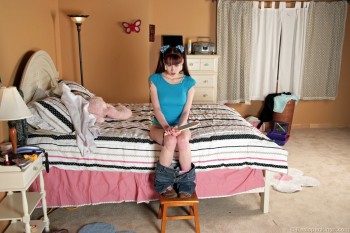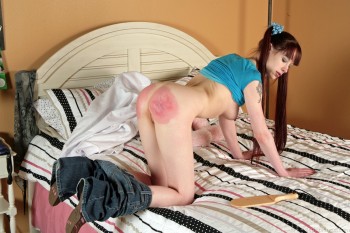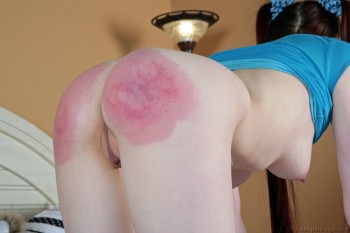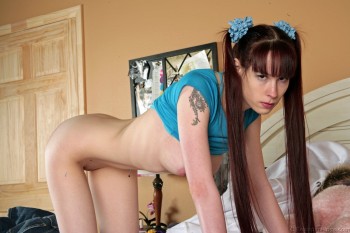 Naughty Teens skip school and pay the price with a bare bottom strapping
Scene 1 & 2 from today's shoot. Monica and Lila decide to skip school today and have a little fun...including smoking a little pot. They were quite surprised when he decided to have lunch at home today. They did their best to cover up the smell with air freshener, but it was not enough. Monica ended up grounded for skipping school and received a severe bare bottom strapping in front of her friend for getting high. Mr. Masterson did not have the authority to punish Monica's friend in the same manner he punished Monica, but that was easily solved with a phone call. In the second scene, once permission was obtained, poor Lila's bottom received te same harsh treatment as Monica's. Afterward, the young ladies compare their marks as Lila admits that she has never been spanked that hard at home. More scene details from today's shoot to follow, including both girls receiving a bottom bruising paddling and Lila's 1st on camera spanking to tears.
Both of these scenes with full video will be included in this month's updates on Realspankings.com. Click any image for a high res version.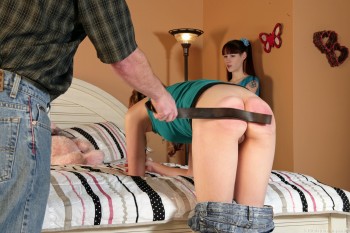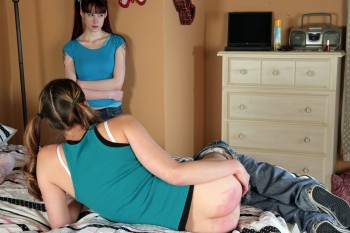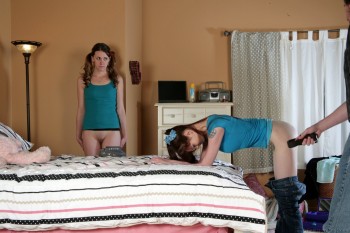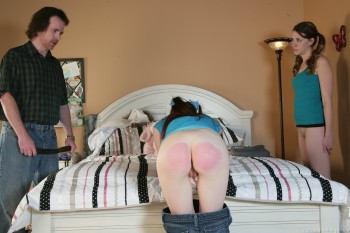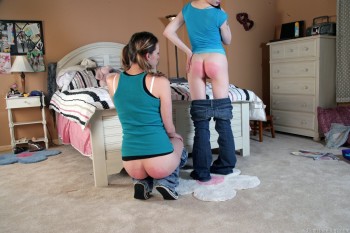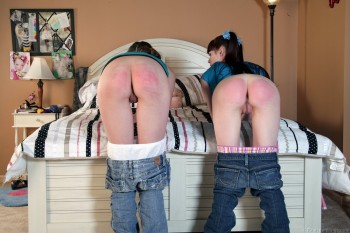 Fantastic Shoot
Great shoot today with Lila and Monica. No warm-ups, right to the hard stuff. I started with a bare butt strapping in which they were both forced to watch the other punished. We used a new set, pulled out all the stops with lighting, and I really blistered their bottoms. For the 2nd scene they were spanked seperatly and I used a wooden paddle on their bare butts, giving them each 20 swats that left their bottoms purple. The last scene was for RSI and included a fully naked strapping that lasted more than 10 minutes. We just wrapped up a four hour shoot, so I do not have time for many pictures at the moment. Here is one cute one from after their first scene. More soon.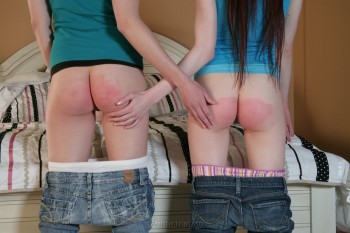 [ Friday, November 13, 2009 ]
Naughty young bottoms, all requiring a good spanking
Forty-three bottoms, in seven pictures...all clearly needing a hard spanking. Click the "MORE" link to see the other thirty-three bottoms of the week.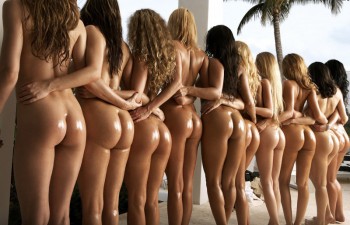 [ Thursday, November 12, 2009 ]
Spanked Coeds Blog
Be sure to check out Headmaster Ken's, from Spanked Coeds, new blog. I love it when we can see the action the same day it is produced. You can visit his new blog at Spanked Coeds Blog.
[ Tuesday, November 10, 2009 ]
Looking Towards the Future
It has been the beginning of a very busy month for us. Our entire November and December shoot schedules are now fully booked. Yesterday we shot three scenes with a brand new spanking model named Maddie (see post below). Next Monday we shoot another new spanking model, a beautiful young African American woman that I have high hopes for. Next Thursday we have a three girl shoot with Monica, Betty, and the lovely new Lila (see high res pics in this post). Lila is also scheduled for two additional shoots in December, one will be a two girl shoot with Maddie. Today we hired two fantastic models. One is a gorgeous young lady with a super cute face and an amazing figure. The other is for all of you out there who are requesting more mature models. She is in her early 30's, has a super hot body, and seems to be extremely kinky in her ways. I am also going to give her a trial run as a spanker. While not quite as certain as everything I listed above, we have two interviews with young hotties on Thursday of this week, and five more interviews in the following two weeks.
It has been quite some time since I had to start turning away models, but we are there again. While most of our recent shoots have been appearing on RealspankingsInstitute.com lately, we are now getting caught up and
Realspankings.com is beginning to see updates featuring our recent shoots. If you have grown tired of Coach and Miss Burns, then start checking our free updates at Realspankings.com. Very soon you will begin to see nothing but our latest content, our newest models, and our new spankers.
Get ready, I am finally warmed up and ready to go. I just added 7 new video lights, a full portrait studio, a new steadycam, and we have three new sets under construction. We hired one new spanker and I have interviews with two more this month, both a male and a female. The front office is fully functional and under control again, allowing me to dedicate 40+ hours a week to nothing but models and production. With our recent interviews and flood of new models, only the hottest and most exciting models will even get a chance in front of the camera. It is starting to feel like 2003 for me...more models than I know what to do with and the motivation to create the very best content in the world. Hell, it is actually fun again and is kind of turning me on.
So, as a reminder of who my latest superstar in training is, here are some giant sized Lila pics. Enjoy, and thanks so much for your patience as I put my sites back on top of the spanking food chain.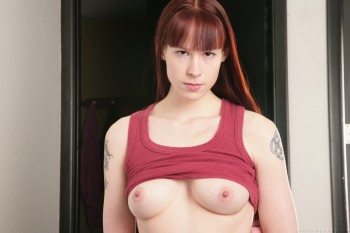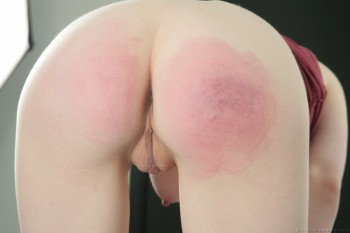 New and Young Spanking Model, Free Preview Pictures
We spanked a new model yesterday and she is great. She just turned 20, has a perfect little body and a wonderful young bottom. I know what you are thinking, what is up with that eye makeup? I have already resolved that problem and if she shows up with it like that again, I promised her a paddling that she would never forget. She shot two scenes for Realspankings.com and one for RealspankingsInstitute.com in which she spent a good ten minutes fully naked in front of the Dean and was eventually spanked otk by Betty for her inability to stand still and follow directions. Here are some free preview pictures. These pictures are from updates that will post in the next several weeks. Enjoy!
Click any picture for full screen version.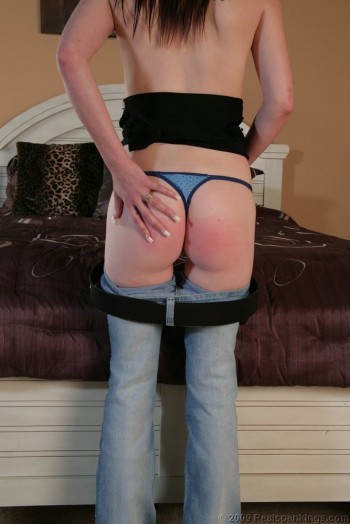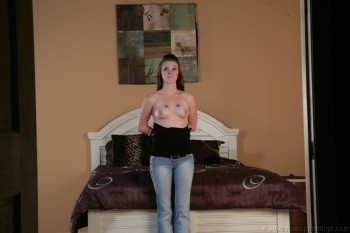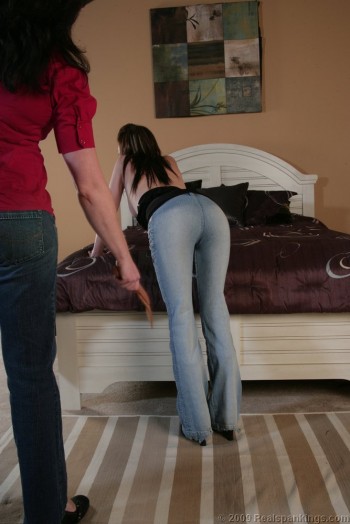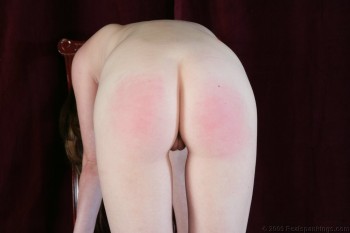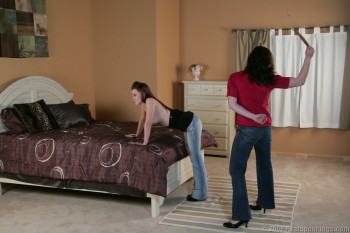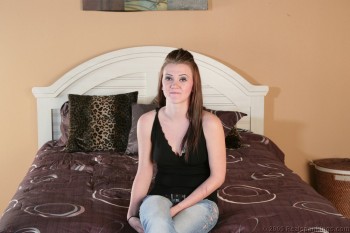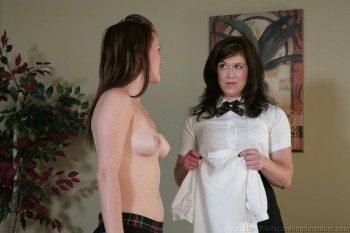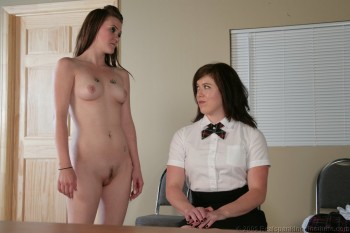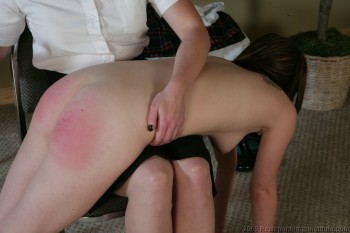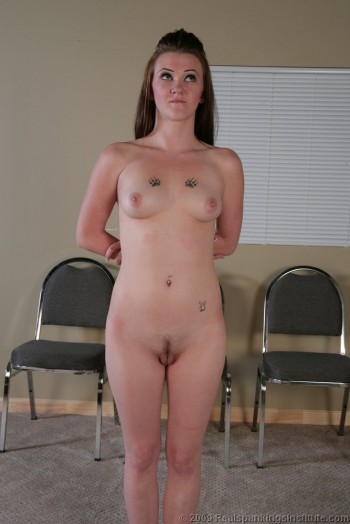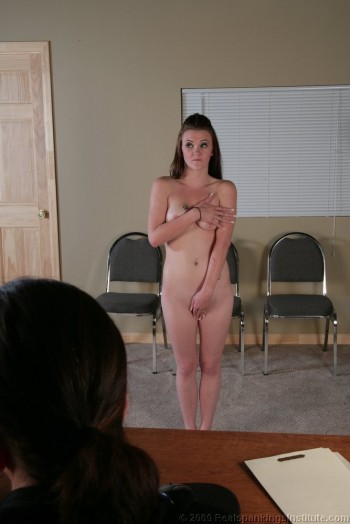 Assistant Dean Job Interview for disciplinary position
The Dean has been a little overworked lately and decided to interview for a new assistant. He had a busy week in trying to keep up with all of Monica's infractions. All content from future updates on RealspankingsInstitute.com. All content will be included in the member's area this month. Click any image for full sized version.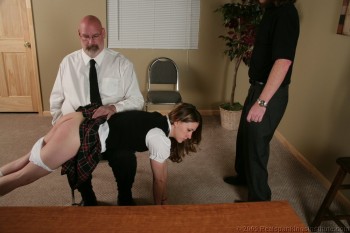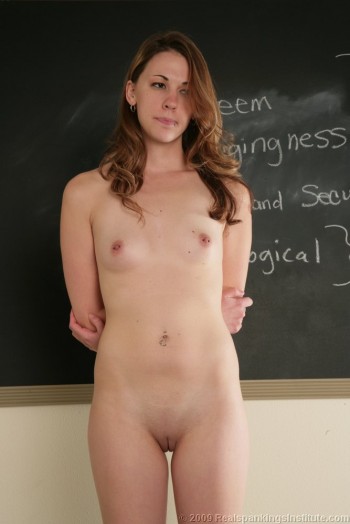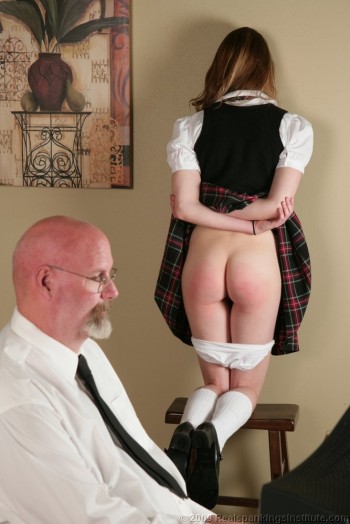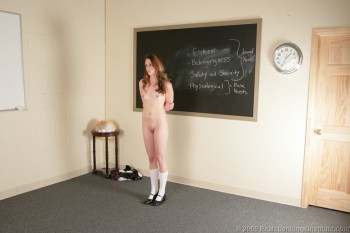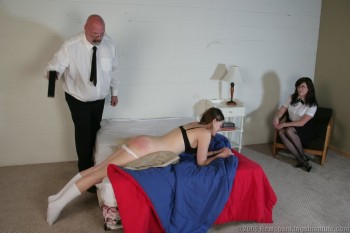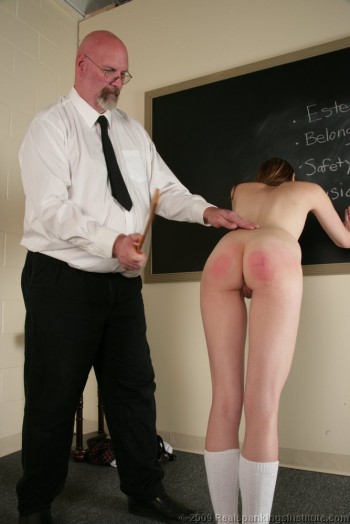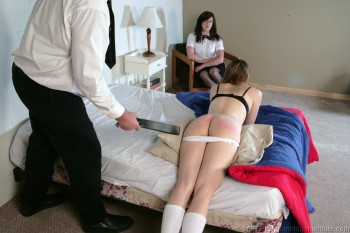 [ Tuesday, November 03, 2009 ]
Kicked in the balls and spanked
Not sure if this is what started it all, or if this is the payback. Part three from the two videos below.
And again
Watch the one below 1st, this is part 2.