The Spanking Blog
This is an adult site dedicated to the exploration of spanking between consenting adults. The main focus is on disciplinary spankings portrayed in various spanking videos and pictures, with sample pictures and reviews of the spanking content. The most recent blog posts appear below, and the free spanking picture galleries on this site can be found on the menu on the left. All spanking content on this site is free, and any link leading you outside of this site is clearly labeled as such. You must be 18 years or older to view this site.
[ Wednesday, April 30, 2008 ]
Girl's Boarding School model profile- Alice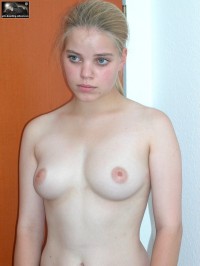 From the member's area of Girl's Boarding School
I have recently posted about the upgrades to both Firm Hand Spanking and Girl's Boarding School that now allow full search features on both sites. I am so glad for this development, being that it allows me to simply create galleries of my favorite models on each site without having to sort through dozens of pages.
This morning I went and did a search for one of my all time favorite GBS models, Alice. I am not sure what it is about this young lady that really does it for me. Lady D has accused me for years of only liking the models with "tiny teen butts", but Alice certainly does not fall into that category. I am not sure if it is her look, the scenes she appears in, or her reaction to being caned, but either way she has become my favorite. I think part of it is she is similar in nature to the points I made in the post about Sarah, being that it is clear that Alice does not enjoy any aspect of her punishments. I think another part is the fact that they often punish her in bedroom setting which adds a lot to the realism. Or it may be the fact that she is often stripped naked for her spanking and seems to always end up doing some corner time. Whatever it is, it works for me. Here are a few highlights from some of my favorite discipline scenes featuring Alice:
From the member's area of Girl's Boarding School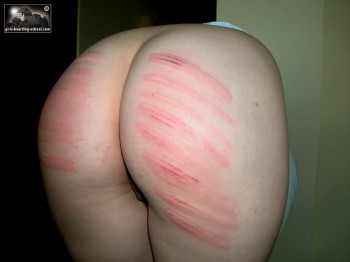 From the member's area of Girl's Boarding School
From the member's area of Girl's Boarding School
Thanks
Thanks for all of the feedback I am getting through comments, you are helping me to redefine more than one site's members area. I really do appreciate that the comments have come alive on this blog, it makes production so much easier, and leaves me not just shooting what I like, but what all of you like. Thanks again.
[ Tuesday, April 29, 2008 ]
Polish 18th Birthday Celebration
****Update to this entry**** Sorry for the quick post yesterday, I was not able to get up all the details that I wanted, I only had time for the links. It seems that the term is Pasowanie that led to these videos. From what I can tell it has many different meanings and the origin is Polish. When you use is as a search term on You Tube, you get a lot of good spanking videos, when you do it is a broader search on the internet you get anything from graduations ceremonies to the act of being "knighted". I think the best translation for us is a "rite of passage". It seems that it is a pretty standard tradition in Poland that on someone's 18th birthday, that they go through this process. It seems common enough that I have watched videos of this taking place in schools, at home, outdoors, and during the actual birthday party. I love that they have taken our tradition one step further, and not only do they get their 18th birthday spanking, but everyone gets a turn, and belts seem to be the implement of choice. It does seem to be common enough that I have watched videos in which a hard belt spanking is taking place with teachers or parents looking on and smiling. I get the sense that everyone in Poland goes through this "rite of passage" on their 18th birthday. My research is limited, so if I have my facts wrong, please post more information on this tradition in the comments.
http://www.youtube.com/watch?v=wnO7q2oSfRs&mode=related&search=
http://www.youtube.com/watch?v=BgS1uzPtIE8&mode=related&search=
http://www.youtube.com/watch?v=hKRpGjpOR-Y&mode=related&search=
http://www.youtube.com/watch?v=XrKC59pUAPE&mode=related&search=
[ Monday, April 28, 2008 ]
Internet Explorer and this blog
When I bought my most recent computer, when trying to access the galleries in my blog with Internet Explorer, it seemed to have problems and often would not let me return back to the gallery main menus without exiting and coming back to the spanking blog. If you are having issues (which do not seem to be a problem with Firefox), I would suggest this as a fix:
To fix in Internet Explorer go to:
Tools > Internet Options > click the security tab >select the "trusted sites" option > then click "sites" > then add http://www.thespankingblog.com and that should solve the problem.
Please report any problems you are having with accessing my blog as a comment to this post, so I can diagnose any other problems you might be having. Please include what browser you use, security software, and details of the problem.
Thanks,
Michael Masterson
Favorite Free Spanking Picture Galleries?
I have a question for all of you. In my free spanking picture galleries here at the blog, there are several galleries to choose from. All of them show real time stats, as to how many times the pictures have been viewed. But some of the stats are skewed a bit, due to the fact that the galleries have been posted at different dates and contain a different number of images. Right now "naked punishments" is the most viewed gallery, approaching 1 million views, but it is one of the oldest galleries and contains more pictures than most, which could explain for all of the views these pictures have had. "Witnessed spankings" and "Exposed" are the next most popular spankings. My question is, out of all of the free galleries, what is your current favorite? Are these stats accurate in the fact that all of you really like the fully nude spanking scenes? Does the added element of a model being spanked in a very exposed or public way have a broad appeal to all of you? Once again, I am trying to reconnect with my audience as we prepare for the new studio opening and I am trying to get a real feel for where to focus my efforts. So, let me know your current favorite gallery offered here. Thanks.
Firmhanded Spanking's Sierra Salem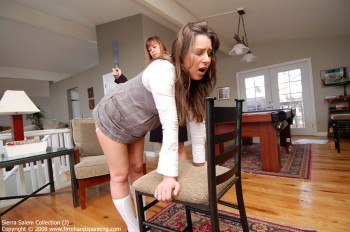 From the member's area of Firm Hand Spanking

It is nice to see Sierra Salem back into the regular rotation of updates with Firm Hand Spanking. She is right up their with Kailee as far as models that I think pulls off being a brat on camera. She is one of those models that by the time the dialog at the beginning of the scene is over, I really want to see her get spanked. In this scene she takes 40 good strokes with a strap
Also from the last week's video updates at FirmHand we get to see beautiful Amelia Rutherford play a bratty actress who takes a 50 strokes whipping on her bottom with a flogger. I think she really likes the acting portion of being a spanking model, her scenes really seem to bring more of a storyline into them.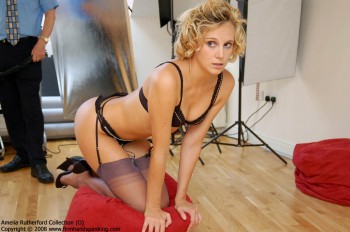 From the member's area of Firm Hand Spanking

Additional update highlights for this week are Samantha Woodley taking 12 of the best with the cane and Chloe Elise looking cute as ever in her nighty with her panties down for a bare bottom hand spanking that leaves her struggling throughout.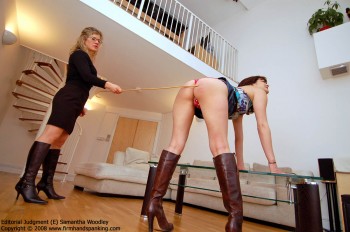 From the member's area of Firm Hand Spanking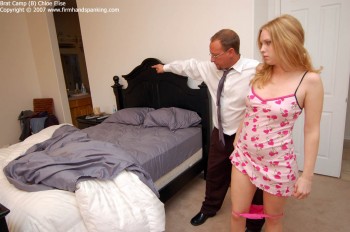 From the member's area of Firm Hand Spanking
[ Saturday, April 26, 2008 ]
Spanking witnessed by others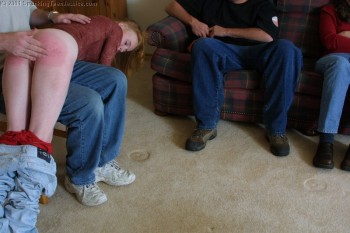 From the member's area of Spankingteenjessica.com

Through comments from recent posts here and a discussion taking place on the Forum, I thought I would elaborate a little more on spankings that we have done on video in which there were others present for the punishment, that served no purpose other than simply being their to watch.
There have been times that we have filmed scenes with witnesses in which they appear on camera, just to add an element of embarrassment and the feeling of the spanking feeling more public. The picture above from Spankingteenjessica.com is a still from a video that was actually shot in the basement of my house. Just to be able to change up shoot locations we invited both Brandi and Jessica to our house for a bit of a social event, and to also do some shooting. We told them both that they could bring people as long as they realized that we would be shooting and that anyone there would be able to watch. To our surprise they both brought a male friend to the house. In the scene above we decided to take advantage of the fact that there were 7 people present beyond the two girls, and we just placed everyone in one room and did a couple of very public spanking scenes. The scenes were shot from angles that did not reveal the faces of those that were not models, but it added a new element to the scenes. I have read countless true accounts in which many people who were spanked as kids, were spanked in the living room, regardless of who was present, so it made sense to try and film something like this while we had an audience.
The most common occurrence of witnesses to a spanking in our shoots, is generally other girls waiting their turn and having to watch the other girls get spanked before them. On occasion, when we have enough models present, we also do some of the larger classroom scenes in which not everyone is spanked. As often as possible, I always try to have a on camera witness for all of the school paddling scenes that we do, due to the fact that this is standard policy in most US schools that allow corporal punishment as a form of discipline. Generally in a two girl shoot, both models end up getting spanked, but on occasion, sometimes we just like to have one watch, like in this scene: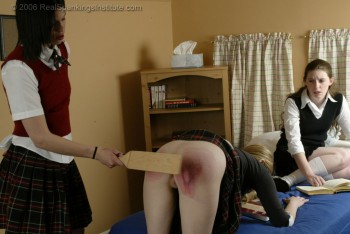 From the member's area of RealspankingsInstitute.com

But the original question that this post is directed at was "Also, did you ever do any scenes where a passive observer just stood around watching the actual spanking?". I think it came from the discussion that took place in which I wrote of the time that Sarah, asked if our video editor could be allowed to watch her get spanked. She had talked to him a couple of times in passing, obviously thought he was attractive, and really just wanted him in the room to watch her get naked and spanked. The truth is, there is often someone in the room during a spanking, that is not part of the productions team, is not a model, or even an employee. There are a couple of reasons that this takes place.
The first reason is the fact that we offer a model referral program. If a model recommends someone to us, and we end up hiring them, we pay the model a fee for bringing us a new model. Many girls who have been referred, really never set out to be a spanking model, but simply come because their friend is making so much money. Because the whole spanking concept makes them nervous, we allow them to come in and watch their friend be spanked if they want to, just to see what it is like. We give them the choice of just sitting off camera and watching, or taking part in the scene without actually being spanked. The picture below is one of Tess's best friends, getting paid to be on camera, but not actually being spanked. In her case, she chose not to become a spanking model (although she did do some nude modeling for some of Miss J's more artistic photography projects), but her presence added a lot to the video: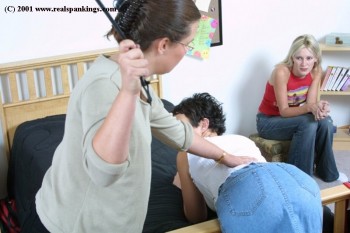 Picture from the member's area of Realspankings.com

Sometimes a model brings in a friend to watch, and after watching one scene she decides that it doesn't look all that bad and decides to jump right in and have her own bottom spanked. A good example is Tiffany's friend Brittany. She sat in the background and watched Tiffany take a good spanking, and before we were setup for the next scene, she was filling out a model release, which led to the afternoon that produced these scenes:
Picture from the member's area of Realspankings.com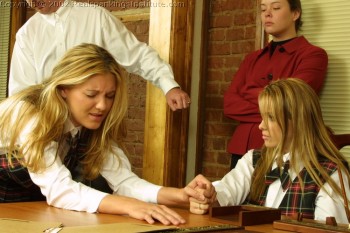 From the member's area of RealspankingsInstitute.com

There was a day in which Jennifer brought in a friend, and after she witnessed Jennifer's first scene, you can only imagine her hesitation being that Jennifer gets spanked so hard. We explained to her that not every model is spanked as hard as Jennifer and that we could work her in slowly. She was included in the next scene, and while Jennifer received her typical severe bare bottom punishment followed by uncomfortable corner time, her friend took a moderate strapping over her jeans for her first scene. It was quite interesting watching the different expressions on the friend's face as she simply witnessed the first scene and the expression on her face when she knew she was next. The scene she was not a part of she was completely fascinated with, smiling, a little embarrassed, but clearly quite interested in the whole process. But in the scene that she witnessed and was then to be spanked herself, there was a much bigger sense of reality setting in, and she could barely even watch Jennifer being spanked.
Picture from the member's area of Realspankings.com

The other reason that there is sometimes someone else watching a scene take place is safety and comfort. Many of the models that come to us have a boyfriend, who is not all that thrilled about what they are looking to do as a model. We understand this feeling and while we prefer to not have boyfriends present, every model has the choice to bring her boyfriend, or any friend, to their first shoot if it will make them feel comfortable. We have actually had models bring a close male friend that was not even their boyfriend, just so they could feel more secure. Those days were always quite entertaining as the girl begins to realize that she just brought someone she hangs out with socially, and then the fact that she is about to be fully naked in front of this guy. It is fun to watch the guy pretending it is no big deal that this girl he hangs out with is now naked in front of him. On almost all occasions, once the model and the boyfriend see how we conduct ourselves, they do not feel the need to have someone present in the future. There have been times that after my 30 minute preshoot interview with a model before her punishment profile, that the guy has said, "alright, this is legit, you guys are pros, I have no more concerns" and then he just leaves before the shooting ever begins.
On very rare occasions, the boyfriend can be a big pain in the ass. A perfect example is our model Liz. Liz was great in every scene she ever did. She is young and petite, her butt bruises from even a hand spanking, and she pretty much would always burst into to tears as soon as the spanking began. The problem with her turned out to be the boyfriend. He demanded to present for all shoots, which we allowed because she was a good model. He also made it clear that she would only be spanked by female models and that no guy would be touching her butt, which we also worked with because she was a good model. But the thing that finally killed it all for us, is he was not content just watching, he wanted to tell us after each scene how we should be doing it, what would be more sexy, and basically just trying to be a back seat director. Now Miss J, Lady D, and myself are able to put up with quite a bit in our shoots, but this guy was driving me nuts. We never really told him to shut up and we never really fired her, I decided to let the problem fix itself. After her last shoot with us, as Liz and her boyfriend and Lady D were trying to work her into the schedule, I walked in the room and said "sorry, we have done enough F/f scenes with Liz, next time she comes in, I will be spanking her, so give that some thought and then call us and we will get you right in". That was the last time we ever heard from her, which is a shame because scenes like the one below were simply amazing: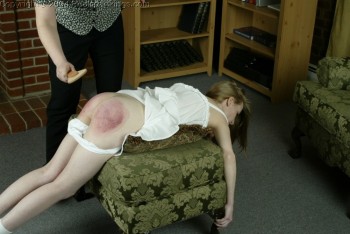 Picture from the member's area of Realspankings.com

There have also been the few rare occasions in which fans and members of our sites have been allowed to watch scenes. There are some members that we have grown close to and have helped us out in a big way with their participation on the forum, or reviewing our videos for us, or making implements and things such as this. A select few have been able to come and just be part of the staff for the day and watch everything that we do (with each and every model's consent, allowing them to be in the room).
To finish this with where I started it, I will give the full details of the Sarah story that I have not revealed. The day the Sarah asked if our editor could watch her be spanked, she brought a friend with her who wanted to check the whole thing out. Girls as beautiful as Sarah tend to travel in packs, so you can only imagine how amazing this girl looked. So on that particular day, Sarah's spankings were witnessed by two additional people. When the shooting was over it seemed that the friend had been more curious than interested and decided not to become a spanking model. But as I was walking the girls to the door after all of the shoots, Sarah's friend told us to hold on and she walked back to the editor's office for a moment came right back, then the girls left. I walked back and asked him what she had said, and he replied "nothing, she just handed me her phone number". Now that is a good day for a guy who works in front of a computer screen all day. First our most beautiful model requests that he watch her get naked and spanked, then her even more beautiful friend gives him her phone number without even be asked for it. Some guys have all the luck (and looks it seems).
[ Friday, April 25, 2008 ]
A public element added to cornertime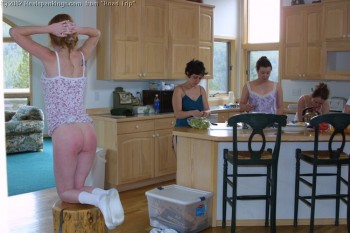 From the member's area of Realspankings.com

The picture I posted on the forum yesterday that featured Jennifer sitting naked in the hallway waiting for her punishment, made me think of some of the classics that we have shot over the years that really added an element of being on display during corner time. Today's post looks back at some of the scenes that I have either been the spanker or the director of a scene in which I tried to add a very public element to the young ladies' time to reflect. Click the "More" link for the public corner time pictures.
[ Thursday, April 24, 2008 ]
Today's blog post, group punishments and models I like to work with
Ok, this may seem a little odd, but today's blog post appears at the World Spanking Forum on the thread Career Highlights and Enjoying My Work. This is not some sort of trick to get people to go to the forum, but honestly I just spent 3 hours on this post discussing the aspects of my job that I like the most with specific posts on Kailee, Holly, Brandi, Jennifer, as well as some of the group punishment scenes I have filmed. I do not have the time today to cross post the same thing on the blog, so if you are interested, the link above is a direct link to the posts with 16 sample photos as well. Sorry, I just wore myself out on the forum today before I had a chance to get over here.
[ Wednesday, April 23, 2008 ]
Ideal spanking position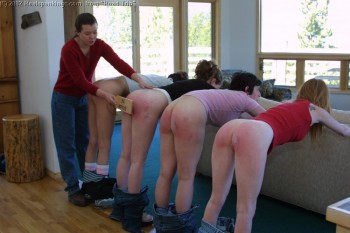 From the member's area of Realspankings.com
If you ever read my blog, it should be no surprise that I am a big fan of grabbing the ankles as a spanking position, it is clearly my favorite. A close second is definitely when a young lady is made to bend over, arms outstretched and placed on the wall, or even a desk. There are many aspects of this position that I find appealing. The first is the functionality of this position, it presents the bottom nicely, while also allowing the person being spanked really good support. When bent over and grabbing the ankles, a really hard paddle swat has the potential to knock someone off balance. But with the hands on the wall, stability is never an issue. One of the best functions of this position, is that if they are truly bent at 90 degrees at the waist, with the arms fully outstretched, this position requires them to keep their hands in place or they will fall forward. This can be a good position to use for someone who tends to allow their hands to get in their way during a spanking. This position adds a lot of formality and tends to add an element of embarrassment due to the exposure one feels when assuming such a position. Today's picture post is quite large, so click the "MORE" link for a dozen good pictures featuring this position.