The Spanking Blog
This is an adult site dedicated to the exploration of spanking between consenting adults. The main focus is on disciplinary spankings portrayed in various spanking videos and pictures, with sample pictures and reviews of the spanking content. The most recent blog posts appear below, and the free spanking picture galleries on this site can be found on the menu on the left. All spanking content on this site is free, and any link leading you outside of this site is clearly labeled as such. You must be 18 years or older to view this site.
[ Monday, July 25, 2005 ]
Sorority Butts Feel the Paddle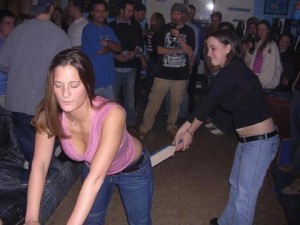 More random sorority spanking and paddling pictures. Click the "MORE" link to view them all, click the file name for a full-sized version.
[ Tuesday, July 19, 2005 ]
Fresh Faces on my sites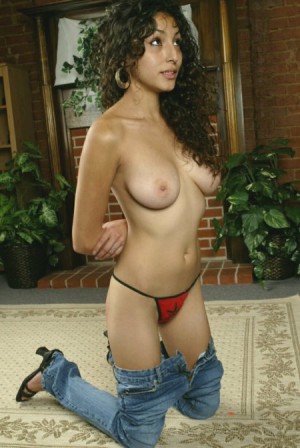 We always strive to bring you the newest and hottest spanking models on my various websites, so I thought I would give you a sneak peek of a couple of our newest models. These models have done shoots for both Realspankings.com and RealspankingsInstitute.com (you can join both at a discounted rate at Realspankingspass.com) and their scenes will begin to be posted in early August.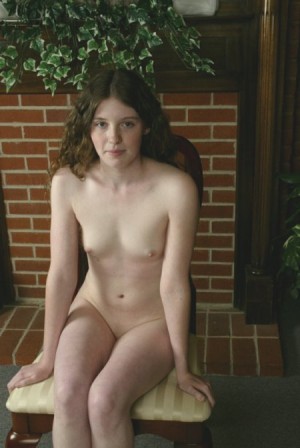 They are both young and very cute, with an enthusiasm that is visible on camera. One of them is very into being spanked and is currently involved in a disciplinary relationship in which she is frequently punished. The spankings she receives have nothing to do with sex, they are purely disciplinary. We look forward to a long working relationship with both of these young ladies and you will be seeing a lot of them on my sites in the future. They are not just young and hot, they can take a hard spanking as well. Take a look at the bottom blistering that one of them received from the Coach with a wooden paddle. There was no doubt that she was reminded of that paddling everytime she sat for a few days.
Click the "MORE" link for additional preview photos from their first shoots.
Paddling Updates from Firmhand Spanking
Firm Hand Spanking featured a couple of really nice wooden paddling videos for their recent updates. Both Debra Leigh and Daphne Rosen bent over for some serious swats. The Daphne video demonstrates a very realistic school paddling scene in which she bends over and grabs her ankles for some serious paddle swats. The first few were so hard, I get the feeling that someone told the spanker to lighten up a little. The first few swats are laid on exactly as I remember them being applied in school. Debra's videos is very good as well, she is always very emotional during her spankings and this paddling is no exception. You can check out the full pictures and videos at Firm Hand Spanking.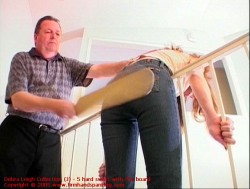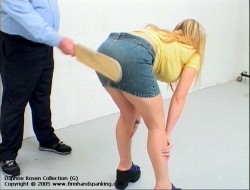 [ Monday, July 18, 2005 ]
Bondage Confessions- Tied tits and bound breasts.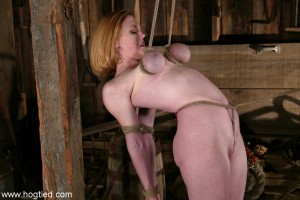 Spanking has always been my primary interest when it comes to the sensual exchange of power, but over the years I have found myself more attracted to various aspects of bondage. But in the world of bondage, it is pretty much hit or miss for me. I must confess that one of the things I like to see the most is various forms of breast and nipple punishments. There is just something about tightly tied tits that really does it for me. I guess a lot of it is that it seems like more than just bondage and that there is actually some sort of punishment going on. Bound breasts do very little to restrain a person, the purpose of the tightly tied titties is to cause pain and discomfort.
This seems to be the common thread for me as far as bondage content goes, tied as a form of punishment, not just a means of restraint. I am also very attracted to the various forms of bondage in which their inability to follow a command results in additional punishment. A good example is when the nipples are attached to nipple clamps, and as long as they remain on their tiptoes, there is not much pain involved. But, should they decide to relax and get off of their tiptoes, the consequences are additional nipple pain. This is also quite effective with a crotch rope.
As a result of my tastes being pretty specific, I have only ever had a membership to a single bondage site, which is hogtied.com. They seem to do the very best in providing the type of bondage content that I like. While there is certainly some bondage that just involves a woman being tied and struggling, there is certainly plenty of content that focuses more on bondage as a punishment. They also include lots of whipping and caning, as well as lots of foot caning which you do not see too often on the web. They are not afraid to add some sex into their scenes, so there is also lots of vaginal penetration as well as the use of large butt plugs.
Click the "MORE� link for a bunch of samples from hogtied.com that features the type of content that I like the most.

Today's Sorority Paddling pictures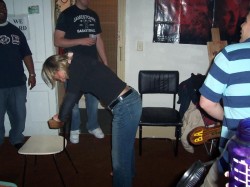 Click the file name for a full-sized image, click "MORE" for the rest of today's sorority paddling pictures.
[ Sunday, July 10, 2005 ]
More on GUBA
One thing that has really been great for me when it comes to GUBA, is the exploration of power based fetishes beyond spanking. My online adult efforts are usually based around spanking, and with the exception of Hogtied and Sex and Summission I do not have any fetish memberships outside the realm of spanking sites.
This is probably because a lot of this content I find a little goofy. I am certainly not one to judge anyone elses fetish, I find a lot of it attractive, but I have trouble signing up for a membership when the content is hit or miss for me. With GUBA I have been able to enjoy video samples that cover a wide range, and I am finding many things to my liking. Beyond the Spanking category, I have been spending time browsing the BDSM, Fem Dom, and Bondage categories.
I must also admit that I can't seem to stay out of the Web Cam Videos and Voyeur Videos. I enjoy getting to be a fly on the wall while other people get kinky and I guess I am becoming a fan of the Voyeur Videos as well as the Amateur Videos that are filmed by couples within the privacy of their bedroom.
If you check out GUBA be sure to spend more time browsing categories than using the search engine. I was originally dissapointed with some of my searches, but found the category browsing to be much more effective. As a member, it also displays similar videos to the one you have clicked on, and this seems to help quite a bit for finding similar content.
[ Wednesday, July 06, 2005 ]
Spanking- more than just a red bottom.
One thing that I have found with people who have always fantasized about being spanked, but have never actually received a spanking, is that the actual pain is something that is often left out of the fantasy. On many occasions I have been faced with administering someone's first spanking, with them being overly optimistic in regards to how hard they wanted to be spanked.
A perfect example is a one of the very few models that we spanked on camera and her scene never appeared on any website. In her first interview, she professed the need for a very hard spanking and stated that she had waited her whole life for this very moment. As a producer, this is the kind of thing we love to hear in an interview. When the day came for her shoot, I did the secondary interview that I do with all models before their first shoot. At this point they have already been hired, but I find it important to spend at least 30 minutes with each new model before she is actually spanked. I cover a lot of things in this initial interview, but most of it focuses on emphasizing the importance of good communication between the model and the spanker and producer. As we began to discuss scene ideas, she was very clear in expressing her desires to be spanked in a way that felt like a real punishment. She did not like the idea of a safe word for the first spanking (something that is mandatory with any first time model's, first scene). She also pushed for us spanking her with something other than just a hand.
Hairbrush spanking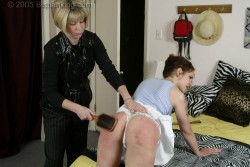 As my business has grown, I am unable to participate in every shoot that takes place in our studio. I do however, watch every scene to make sure they meet the high standards I set when beginning this company. As many of you are aware, we have a new spanker, Ms. Burns, and she is working out very well. I enjoyed a recent update at Bispanking.com in which Jasmine is punished with both a large wooden hairbrush and a belt by Ms. Burns. The chemistry works very well between these two and it shows in the scenes they do together.

[ Tuesday, July 05, 2005 ]
By Request- more sorority girls paddled
Ok, it seems from the e-mails and comments that you all begin to go through withdrawls, if you have to go too long without some sorority paddling action. Here are some pictures that are mostly swats taken at parties, and not official sorority functions. Picture #3 had the caption "waiting for the pledges", but there were no paddling action pictures to go with it. As always, click the file name for a full-sized version, and click the "MORE" link for the rest of the paddling pictures.
Bruised and welted bottoms from Russia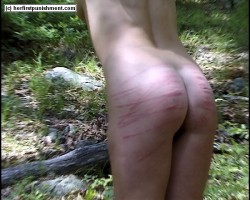 It seems they just do things a little harder in the Eastern countries. We have all seen the hard hitting action from Rigid-East and Lupus, but the folks at HerFirstPunishment.com are making sure that naughty Russian girls also learn very real lessons. Just as with Rigid East, the cane is used very forcefully at HerFirstPunishment.com, but they also make good use of other implements, including freshly cut switched and some very mean wooden paddles. All of their models are gorgeous, and there is no doubt that they carry the reminders of their punishments for many days.
Click the "MORE" link below for additional pictures of severly marked and bruised bottoms like only the Russians can provide. All pictures come from HerFirstPunishment.com.