The Spanking Blog
This is an adult site dedicated to the exploration of spanking between consenting adults. The main focus is on disciplinary spankings portrayed in various spanking videos and pictures, with sample pictures and reviews of the spanking content. The most recent blog posts appear below, and the free spanking picture galleries on this site can be found on the menu on the left. All spanking content on this site is free, and any link leading you outside of this site is clearly labeled as such. You must be 18 years or older to view this site.
[ Thursday, August 26, 2010 ]
Just another happy model
We usually just show the naughty looks or the painful expressions, but sometimes it is nice to show the fun.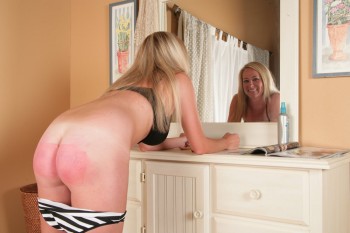 Tight jeans with panties showing
Sometimes you see THAT teen wearing THOSE jeans with her PANTIES SHOWING and there is no doubt that THAT bottom needs a good STRAPPING.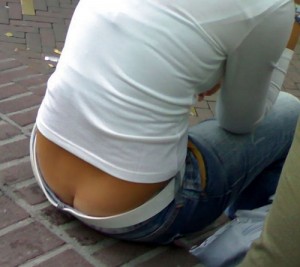 Bikini butts requiring a spanking
Sometimes you see THAT girl wearing THAT swimsuit and you know without a doubt that THAT ass needs a good hard spanking.
Twitter fun
Well we just wrapped up our 1st shoot in which we did live Tweets throughout. Both Sophie and Monica has their bottoms blistered for sneaking into the administrative area of RealspankingsInstitute.com. They both received the belt, long and hard, on their bare bottoms. Being that they were stealing snacks, additional discipline was required. They were marched into the Board room, required to get fully naked, and bent over the table. They held each other in place while they received a very severe 12 stroke caning that left welts on their bottoms that they will be feeling for weeks. They finished the day with a candid interview for Realspankings.com in which they discussed their need for real discipline in their lives. In addition, Sophie administered her 1st ever spanking to Monica. While fully naked the girls took turns spanking each other over the knee. We could not end the day with just fun and games, so each girl bent over and took 12 very serious strokes with the wide leather strap with holes, as requested on Twitter. Knowing how much Sophie likes marks, I let her examine naked Monica's bottom, up close and personal, and she seemed to very much enjoy this.
Thanks to TheArmchairQB who took part on Twitter and suggested the implement to end the day with. He asked for the girls to be punished with the wide leather strap with holes. We posted pics during the shoot today live on Twitter as we shot them. Here is the final pic that we posted just for ArmchairQB for being an active participant. Be sure to watch for the annoucements for our next Twitter based shoot.
Getting my Tweets on
I am doing real time posts today during the shoots. Go to twitter and make your voice heard and help decide how to spank these girls. My twitter link is now on the upper right of this page.
[ Wednesday, August 25, 2010 ]
Now on Twitter
Just getting started on Twitter. My page at https://twitter.com/MichaelMasterso
Will try to give real time updates of daily shoots via this page.
What did you do at school today?
Not much...talked in class, caused a disruption, was sent to the hallway, bent over in front of the window, took six hard licks with an oak paddle, rubbed my sore bottom, went back to class. You know, standard Southern style school corporal punishment...no big deal, until I try to sit down.
Pics from a shoot that ended five minutes ago. Lila is sitting gingerly as we speak filling out her paperwork. From a future update at Realspankings.com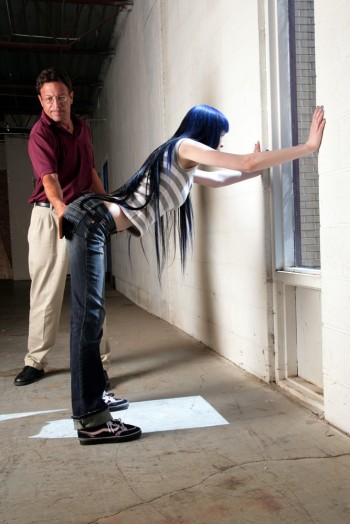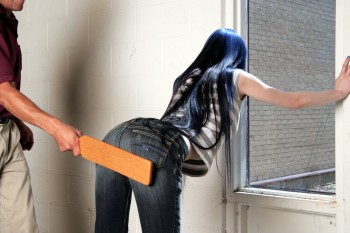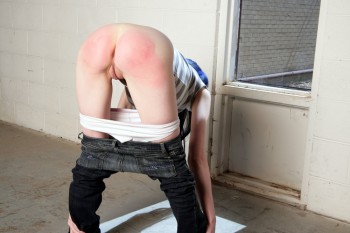 New spanking model Sophie seeks real corporal punishment and discipline
Meet our latest spanking model Sophie. She is every spankos dream come true. She has been into spanking for as long as she can remember. The punishment profile we filmed with her is one of the longest and best we have ever done. You will better understand the mind of a young lady who grew up fantasizing about spanking from an early age. Her main desire is disciplinary punishments for very real reasons. She sought out her 1st at the age of 18 and has never looked back. It was cute to hear her describe the first spanking she ever watched online, our very own Jasmine being strapped by Lady D in the free area of Real Spankings Institute. She watched this clip before she was of legal age, something I will clearly have to spank her for. Unlike most models typical first day, after her profile she asked for a hard strapping with my belt, followed by a hard caning. She is a joy to work with and we could not be happier to have her. I think I foresee a real discipline session in someone's future. Her scenes are now featured in the member's areas of both Real Spankings Institute and RealSpankings.com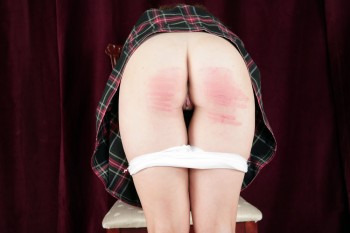 Where did I leave that school paddle at?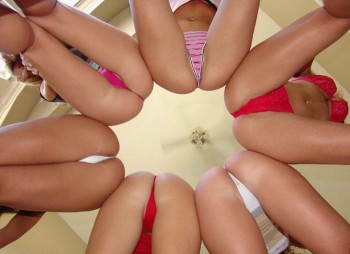 Spanked and sent to bed early