The Spanking Blog
This is an adult site dedicated to the exploration of spanking between consenting adults. The main focus is on disciplinary spankings portrayed in various spanking videos and pictures, with sample pictures and reviews of the spanking content. The most recent blog posts appear below, and the free spanking picture galleries on this site can be found on the menu on the left. All spanking content on this site is free, and any link leading you outside of this site is clearly labeled as such. You must be 18 years or older to view this site.
[ Thursday, August 29, 2013 ]
Naked and Embarrassed before her spanking
Never underestimate the power of having a young lady undress and making her stand fully naked prior to her spanking.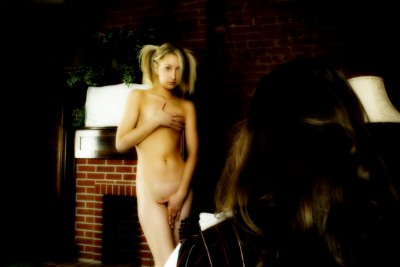 [ Thursday, August 15, 2013 ]
New spanking models for August
This month we have shot two new models, with another two new models scheduled for Sept. The first is Miss Stevie, who is not new to the industry, so she did not get the normal 1st day light spankings. She jumped right in and took a fairly hard profile spanking. For her second scene I blistered her bottom with my heavy leather belt and she took it like a champ. When discussing what she wanted to be spanked with for her final scene, she surprised us all and went for the 32" long, 1/2" thick, tiger cane...which no model has ever requested. This is the biggest cane we have ever owned and it packs a punch. She endured 12 full force strokes, the last 6 on the bare and hardly even marked. This girl has a bottom made for spanking. Here is a preview of her upcoming updates: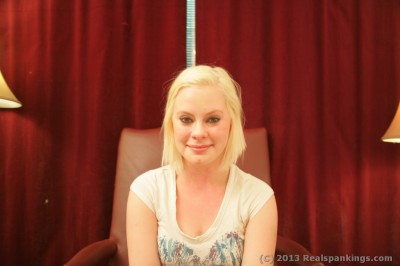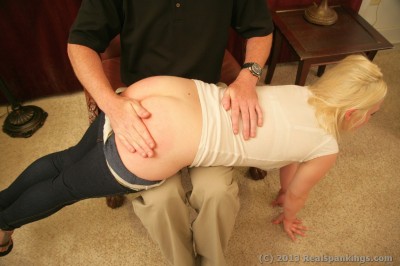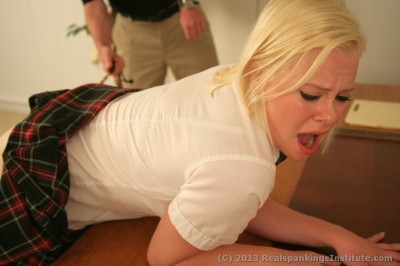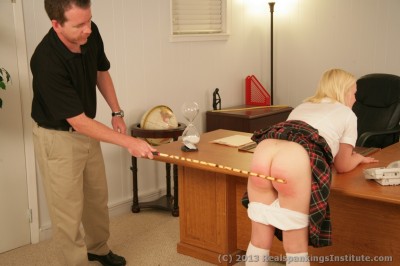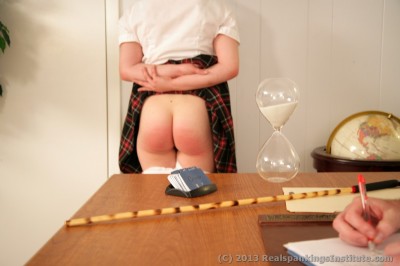 The next new model is Miss Jordan. She is 30 years old and has a beautiful smile. She was a little nervous about being spanked, but loosened right up. During her profile she went into a detailed account of the spankings she received growing up, until the age of 12. She was not only spanked by her mom and her dad, but it seems that grandpa had a paddle with holes in it that hung in the basement, and she details more than 1 trip down into the basement for a hard paddling from gramps. She did our standard 1st day profile, hard strapping, and an arrival at the Institute. Take a look at her black and blue bottom below and you will see that she did not have a light day. Her butt was so marked and sore, that she had me take pictures of it with her phone so she could txt pictures to her good friend Monica, who always used to come home and show her bruised bottom after a shoot.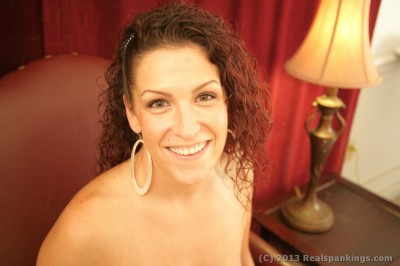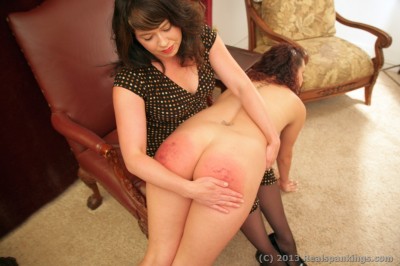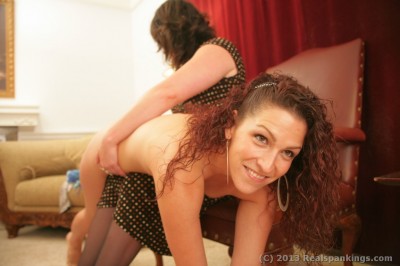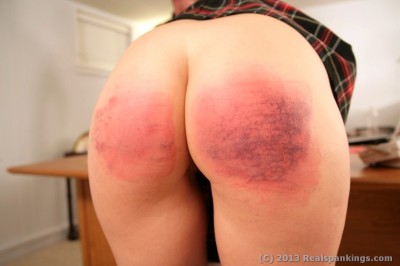 Look fdor both of these girls in future updates at Realspankings.com and RealspankingsInstitute.com
A fun day of spanking
There are times that work just drags on and I want to be somewhere else. But then there are those days that it is a pure joy to be at work. When I get the perfect models, with perfect bodies, that enjoy being spanked, I would not wish to be anywhere else. We had just such a day last week in which I brought in three perfect models and came up with the kind of scripts that exist in my fantasies. I found various ways to spank, strap, and paddle these young ladies and it was a long and hard day for them, but the content is fantastic. We started with three young ladies (two sisters and a friend) that find themselves in a lot of trouble. The other dad is called and all three girls get the spanking of their lives in front of each other. When then move on to an RealspankingsInstitute.com scene in which I find reasons to get them naked and strap and paddle their bottoms, with lots of nudity and uncomfortable corner time. We ended the day with the three young ladies sneaking onto my property for a little skinny dipping in my pool. I see them out the window and call my buddy over which leads to us taking turns on all three naked girls with our belts. It does not end until their bottoms are blistered and they are in tears. It seems only fitting that they should clean my pool after it is over. With lots of new models and some of the best content we have ever filmed, RealspankingsInstitute.com and Realspankings.com are doing our best to make our members very happy.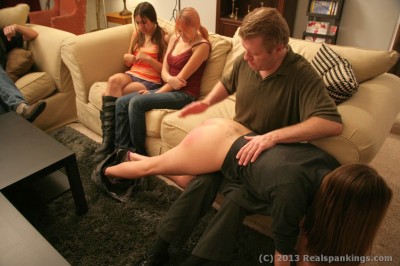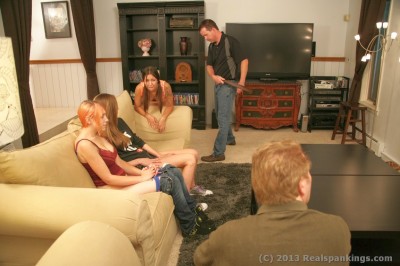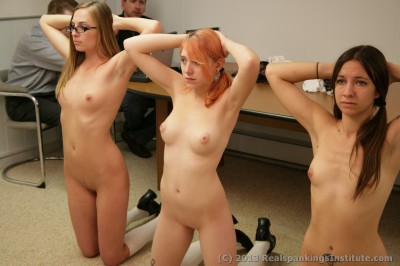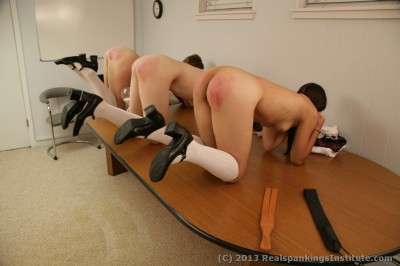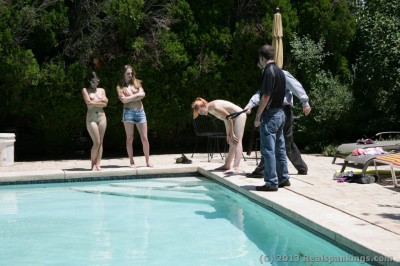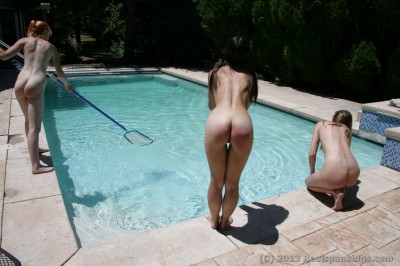 [ Wednesday, August 14, 2013 ]
Getting her tiny bottom paddled at school
Being sent to the principal's office is never pleasant for the older teen girl, but when she is sent up during cheerleading practice and is only wearing her tiny practice shorts and a sports bra, the experience become even more overwhelming.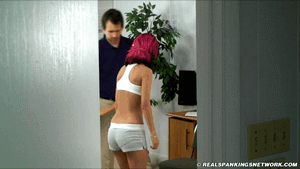 She has to sit in the office, of this administrator that she has never met before, wearing an outfit that barely covers more than a swimsuit does. She is 18, a legal adult, but she has to sit there and be lectured like she is still a child. She may be a legal adult, but as long as she attends this school, she is required to adhere to the rules and regulations set forth in the school code of conduct.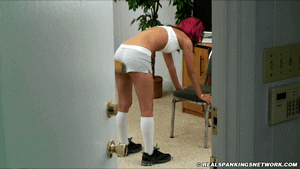 Unfortunately for her, the only thing that could make this situation worse, is the decision he makes as to how to handle her excessive tardies. She is informed that she will indeed be paddled for her infractions. She has no say in the matter, he simply states it as a fact. Before she can fully realize what is happening, he is getting up from his chair, turning it around, and telling her to bend over it and to present her bottom to be paddled. Having never been spanked at school or home before, the reality of the situation begins to really hit. This reality is further emphasized as he pulls out a giant wooden paddle to spank her bottom with.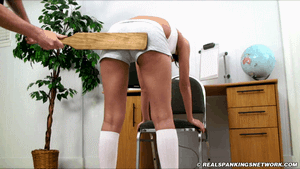 She bends over as instructed and can feel the cold AC of his office on the very lowest part of her bottom, knowing now that in this position, part of her butt is indeed exposed. He takes his time with the paperwork required when he paddles a girl's bottom, and she is left presenting her little teen butt, just waiting for it to be paddled. The moment finally comes and she feels the wooden paddle touch her butt. She watches out of the corner of her eye as the paddle is raised high in the air...and then the learning begin.
From a recent update in the member's area of RealspankingsInstitute.com
[ Monday, August 05, 2013 ]
Paddles for all