The Spanking Blog
This is an adult site dedicated to the exploration of spanking between consenting adults. The main focus is on disciplinary spankings portrayed in various spanking videos and pictures, with sample pictures and reviews of the spanking content. The most recent blog posts appear below, and the free spanking picture galleries on this site can be found on the menu on the left. All spanking content on this site is free, and any link leading you outside of this site is clearly labeled as such. You must be 18 years or older to view this site.
[ Wednesday, February 22, 2006 ]
Lovely
Looks a bit like a dream I often have…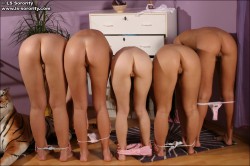 From www.ls-sorority.com
[ Thursday, February 16, 2006 ]
What I have been enjoying during my break
Just because I took a break from the production side of things, does not mean that I have not been enjoying online spanking content. I am just as much of a consumer as the next guy, and I have been impressed with some of the recent content. Let's start by taking a look at Firm Hand Spanking.
As you can imagine, anytime there is a scene that involves tight jeans, grabbing ankles, and a large wooden paddle I am the first in line to watch. The last few months have been good to me at Firm Hand Spanking with many updates that fall into this category. My three favorite recent updates involved Leanna Oliver, Rachel Young, and Samantha Woodley all bending over, grabbing their ankles, and taking hard school style paddlings that certainly take me back to my school days. Preview images below, visit Firm Hand Spanking for video samples and joining information.