The Spanking Blog
This is an adult site dedicated to the exploration of spanking between consenting adults. The main focus is on disciplinary spankings portrayed in various spanking videos and pictures, with sample pictures and reviews of the spanking content. The most recent blog posts appear below, and the free spanking picture galleries on this site can be found on the menu on the left. All spanking content on this site is free, and any link leading you outside of this site is clearly labeled as such. You must be 18 years or older to view this site.
[ Monday, March 22, 2010 ]
It is ALIVE
Well, we received our customized ROBOSPANKER last week and have been having much fun playing with it. We bought the robospanker, with all of its new improvements as well as the vibrating spanking bench, which also included the time released handcuffs. We have mostly just played a bit with it so far, but we have a couple of shoots coming up in the next couple of weeks in which we will put it to good use. And for those of you that have always wondered...yes it does work well and its hardest setting is more than enough for very real discipline and spanking. Here are a few pics of it in action, much more to come. Visit Robospanker.com to see their latest deals.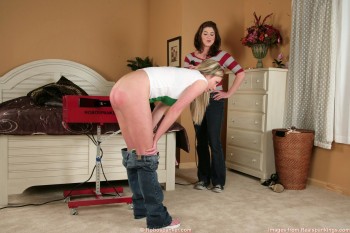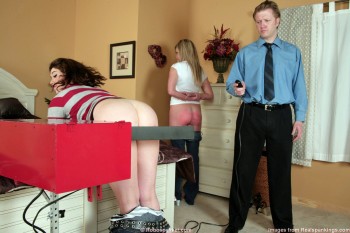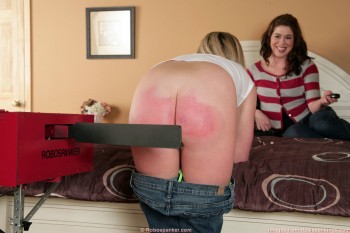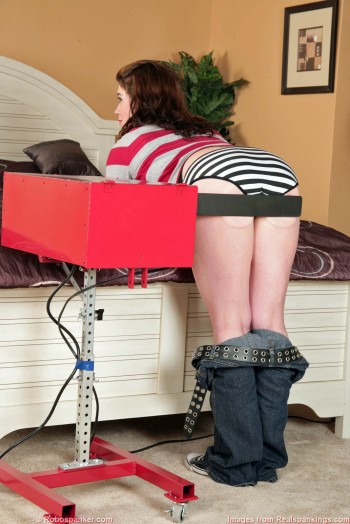 [ Thursday, March 18, 2010 ]
Nice switching scene
I do not know this show, but this scene is quite cute for a mainstream TV show on NBC
[ Thursday, March 11, 2010 ]
More Realspankingsinstitute pictures added to the gallery
Today I finished up with the free gallery of recent RealspankingsInstitute.com pictures. There are now 61 pictures that represent many of the exclusive shoots from our new studio. Take a peek at our new models, new sets, and new spankers. You can visit the full gallery at RSI free image gallery. Here are a few more samples from this gallery. Enjoy!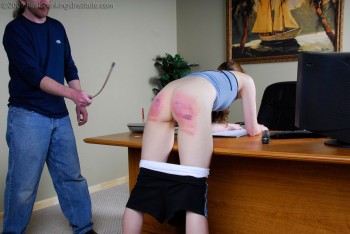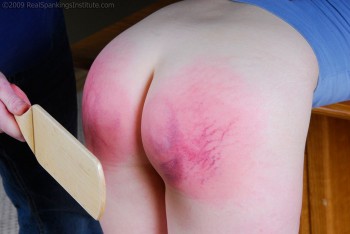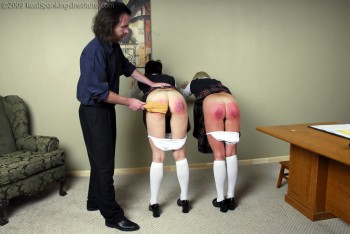 [ Wednesday, March 03, 2010 ]
RealspankingsInstitute.com Free Picture Gallery
So, it is approaching a year of new content all filmed at the new studio for RealspankingsInstitute.com. I wanted to make sure that all of you out there know that while all content is new and original on the site, the last 11 months represent me being back and fully in charge of the production, and in most cases with me as the main spanker. In addition, we have a few new spankers for the site. I think the last year represents some of our best videos in more than five years. So if you have not looked at RealspankingsInstitute.com lately, it may be time to revisit and take a look at our samples. I am in the process of creating a free gallery here, so you can view some of the scenes we have filmed over the last year. You can view this gallery at RSI Free Pictures Gallery. I will not be able to get all of the pictures uploaded today, but there will be 62 in there when it is complete. Check back soon and the gallery should be complete. Here are a few samples from the gallery in progress: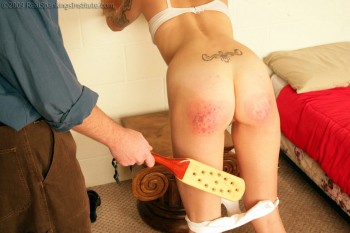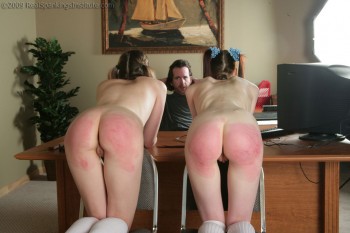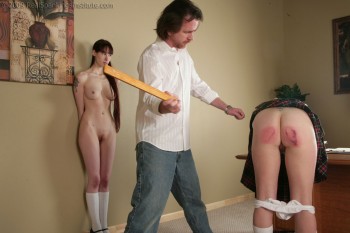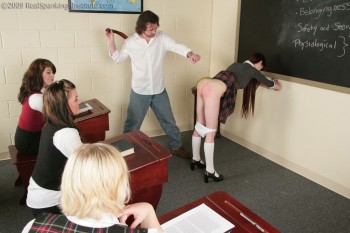 All images come from videos currently in the member's area of RealspankingsInstitute.com