Women-Spanking-Men.com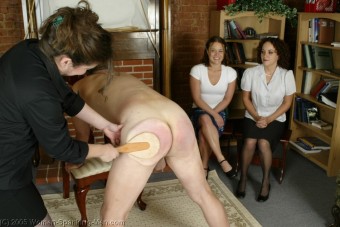 I have not posted too much about my site Women-Spanking-Men on this blog. Now that it has been redone, as well as the fact that we are once again filming content for the site on a regular basis, I thought I would let you all know about it.
As with most of my sites, I built it due to my personal frustration with sites of its kind on the web. While I know that there are many people out there that really like the Fem Dom aspects of this type of content, with mistresses in latex, lots of BDSM, slaves licking boots etc., this type of content really does very little for me. Just as with M/f and F/f spanking content, I like to see the scenes focus around strict discipline and punishment based spankings. Having a man crawl around on his knees, licking his mistresses feet, while taking the occasional smack from a riding crop just wasn't cutting it for me.
With Women-Spanking-Men I created a site that focuses on real discipline. I must warn you in advance that if you find my other sites to run a little too severe, then this is not the site for you. Every man that walks through our studio door knows that he is going to receive the punishment of his life. They do not have any say as to how they are punished. In addition, we frequently invite some of our female models to participate and it is clear that they take great pleasure in administering punishments of this severity.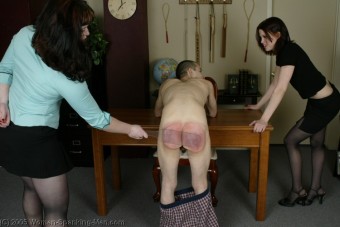 In many cases the men come to the studio looking to be punished for real life offenses. They are punished hard enough that it is generally many months before they even think about coming back. We now have a large variety of women who spank the men. Brandi from Spankingteenbrandi.com has become quite the Domme and seems to enjoy spanking the men more than most. Jessica also appears on the site, and while she cannot give it quite as hard as Brandi, she is very enthusiastic. The Bispanking.com girls have participated in most of the recent punishments and they are asking to be able to do it much more. This has greatly helped us in getting guys to come in a be punished. Many fantasies have been fulfilled as the men enter the room and are forced to remove all of their clothes and be punished by 5-6 gorgeous young ladies. Of course, Lady D is there to make sure they really get what they have coming, and our new spanker Elizabeth brings a great deal of experience to the whole thing. If you haven't checked it our before, or in a long time, you should have a peek. All of the free content is new and the new site design has worked out really well.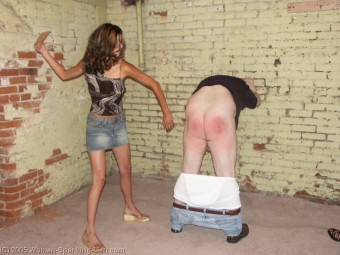 You can check out the free area at Women-Spanking-Men
Comments:
hey i love women spanking mens site but one question i have is can you post a pic of where kaillee is spanking an man otk. or brandi doing same or the bi women spanking mens otk, just alway been curious of what it would look like when they goit a man otk for his punishment.
Too bad you are so far away from me. There are quite a few things that I think I should get a good spanking for. I don't know if i would be able to take anything harder than the strap, though.
Hi
I've enjoyed having a look over your blog. Do you know of any kind of organisation where I can arrange to be spanked by guys or ladies here in the UK? I just can't seem to find anything here.
David
I wish there was more discussion and less prison type stuff. The man should be taled too, not lectured, and should agree that he needs punishment. I guess what I mean is more of a domestic setting and less reformatory, where the spanker has an interest in the person she is spanking. I dropped my membership a long time ago because it was just beating, and to me that is a turn off.
I also would like to see Lori as a dom, doing the spanking. Does she have any interest in doing that.
I would also like to see some "domestic discipline" type scenes on W-S-M. Perhaps you can get some couples in there...Lady D., Kailee, Miss. J., Miss.Burns, or Brandi could "teach" some wives/girlfriends how to punish their men properly! Perhaps some of the models on your other sites could bring their boyfriends in and, under the supervision of the Dommes, teach them some real lessons?

Theres some realy great fem dom spanking material on this site.Those unequivocaly qualify as some very real good old fashioned whippings.I would still like to see some more standard fem dom style material though.It would be quite captivating if some of the ladies were dressed in some realy sexy leather fetish attire,such as leather skirts and bras,along with some realy stylish and wicked high heeled leather boots.It would also be very stunning and enthralling if some good hard strap on dildo action was included as well.
Joined because "Women Spanking Men" is enough to make submissive little me break out in a sweat. Your women being spanked does nothing for me but ah dare I come to Denver for what I long for?