The Spanking Blog
This is an adult site dedicated to the exploration of spanking between consenting adults. The main focus is on disciplinary spankings portrayed in various spanking videos and pictures, with sample pictures and reviews of the spanking content. The most recent blog posts appear below, and the free spanking picture galleries on this site can be found on the menu on the left. All spanking content on this site is free, and any link leading you outside of this site is clearly labeled as such. You must be 18 years or older to view this site.
[ Wednesday, November 30, 2011 ]
Over the Knee Three
Our latest pay-per-view release at Spanking Library OTK 3
[ Wednesday, November 16, 2011 ]
The Training of Lady D
I thought I would share some pictures from a somewhat rare occasion...Lady D being spanked. I have always felt that you can only be a great spanker if you know what it is like to be spanked. When Lady D 1st came on board with us, she had to spend some time on the receiving end before she was ever allowed to even start learning to spank. I found some pictures from the first two spanking sessions she ever received from me. Those days included a couple of hard school paddlings over her jeans, a long and hard, bare bottom, otk spanking, and one of her final tests, a caning to tears. Miss J also spent a good amount of time warming Lady D's bottom, but for today's post I am only sharing my earliest spankings of Lady D.
On a side note, I can share a funny Lady D story which occurred at our 1st Shadow Lane party in Palm Springs. It was Saturday night after the big get together and after we had attended a few parties. As you would expect Lady D and Miss J had worn their arms out spanking many naughty young men and women. We had come from Dallas and Tiki's suite party and it was just myself, Lady D, Miss J, and the webmaster in our suite. Miss J was tired and had retired for the evening. Lady D, with a little spark in her eyes, asked me if I would give her a bare bottom caning. She had not been spanked in more than a year, never really desired to be spanked all that much, but seemed to get caught up in the moment. Without an audience, a video camera, or any other particular motivation she agreed to take "six of the best" from me on her bare butt. She knows how hard I can cane and I warned her they would be good ones. She dropped her pants and panties, bent over a chair, and told me to get started. I went into my semi-strict persona, told her to hold completely still or she would receive extra, and proceed to give her 6 strokes that would make any English schoolgirl shake in her knickers. She screamed out with every stroke, but took them like a champ without ever moving. Afterwards she spent a little while watching the welts grow in the mirror and seem quite proud of herself. That was the very last time I ever spanked Lady D, and as far as I know, the last time she was spanked outside the privacy of her bedroom.
Here are the pictures from the 1st two spanking sessions with myself and Lady D. The videos are in the member's area of Realspankings
[ Monday, November 14, 2011 ]
Outside, Naked, and on Display
Sometimes just a spanking is not enough.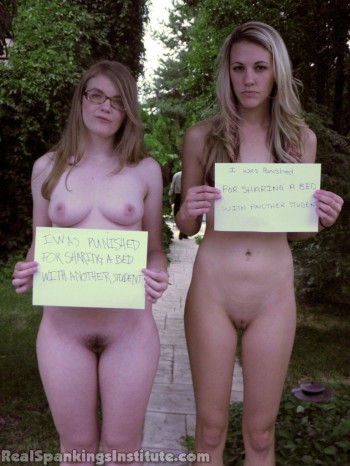 [ Thursday, November 10, 2011 ]
Paddled at School, Paddled at Home…good old fashioned corporal punishment.
I am sure that growing up in Texas had in an influence on what I like to see in spanking videos. The two scenes I most like to participate in are good old fashioned belt spankings and hard paddlings. While I know most of you prefer to see bare bottoms getting punished, I almost prefer to do scenes over tight jeans. For me it is about realism, and where I grew up, while there was indeed the occasional bare bottom spanking, most everyone took it hard over their pants. I have been in a paddling mood lately and I have paddled just about every model that has walked through the door in the last couple of months. I have been doing "School Swats" scenes, traditional school corporal punishment scenes, sent up to the room for a paddling scenes, and anything else you can think of that involves a paddle. And not too worry, as much as I like paddling a young lady over her skin tight jeans, there are still plenty of bare bottom paddlings taking place within my studio. Regardless, I do not think I have sent a young lady home in the last six weeks without a very clear bull's-eye on each of her cheeks. Here are a few highlights from the last few weeks.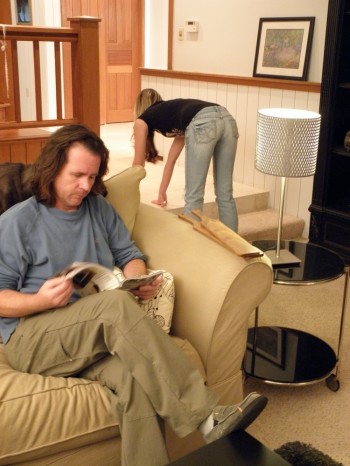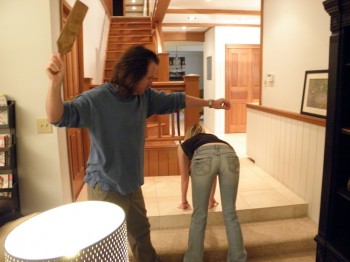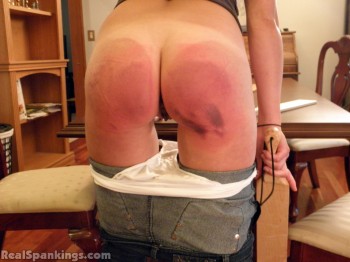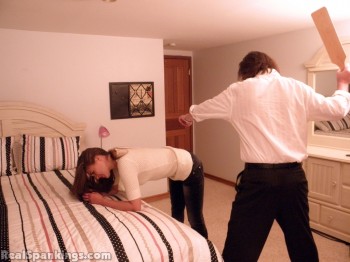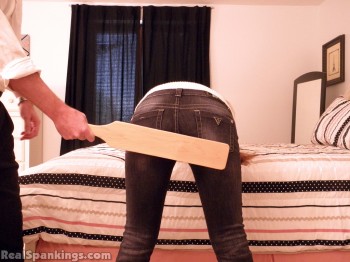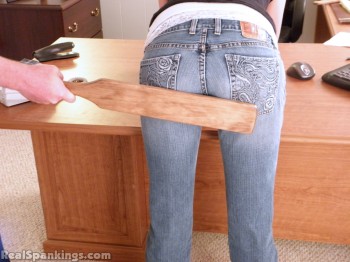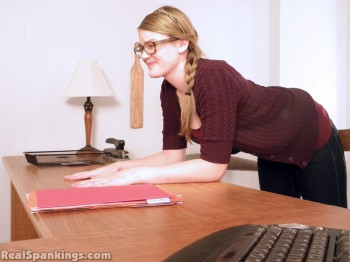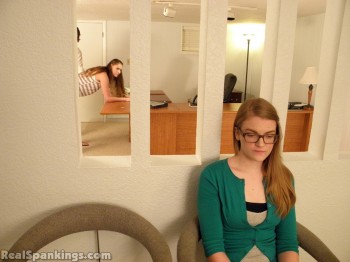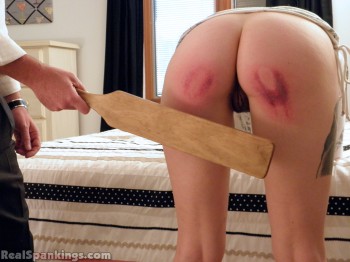 [ Wednesday, November 09, 2011 ]
I am loving to spank Miss Melody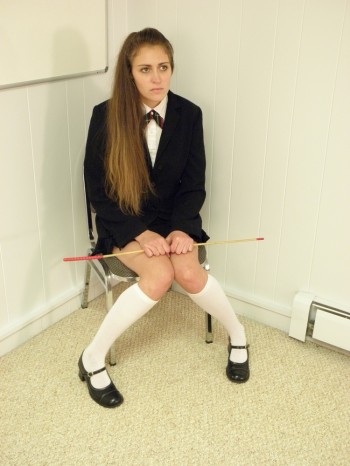 Since Melody's return I am truly having a very good time spanking her. Often my job feels just like that, a job, but on occasion a super sexy, super kinky, model comes along and just makes my job pure joy. Melody 1st shot with us many years ago and has now returned (see video in previous post below). She was a teen before, but has come to us as a beautiful and sensual woman truly looking to explore her submissive side. My job becomes fantastic when I ask a model, "what do you think about a caning today?" and her response is, "oh yeah, I would love to be caned, do you think I could choose the cane?". She is also one of those models that spends time in between scenes naked, looking at her ass in the mirror and caressing her bottom. She has asked to be tied up, which I have already done with her. Recently she watched the scene in which I cane Holly and Holly gets to watch her own caning on a monitor setup right in front of her. Melody asked before leaving her last shoot if she could do a scene is which she is tied tightly and then punished long and hard with a monitor for her to view the whole thing. Who am I to deny such a lovely young lady.
Here are some pictures from our last shoot in which she receives a severe paddling while on all fours on the bed, followed by a truly severe caning, and finally a strict strapping while fully naked and in the lunge position.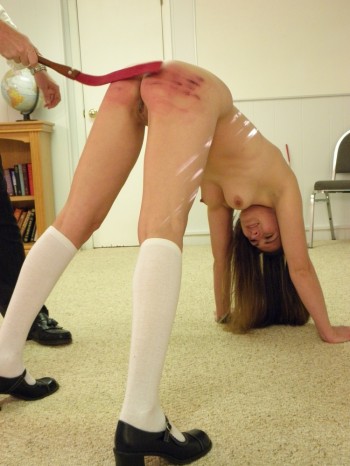 hard_paddling_bare_bottom_caning_lunge_spanking_pictures10.JPG