The Spanking Blog
This is an adult site dedicated to the exploration of spanking between consenting adults. The main focus is on disciplinary spankings portrayed in various spanking videos and pictures, with sample pictures and reviews of the spanking content. The most recent blog posts appear below, and the free spanking picture galleries on this site can be found on the menu on the left. All spanking content on this site is free, and any link leading you outside of this site is clearly labeled as such. You must be 18 years or older to view this site.
[ Thursday, September 23, 2010 ]
1st shoot at new studio
Today we filmed out 1st six scenes at the new studio. Oh my it is nice to have a fresh location. Today we shot in the new gym, in the kitchen, the new learning lab....and OUTSIDE!!! Way too much fun to be able to just step out the door for some filming. The location is a large estate, so while it is not in the woods, we have three acres of manicured property with an 8ft stone wall around the perimeter. Today we did a nice hard paddling outside and during our 1st shoot poor Sophie was sent outside to pick her own switch. There is so much more to come. Here is a little peek from today.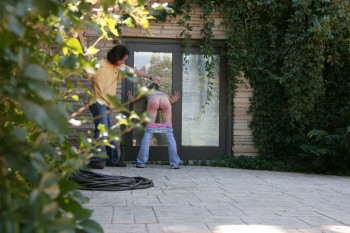 [ Wednesday, September 08, 2010 ]
New Studio
Today is our last day of shoots before we move to the new studio location. We have decided to change things up a bit and allow for more shooting options. As a result, we now have a 7000 sq ft location, that is on a fenced and gated three acres, with a pool. For the first time, we will now have the ability to shoot outdoors whenever we want. We are all very excited about the different optiosn this new space provides. The 1st shoot should happen in about a week, stay tuned for details.