Big paddles and big swings for sorority bottoms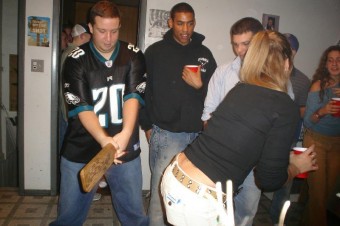 I really had not planned on posting so many of these sorority paddling pictures so close to each other, but I have had such a big response via e-mail asking for more of the same. I guess we will just have a few weeks that are sorority intensive.
One thing that I have noticed in the paddling pictures, that I believe that at least one real swat was applied, is that most people are using a two-handed swing. While this is not all that common in spanking videos, it seems to be the preferred technique for college students. I think a lot of this stems from the fact that they know they are only going to get one swat and they want to make sure it counts. Another factor seems to be that most of these paddlings are taking place at a party and the paddle being used was meant to hang on a wall and not to swat butts. Many of these paddles require two hands to even swing them. Sometime it appears as though the paddle is being swung for the first time, or as in the picture above, it looks like the paddle has swatted many sorority and fraternity butts.
The rest of the sorority paddling pictures from this post have been moved to a seperate page to spped up load times. Click the "More" link to view the rest.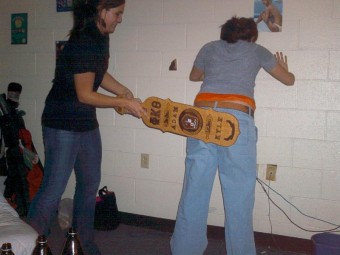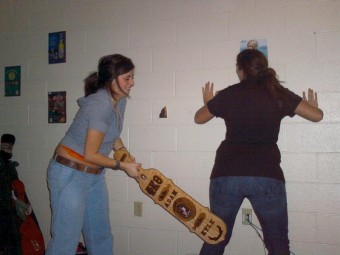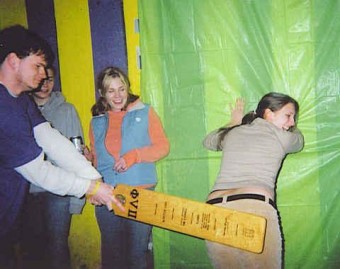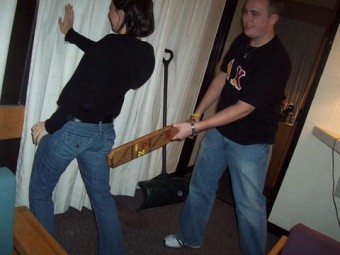 Comments:
Michael, Where do you find so many great Sorority Paddling pictures? I have been Google searching and MSN and Yahoo searching and I haven't found anything like the great number of pictures that you have provided. Please keep it up. I stop by everyday just to see if anything new has been posted. You are the best spanking blog on the net.
Thanks,
Tony
there is a website called spanking scenes which focuses on sorority spanking fantasies.
The scenes are very hot because of the age of the girls. They all seem to be genuinely college-age with very cute little fit bodies and butts.
They use something like a ping pong paddle on each other, though realism is not a priority as there are obvious editing cuts made after every four swats.
Still, I found the site to be enormously enjoyable to watch. Only problem is that the site doesn't update anymore.
Michael, maybe this would be a great theme for a new site for you! Maybe not have such hard spankings but more of a focus on young models who spank each other.
I think you could find great crossover appeal with those who simply enjoy young college age chicks cavorting around without many clothes on spanking each other.
Marty
Love the sorority paddlings--unbelievable. How did you get this stuff? There must be more/better out ther that we don't even know about. How to get our hands on it though???
Bob
In the first two photos here of girls being paddled, they are using a paddle with the names "Adam" and "Kyle" on it. Maybe some trading was going on? Thanks for the pix!