The Spanking Blog
This is an adult site dedicated to the exploration of spanking between consenting adults. The main focus is on disciplinary spankings portrayed in various spanking videos and pictures, with sample pictures and reviews of the spanking content. The most recent blog posts appear below, and the free spanking picture galleries on this site can be found on the menu on the left. All spanking content on this site is free, and any link leading you outside of this site is clearly labeled as such. You must be 18 years or older to view this site.
[ Tuesday, September 27, 2005 ]
Bottoms of the week
It has been a little while since I have done a "Bottoms of the Week" post, so I thought I would treat you this morning to some wonderful bottoms:
From main.ashleylightspeed.com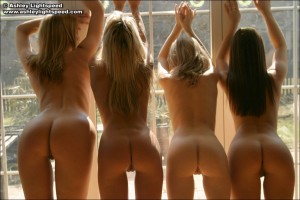 You can view more free pictures from this site here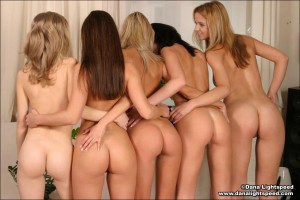 More free pictures from this site here
[ Monday, September 26, 2005 ]
More Asian spanking from Japan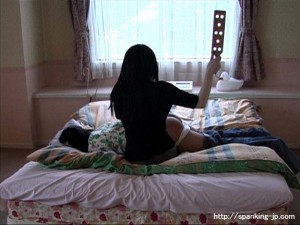 I have posted previously about www.cutiespankee.com, which is an Asian spanking site that I like. There is also a free video gallery for this site at Spanking.jp.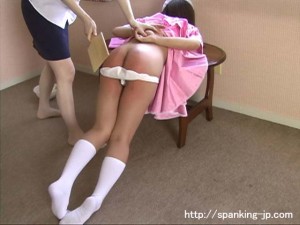 Recently I have come across a site that I really like that features very realistic Asian spanking scenes that have a domestic feel to them. The site is www.spanking-jp.com. It features hard corporal punishment of younger looking Japanese females, by a very hard hitting Asian woman. It has a slight feel of the early days of Realspankings.com because the faces of the participants are not shown. There is no membership, you pay per scene, but I must admit, most of the scenes are more than worth it. I have found scenes 12, 9, and 6 to be my very favorites.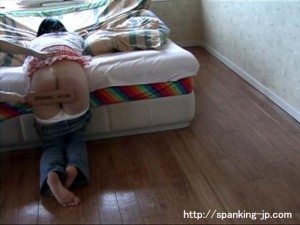 There is really no dialogue (what little there is is in Japanese) and there are no faces shown, but there is no doubt that these are pretty serious punishments. A couple of these scenes feature some of the best paddling I have scene in a long time (bare bottom, hard swats, some scenes with more than 100 paddle swats). If you find scenes that look like realistic mother daughter punishments a little creepy, you might want to stay clear of these videos, they have a fairly realistic feel to them.
[ Wednesday, September 21, 2005 ]
Severe Caning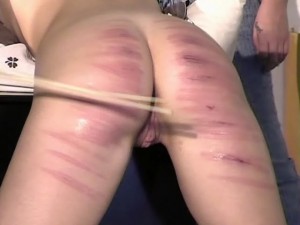 A random image from the Guba Spanking Galleries. Use the search box below to find what you are looking for at Guba. You can search and view thumbnails without being a member, so you can see what they have.
Search

2,000,000+

images and videos!
[ Monday, September 12, 2005 ]
Is Spanking becoming more mainstream?
Judge for yourself.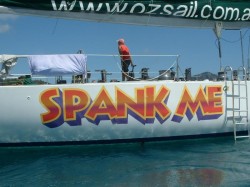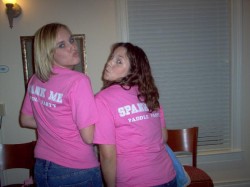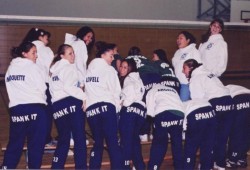 Paddling Pass
I thought I would give you a brief update of all the paddling action you would be seeing if you had the Realspankingspass.com. As you all know, I am a big fan of paddling content, so as you would expect, there tends to be a lot of wooden paddles hitting bottoms on my various sites.
All of the pictures (and the videos that go with each of them), and the sites listed below are all part of the Realspankingspass.com, or each site is also avialable individually.
From Bispanking.com
Claire looks on as Jasmine's bottom is paddled in the classroom for not turning in her work.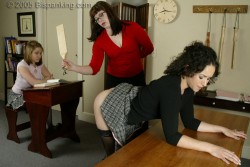 Mr King serves as a witness as Jessica bends over for some very serious licks.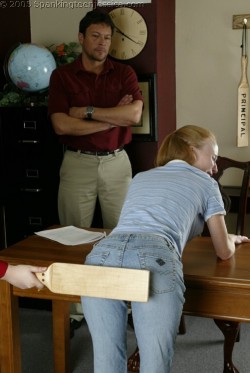 From RealspankingsInstitute.com
Kailee's bottom shows the mark of the paddle and Michelle patiently waits her turn to be punished.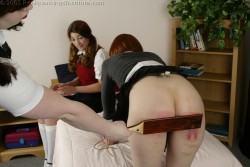 Brandi's school girl skirt is raised and her panties dropped, for a long session with the small and thick paddle.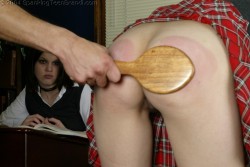 From Realspankings.com
Miss J makes an appearance to assure that both bottoms see the proper amount of bruising with the school paddle.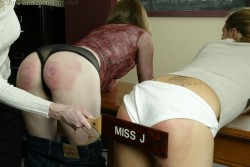 Check out Realspankingspass.com today for access to all five sites at a discounted rate.
[ Tuesday, September 06, 2005 ]
Catching up with Firmhand
It has been a little while since I covered any of the content that I have been enjoying over the past several weeks. There is so much to get to, so I guess I will start with Firm Hand Spanking. I have mentioned before how much I like Samantha Woodley as a spanking model. She has such a cute look and seems so innocent. They have been changing things up a bit, so in addition to having her wonderful bottom smacked, she is also seeing some time administering spankings as well.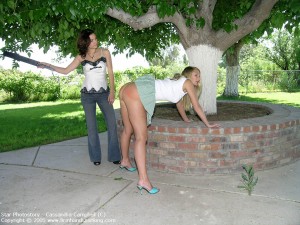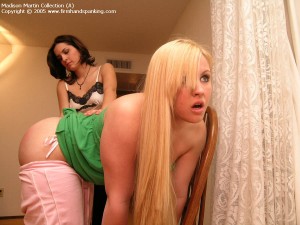 But don't be alarmed, there are still many updates that feature her gettings her bottom smacked. In fact, five of the last six updates featuring her involved the wooden school paddle or a hairbrush. The last update we are treated to her having her bare bottom paddled, while topless, and in front of a witness.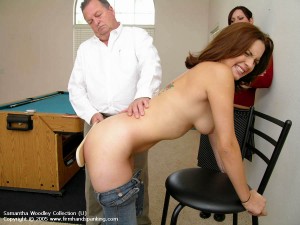 You can check all of the recent updates, as well as watch the videos to go with these scenes at Firm Hand Spanking