The Spanking Blog
This is an adult site dedicated to the exploration of spanking between consenting adults. The main focus is on disciplinary spankings portrayed in various spanking videos and pictures, with sample pictures and reviews of the spanking content. The most recent blog posts appear below, and the free spanking picture galleries on this site can be found on the menu on the left. All spanking content on this site is free, and any link leading you outside of this site is clearly labeled as such. You must be 18 years or older to view this site.
[ Wednesday, April 23, 2008 ]
Comments equal content
I would like to let you all know that comments on this blog, often result in not only what you see on here, but also influences what we film for our sites. With our new studio getting close to completion and our daily production schedule close to being back to full-time, your input here can really make a difference. I have always been able to post to the World Spanking Forum and ask people what they think about certain types of scenes. But honestly, most of the regular posters on our the forum are already members of my sites. This blog reaches a much broader audience and there are a lot of you out there who have never been a member of any of my sites. Maybe if I had a little more feedback from all of you, I would have a better idea of what I should be filming.
Yesterday's post was a great example for me, with the discussion of Sarah. Early on when I first hired her, I questioned is she was a good fit for our sites. Yes, she is gorgeous, but her spankings are not as hard as my typical requirements for a model. Feedback from here and from the forum has helped to realize that even though the spankings aren't very severe, they are hard for her. I have learned that people really like the fact that she hates to be spanked. This information alone may lead to a change in how we evaluate potential models. When you see me posting about school corporal punishment scenes, or young ladies bending over and grabbing their ankles for a punishment, tell me if I am getting close to the kind of content you want to view. There is a reason that many of my posts are so very specific in regards to a particular aspect of spanking, people's tastes within their own fetish are very specific. I can look at the statistics for any of our websites and analyze page navigation. It is clear to me that when someone first signs up, they go looking for that specific thing that they really like. It may be all the otk scenes, the strapping scenes, wooden paddle scenes, or even all the fully nude spanking scenes. My blog posts tend to be about MY specific tastes within our kink, but the more I know about yours, the better the chance that this type of content will become a fantastic video in the future. So please do not be shy to comment, with the new studio being fully functional in just a couple of months, I need to start planning content now. Thanks.
[ Tuesday, April 22, 2008 ]
Spanking Model Sarah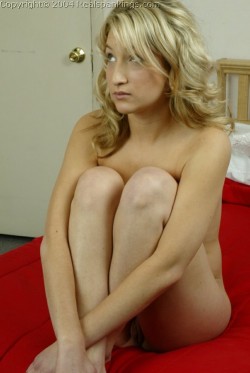 Yesterday at The World Spanking Forum I posted several times on a thread regarding one of the most beautiful spanking models from the two sites Realspankings.com and RealspankingsInstitute.com. Sarah is one of the most naturally beautiful girls to ever walk through our studio doors. Her bottom is as petite as they get and she is just so gorgeous, that I do not think any model has had as many pictures taken of her by us, that were simply just face shots.
Her very low pain tolerance always showed how subjective a spanking really can be. While her spankings were moderate on my scale, it is clear when you watch her being spanked that every spanking she ever received at our hands was very severe in her mind. On the forum we were discussing the fact that a lot of people think that all spanking models enjoy being spanked to some degree, but this was clearly never the case with Sarah. Sarah hated to be spanked, which always added so much to all of her scenes, they always had a real punishment feel to them as a result of the fact that she would do just about anything to avoid a spanking. This is not to say that Sarah never found any excitement when doing a shoot with us. It was pretty clear that there was an aspect of being fully naked in a room with several people that excited her. For those of you that watched her progression with us over the years, I am sure that you noticed that there was a bit of a budding romance that developed over time.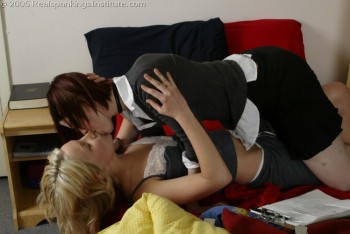 This kind of developed out of nowhere, but was clearly something that Sarah wanted to explore further. I will never forget the first scene that she did with Kailee, in which Kailee added a little sensuality into the mix. When the scene was over and the camera had stopped shooting, Sarah turned to Lady D and said, "Oh my God, that whole thing kind of made me wet". From that day forward, you will see that her and Kailee worked a lot together and we allowed Sarah to explore this side of herself a little more. Pretty soon they were doing scenes together that turned into all out make out sessions, nipple biting, and whatever else these two kinky girls chose to do together in a very spontaneous way. It was fun to be on the camera side of things and see one of those "I experimented a little bit in college" things play out right in front of my eyes.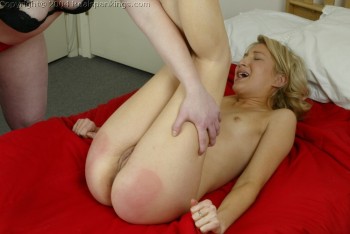 Sarah will always be one of the most popular and beautiful models to ever bare her bottom for a spanking video. I have dedicated an entire gallery to her and added it to my Free Spanking Galleries. This gallery consists of 40 pictures from some of my favorites spanking videos that Sarah has starred in. To date, she has shot 39 separate spanking scenes for Realspankings.com and 44 different scenes for RealspankingsInstitute.com. So if you have ever found yourself questioning if the Realspankings Pass is a good deal or not, you at least know that this one membership will buy you access to 83 spanking videos that feature Sarah. In addition, I think she that she was spanked while fully nude more than any model we have ever hired. Like I said, I think the nudity in front of people was half the thrill for her. Enjoy!

[ Monday, April 21, 2008 ]
Fully naked and breasts bared for a spanking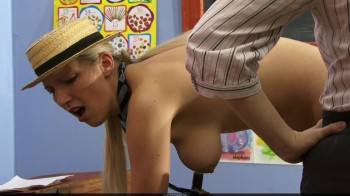 Picture from the member's area of Spanking Digital
There is often a big difference in what I like to see in a spanking video and what I like to do in my private spanking life. Typically, when watching a spanking video I look for realism. I am generally not the biggest fan of the fully nude spanking videos because it tends to stray away from how spankings are administered in real life. In my private life, I tend to incorporate a lot of full nudity into the spankings that I administer off camera. The primary reason being that young ladies that come to me for discipline, typically have a spanking fetish and enjoy some aspect of being spanked. But when I agree to administer off camera spankings, I only do so in situations in which the focus is real discipline for real life events. As I have previously written on this blog, I often look for ways to incorporate elements into the spanking that I know the person will not enjoy, therefore creating a punishment that has a better chance of decreasing the undesirable behavior. Regardless of how much a person likes being spanked, if the punishment begins with them being made to strip fully naked in front of a person that they are just meeting for the first time, it tends to be something that they remember and are a little reluctant to do. Forced nudity, exposed and uncomfortable corner time, writing lines and things of this nature help to take some of the enjoyment out of a spanking for someone into it, so I use these techniques as often as possible when trying to create a realistic discipline session.
While I do look for realism within spanking videos, it may come as no surprise to you that I have a little bit of a fetish within my fetish which is quite evident in my free spanking gallery Bare Breasted Spankings. I am a huge fan of how certain positions present the breasts during a spanking. As much of an "ass man" that I am, I can quickly become a "breast man" when a naked young lady is bent over just right during her spanking. While they most often present the best for me when someone is bent over with their hands on a chair or bed during their spanking: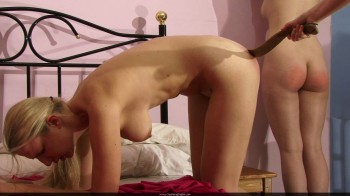 Picture from the member's area of Spanking Digital
Sometimes an otk spanking accomplishes the same results: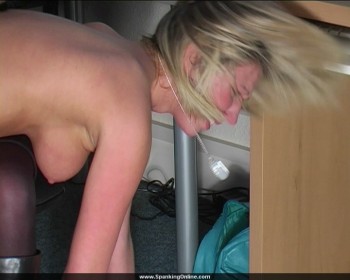 Image from the member's area of Spanking Online
The picture does not always have to be during the spanking or involve a large breasted girl, sometimes it can be as simple as a naughty young lady with small breasts rubbing her bottom after her spanking: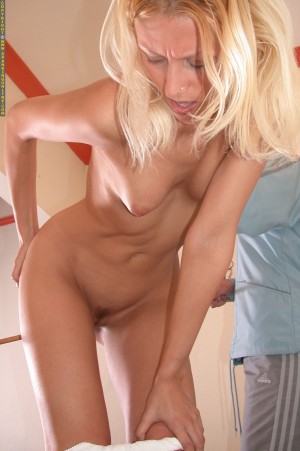 Image from the member's area of Spanking Online
So, while I think I prefer spanking video in which the young lady has her clothes on and her pants and panties pulled down to her knees, you can count on the fact that when I am viewing spanking content online, if there is a picture of someone being spanked fully nude and their breasts are presented in just the right way, these are pictures that make it to my personal collection.
All pictures above come from the Spank Pass family of sites.
[ Sunday, April 20, 2008 ]
Bending over for a long hard switching on the bare bottom and back of the thighs.
Once again, if you ask for it, it may just appear. A comment this morning that I received for the post "Naughty young Asian maid receives a strict leg caning":
"Thanks for posting these leg caning posts, complete with marks. Its not often you see the legs get punished on spanking sites,not much of this variation of discipline, old as it may be.
What I'd like to see would be some leg switchings, which produces marks similar to a cane. My favorite would be seeing the girl getting her legs switched while wearing short shorts(and the results after)."
While I do not have a switching video in which a switch is used only to punish her legs in "short shorts", I do have a video of one of the hardest switchings I have ever administered. I did a mini movie for Bispanking.com called "The Intrusion" in which I administered some of the hardest punishments in recent memory. In the movie Claire, Jasmine, and Kailee were all punished long and hard by me, with all of them taking a severe strapping, a vicious switching, and a really rough otk hairbrushing, among other things.
The switching scene is probably the hardest switching I have administered and it left all three girls in tears. I started at the top of their bottoms, and then slowly worked my way down to just above their knees and then back up again. My switch traveled this path a few times up and down each girl's legs. This switching is the one that led to these two pictures:
From the member's area of Bispanking.com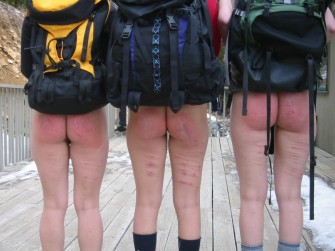 From the member's area of Bispanking.com

So since there was a formal request made for a good switching video on the blog, today I offer you the full video of Jasmine's switching from both camera angles. Here is a couple of frame grabs from the video: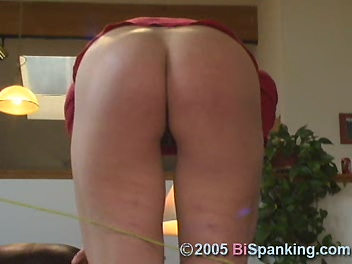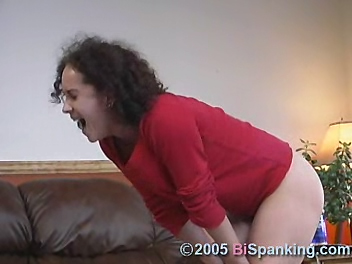 Even though Jasmine is a model that does find enjoyment from being spanked, she made it clear after we finished this scene that she found nothing at all appealing about the switching she received on her legs. The two pictures above are frame grabs from the actual punishment and not posed pictures, I think the expression on her face demonstrates exactly what a real switching on the thighs feels like. If you think she struggles with her switching, you should check out Claire's, she made Jasmine look stoic. Click the "More" link below for the full video from both camera angles.

[ Friday, April 18, 2008 ]
Bikini spanking and a reverse sunburn
Usually when a young lady returns from the beach or the pool and she peels back her bikini bottoms, you see white where the swimsuit was and red where it was not. I thought this photo provides quite the opposite and gives her the look of a reverse sunburn: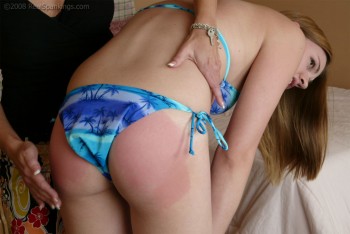 From the member's area of Realspankings.com

Once the spanking progresses and her bikini bottoms are removed for a dose of the leather paddle, the contrast does not seem so foreign: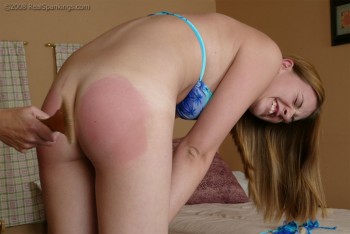 From the member's area of Realspankings.com

While I have worked with Monica a limited amount of times, she is quickly becoming one of my favorite young ladies to spank. With her desire for very severe canings and her constantly bugging me for a "real hairbrush punishment spanking" she is at the top of my list when the new studio opens. I will have to make sure that her next severe caning from me is immediately added to the member's area of RealspankingsInstitute.com and I will make sure that the member's of Realspankings.com are treated to a hairbrush spanking like they have not seen since the one I gave to Trish below. Get ready Monica I am going to give you all that you have been asking for and just a little more...I see tears in your future.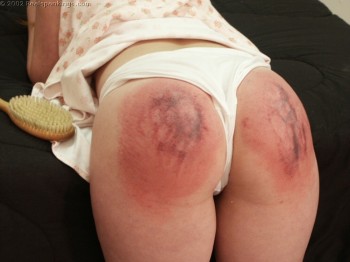 From the member's area of Realspankings.com
caned calves then the thighs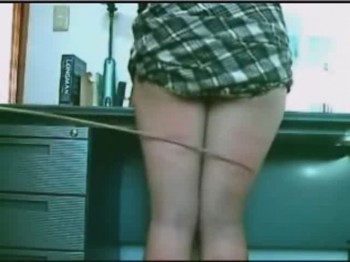 Alright, I try not to get too repetitive on my posts, bu I do read every comment on the blog. The most recent comment in regards to the post "Painful punishments...caning of the feet, thighs, and calves" read..."WONDERFUL ,,, I loved it ...I am a bottom man myself but this is just the right thing ...Maybe we could move up to the thighs next and finish on the bottom .. What a thought ..More plz".
In regards to these particular clips, I do not have any that moves from a calf caning to a thigh caning, and then a bottom caning. However, I do have plenty that start as a calf punishment and move on to become a thigh caning. So for those of you that hesitate to post comments, take note that when possible, ask and you shall receive. Click the "More" link below for the caning video that goes with the picture above in which a young lady receives a strict lower leg punishment and then is made to raise her skirt for some hard strokes of the cane to her upper thighs. The second video (sorry no still photo from it) shows a young lady after receiving her lower leg caning, made to assume the diaper position while on the bed and receive a hard upper thigh caning over her pantyhose. Enjoy!
[ Thursday, April 17, 2008 ]
Naughty young Asian maid receives a strict leg caning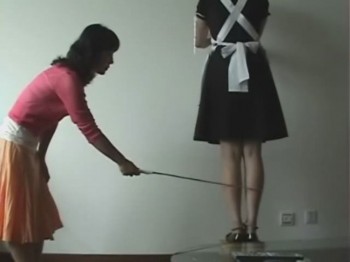 Another installment in my leg caning series of posts. In today's video a young maid is given a lecture, told to go and retrieve a stool to stand on, and then receives a 7 minute punishment in which her calves are caned until welts appear. The first few minutes of the caning take place over her pantyhose, then she is made to role them down so she will not receive the benefit of that thin layer for protection. Once again, a very sexy video in which the entire focus is on the caning of the legs. Click the "More" link for the full video.
[ Wednesday, April 16, 2008 ]
Full Review of RGE-Films "Hidden Camera II, the Client"
Click "More" for full review of "Hidden Camera II, the Client" from RGE Films
[ Tuesday, April 15, 2008 ]
Spanking DVD Reviews Coming Soon
Tomorrow I will begin one of several new features to the spanking blog, I will be posting my first spanking DVD review. There are a lot of spanking video producers out there, and many of them produce very good products. On the other hand, if you are like me, you may have joined a spanking site or bought a spanking video only to realize that you wasted you money. Tomorrow I will do my first DVD review, and in the weeks to come, you will begin to see spanking site reviews with large sample and preview galleries. I think one of the things that has made my blog and my sites popular, is that I am one of you. I am not just someone who just decided that spanking might be a good way to make money, it all began with a lifelong interest and I feel that many of you read my posts and realize that we think in a similar fashion. Hopefully my detailed reviews of videos and sites that I like will help point you in the right direction.
So tomorrow, I will give you a very detailed explanation about how two beautiful young ladies' bottoms ended up looking like this: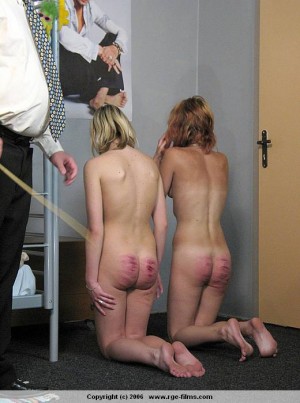 As I do a comprehensive review of Lupus/RGE Film's "Hidden Camera II", a movie that I have been curious about for a very long time and finally got the chance to view. I will break down the entire movie by scene and include a free picture gallery for you to preview.
Sorority Girls Waiting to be Paddled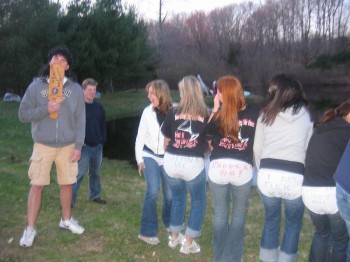 I have just uploaded a new sorority paddling gallery. This gallery features young coeds waiting for the first paddle swat to hit their bottoms. A few of these pictures feature the sorority girl with a paddle, clearly waiting to apply a good paddling. You can view the new gallery Here.