Spanking Model Sarah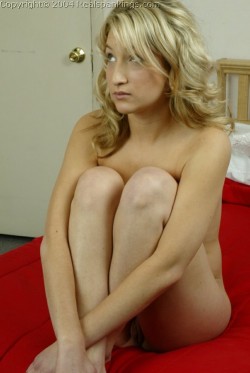 Yesterday at The World Spanking Forum I posted several times on a thread regarding one of the most beautiful spanking models from the two sites Realspankings.com and RealspankingsInstitute.com. Sarah is one of the most naturally beautiful girls to ever walk through our studio doors. Her bottom is as petite as they get and she is just so gorgeous, that I do not think any model has had as many pictures taken of her by us, that were simply just face shots.
Her very low pain tolerance always showed how subjective a spanking really can be. While her spankings were moderate on my scale, it is clear when you watch her being spanked that every spanking she ever received at our hands was very severe in her mind. On the forum we were discussing the fact that a lot of people think that all spanking models enjoy being spanked to some degree, but this was clearly never the case with Sarah. Sarah hated to be spanked, which always added so much to all of her scenes, they always had a real punishment feel to them as a result of the fact that she would do just about anything to avoid a spanking. This is not to say that Sarah never found any excitement when doing a shoot with us. It was pretty clear that there was an aspect of being fully naked in a room with several people that excited her. For those of you that watched her progression with us over the years, I am sure that you noticed that there was a bit of a budding romance that developed over time.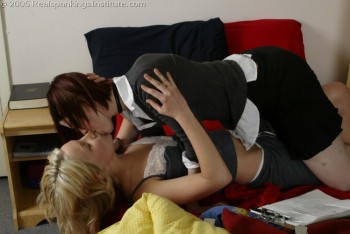 This kind of developed out of nowhere, but was clearly something that Sarah wanted to explore further. I will never forget the first scene that she did with Kailee, in which Kailee added a little sensuality into the mix. When the scene was over and the camera had stopped shooting, Sarah turned to Lady D and said, "Oh my God, that whole thing kind of made me wet". From that day forward, you will see that her and Kailee worked a lot together and we allowed Sarah to explore this side of herself a little more. Pretty soon they were doing scenes together that turned into all out make out sessions, nipple biting, and whatever else these two kinky girls chose to do together in a very spontaneous way. It was fun to be on the camera side of things and see one of those "I experimented a little bit in college" things play out right in front of my eyes.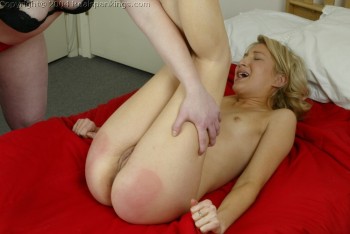 Sarah will always be one of the most popular and beautiful models to ever bare her bottom for a spanking video. I have dedicated an entire gallery to her and added it to my Free Spanking Galleries. This gallery consists of 40 pictures from some of my favorites spanking videos that Sarah has starred in. To date, she has shot 39 separate spanking scenes for Realspankings.com and 44 different scenes for RealspankingsInstitute.com. So if you have ever found yourself questioning if the Realspankings Pass is a good deal or not, you at least know that this one membership will buy you access to 83 spanking videos that feature Sarah. In addition, I think she that she was spanked while fully nude more than any model we have ever hired. Like I said, I think the nudity in front of people was half the thrill for her. Enjoy!

Comments:
Sarah is indeed very petty. I've always thought that the fact that she doesn't enjoy being spanked added something to her films and clips.
I dont remember that pic of sarah and kailee making out thats very hawt!
I think Outlaw meant pretty. Not petty. Pretty is a compliment; petite would be a compliment (and they'd both be accurate). Petty -- not so much.
Noticing a typo just after you click "Submit" on a site where you can't edit your posts -- been there, done that. Nothing to do but grind your teeth.
I agree, Sarah was a doll. Her bottom was small, but it wasn't scrawny; it was round enough to be spankable. And you just HAVE to love an exhibitionist (at least *I* do!). I just watched a few of her scenes to remind myself -- her first profile was 2003 and her second (after some time away) 2005. Not all that long ago. Wherever she is and whatever she's doing, I hope she's doing well.
Ah Sarah,too adorable that one. I'm a bit of an old fuddy-duddy when it comes to Sappho stuff but I'd have to say in her case "Te Adora Kiddo" and agree with you Michael, I hope she continues to do very well.
I figured I would show my support for your blog, I was disappointed when you returned long ago only to vanish again shortly after. It's good to see you're back to blogging, and with much gusto. I will send you an invite via myspace whenever I next feel like logging into it. Be well! And keep blogging!
Yeah, guess I need to pay more attention! Darn it, man!

Being punished in front of others, who are not active participants, is very erotic. I can understand why Sarah wanted to have a passive witness in the room just for a turn on. It adds an element of humility to the punishment. I think it would be a great addition to the scenes if it were included on camera from time to time. In such scenes, the others would not be doing anything, and would not be other punishees, as that would take away from their humility factor. They would simply be called in to act as official witnesses to the discipline.
I've never had witnesses as an adult, but it did happen as a child i school. They had a policy where a teacher had to call another teacher in to witness a paddling, so you had this other woman standing around staring at you while you took your punishment and got scolded for whatever you did. She rarely ever said or did anything, but her simple presence made a profound difference in the whole experience.
I like the witness factor as well. You may have just given me motivation for today's blog post, thanks.
Cheers,
M