Girl's Boarding School model profile- Alice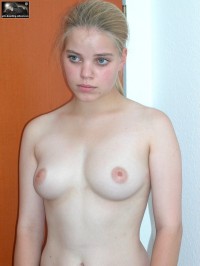 From the member's area of Girl's Boarding School
I have recently posted about the upgrades to both Firm Hand Spanking and Girl's Boarding School that now allow full search features on both sites. I am so glad for this development, being that it allows me to simply create galleries of my favorite models on each site without having to sort through dozens of pages.
This morning I went and did a search for one of my all time favorite GBS models, Alice. I am not sure what it is about this young lady that really does it for me. Lady D has accused me for years of only liking the models with "tiny teen butts", but Alice certainly does not fall into that category. I am not sure if it is her look, the scenes she appears in, or her reaction to being caned, but either way she has become my favorite. I think part of it is she is similar in nature to the points I made in the post about Sarah, being that it is clear that Alice does not enjoy any aspect of her punishments. I think another part is the fact that they often punish her in bedroom setting which adds a lot to the realism. Or it may be the fact that she is often stripped naked for her spanking and seems to always end up doing some corner time. Whatever it is, it works for me. Here are a few highlights from some of my favorite discipline scenes featuring Alice:
From the member's area of Girl's Boarding School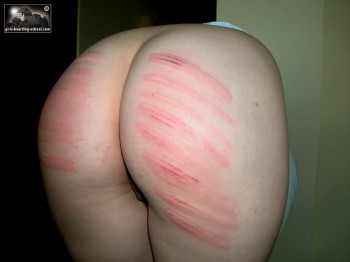 From the member's area of Girl's Boarding School
From the member's area of Girl's Boarding School
Comments:
wow shes a real cutie, look forward to seeing more of her
She certainly has the size and shape I prefer. I wish all women had bottoms like that.
GBS does look like an intriguing site with a fairly high average model quality. My favorite (judging from their free content) is Pony, who apparently worked there early on and did no videos, just photo sets. But Alice is quite wonderful also. Look at those big blue eyes, so innocent and "you're going to do WHAT?" Little nose, cute mouth, wonderful high breasts, very shapely -- in the first shot, look at the curve of her left side (on our right) from chest to waist to hip. She takes a good caning, too. Ouch.
I would have to agree that she is a favorite. I don't think that made that many movies, to bad. I love that behind of hers.
I wish that you could get her to come do a "School Swats" with you. She is very cute. Now, I also like "Abi" from Firm Hand and GBS. I know there is cross modeling going on but is there any way to get her in for "School Swats?"
Speaking of that, do you have plans to put any more up anytime soon? I certainly prefer those episodes with you as the spanker. Not sure why... I just do. The very candidate "I'm going to paddle you then we're going to talk about it" thing is great.
Ron
I like that last pic the best, where she's just standing there trying to hide herself. She is a cutie-pie, but my fave GBS girl will always be Sophie, I think.
*My* favorite GBS girls are Sophie and Emma. Especially Emma. Such a beautiful body!