The Spanking Blog
This is an adult site dedicated to the exploration of spanking between consenting adults. The main focus is on disciplinary spankings portrayed in various spanking videos and pictures, with sample pictures and reviews of the spanking content. The most recent blog posts appear below, and the free spanking picture galleries on this site can be found on the menu on the left. All spanking content on this site is free, and any link leading you outside of this site is clearly labeled as such. You must be 18 years or older to view this site.
[ Monday, April 07, 2008 ]
A real punishment for teen Brandi and some behind the scenes spanking information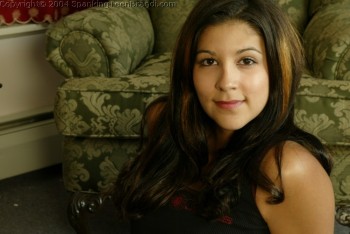 Ok, this is a long one with lots of pictures and a very detailed account of one of the only spankings I ever administered to a model that had nothing to do with filming content and everything to do with her really be in trouble with me. This is a detailed account of a video on Spankingteenbrandi.com in which I gave her the spanking and related punishments that she had earned for her real life behavior and did not pay her a penny for the scene. Due to the length, this entire account is on a separate page, click the "MORE" link to read the entire post.
[ Friday, April 04, 2008 ]
New site designs and features at Firmhand Spanking & Girls Boarding School
For many years the biggest complaint about our site Realspankings.com was the difficulty in navigating the member's area. We fixed that years ago and made the entire site searchable. You can search by model, implement, spanker, or positions and it has made people much happier when looking for specific content. In the old days, I had to build every page from scratch and it just became a mess to find something particular you were looking for. Severeal years ago we added some server side PHP scripting that allowed the pages to be generated dynamically and allowed all of the search features to be possible. Now all of OUR SITES are searchable and finding that model you love, or all of the scenes with a wooden school paddle being used, is quick and easy.
I am happy to report that two of my favorite sites out there Firm Hand Spanking and Girls Boarding School have both done the same thing. The results are amazing and I could not be happier. Navigation is so much easier, and you can just a load a single page that only has the scenes with the model you like the most. Also a newer development with Girls Boarding School is that I am beginning to see more after photos, clearly taken a day or two after the model was spanked. The picture below shows what a very hard strapping with a tawse in the diaper position followed by a hard caning, looks like a few days later. If you have ever doubted if a spanking model feels the results of her punishment the next day, there is no denying in the picture below that her ass must be sore as hell: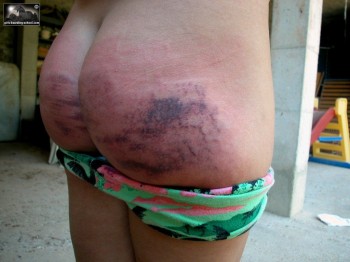 Picture from this week's updates in the member's area of Girls Boarding School


And speaking of bruised butts, Michaela McGowen is still feeling the wood at a Firm Hand Spanking. My previous post about her taking hard wooden hairbrush spankings (see hairbrush spanking post here) demonstrated that she does not shy away from the more severe discipline. But as much as I like to see a hairbrush spanking, I prefer to see a wooden school paddle come out for some serious punishment action: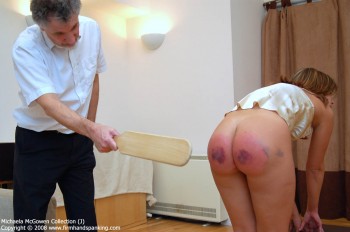 Picture from this week's updates in the member's area of Firm Hand Spanking


A final note about Firm Hand Spanking, is that on their free pages there are now quick video previews of each update. Enjoy!
[ Thursday, April 03, 2008 ]
Realspankings Institute Update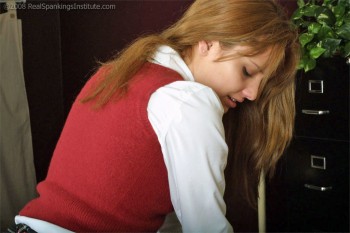 Raquel is such a cutie and her bottom always turns such wonderful shades of red. These pictures are from the paddling that she took from yesterday's updates at RealspankingsInstitute.com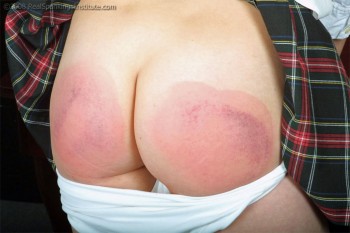 Fem Dom discipline, face sitting, CBT, strap-ons and Men in Pain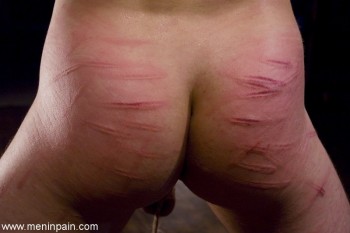 Picture courtesy of MeninPain.com

As with my previous post regarding Hogtied.com in which I talked about bondage used as a punishment tool, with things like breast bondage, crotch ropes, etc. (read full post here), I have somewhat similar feelings toward Fem Dom related content. Ten years ago, I would have told you that unless I was actually the one going through the experience, that I had no interest in this type of content. For me the whole "bark like a dog" & "lick my feet" type of scenes just doesn't do anything for me. Clearly I like a scene that is more of a corporal punishment related scenario such as those at Women-Spanking-Men.
But I do have to admit, that just as I have preferences for what types of female bondage scenes I like to see, I have begun to become quite fond of certain aspect of Fem Dom content. Clearly, I want to see hard punishment spankings as part of the scene. This used to define the type of content I would like to view, or site that I would have a subscription to, but that is no longer the only thing I am looking for. I have become a huge fan of facesitting, or smothering. For me there is something highly erotic about a woman using the parts of her body, which men desire so much, as a punishment tool. When a women can use her most intimate areas to actually decide when his next breath will be, that is true dominance and submission. Being the pervert that I am, I like it to be somewhat rough. I do not just want to see a man tied down and the women squat over him and demand some oral attention. I like to see her truly force herself onto him and let him know that his oral skill is the only thing that will allow him his next breath, so he better be working hard to impress her.

With my previous posts regarding anal discipline, it should be no surprise that I also like this type of content. For me, this particular area of Fem Dom is a mixed bag. Being that spanking revolves around bottom related pain, I have always found the use of large butt plugs to be a good supplement to a proper punishment. On the Fem Dom sites, there is obviously a lot of content with women using strap-ons on the men they are punishing. But, as strange as it is, this particular type of punishment I am very specific as to what I want to see. Please understand that I am probably the least homophobic person you will ever meet, but honestly the site of a man's cheeks spread does very little for me. The only way I really like the strap-on scenes, is if the man is hating it. I want to see these strap-ons being used as a punishment tool, not an instrument of pleasure. Now in the scenes when a women straps on a giant dildo and is getting the same reaction from the man as she would from a hard caning, then I find it quite exciting.
Additional types of scenes that I really like to see is CBT (cock and ball torture). It is only with the emergence of sites such as MeninPain.com that I have begun to enjoy this type of content. Before sites were getting a little more daring, CBT simply used to be pictures and videos of men's penis and balls being tied up. But once again, when it seems to serve as a punishment and there is sexual stimulation also occuring, it is much more exciting. I love all the scenes on MeninPain.com in which a man's privates are tied in such a way, that when she decides to masturbate him, or give him some oral attention, that when he begins to achieve an erection it becomes somewhat of a punishment. Something else that relates fairly well to this that is very common on this site is denial. Now that we are actually seeing spanking and bondage content in which penetration and sexual contact takes place the denial scene is getting much more common. Those ladies just love to ride a man until he is about to explode and then simply stop and whip him for awhile. They perform amazing blowjobs until the guy is begging to be able to cum and then they just go on to tease him some more. Once again, we have turned pleasure into a true punishment.
If you haven't figured it out, I am writing about MeninPain.com one of the many sites in the Hogtied family of sites. This is the first site to truly incorporate all of the things I look for in Fem Dom scene. Click the "MORE" link below for some additional face sitting, cbt, and strap on pics, all provided by MeninPain.com
Spanking Site Passes
I have always been one to look at a lot of spanking content online, as a result I buy my memberships in bulk. Here is a list of the current mega spanking site passes I subscribt to and recommend:
Realspankingspass.com

VIP Spanking

FemDom VIP

Spank Pass

As always, I never recommend sites or deals that I do not personally subscribe to.

[ Wednesday, April 02, 2008 ]
Another video
Both this music video and the one I posted yesterday have been out for some time and I may have even posted about them before, but that was before the days of embedded flash players. This is another video with a Fetish type theme that features the perfect integration of some kink into a music video. Their imagery is very similar to what I have always wanted to do as a bar theme, called the "Fetish bar". My bar would have all sorts of kinky action going on behind the bar, but would only feature silhouettes of the performers. I love the shot in this video as for just a moment that light shines through the holes of the wooden spencer paddle that one young lady is about to apply to the other. On a side note, you just have to love Dave Grohl (Nirvana, Foo Fighters). He really just seems to love to play music in any capacity and his list of side projects is quite large. And yes, that is Lemmy from Motorhead who should get at least as much credit as Black Sabbath for being the originator of Heavy Metal. I now bring you Probot....
[ Tuesday, April 01, 2008 ]
Real Russian Discipline & Punishment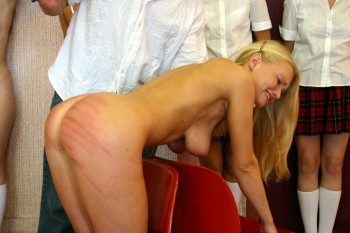 I have had somewhat of a working relationship with this Russian company for many years. In the early days their sites were a little flawed. They have always used good digital equipment, had young and beautiful spanking models, and clearly the spankings they administered were very hard and often led to tears. But in the early days, I found the editing to be a little rough, their subtitles to be humorous, but mostly, their website hard to navigate with a free sign up required to even really browse their galleries. I am glad to see that they have finally put all the pieces together.
Now with their site Russian-Discipline.com I feel like they have a site I can really get behind. They have tons of new models, the site is as good as any out there, and the spankings are as hard as anything you will find on the web. On that note, this is probably not the site for those of you looking for romantic spankings, this is real discipline of young ladies. Click the "MORE" link below for some pictures from their recent updates on their website as well as links to 16 free sample videos from Russian-Discipline.com so you can check out their latest videos.
"Hear my name"
Give this video at least 30 seconds, I promise it gets interesting. You just have to love the Europeans, they just are not quite as uptight when it comes to things with a sexual theme. If you are curious why I am posting a music video on my blog, you will understand as the line to be spanked grows longer and longer.