The Spanking Blog
This is an adult site dedicated to the exploration of spanking between consenting adults. The main focus is on disciplinary spankings portrayed in various spanking videos and pictures, with sample pictures and reviews of the spanking content. The most recent blog posts appear below, and the free spanking picture galleries on this site can be found on the menu on the left. All spanking content on this site is free, and any link leading you outside of this site is clearly labeled as such. You must be 18 years or older to view this site.
[ Tuesday, April 15, 2008 ]
Innocence and Beauty meets Bound and Punished
Pictures from the member's area of Hogtied.com
Now Honestly, if you were walking down the street and saw this young lady, would you guess in a million years that a couple days earlier that she was fully naked, tied to a pole with her legs spread wide, gagged, breasts bound tightly, and getting her ass and legs caned?
I think for all of us there is an attraction to the innocent looking girl next door type getting a hard spanking, or as in the case of this post, being tied up, punished, and forced to have multiple orgasms. I think part of it comes from walking through a mall, seeing a beautiful but innocent looking woman, and wondering if she is really as innocent as she looks. In the spanking industry, one of the biggest problems we face is the fact that a lot of the girls who are willing to bare their bottoms and take a hard spanking, are often covered in tattoos. It seems that there is a direct correlation between a willingness to be spanked to tears, and the desire to endure some pain for some artwork on your body. Just as with my own sites, in which the most innocent looking girls seem to quickly become the member's favorites, when it comes to Hogtied my favorite scenes typically always involve the young and innocent beauties. This does not always mean that these are the best scenes with the hardest spankings, or the tightest bondage. But for me seeing a young lady who looks like a babysitter or a preschool teacher, being lifted off the ground with a crotch rope, it doesn't get much better than that. Click on the "MORE" link for some of my favorite innocent beauties from Hogtied.com.
[ Monday, April 14, 2008 ]
Formality and cooperation during a punishment spanking
An aspect of spanking that I have always found to be quite important is formality. I am not a big fan of just grabbing a naughty young lady, pulling her over my lap, and holding her in place while I administer a spanking. I guess that in my twisted little head, I feel the spanker is actually performing a service to the person in trouble, and that as a result, full cooperation is required. By making the punishment a very formal event, we add an aspect that I think really defines a proper spanking, which is cooperation.
I feel it is the duty of the person being spanked to cooperate in every way. If I am going to take time from my day to administer some much needed discipline, then I feel almost all aspects of the event, with the exception of the actual spanking, should be taken care of by the person in trouble. It is not my role to hold the person in place, it is their job to hold still being that it is their actions that led us here. The more formality that is introduced to the spanking, the more they are forced to cooperate, or actually even help out in their own punishment. A nice and formal way to get a spanking started and assure that they realize that they are not only going to be spanked, but they are actually assisting, is to send them to get the implement that they are to be punished with.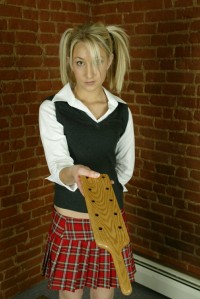 Sarah from RealspankingsInstitute.com retrieves the school paddle.
This is why you will often see me in a spanking scene pay so much attention to position. Just pushing someone over the back of the couch and strapping them with my belt does not require them to assist in their own punishment. I like to make them pull their own pants and panties down, or raise their own skirt. I like to tell them what position to assume and then offer small corrections to their posture. I try to find as many ways as possible to make it clear that I am not just spanking them, but that we are acting together to work through the solution to their behavior. I believe it adds a certain amount of ownership to their misdeeds. On occasion I do divert from my practice of having the person in trouble pull down their pants or remove their own clothing. People are generally not in the situation of having someone remove their clothing that they are not in an intimate relationship with. I do find that on occasion when an impression really needs to be made, the level of discomfort can be raised by being the one to lower their pants and panties. The look on their face, as someone who is typically not allowed access to the removal of their clothing begins to lower their pants and panties, generally says it all. They realize that they really are in trouble and that as a result of their behavior; standard personal boundaries no longer apply.
Jennifer from Realspankings.com & Brandi from Spankingteenbrandi.com
There are aspects of the spanking having a feeling of formality that go beyond simple cooperation that I often like to include. I feel that being made to wait for the spanking, thus giving a very strong sense of anticipation can help any punishment. Any of you who were spanked as kids know that being sent to your room and having to wait for it was always the worst part. Even worse, is a scheduled spanking. Having to wait is one thing, but nothing is more formal than being told that on Friday, at 7:00PM, you will be receiving your spanking. This also seems to have a direct effect on behavior. There have been plenty of times that I have spanked a young lady, only to have her repeat the same behavior almost immediately. But when a spanking is promised, and is still days away, it is amazing how much behavior improves until the actual spanking takes place. It is sometimes easy to forget the last spanking that you just received, but almost impossible to forget the one you have coming. A good studio example is a set of spanking videos that I did with Bailey, Monica, and Raquel. Both Bailey and Monica enjoy various aspects of spanking, but you should have seen the looks on their faces when I arrived. Neither of them had been spanked by me before and they had known for weeks that this shoot was going to happen. When I arrived, I could hear the girls giggling and getting ready for the shoot, but when I walked in, they went dead silent. From that moment on the mood was very different. I asked them why they were all of a sudden quiet, and they let me know that it was the fact that as much as it had been talked about, they now knew they were going to be spanked by me and that there was a certain amount of fear that went along with that. It was not until after their first spanking from me that they begin to act like themselves again. Anticipation is a very powerful punishment tool.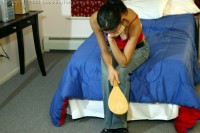 Brandi from Spankingteenbrandi.com, waits for her paddling
I have obviously spoken about this topic on many occasions, but I feel nothing makes a spanking more formal than corner time. The spanking is no longer as simple as "you have been bad, and you were spanked for it". Just as with the waiting process, this really focuses all thoughts on the behavior that brought us to this moment. It once again adds a process of cooperation. No one really wants to kneel in a corner, bare butt on display, panties around their ankles, and holding their skirt up…which brings us back to position. I have never dragged anyone to the corner and forced them to kneel. I politely inform them to walk to the corner and then tell them in a very detailed manner how they will position themselves. I seem to always make simple corrections such as, "legs a little wider", "arms behind your head", "nose touching the wall", and anything else I can think of that makes them help out with what is a truly unpleasant process. I am once again helping them to achieve a sense of ownership for their own punishment. This also prolongs the punishment and there is no better time for reflection than when there are no distractions and your bottom is still throbbing.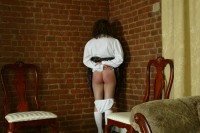 Jasmine does a little corner time at RealspankingsInstitute.com
In closing, there are many aspects of a spanking that can make it a very formal event that I feel add to the overall success of the punishment. Requiring the person in trouble to assist in every way during their punishment helps them achieve ownership of the process. By making them retrieve the implement, remove their own clothing, and assume the required position, they are doing more than just getting spanked; they are assisting with their own punishment. The process of waiting for a spanking, or spending time in the corner after a spanking, allows detailed thoughts in regards to the situation that led them there, both of which really help with the chances of the punishment being an overall success and the undesired behavior being reduced.

Please comment on this post, feedback needed
Above, I have posted a couple of quick pics just for the sake of conversation. The pictures above are obviously smaller than the typical picture that I post on my page. One shows a naughty Asian schoolgirl, clearly in an embarrassing moment and on display after her punishment. The other shows the disadvantage of having your legs caned. A typical well caned bottom that is marked is easy to cover up, but that skirt isn't quite covering the fact that this young lady was just punished.
My point about these pictures, is that all the pictures that I post on my the spanking blog are clickable for a full sized image. I tend to post pretty large thumbnails and it clearly affects how fast the pages load. I need to know from all of you, if my page loads to slowly for you. Please comment and let me know, so I can decide as to if I will make my page thumbnails smaller. If I go with the smaller thumbs, it will allow more pictures with each post on the main page. But before I make such a big change, I need your feedback. You do not need to be a member to comment, there are no hoops to jump through, just click on the "add comment" and let me know if the page loads fast or slow for you. Thanks!
[ Sunday, April 13, 2008 ]
Chat now


Doing a short chat tonight, right now at World Spanking Forum, 8:00, Sunday, see ya there.
Spanking Model Blogs
In the right column of my blog, I have added a list of links of spanking model blogs. Here is the current list:
Spanking Bailey
Sierra Salem
Amelia Rutherford
Pandora Blake
Leigh-Ann Woods
Pixie
Adele Haze

[ Saturday, April 12, 2008 ]
Bend over and grab your ankles for a paddling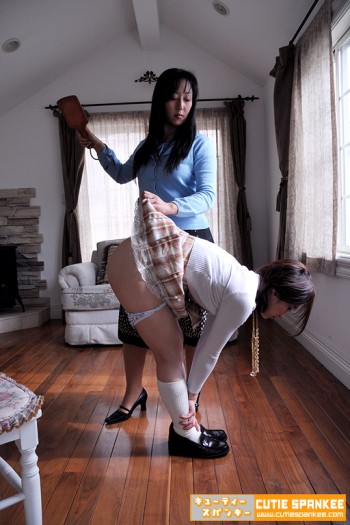 Image from the member's area of www.cutiespankee.com
I like this week's update at www.cutiespankee.com. I am always a huge fan of any scene in which a young lady is made to bare her bottoms and bend over and grab her ankles. With the Asian spanking sites, this does not seem to be all that common. In the scene above the "mom" takes great time in preparing her "daughter" for her punishment. There is a great deal of formality, the young lady is required to ask for, and express her appreciation, for the paddling she is about to receive. She is made to count each and every stroke and thank her for it. It is a pretty decent paddling that is made fantastic with the formality and the grabbing the ankles position.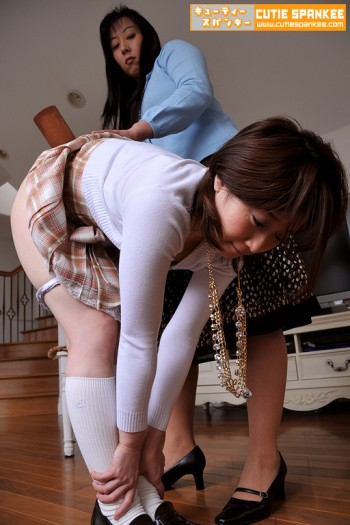 Image from the member's area of www.cutiespankee.com

[ Friday, April 11, 2008 ]
Yet another young lady's calves feel the sting of the cane.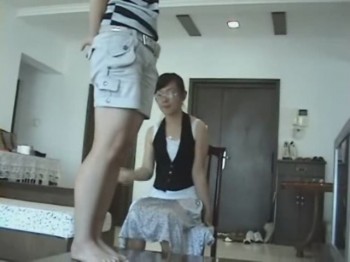 I guess being young and cute does not go very far in effecting the severity of the punishment. You know that thin cane so low on the backs of her legs just has to sting.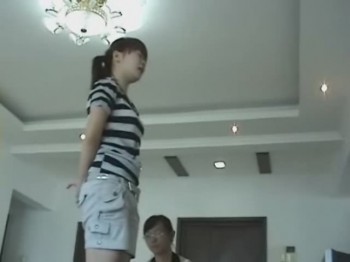 I am pretty sure after feeling that caning, I would be rubbing my legs as well.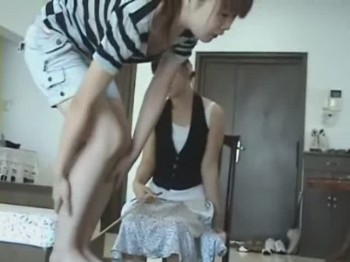 Click the "MORE" link to watch the video. Ouch!
Paddles, Straps, and time to reflect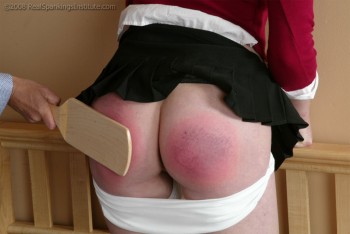 Picture from the member's area of RealspankingsInstitute.com

This week at RealspankingsInstitute.com features two lovely young ladies receiving some real discipline with a little time to reflect afterwards. The picture above shows Melody's bottom receiving a hard spanking with a wooden paddle. She is quickly becoming one of my favorite models and her bottom always shows the results of her discipline nicely. After her hard paddling, she is left to consider her laziness and is made to kneel on the hard wooden bench with her bare butt on display.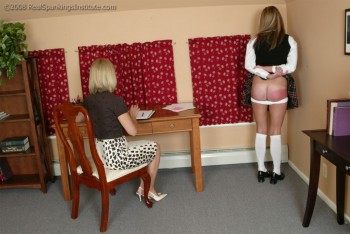 Picture from the member's area of RealspankingsInstitute.com

In this update, Riley takes a nice hard strapping that leaves her bare bottom glowing and then is made to stand in the corner for a little time to reflect. I just love the pictures when the young lady is holding her skirt up, panties around her knees, with a nice pink bottom. Both scenes are from this week's updates at RealspankingsInstitute.com. Click the "MORE" link for four more pictures from these punishments.
Accounts of real spankings growing up.
A new member at the World Spanking Forum recently posted a very vivid childhood memory of a paddling she received (and clearly deserved) as a teen. You can read her account here.
Asian Schoolgirl Corporal Punishment Pictures
We are all used to seeing schoolgirl spanking images such as these from a Japanese spanking video: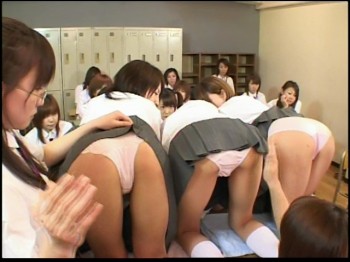 But in modern times, are there really situations in the real world in which uniformed schoolgirls are lined up to receive corporal punishment? Click the "MORE" link and take a look at those two pictures and judge for yourself.