The Spanking Blog
This is an adult site dedicated to the exploration of spanking between consenting adults. The main focus is on disciplinary spankings portrayed in various spanking videos and pictures, with sample pictures and reviews of the spanking content. The most recent blog posts appear below, and the free spanking picture galleries on this site can be found on the menu on the left. All spanking content on this site is free, and any link leading you outside of this site is clearly labeled as such. You must be 18 years or older to view this site.
[ Saturday, July 02, 2005 ]
Sex and Submission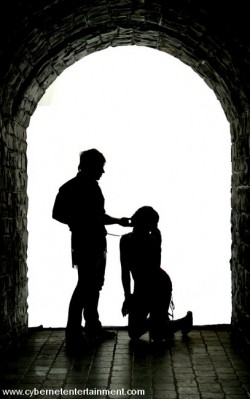 While growing up, my spanking fantasies emerged parallel to my attraction to women and sex, but bondage was not as inherent to my sexuality at an early age. The two seem to go hand in hand on the web, but it really took me a long time to warm-up to the concept. Early on, I saw bondage only as a means to secure someone when spanking them. It was not until I met my wife that I really began to explore and enjoy various aspects of bondage. I think the main attraction to bondage for me, was the fact that we could explore the sensual exchange of power in a sexy way that did not really involve a punsihment or discipline. As you know, I am not always a big fan of mixing spanking and pleasure. I see the two at opposite ends of the spectrum, and generally reserve spanking related activities for situations in which correction is required. But bondage has really allowed us to explore the sexual side of discipline, in which a strong power exchange exists, but with the main focus being on pleasure and control, but not pain.
Regardless, I have never been a fan of typical old school bondage content. For me, just seeing a woman bound and struggling does not do much to excite me. I understand the attraction that many people have for this kind of content, but it has always left me wondering when the action would start. My wife and I have always found hogtied.com to be a balance that we find attractive. While their rope skills are fantastic and well beyond my own skills, it is not just about tying the girls up and watching them struggle. There is a lot of interaction in their scenes, with a good mix of bondage, discipline, and pleasure. It is all about the power exchange and as much time is spent providing pleasure as pain. While most of the girls who are tied up at hogtied.com are brought to orgasm multiple times, there is never any sex on this site.
Now enter their latest site sexandsubmission.com. It was just launched and is really quite bold. Very few companies mix sex and BDSM into their productions, but that is the entire focus of this site. Their scenes feature women being taken very forcefully, with some bondage and discipline thown in the mix. We have found this site to fill a void that has been missing in the adult entertainment world. It provides content that we both really enjoy and fits nicely within our own preferences.
Being that I never post content that features full penetration, I will toss in a warning that the sample content from sexandsubmission.com that I am including is hardcore content with full penetration. Click on the "MORE" link for samples.