Bruised and welted bottoms from Russia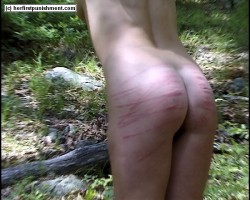 It seems they just do things a little harder in the Eastern countries. We have all seen the hard hitting action from Rigid-East and Lupus, but the folks at HerFirstPunishment.com are making sure that naughty Russian girls also learn very real lessons. Just as with Rigid East, the cane is used very forcefully at HerFirstPunishment.com, but they also make good use of other implements, including freshly cut switched and some very mean wooden paddles. All of their models are gorgeous, and there is no doubt that they carry the reminders of their punishments for many days.
Click the "MORE" link below for additional pictures of severly marked and bruised bottoms like only the Russians can provide. All pictures come from HerFirstPunishment.com.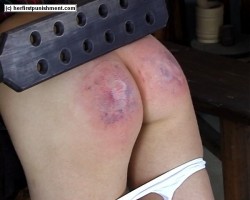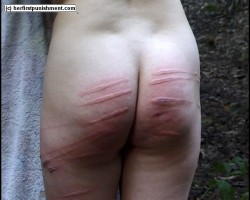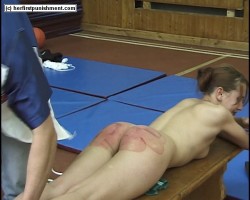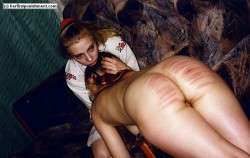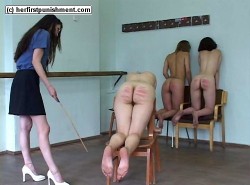 Comments:
Its not that I like bruised butts, but it is evidence that a sound spanking was administered.
I miss the sorority paddelings--- :( thanks for the updates though!
Michael,
In my opinion, the recent Russian Slaves #41 is one of the best movies this company has ever done. Definately worth your time to watch. Two of the girls are simply extraordinary and the Russian guy dishing it out is also quite good.
Mike
I am amazed at the severity of the Russian Slaves Canings videos. The stripes, marks and tears seem very real. They are a definite turn-on for me.
Vicky
I have viewed a great many spanking videos on the RS sites and others. A good number seem to be applies as hard as those in the Russian and RigEast/Lupus sites. But none show the incredible markings of the Eastern European girls.
As a long-time spanker, I have administered some quite severe canings and paddlings, but I've never come close to the marks on the Russian videos
Do you have any thoughts as to why the ladies in those videos mark so easily.
Tony
Well Tony, that is because the marks are not real but they have a very good make-up team. I heard this from a girl that was an actrice on lupusmovies.
Dont believe all things you see!
Kitty,
You are quite confused if you think that Lupus or the people from herfirstpunishment.com are faking marks. Watch any of their movies in slow motion, there is no doubt that every stroke and mark are real. There is certainly some fake marks in various videos around the world, but everything I have seen from the Russian and the Czechs is as real as it gets. Check your facts before doubting someone's work.
M
About faking the marks: I don't think that they do it. My opinion is as follows: "multi cultural" bottoms do not exist - meaning that people from certain racial groups will show specific, different physical response to the same stimulus. Let me explain why I say this: I am an Eastern European who now lives in the US, and have been so fortunate to spank and punish maany female bottoms of different races. Political correctness out-the-window (this is an adult spaning site, no?!), let me say this: I would say that Eastern European females would show the most spectacular marking even without particularly severe action, as compared with Asian or North American babes. Maybe it has to do with the genes, diet, water, who knows?! I can get into further details if you wish, but let's leave it here for now. I just plain don't know about males, although I suspect that they might mark just as easily - while in the military service or in sports, I have seen marks on their bodies that were spectacular, but I did not pay much attention ( I didn't know then that I would ever contemplate this subject

) - for my part, I will say that I will not bear severe marks even from ver severe punishment, at least neither more nor less then what I have seen on male folk born and bread in the US and UK. Female sof my family, however, will show huge welts if you as much as touch them, so... In conclusion, what I am saying is that there are racial differences - but not meaning that all Eastern Europeans will mark as severely as the girls on Lupus, for instance.
If u didnt see it yourself, I can bring some surprise in: the actions in HFP are recorded by 2 cams and then mounted consequencely. Thus they make action of twice a length! This way u c double quantity of strokes! When I realized it I was LOL. As I can suppose from videos models are someway misinformed about the severity of action before the action begins. Sometimes I listened chatting somewhat alike "it's too hard","we didnt acknowleged this level of severity" and so on. However, if u dont know russian u won't be able to understand speech. Oh, the translation in english is very unexact

It's usual practice there in Rus. Though it's not honest, I like this 'cause I think the good idea is not 2 loose hot material.
( I meant good idea is 2 mount along, not lie

)
The girls possibly don't know how severe it will be, and there may coercive consequences if they walk off set, so how is it that I absolutely love this stuff?
It is really good stuff!!!!