Hairbrush spanking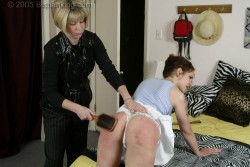 As my business has grown, I am unable to participate in every shoot that takes place in our studio. I do however, watch every scene to make sure they meet the high standards I set when beginning this company. As many of you are aware, we have a new spanker, Ms. Burns, and she is working out very well. I enjoyed a recent update at Bispanking.com in which Jasmine is punished with both a large wooden hairbrush and a belt by Ms. Burns. The chemistry works very well between these two and it shows in the scenes they do together.

Comments:
The picture of the hairbrush spanking reminds me of a game my girlfriends and I played in law school - paddle #####. Instead of money (which none of us had) we played for swats. Each player had their own color of chips. Each chip bet was worth one swat from the person who won your chip. We used a wooden hairbrush and each swat was always on the bare bottom. It made for some very sore bottoms; but it was lots of fun - much more exiting than just ######## for money. We used to play on Sunday nights and none of us could sit comfortably the next week! That was 20 years ago and some of us still get together from time to time for a girl's night out and a little "########" - smile.
Michelle
Love seeing Ms Burns wield the hairbrush so well with great authority. But wouldn't it be nice seeing Ms. Burns feeling the flat side of the brush on her shapely, bare bottom too!