The Spanking Blog
This is an adult site dedicated to the exploration of spanking between consenting adults. The main focus is on disciplinary spankings portrayed in various spanking videos and pictures, with sample pictures and reviews of the spanking content. The most recent blog posts appear below, and the free spanking picture galleries on this site can be found on the menu on the left. All spanking content on this site is free, and any link leading you outside of this site is clearly labeled as such. You must be 18 years or older to view this site.
Site Related
Spanking discussions related to online spanking sites
[ Tuesday, July 05, 2005 ]
Bruised and welted bottoms from Russia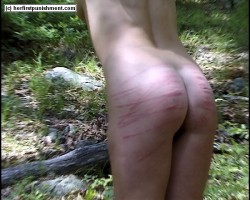 It seems they just do things a little harder in the Eastern countries. We have all seen the hard hitting action from Rigid-East and Lupus, but the folks at HerFirstPunishment.com are making sure that naughty Russian girls also learn very real lessons. Just as with Rigid East, the cane is used very forcefully at HerFirstPunishment.com, but they also make good use of other implements, including freshly cut switched and some very mean wooden paddles. All of their models are gorgeous, and there is no doubt that they carry the reminders of their punishments for many days.
Click the "MORE" link below for additional pictures of severly marked and bruised bottoms like only the Russians can provide. All pictures come from HerFirstPunishment.com.
[ Saturday, July 02, 2005 ]
Sex and Submission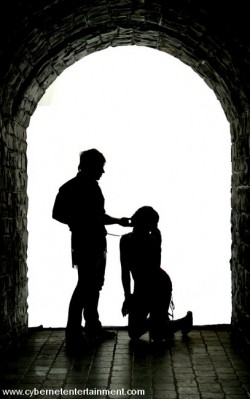 While growing up, my spanking fantasies emerged parallel to my attraction to women and sex, but bondage was not as inherent to my sexuality at an early age. The two seem to go hand in hand on the web, but it really took me a long time to warm-up to the concept. Early on, I saw bondage only as a means to secure someone when spanking them. It was not until I met my wife that I really began to explore and enjoy various aspects of bondage. I think the main attraction to bondage for me, was the fact that we could explore the sensual exchange of power in a sexy way that did not really involve a punsihment or discipline. As you know, I am not always a big fan of mixing spanking and pleasure. I see the two at opposite ends of the spectrum, and generally reserve spanking related activities for situations in which correction is required. But bondage has really allowed us to explore the sexual side of discipline, in which a strong power exchange exists, but with the main focus being on pleasure and control, but not pain.
Regardless, I have never been a fan of typical old school bondage content. For me, just seeing a woman bound and struggling does not do much to excite me. I understand the attraction that many people have for this kind of content, but it has always left me wondering when the action would start. My wife and I have always found hogtied.com to be a balance that we find attractive. While their rope skills are fantastic and well beyond my own skills, it is not just about tying the girls up and watching them struggle. There is a lot of interaction in their scenes, with a good mix of bondage, discipline, and pleasure. It is all about the power exchange and as much time is spent providing pleasure as pain. While most of the girls who are tied up at hogtied.com are brought to orgasm multiple times, there is never any sex on this site.
Now enter their latest site sexandsubmission.com. It was just launched and is really quite bold. Very few companies mix sex and BDSM into their productions, but that is the entire focus of this site. Their scenes feature women being taken very forcefully, with some bondage and discipline thown in the mix. We have found this site to fill a void that has been missing in the adult entertainment world. It provides content that we both really enjoy and fits nicely within our own preferences.
Being that I never post content that features full penetration, I will toss in a warning that the sample content from sexandsubmission.com that I am including is hardcore content with full penetration. Click on the "MORE" link for samples.
[ Sunday, June 05, 2005 ]
Ed Lee - Nu-West & LEDA
Note: All pictures are the property of Nu-West/LEDA and may not be published without permission from Ed Lee.
For those that are new to the web, and are into spanking, it often takes them a little while to discover the company started by Ed Lee, Nu-West/LEDA. This is truly the company that started it all. Ed Lee did for spanking what "Behind the Green Door" did for mainstream porn. His began filming spanking movies on 8mm back in the 70's. Some of his earliest movies featured "Debbie", and 30 years later these pictures and movies have obtained somewhat of a cult following.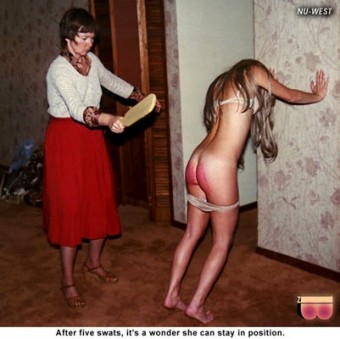 [ Thursday, May 12, 2005 ]
Anal Discipline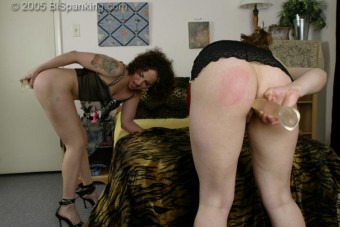 While the girl of Bispanking.com
are not completely thrilled with the concept, we have begun to incorporate more anal discipline as part of their punishments. Neither of them are a big fan of anal sex, so when they are told to insert a large butt plug as part of their punishment, they always cringe. But, it wouldn't be much of a punishment if they enjoyed it, now would it?
Anal discipline is become more common as a punishment at Bispanking.com and you will begin to see it appear much more often in future updates.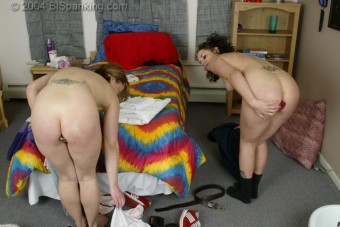 [ Wednesday, May 04, 2005 ]
Spanking webmaster resources
We are proud to announce the launch of our new site Spanking Money which is our reseller program designed for webmasters. If you are new to the concept of revshare, it is a program that allows other webmasters to share in the profits of signups for our various websites. You simply place text links or banners on your website and all sales that result in the traffic sent to our sites results in you getting 50% of the signup as well as 50% of all rebills.
We offer free content packages for webmasters to use in marketing of the sites. In addition, in the next few weeks we will be adding hosted gallery pages which will allow you to generate thumbnail galleries that load from our servers, therefore eliminating all costs associated with bandwidth charges. This opens up options for those of you who are not webmasters and allows you to post galleries to tgp pages without even owning a website.
With the addition of Realspankingspass.com to our program, many webmasters are enjoying large profits. Realspankingspass.com costs $59.99 a month and allows users access to 5 of our websites. A single signup translates to $30 for the referring webmaster. We have fantastic retention on all of our sites, which means that each and every rebill for the life of the membership also pays $30. Our top referrer last month made more than $3000.00 without any out of the pocket expenses. We will be expanding our programs with more options in the weeks to come, giving you even more resources to promote our sites.
[ Tuesday, May 03, 2005 ]
New Spanking Model Profile- Jenna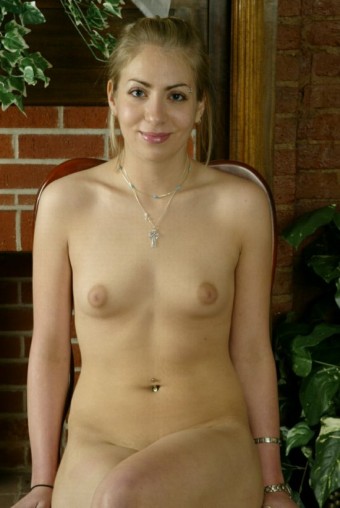 Well, there is good news and there is bad news. The good news is that we hired a wondeful new model named Jenna and she has worked for us twice. She is young and beautiful with an amazing bottom. She has done 6 scenes and seems well suited for this type of work. While she reports that the spankings "hurt like hell" she seems to have a pretty high pain tolerance and we have high hopes for her.
The bad news is that she is a college student from out of state and she will be going back home for the summer. She promises that we will pick up where we left off once the fall semester rolls around, but until then we will have to be happy with the six scenes we have already filmed. I look forward to a nice future with Jenna. Click the more link below for more picture previews.
[ Friday, April 29, 2005 ]
The moment of impact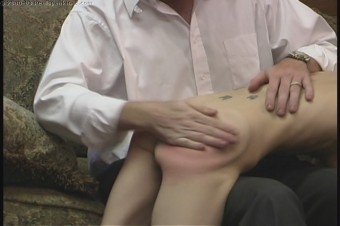 I was reading the SpankBoss'Spanking Blog and saw that he posted a few impact photos. This reminded of the fact that I created an impact gallery on Realspankings.com a couple of years ago. The problem with impact photos is that you either get really lucky with the timing of the picture, or you have to use frame grabs from the video sequences. While a lot of sites use frame grabs as filler content, I have never been a big fan. The quality is always too low for my tastes. Several months ago I saw a few pictures that were taken from a high speed camera in which it was sound activated. The impact photos taken with this setup were fantastic. If anyone knows of the link to these impact photos, please let me know, I have lost track of the link and would like to investigate the equipment they used for these shots. Click the "more" link below for more impact photos from the Realspankings.com impact gallery.
[ Wednesday, April 20, 2005 ]
Spanking Thumbnail Gallery Post- TGP
Back in 1998, I created the first ever spanking TGP on the internet. While we still maintain this tgp, as with any tgp owner, the quality of the content always depends on the galleries submitted by various spanking webmasters. My blog and the free spanking galleries that I have created have gained enough popularity that I would take a stab at a new spanking tgp. The main difference is that this thumbnail gallery post is maintained exclusively by me and no one else has the ability to submit a gallery. This assures that only content I approve of will be listed in the galleries. In addition, there are no blind links or pop-ups. Even the most honest tgp galleries have a few thumbs that lead you to other sites and not free spanking galleries. I understand why webmasters do this, they send traffic to other sites in exchange for some hits to their own tgp. Just as with this blog, you will always know where you will be going when you click on a gallery.
I have setup the new tgp with four sets of galleries. The "most popular" galleries are based on the amount of clicks that a gallery receives. The most visited galleries over a week get added to the most popular galleries. The "today's galleries" are regenerated every morning to provide you with new galleries to visit. Currently I have a little over 400 galleries in the database that the program cycles through, so there will be fresh content for you every day. The amount of spanking sites that create tgp pages is still somewhat limited, so if you know of any sites out there with tons of spanking tgp pages, let me know and I will get them added to the database.
As a result of my "bottoms of the week" gallery enjoying so much popularity, I have decided to also include a "Best Bottoms and Teen" galleries as well. Everything is clearly labeled, so you will know what content you are browsing. Represented in the "best bottom and teen galleries" are what I have found to be the teen sites that seem honest and that are enjoying great popularity on the web right now. Just as with the "Bottoms of the Week" galleries, you will see plenty of free content from the Lightspeed sites including, Jordan Capri, Dirty Ali, Tawny Stone, and all of the rest of them. In addition, I have included galleries from other highly popular teen sites such as teen Topanga, Chloe 18, teen Kelly, Trixie, Lovely Anne, Met Art and many more.
While limited in scope currently, I have also dedicated one of the galleries to tgp pages that feature videos. Most free videos are very compressed and short in length, but I have managed to come up with several hundred free videos for you to watch. While I have personally selected all of the galleries in the tgp, these galleries are created by other spanking and teen webmasters. The program I use scans all of my links everyday to make sure the galleries have not changed, but should you ever find that one of the galleries no longer displays free content, please so I can remove it from the database.
The spanking tgp is new and a work in progress, so bear with me as I work out the bugs. We are in the process of creating 100's of new tgp's for my various sites, so my sites are not very well represented at the moment. In the weeks to come I will be adding our new galleries that feature some of our latest spanking content.
Follow this link to visit The Spanking TGP. Galleries should be updated by 6:00 AM every morning. At least for the next month, you should be able to see a new set of galleries every day you visit. Today's galleries have 818 free pictures and more than 70 free videos. Enjoy!
[ Friday, April 08, 2005 ]
A good month for the paddle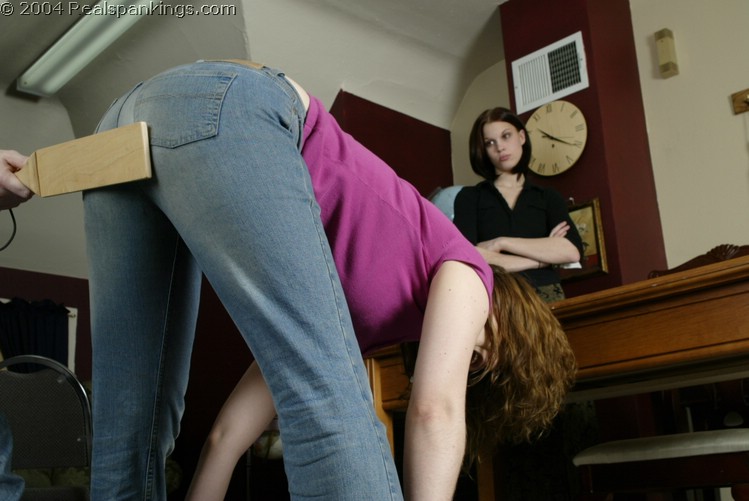 As you all know, I am a big fan of corporal punishment with a wooden paddle. For those of you that are right there with me, the last 6 weeks have pretty good to us. On my various sites, as well as Firm Hand Spanking there have been plenty of good paddling pictures and video. This post is going to have a lot of pictures, so it is best to move it to its own page. Click the "MORE" button below for the full post.
[ Thursday, April 07, 2005 ]
Group Spanking
With the addition of Kailee and Betty as full-time staff members, as well as them being able to spank or be spanked, it has further opened up our opportunities to film group scenes. It is becoming more and more common for us to find ourselves shooting scenes with 4-5 five people in front of the camera. It is nice to be able to better fill out a classroom set and fill every desk. Over the last several weeks we have filmed many scenes with larger groups of girls and you will begin to see them appearing as updates in the coming weeks. The picture below is from a scene we did recently that just appeared as an update for Realspankings.com
. The scene involved two "teachers" who were having problem with disciplinary issues in their classes. Two "students" who were previously in trouble were brought to the office to demonstrate the effectiveness of hard corporal punishment with a wooden school paddle. After both girls were paddled, they were dismissed and then the teachers were also paddled, so they had a better idea of the effects.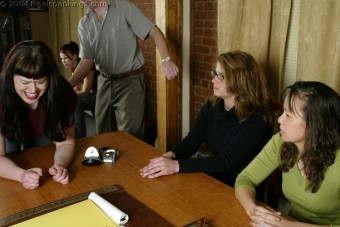 With Jessica and Brandi, Claire and Jasmine, as well as Kailee and Betty, we have six full-time models on the staff. It is very easy on any given day to bring in another 5-6 models. I was thinking it would be a good start for the new studio to film a short feature or a pay-per-view event with a large group of girls. I really like Lupas's St. Thomas school for girls and have been considering doing something similar. I thought the RS Institute would be a good setting for a scene in which all of the residents find themselves in trouble. The entire group is lined up and one by one they each receive 6 severe swats on their panty covered bottoms with a large paddle. After completion of the paddling, the dorm mom inspects everyone's bottom and determines that the job is not complete. The entire group is then lined up and they receive an additional six strokes on the bare as a group. Once complete, the girls are all made to kneel for an extended period time.
This is simply my initial thoughts on the matter and I would love some input from all of you. Leave a comment and tell me what you would like to see in a short spanking feature that features 10-12 girls and one or two spankers. In order for one person to effectively punish a group this large, the spanking needs to consist of a small amount of swats, delivered very forcefully. Give it some thought and leave me a comment. You never know, your fantasy scenario could become a reality for you to see.