Ed Lee - Nu-West & LEDA
Note: All pictures are the property of Nu-West/LEDA and may not be published without permission from Ed Lee.
For those that are new to the web, and are into spanking, it often takes them a little while to discover the company started by Ed Lee, Nu-West/LEDA. This is truly the company that started it all. Ed Lee did for spanking what "Behind the Green Door" did for mainstream porn. His began filming spanking movies on 8mm back in the 70's. Some of his earliest movies featured "Debbie", and 30 years later these pictures and movies have obtained somewhat of a cult following.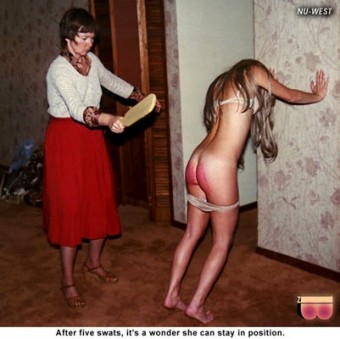 Let's face it, for many of us into spanking, these thoughts originated during childhood. For some it was their own early spankings that began to spark an interest, for others it was the thought of the hot teenage girl next door getting spanked that brought a little excitement. Ed Lee's early work was very bold and he did not shy away from themes that presented spanking and corporal punishment in a very realistic way. The early Debbie photos and movies portrayed exactly this and presented a model who looked the age and the part, being spanked by mother figure with a classic 50's style. Much of this early work took place on location in living rooms and bedrooms that could have been the house that each of us grew up in.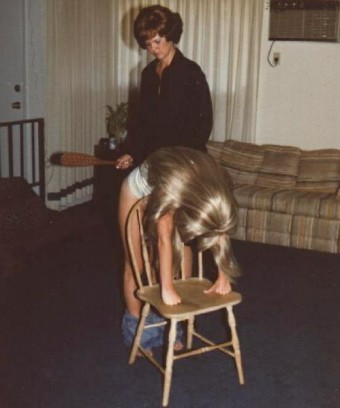 While much of Ed's early work was shot on 8mm film, he stayed current with the times and evolved to video, possibly creating some of the first spanking movies ever captured on video. If there is anyone who influenced me as a spanking video producer, it is Ed Lee. Just as you see with the videos on my various websites his primary focus is spanking as a punishment. While there is great variety in his videos, the central theme is disciplinary spankings. There is generally something that someone has done that has earned them a spanking and it is always administered in a very stern fashion. Over the years he has grown and expanded the types of movies that he creates. Currently, there are three central themes to his various videos: females being spanked, males being spanked by females, and whipping videos.
The videos that feature women being spanked are sold under the "Nu-West" label and they have so many titles that I honestly cannot even estimate the number of releases they have. Many of the top spanking stars in the business have come up throigh the ranks at Nu-West. Super stars such as Anne Bowman, Jennifer Brooks, Eve Howard, Kyrie Kelly, Joanne Jameson, and Stephanie Locke all came up through the ranks of Nu-West. There are very few women in the spanking video scene on the west coast that were not in some way associated with an Ed Lee production. There list of titles is giant and you can view their online catalog at Nu-West online catalog.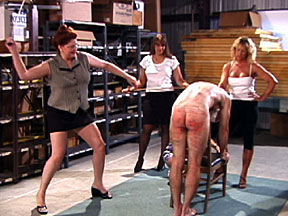 Just as popular as his female submissive titles is his female dominant collection marketed under the brand LEDA. Once again, his works had a major influence on my own work. In a time when the only male submissive movies available featured women in latex and boots with men licking their feet, LEDA stepped up and began producing videos that featured men being punished via hard spanking and corporal punishment. These are not videos about men worshipping at the feet of their mistress, these are serious discipline videos with very serious punishments being administered. I believe that many of his LEDA videos are still the hardest F/m punishments ever administered. If you have not seen a LEDA women take a large wooden hairbrush to the backside of one of their men, then you have not seen a real hairbrush spanking. These are the kind of spankings that make the concept of not being able to sit down for a week a very real reality. Click here for their male submissive catalog.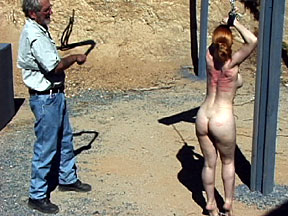 The third area of production they offer is maketed under the "Flag Concepts" label and features hard whipping videos. I am not just talking about gentle whipping with a light flogger, many of these videos feature single-tail whipping. The whipping is not just limited to the butt, their whipping videos feature just about every body part being whipped. There is a big focus on the back being whipped as well as specialty videos in which breasts, feet, and various other body parts feel the punishment. These videos are not for the faint of heart. Most are rather intnese of some of the whipping videos results in blood being drawn. You can view their Flag Concepts catalog here.
Ed Lee has enjoyed great success with his hundreds of videos covering various spanking genres. He has continued to push the envelope and is still on the cutting edge with his videos. They have branched into hard spanking videos that introduce various sexual elements into the themes. In addition to the hard spankings and punishments you have come to expect, they also have videos that feature sex, masturbation, and enemas. They take some of their male punishments to the next level and the men are violated anally by the women who are spanking them. Only in a LEDA video can you see a man spanked, then have his face sat on by a gorgeous naked women until he is struggling to breath, followed by hard anal strap-on action. He may then be forced to masturbate in front of a room full of women, only to be punished again for not being able to perform.
Ed's videos are top quality, but often a little pricey based on today's current standards. There is no doubt that you get what you pay for with his titles. The content is as hard as it gets, and you cannot watch these videos online. With the great success of his company's VHS videos, they were a little slow moving towards the online world. But, it seems they are now catching up. Most of their titles are now available on DVD, and they have opened up a picture based site online that allows you to purchase picture sets for online viewing. The new site is located at Punishment Photos and features many of their exclusive photos that you cannot see anywhere but there paper publications. They have also opened a new site to showcase videos that I know there is a big market for. I receive so many requests for foot punishment videos, that I know Ed Lee will do will with this series. You can visit their site Leda Feet to see some very serious foot punishment videos for sale.
In closing, the spanking video industry owes Ed Lee a lot, he was the pioneer that opened the door for many of us. His catolg of videos is large and very impressive. His titles cover just about every genre within the realm of corporal punishment. While he has enjoyed enormous success as a video producer, I am hopeful that he will jump on the bandwagon and create an online super site that offers a monthly membership with access to all of his titles. That is a membership that I would never cancel and let rebill for life, if I had access to all of his videos. Until then, we will have to just keep placing orders for his videos and hope that UPS gets it to us quickly. Thanks Ed!
Comments:
Mr.M Sir,
You are so right! The photos of "Debbie" are some of the first ones I ever came across that stirred something in me! Much like that first photo you saw in Penthouse that caught your interest, "Debbie" bent over that chair with her "mother" or "aunt" behind her with a paddle was what first caught mine! I connected with her, sympathized with her, and wanted to BE her....even if it was a belt I imagined the woman holding, lol! It is what made me keep searching the internet and eventually led me to Brandi's site, which in turn, led me to you!
So yes, THANK YOU Mr. Lee!

I've heard that Ed's movies are about as hard core as one can get regarding whipping and paddling/strapping. I've seen 1 or 2 of his films, But the pics of Debbie make me want to see a couple more.
Mr.M, do you have any more pics of Debbie or any others like her, depicting similar domestic & CP scenes?
Thankyou for sharing,
Razor
Ive been a customer of Nu West for a long time also.When they were still publishing MaaM and Nu West Disciplinary Review,I used to buy them in porn shops.This was in between 1986-1992.I also own several of thier videos,two of which star the very pretty and delightfuly voluptous Kiri kelly.These videos are called, Caning South African Style and The Dunn North Carolina High School Paddling Incident,the later of which is a very realistic and severe depiction of a school style paddling,in which Kiri's delectable bottom ends up bieng marked with some exellentnt bruising.As far as whipping and flagellation go,one of thier videos that I would highly recomend is Tanya Fox Meets Joane Jameson.This wonderful video stars the beatiful Tanya Fox and her legendarily spectacular rear end.Tanya is restrained,while bieng relentlesly flogged with a myriad of implements,including a martinet,a razor strop and a single tail whip.The chemistry between Tanya and Julia is electrifying,and Tanya appeared to thouroughly enjoy the experience.So even though Nu West's consistency is somewhat unreliable, they definately have some great videos amongst thier selection.
If you like either Kiri or Tanya you need to look at Shadow Lane's web site. Great videos at a reasonable price. There are several vids with both of there lovely bottoms getting very soundly spanked.
Wow. I'm STILL trying to find ANY videos of Debbie from those pics. I'm hearing that most of the pics, are just pics and not from videos. Nu West was one of the first spankings related sites/business i've ever dealt with and i still love them today. I can remember not being able to wait to turn 18(I'm now 26) so i could get my hands on their material, and i haven't been dissapointed. Keep posting this stuff if you can, i can't get enough of it!
Onegr8om
I'm 40 years old and have been into spanking and collecting spanking material since I was 15. I've seen it all and there is no better spanking material than Nu-West/Leda. They produce the most authentic spanking videos on the planet.
I remember the first time I saw a Nu-West/Leda production. In 1986, I was in a Houston adult book store that I frequented quite often looking for a good spanking video and I was in the the S & M section and I noticed these black boxes with poor black and white copied pictures on the case. I had been to this store many times and this was the first time that I had seen these videos on the shelf. I picked up one of the boxes and I read the label. Nu-West, The Dunn North Carolina Paddling Incident. From the pictures, the video looked pretty good, but I thought the packaging looked amateur and I thought to myself maybe I shouldn't waste my money, but then I thought what the hell, I'll give it a shot.
I took it home and plugged it into the VCR and I thought I had died and gone to heaven. I fell in love instantly. I absolutely loved school paddlings and thought I had seen the best, but this blew me away. The video was short, only 30 minutes, but hell a good hard school paddling shouldn't last that long.
That same night I went back to the video store and rented every video they had on the shelf, which was about 10 videos and I watched them all. I was awestruck. I couldn't believe what I was seeing.
Then about 3 months later I was in the store again and I noticed all the Nu-West black boxes had been removed from the shelf. I panicked I went to the counter and I asked the guy where they went. He pointed to the bargain bin and there they were. On sale for $9.99 a piece. There were 20 in that bin. I asked the guy, Are you crazy?!! How can you sell these at $9.99 a piece? He said that not many people had been renting them because they only last 30 minutes and the quality wasn't that great. I didn't buy them all that night, but I eventually did.
I now have more than 200 Nu-West/Leda videos at the moment and I'm adding all the time. My favorite right now is Debra's New Boss NWV-326. This is a fantastic spanking video starring Debra, Dana Specht and Celia. If you want to see hard spanking and great dialogue, you have to buy this movie.
Will S
The "Debbie" ones are great, but also tehre is another one that got my attention. You had one of the series in an early blog entry, a blonde gal being paddled by a gal in a blue top. In most of the pictures of te set, the spankee looks like she is howling. It ends with her standing in the corner, bare bottom on display. And waht a lovely and well reddend bottom it was. Too bad I dont have those pictures anymore :(
what i can see your films in iran/ i love spanking but i cant see spanking films in iran/ plz help me