The Spanking Blog
This is an adult site dedicated to the exploration of spanking between consenting adults. The main focus is on disciplinary spankings portrayed in various spanking videos and pictures, with sample pictures and reviews of the spanking content. The most recent blog posts appear below, and the free spanking picture galleries on this site can be found on the menu on the left. All spanking content on this site is free, and any link leading you outside of this site is clearly labeled as such. You must be 18 years or older to view this site.
[ Monday, June 20, 2005 ]
Another random paddling picture
[ Sunday, June 19, 2005 ]
School girl classroom caning.
I just love a school girl classroom caning with a group of girls looking on and waiting their turn. From this week's updates at RealspankingsInstitute.com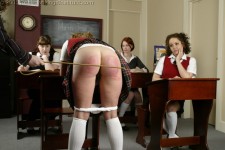 Hard Paddling at Firmhand
firmhand_paddling_updates2.jpg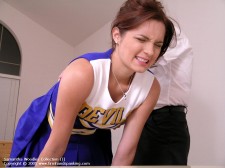 This week at Firm Hand Spanking we were treated to a few school paddling updates. I have been enjoying the Samantha Woodley updates, so it was nice to see her as a cheerleader, raising her skirt, and bending over for some traditional school corporal punishment.
firmhand_paddling_updates3.jpg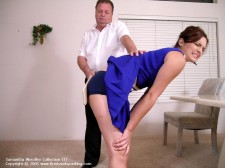 Another nice paddling update featured a school girl paddling with her touching her toes.
firmhand_paddling_updates1.jpg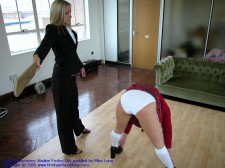 You can check out their free previews at Firm Hand Spanking
Sorority Paddling Parties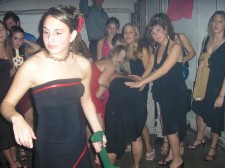 If I ever had any doubts about there actually being sorority parties and activities that are based around paddles, I no longer do. While gathering pictures for these various posts, I have come up with enough evidence that demonstrates to me that sorority paddling is alive and well. While many of the pictures I have posted have shown hard swats given at parties for fun, I have found just as many that show paddling taking place during initiations, big sister night, and various formal events.
Today's pictures do not show all that much in the way of paddling action. What really got my attention with these pictures were the various captions that were written with them. There were captions such as "she took hers like a champ", "lined up for the paddle", and the above picture had the caption "_______ gets her payback". If you look close, in most of the pictures there are many girls with paddles which leads me to believe these are paddle based events.
Click the "more" button for more sorority paddling party pictures.
[ Saturday, June 18, 2005 ]
Lexan Paddles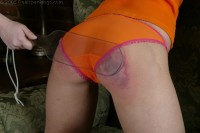 I first discovered lexan as a rock climber. The company Nalgene made a 1 liter wide mouth bottle that quickly became a favorite with rock climbers. The bottles are tough as hell and are easy to clip on to your pack. But what is lexan? Is was manufactured as a high strength glass replacement and it is a polycarbonate resin thermoplastic. It is commonly used in the aerospace industry as well as for bullet proofing applications.
It only makes sense that it would eventually find its was as a suitable material for spanking implements. We have several lexan paddles that we use at the studio and they carry quite a sting. You are able to achieve a much stronger paddle with lexan than wood, at a fraction of the thickness of wood. This creates a paddle that hits with much more of a "smack" than a "thud". With as many wooden paddles that we break, lexan has been a good addition to our implements.
I find that even though the lexan paddles are much thinner than wood, our models still hate them. The pain is unique and leaves quite a burning feeling. For people whose skin breaks fairly easy under a hard paddling, lexan is a good alternative. You can achieve the same level of discipline, as with a wooden paddle, without having to use the same amount of force. With less weight behind the swing, the chance of skin breakage is reduced. Another unique feature of lexan is the ability to view the full impact of a paddle swat, through the paddle.
There are several companies that sell lexan based spanking implements, one of our favorites being Hanson Paddle Werks. This is one of the oldest online implement suppliers and we have always been happy with their products.
The picture above and the picture below are both from Realspankings.com. As you can see in both pictures, it is possible to deliver a punishment that is quite severe with very little effort. In the top picture, Michelle is being punished with a smaller lexan paddle and the results are clearly visible on her bottom. In the picture below, Lori is getting paddled with our largest lexan paddle with holes. Just as with a wooden paddle, the holes are beveled to eliminate sharp edges. On this paddle, if you look closely, you will see that the holes are only beveled on one side. With lexan being so thin, there is not much room to bevel both sides. As a result, only one side of this paddle can be used for bare bottom spankings. The non-beveled holes are too sharp for a forceful swat on bare skin and could easily cut the skin.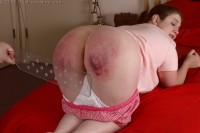 Back from vacation
Sorry for the lack of posts last week, I took a little vacation to Montana. I am back and have a busy week planned for the blog. One thing that I learned on this trip, is how slow a 56.6 modem is. I connect from a T-1 at my house and had to use dial-up on the trip. As a result, I will be using smaller thumbnails on the main page of my blog. The 1st time I connected via dial-up, I could not believe how long it took to load the main page. What speed connection do most of you use? If you could post your connection speed in the comments, it would be appreciated and will influence how this blog appears in the future.
[ Sunday, June 12, 2005 ]
Frat boys getting paddled
Since there seems to be an interest, I thought I wouls post some authentic fraternity paddling pictures. In addition to pictures of paddlings in progress, I also have a few pictures taken the day after a paddling, so you can see the results. If there was any doubt in your mind that these two handed swings we see in the pictures are effective, the results pictures will demonstrate the force used in these paddlings.
The picture below is a little confusing, but I have enough pictures from this night of paddling, that I have made some sense of it. The large wooden paddle you see, just above the bare butt of the frat guy about to be paddled, is an ornamental paddle that they hold into place to keep the guy to be paddled from moving out of place. The paddle in the foregorund is the one that is about to be used to smack the guy's bare butt. From the various pictures I have from this night, it seems that a lot of very serious paddling takes place at this fraternity. After the frat boys took the turn getting paddled, it seems that a few girls stepped up to feel a few swats on their bottoms. Unfortunately, the pictures of the girls being paddled are very blury and poor quality.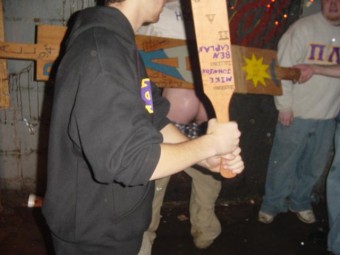 Click the "MORE" link for more frat paddling pictures and some bruised frat butt pictures.
Spanking Site Passes
While the standard with regular adult sites, the site pass is something that the online spanking world has just begun to realize. For those of us that belong to multiple online spanking sites, the use of a spanking pass just makes sense. There are currently three companies with enough exclusive sites to offer site passes.
The first if the pass that gives you memberships to my various spanking sites. Realspankingspass.com gives you access to all of our sites that include exclusive spanking content filmed for the web. With Realspankingspass.com your membership includes unlimited access to Realspankings.com, RealspankingsInstitute.com, Bispanking.com, Spankingteenbrandi.com, and Spankingteenjessica.com. With all of these sites you get more than 50 updates a month. This is almost a 50% savings over signing up for each site individually. With the largest network of spanking sites on the web, and more than 10 GB of exclusive spanking content, it is a great deal.
The latest spanking pass to be offered is KinkyPass.com, brought to you by the folks at Spankingonline.com. While Spankingonline.com is their flagship site, they now offer many other sites with content they produce. In addition to Spankingonline.com you also get full access to SpankingMyBottom.com, Spankedschoolgirl.com, Spankingdigital.com, and www.spankingimages.com. These are excellent sites, especially for those of you fond of English corporal punishment and schoolgirl caning.
[ Tuesday, June 07, 2005 ]
Today's sorority girl paddling pictures
paddled_sorority_girls_june1.jpg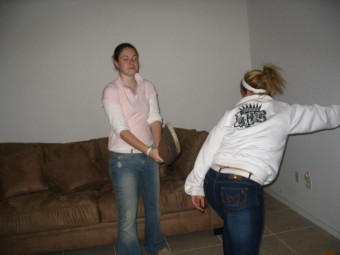 Click the "More" link for more pictures of sorority girls paddling each other, as well as taking real swats from frat boys.
Cutie Spankee Updates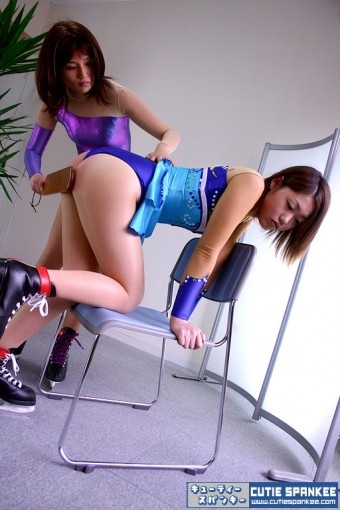 I have really been enjoying the latest updates on www.cutiespankee.com. As you have probably seen in my videos, I am not one to go all out when it comes to various themes and costumes in my productions. I generally think that it just serves as a distraction. But www.cutiespankee.com does it in a way that I really enjoy. I am not sure exactly why they can pull it off, some of it may be based around the fact that the lines are spoken in Japanese (with sub-titles) therefore it does not seem as cheesy to me. Another aspect is that they do a wonderful job with their costumes and set design.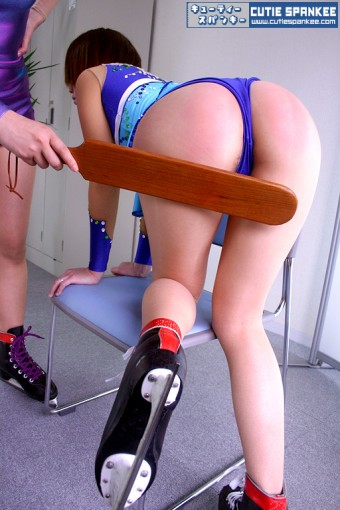 My favorite update over the last couple of weeks, presents a scene in which an ice skating coach punishes her student for making falling down too much on the ice. Her theory is that with a well paddled bottom, she will be less likely to fall, being that her butt is already so sore. While I would typically find a scene of this type cheesy, I really enjoyed what they presented. What I really like about the site, is that they do not go lightly with when using a wooden paddle. As you know, wooden paddle punishments are some of my very favorites, but is is generally my least favorite scene to watch online. The reason is that most sites, even ones that tend to spank hard, always go light whenever a wooden paddle is used. I would much rather see a very hard handspanking than a light paddling. This is one of the reasons that I often post about Firm Hand Spanking. They know how to use a paddle and their models butts always show the proper results of a true paddling.
The same holds true with www.cutiespankee.com. The swats are always applied with a good deal of force and they never limit it to just a few swats. In the ice skating video, the model takes well over 30 swats and there is no doubt that she felt the effects of this paddling for a few days. While I like all of their content, they are slowly emerging as one of my favorite sites as a result of the hard paddling videos. You may view the free samples on their site at www.cutiespankee.com. In addition, on the page Spanking Japan there are 6 free videos (2 with wooden paddles and one with a hairbrush) and a couple of dozen free pictures.