Very Realistic School Corporal Punishment Paddling
Yesterday I decided to try and film a very realistic school paddling scene with Lila and Frankie. Both girls were made to wait outside my office and were called in one at a time by Miss Kay (a new spanker in training). Each girl was made to place her hands on the wall, and extend them way out and then received 8 swats, with a heavy wooden paddle, on her jean covered bottom. The pic below is an after picture showing the results of a serious school type paddling. I know for a fact that both girls are sitting very gingerly this morning. Video will be posted in the member's area of Realspankings.com.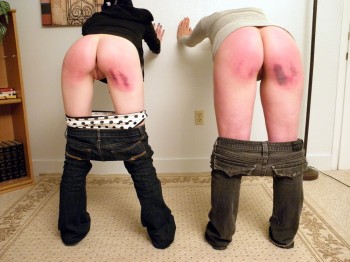 Comments:
Miss Kay must be well along in her training if you let her use a heavy two-cheek wood paddle. Those are impressive marks. For the spankee, it's good news-bad news. The studio is scrupulously careful about never paddling high (and never using a two-cheek paddle unless the spankee is bent over at the waist), to avoid hitting the tailbone. However, to avoid hitting high, you all tend to hit low. Arguably, the lower half of those swats were on the thighs, not the butt, which has to hurt a lot worse. So, ladies, we will definitely not break your tailbones, but in the process of assuring that, we WILL give you heavy paddle swats on your thighs. You don't have to thank us.
Ouchie! :o
Nicely done!! I'd make them walk around the rest of the school day, having to keep their bruised, bare bottoms revealed, and available to be fingered, groped and pinched as desired....