Asian Discipline- A focus on Embarrassment
Whether it be through bare bottom corner time after a spanking, forced public nudity, lowering panties in front of a large group, or undressing in a room full of strangers, the addition of embarrassment to a punishment can really make a punishment more effective. These pictures that show similar such punishment being applied to young Asian girls demonstrate my point. While two of these pictures are most likely from some sort of adult production, two of them are clearly pulled from real life. One is a repost on this blog, but fits nicely within this theme. If anyone has any information about the last two pictures, please post a comment, I would be curious to know the origin, o rexactly what is going on in these pictures.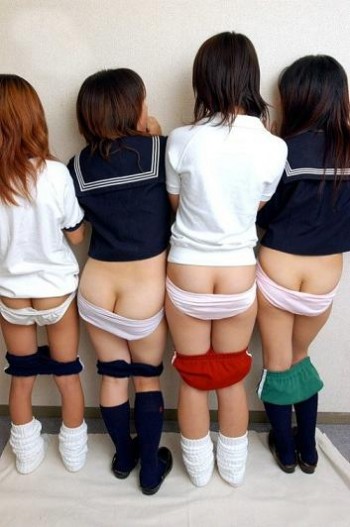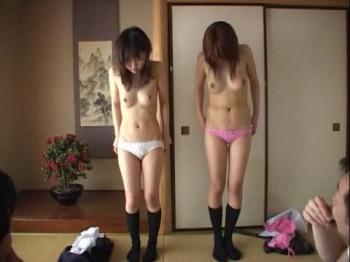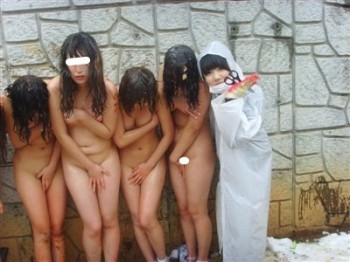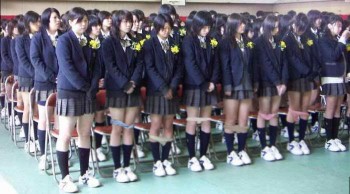 Comments:
This plays into a shoot idea I have been playing with in my head for awhile, that I would love to see AEG attempt, if possible. Of course, any variation of the idea would be awesome, but I'll write it as I scripted it in my head

I think it would work best as an entire shoot, sectioned into three parts, so as to still get the three updates out of the shoot. I really like the multi=part scenes.
The setting would be outside, in a location that could pass for a public park/town square, perhaps in front of the wall, as per that great Lila belting scene. The scene would open with Monica(as an example) kneeling facing the camera with the thin black strap, a wooden paddle and one of the blue-tipped canes in front of her. There would be an audio-track in the background of people talking(white-noise large group type talking), giving the impression of a very public location with many people gathered.
After 30 seconds or so of this, have the chatting fade, and a off-camera voice say something to the effect of "Monica _____, you have chosen to receive public disipline in lue of jail time. As pre-arranged, you will receaive 30 swats with the strap, 12 swats with the paddle and 24 strokes with the cane.(Adjust implements and/or swat number to something Monica is comfortable with). The voice would then instruct her to remove her clothing, as witch point Betty would enter the scene and remove her clothing off-camera. Off-camera voice would then instruct her to turn around and bend over grabing her knees, and annoiunce the arrival of the disiplaniaian, at which point Michael Masterson would enter, carry out the punishment, and exit with little dialouge. Off-camera voice would instruct Monica to kneel, hands behind her head, with her bottom faceing the camera(audeince). Roll "back-ground chatting" track, pan in and out, end scene.
Mabye retarded, but thought I'd put it forth. BTW, I in no way advocate that in real life, fantasy only.
The last picture is a typical underwear check. to check if those schoolgirls wore their panties to sch.

my sis went to japan for a student exchange once, apparently u can get expelled for not wearing underwear to sch. and in that school she visited, all girls had to wear white panties.
The penultimate picture is Korean high school students to celebrate graduation, they will get the scissors to strip other people's clothes, called hell of strip.
sorry... my English is not well
Where is the first picture from?
Thank you Kevin!
No info to supply about any of these pics. In Korea, grandmothers can ask young grandsons to drop their pants, because they want to fondle their young manhood. I would simply grant the same privilege for men to office girls and female university students over 18. There is such a delicious aura of submission behind all of these Asian girls' pics. It's quite delightful to think about!!!