The Spanking Blog
This is an adult site dedicated to the exploration of spanking between consenting adults. The main focus is on disciplinary spankings portrayed in various spanking videos and pictures, with sample pictures and reviews of the spanking content. The most recent blog posts appear below, and the free spanking picture galleries on this site can be found on the menu on the left. All spanking content on this site is free, and any link leading you outside of this site is clearly labeled as such. You must be 18 years or older to view this site.
[ Thursday, April 10, 2008 ]
Spammers Give up already!!!
Yo, you stupid spamming idiot dipshits. This blog is fully moderated and no comment gets through without me reading it personally. It is not looked at by a bot, there is no one else that can approve a comment but myself. Give it up already, you will not use the popularity of my blog to post your stupid crap. GIVE UP! Have you actually seen one of your stupid spams actually make it onto this blog in the last 2 years????
Realistic Sorority Paddling Gallery is now up
I have posted the first of the free sorority paddling galleries in the Free Spanking Galleries. This first gallery is really the best of the pictures. Many of them already exist on my blog, but are scattered all over the place. This gallery is called "Realistic Sorority Paddling" and features pictures in which it appears to me that a sorority girl actually received a swat, or is about to receive one. In some cases a picture in that gallery may exist because it is part of a series of pictures in which it seems a paddling took place. Now certainly, for the most part, not too many of these pictures are actually sorority hazing, or sorority discipline. For many of the photos I was able to read the description of the event that led to the paddling and there are several common themes.
One of the most common pictures is a paddling from their "big sister". In the world of sororities, each pledge has what is referred to as their "big sister", often just called their "big". A pledge is required to make a paddle to be presented to her big sister during a sort of paddle ceremony, sometime also called "paddle party". Typically on this night, when the paddle is presented, a single swat is exchanged between the girls. I would guess that in most of the pictures that you see a paddling taking place, in which very formal attire is being worn, this is what we are witnessing. Obviously traditions vary, and in some pictures I see the pledge or "little sister", receiving swats from all of the bigs. Another common theme to many of the pictures is the traditional scavenger hunt that most pledge classes do as an activity. Many of these pictures were described as "get a picture of pledge being paddled" for the scavenger hunt. Often these paddlings just seem to be the fact that frat boys and sorority girls party a lot and most frat and sorority house have paddles hanging everywhere. A little alcohol, cute sorority bottoms, paddles on the wall...well you do the math.
The paddling gallery that I just uploaded is missing a few of the better and newer pictures that I have. These pictures include some of the best reactions to being paddled that I have ever scene. They all come from the same formal event and the girls are really laying into each other. My batch processor would not allow files of this size, so I am going to do a little photoshop work on them this afternoon and then get them added to the current gallery. So, if youu have already gone through all of the pictures, be sure to check again tonight, there will be a few new ones.
Over the next couple of days I will add the rest of the sorority paddling photos to new sub galleries. The rest of the pictures are not quite as good. Some only show a girl waiting to be paddled, some are the goofy posed pictures in which no paddling actually seems to take place, but are too cute not to post. The final gallery will be one that simply shows the look on the young ladies' face after receiving a good swat or two.
[ Wednesday, April 09, 2008 ]
Chat tonight
I will be hosting a chat tonight at 9:00 PM Mountain time (GMT -07:00) at the World Spanking Forum. Drop in and say hi.
A final goodbye to sorority paddling pictures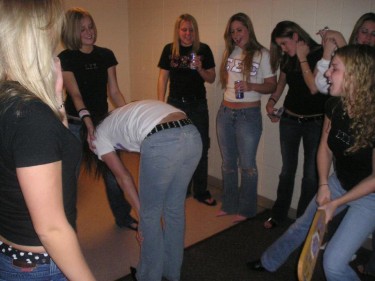 Well, a couple days ago I discussed the fact that i kind of felt like I brought the sorority paddling picture craze to the world of spanking blogs. I also said that I had finally just quit posting them as a result of them being available everywhere on the web, and figured they were not all that unique anymore. Just when I thought I had put the sorority paddling photos behind me, I received a very nice comment from a blog visitor that thanked me for all that I have done and making him feel more comfortable with his spanking thoughts. He also requested that I do not give up on posting the real sorority paddling pictures and begin to do it again. I went through my archives today and found that I do have 370 different sorority paddling pictures in that folder. Some have already been posted, some have not. Some, like the one above, look very authentic, some are clearly posed pictures without any paddling actually taking place. So here is what I have decided to do. I am going to go through the entire collection, categorize them, and then take the best and put them into my free spanking galleries. Some may be repeats, some probably exist in many places on the web currently, some may be brand new to all of you. Give me a week or so to process all of these files and get them organized, then I will put them all in one place and you can have your own private sorority paddling party right on your computer monitor. For those of you who choose to never post a comment on this blog, hopefully you now see that I read everything and what you have to say can make a difference on what you see here.
"Not Spanked as a Kid"
Now this is a great blooper from Fox News
Control Panel changes
Ok, it took me a little while to figure it all out, but if you now login to your account (top left of the main page) and start looking around at your control panel, you will see new features. There is both an internal private message system, as well as the ability to e-mail other members. The memberlist link is at the top right of your control panel. There is also an internal bulletin board system that you may use to post general messages that anyone can read on the bulletin board. From now on, information like I am posting now will be done with internal communication and not be posted on the blog, so check your control panel on occasion for new developments and some beta testing that I may ask members to participate in. You should consider updating your profiles, you can now add a picture and an avatar as well as a signature file. As a member, you should also look at your settings and determine the permissions to be set. You can decide if anyone can private message you, or e-mail you, and basically what access you want other members to have to you. Your e-mail address is never shown if someone sends you an e-mail, but if you send an external e-mail through the system, the person that receives it will see your e-mail address. Private messages are exactly that, they are internal and no information is given except the member's screen name.
There are 1100 like minded people that are active members of this blog, so I thought I would create a way for people to be able to communicate with each other privately. NOW FOR THE BIG WARNING- I almost stopped blogging due to some of the bullshit spamming and other crap that was going on. One thing that I have added to this system is some of the best "blacklisting" software money can buy. If you start spamming the bulletin board, harassing other members, or generally just start acting like an idiot, you will be banned. This is not just your username, not just your e-mail, but also your IP address. This doesn't mean that you will no longer be a member, my software makes it so you are automatically redirected to yahoo.com when you try to access my page. So if you ever type in http://www.thespankingblog.com and end up at Yahoo, then you must have crossed the line in a very big way. If anyone finds they are being harassed in any way, contact me immediately. As a member, in your control panel you can ignore anyone, you can choose to never receive a single PM or e-mail, so take a look around and decide what settings are best for you. For global problems you encounter in your control panel, post a bulletin, so I can respond in a way that everyone can read. If you have an individual concern, just select "compose new message" in your Private Messages folder and input Michael Masterson as the recipient. Please still post comments in the blog comments section and try not to overwhelm me with PM's unless it is something that really needs my attention. Thanks to all of my loyal members, this is step one in membership to this blog really having its privileges. There is much more to come as this blog becomes more of a community and not just a place to read a pervert's thoughts. So get to work updating your profiles so we can get to know everyone better.
Cheers,
Michael Masterson
Free membership options
Ok, 1191 current members on the blog, and currently there seems to be no purpose for this. If you do login to your account, you will see there are many options for your account. Currently, the message and bulletin board systems do work as well as the subscription options. Any message sent to "super-admins" will go directly to me. If you are looking to just start being social, you can send a "intro" message to all members, which will allow them to know your membership name and could start the communication rolling.
As I move forward with new blog features, your membership will serve more of a purpose, so start looking up that login info, updating your profiles, adding pictures and avatars, etc. There will be more community type features as the blog grows and I update some of the software and modules. There will also be some galleries in the future available only to members and will not give public access. Nothing will be happening in the next couple of weeks, but the blog is about to become much more than a blog, and will be soon be your source for more than just my daily ramblings.
Cheers,
Michael Masterson
[ Tuesday, April 08, 2008 ]
Yikes, even more painful thigh, calves ,and feet caning.
Ok, if yesterday's leg caning video was not your thing, be sure to avoid this one.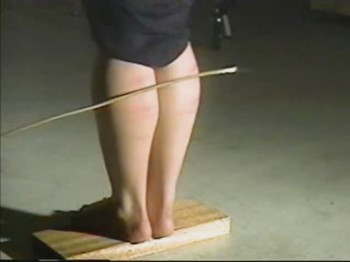 This is a truly severe punishment that I would not wish on anyone. This poor young lady takes ten strokes with a heavy cane on the backs of her calves, followed by ten strokes with a switch to the backs of her calves. But wait...there is more. She then receives ten hard strokes with the heavy cane on the backs of her thighs followed by, yes you guessed it, ten strokes of the switch to the backs of her thighs. When you see the look on her face, you can tell she has learned a very real lesson at this point. With the fixed camera, no zooms, and limited lighting, I tend to believe that this might indeed be a real punishment between consenting adults and not a commercial production. Did I mention that her punishment is not over at this point? She is then made to kneel on a block of wood and take two sets of ten strokes with the heavy cane to the bottoms of her feet. If the man doing the caning is her husband, I would guess that she will be a good girl from now on. As before, click the "MORE" link for the full video. Because of how slow these videos tend to load, I would suggest right clicking the "MORE" link and selecting "open page in new window" or "open page in new tab". Pause the video, get back to browsing the internet (my blog hopefully) and come back to the video in a few minutes when you can watch it without all of the pausing. Also note, that if you sit through all the pauses, if you hit replay, it will play straight through. Also, the button on the bottom of the video screen, third from the right pops the video full-screen and the resolution is almost good enough to watch at this size, depending on your browser settings.
[ Monday, April 07, 2008 ]
Painful punishments…caning of the feet, thighs, and calves.
Well it seems that the Koreans seem to have a thing for applying very painful punishments, with a cane, to parts of the body below the bottom. The logical place seems to be the thighs: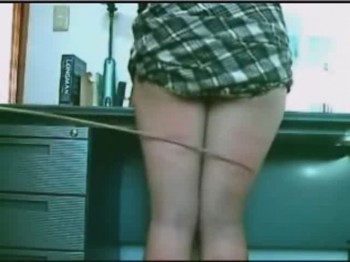 But they do not seem content with simply caning the thighs, they often want to move even farther down the leg and give the calves a good work over: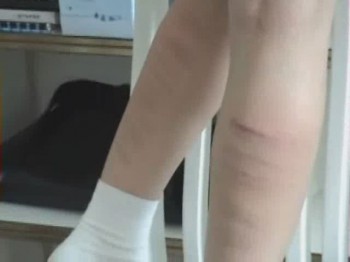 As if that was not enough, for all you loves of foot punishments, well I have that as well: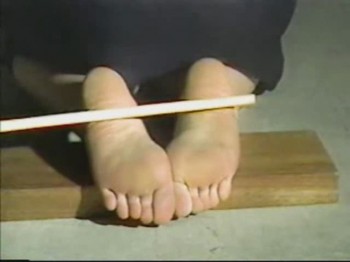 Personally I really like this type of punishment. I do not think it is all that safe and I rarely cane anywhere lower than a couple of inches below the bottom. I feel the safest spankings focus on the fleshier parts of the body. But this does not mean I do not like to watch it. The main reason being that a spanked bottom tends to lend itself to some sexual excitement. When the nerve endings in the butt get stimulated, well it has a tendency to travel to the erogenous zones. But a foot caning or a calf caning, does very little to stimulate your sexual areas and it can really only be considered true corporal punishment. I have been fortunate enough to locate more than a dozen fairly serious punishment videos, with the main focus being severe canings of the calves that leave very real welts and bruises. These are not fun little spanking videos, but serious discipline applied to the legs and feet. The site that these videos stream fun is not very speedy, and sometimes just annoying. As a result I will post the embedded video in the extended text area, so it does not affect the loading time of my main blog page. The first video I will be sharing from my collection is from the pictures below. For this punishment a young Korean girl is made to stand on a stool and take many hard strokes of the cane to her calves. The spanked does not go easy on her, and I almost feel sorry for the poor young lady, clearly this punishment is leaving marks that will have her out of that dress and wearing long pants for days: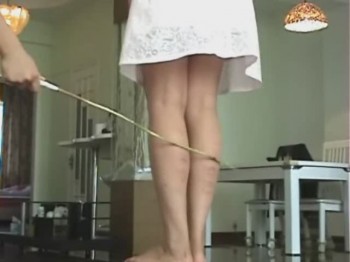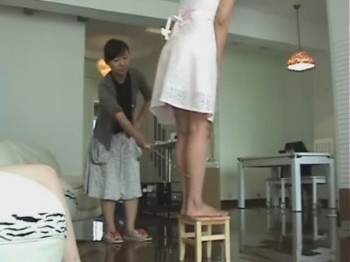 Over the next week or so I will post a dozen or more similar videos, including the videos for all of the pictures included in this post. Click the "MORE" link and cross your fingers that this video loads. Enjoy!
And now for something completely different…
With as many blogs as many spanking blogs as there are out there, it is hard to stand out. I have a little bit of an advantage being a producer and owning the legal copyrights to close to a million spanking photos and more than 5,000 spanking videos. But, for me that has never been enough. I like to think that I kind of started the sorority paddling pictures craze with the early posts on my blog. So may sites are using them, some are even selling them, that I no longer even post the additional sorority paddling pictures that I still have. Once the word gets out, everyone just grabs them and puts them on their blog. In my quest to always find something unique, I spend a lot of times doing less than traditional searches for content. I am quite sure that in just a few days, this very unique content that I have been hanging onto will be on every blog on the web. But remember, you saw it here first. My next post will shed a little light on the unique content I have found. I will post some teaser pics and a single video, then I will just start putting the videos up on a regular basis. More by the end of tonight.