Hogtied- Bondage, bound breasts and tied titties!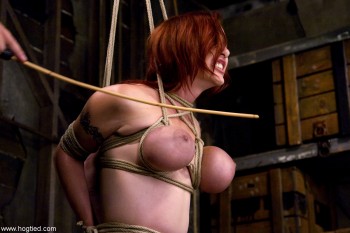 In the early days when exploring my spanking fetish, while bondage was always a bit exciting, it never really had the same attraction to me as spanking. Over the years it has become much more appealing to me, but I have found that I am very particular in the type of scene I like to watch, or participate in. For me, I rarely tie someone up to spank them. Half of the attraction is someone submitting to a punishment that they have earned and them having to use every ounce of energy to maintain position. Of course, if they are unable to maintain position, extra punishment is always the result. But this helps to serve to emphasize my point that they needed to learn self control under all circumstances.
Bondage on the other hand, takes away this particular element that I find so appealing about a discipline oriented spanking. Over the years, I have found that the bondage shoots that I like the most seem to have some sort of punishment element. Unfortunately, most of the bondage videos out there, lack any sort of offense that has been committed and they seem to just be applying pain for pain's sake. Regardless, the bondage that is applied for the purpose of providing some degree of pain and discomfort still has its appeal. I have no doubt that being tied tight in a hogtied position hurts like hell, but I find I am more attracted to the bondage that is specific to an erogenous area of the body. The scenes I find myself watching generally involve pain or discomfort being applied to the bottom, breasts, nipples, vagina, and clitoris. Obviously, these are the parts men like to play with the most, so it makes sense that pain applied to a sexy area of the body would be found to be the most appealing. Another aspect of the better bondage videos out there that I have begun to enjoy is the forced orgasms. I have never been one to find any aspect of "torture" at all appealing. But to be "tortured" with too much pleasure and repeated orgasms is quite exciting to watch.
For any of you out there that like bondage videos, it is clear that Hogtied.com rules the world. In the early days they did not film as much as the content that I found to be so exciting, but over the past couple of years, it has become something I look forward to. No longer do they just tie a young lady up and watch her squirm. Every shoot seems to feature all of the elements that I find so attractive. They are consistent with every update in the use of a crotch rope that clearly feels like a very real punishment. You tend to see more caning on this site, with breast and feet being caned on a regular basis. Many of the scenes still lack some of the "cause and effect" punishment scenarios that I like, but to see a young woman tied up and forced to have a dozen orgasms, begging for them to stop making her cum, helps fill the void.
I have become a huge fan of breasts tied tightly and I have yet to see a breast that did not become more attractive to me as a result of being tied. I think one of the big attractions to the use of nipple clamps and nipple ties, is that it shares many elements with spanking. Just about everyone enjoys some light smacks to their bottoms during sex (see this link for further discussion on this topic), it stimulates the nerve endings in that entire region and has the potential to feel very good. But when done hard, we enter a new level where pleasure and pain become a shared and confused sensation. I feel the same is true with pinching the nipples, the use of nipple clamps, and tying the nipples. Clearly, when a woman is very excited, the pinching of the nipples is very stimulating. The closer she is to reaching orgasm, the harder they can be pinched. Just as with spanking, when the mood is right, the nipples can take quite a bit of abuse. I like to watch a the reaction of the models as the initial pleasure from her nipples being stimulated, gives way to the realization that this is going well beyond something she enjoys.
Today I have chosen to share with you some pictures from Hogtied.com that feature beautiful tied breasts and creative and painful ways to punish a young ladies' nipples. Click the MORE link below for the full gallery. Enjoy!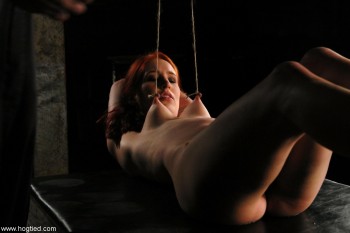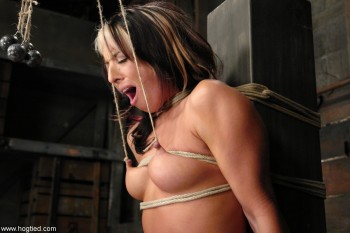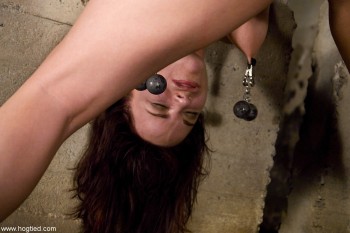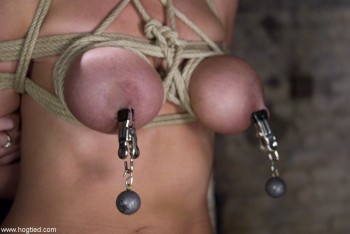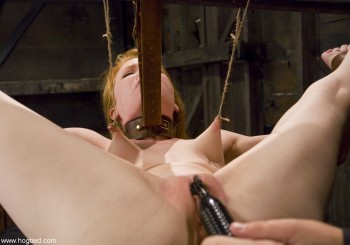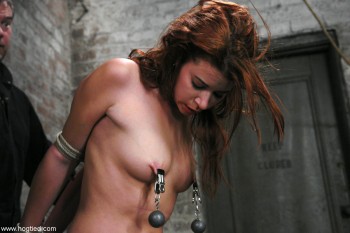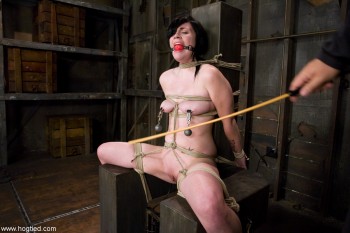 As with all images I post, there are full videos on the producer's site to go with every picture I post on my blog. You can visit them at Hogtied.comfor the very best bondage on the web.
Comments: