A real punishment for teen Brandi and some behind the scenes spanking information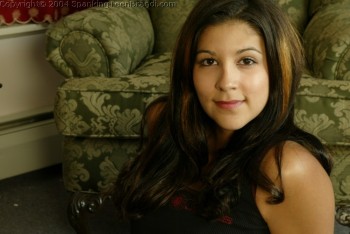 Ok, this is a long one with lots of pictures and a very detailed account of one of the only spankings I ever administered to a model that had nothing to do with filming content and everything to do with her really be in trouble with me. This is a detailed account of a video on Spankingteenbrandi.com in which I gave her the spanking and related punishments that she had earned for her real life behavior and did not pay her a penny for the scene. Due to the length, this entire account is on a separate page, click the "MORE" link to read the entire post.
Brandi from Spankingteenbrandi.com is a very unique model in many different ways, so I thought I would share a little behind the scenes info with you. First of all, Brandi is truly a gourgeous young lady. Her legs go on forever, her bottom is one of the best in the industry, and she is truly one of the cutest models to ever enter out studio.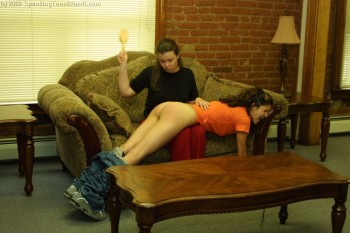 One of the most unique aspects of her work with us, was my relationship with Brandi. You must understand, that while I love to spank, it is not always an easy job to have. There are many models that we spank that absolutely hate it, on the other hand there are models that really enjoy it. Brandi fall somewhere in between, being that she does find some aspects of spanking sexually appealing, but when it really comes down to getting a hard a spanking, she is never very thrilled to be there and for the most part has hated every spanking she has ever received. It is generally easy to tell on any of our sites which models enjoy being spanked. The ones that are into the scene usually receive the hardest spankings. The ones that are just there for a paycheck take as much as they can, but the spankings tend to be a little less severe than the ones into it. It does create some inner conflict as a spanker to know that you are administering a hard spanking to someone that would rather be anywhere else in the world at that moment. You have to find a balance between getting good content and respecting the model's own limits.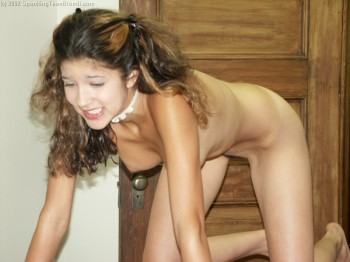 For me, and Lady D I would suspect, we never had a problem spanking Brandi full force is most of her scenes, even though this is not what she would have preferred to happen. The thing is, outside of the studio, Brandi was truly a naughty girl. She lacked a lot of discipline and structure in her life and clearly should have been under her parent's guidance for several more years than she was. When I pulled my belt off to give Brandi and good butt whipping, I never hesitated to lay on the strokes as hard as I could. She always made the mistake before each shoot of sharing her misadventures from the previous weekend, which made it quite easy to give her a truly real punishment, knowing that her actions had certainly earned her the discipline she was about to receive. Now I am not saying that it was my place to determine if she was bad and needed to be spanked for her behavior outside of work, I am simply saying that when giving her a hard spanking, it created much less conflict for me because I knew that in some way, she was getting away with a lot of stuff that should have been punished for in the first place. This is why, for someone who has filmed as many scenes for us, she ended up really crying more than any other model we have ever spanked.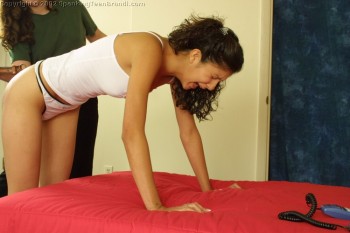 An interesting story that is kind of explained in the member's area of her site is one that I thought I would elaborate on for you her. With many models, on many of our sites, we have tried to find ways to incorporate some aspect of real discipline into the scenes. If a model is late for a shoot, we decide to shoot a scene that day in which they are punished for being late. These are true, but are still shot just like any other scene in which we discuss with them before hand the spanking, what implement, the position, etc. On Brandi's site, we did a whole series in which she really did make a list of many things she got away with when she was a younger teen living with her parents, that over several weeks we gave her the discipline that she felt those situations would have called for at the time. But there is one scene in particular that I did with Brandi that is the closest I have ever really come to a spanking being non-consensual.
In the very early days of her site, Brandi took the bus to the studio and it started to become a hassle for all of us. We like to be able to schedule a time without having to consider bus schedules and such, and I needed to find a solution. This was before we realized Brandi was a crazed party animal or even of legal drinking age, so I made the decision to provide her with a vehicle. I leased her a small truck that I did not use much, so she could have reliable transportation. It was almost brand new and she could not have been more thrilled to have her first car. In the beginning it seemed like a good plan and worked out well. Eventually, Brandi demonstrated to me that maybe having her own car was a little too much responsibility for her and I ended up taking it back. But here is where the problem started that led to the most real punishment spanking I have ever given to a model. I received a letter from the Denver courthouse that informed me that a warrant was about to be issued for my arrest for my 7 unpaid parking tickets. Being that I have never had a ticket of any kind in my entire life, I was a bit confused. A little research led to the conclusion that Brandi, who lived downtown and could never find a place to park, received parking tickets all of the time. She chose to deal with these tickets by throwing them in the trash of shoving them into the glove box. It never occurred to her that she was driving a vehicle that was registered to me, so all of the tickets, while they only had the license plate number on the ticket, were being issued to the owner of the vehicle. Needless to say, I freaked out a bit. I called the county, paid all of the tickets, and resolved the issue and kept myself out of jail. But obviously, there was going to be hell to pay for Brandi. I decided before Brandi's next shoot that this was going to be dealt with exactly how I wanted it to go and that Brandi would have no say in the manner. When Brandi showed up for work, we had a private meeting with her in which the problem was discussed and she was told that the money for the tickets was coming out of her check and that that day's filming was going to be dedicated to her punishment for the tickets and she was not going to be paid for the scene. She was not told how, with what, for how long, or anything else, simply that she was going to be properly punished for her actions.
I wanted it to be as real as possible, so I had D go up and setup all of the cameras in the bedroom and just have them start recording before we even started. Brandi was sent to "her room" and told to sit on the bed and just wait until we were ready to start her punishment. She was told that D would come in with one of the tickets and they would start the earlier conversation that we had with her, from scratch, so her members would at least know what was going on. So while the first clip of the scene is a little staged to catch the members up on the true story behind the spanking, everything else was very real. This scene was no longer about just filming spanking content, it was about me making a very real impression on someone who was messing with my life. Once D sent her up to the room, we made her wait a long time, much longer than we showed on camera because I know that nothing is worse than sitting around and dreading what is about to happen. I knew that Brandi was nervous about being spanked by me for this, so I sent D up to get it all started, still making her wait to actually get things started with me. D called me on the intercom and I decided to delay things further and just told D to get to work on the spanking and that I would up later to finish. She was punished long and hard that day, and the cornertime that she was made to endure, while holding one of the tickets against the wall with her nose, is probably the longest cornertime a model has ever endured. I would guess that we maybe showed 10% of it on camera. After the whole thing was over she told me that she had never been so nervous in her entire life. When to comes to getting in real life trouble that could lead to a spanking, I think the last person you want deciding your punishment is a spanking producer, who knows very well how to make it as bad as it can be. Generally, the anticipation prior to a spanking scene and the cornertime after is just to make a good spanking video. In this case, it was to make a very real point and one that I bet she still remembers to this day.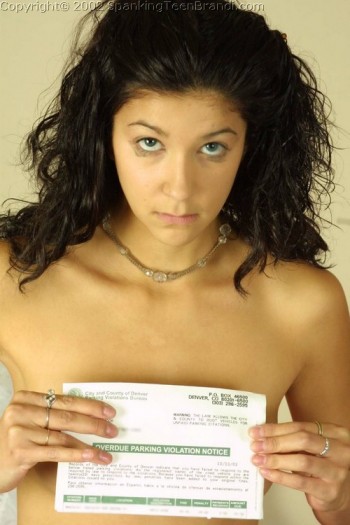 So, for any of you who have ever questioned it, the picture above is very real, it really is one of the tickets that I ended up receiving in the mail, and her smeared makeup is the result of the tears that flowed that day. The nervousness she shows in the first part of the video is real, she really was sent to her room and made to wait to be spanked, having no idea what to expect. Also, as she left the studio that day with a sore butt and no check in her pocket, she had a little bit of a limp that showed her knees were still feeling the effects of the longest amount of time she ever spent kneeling in a corner.
The scene I am describing is titled "Spanked for Parking Tickets", from the Feb. 10, 2003 update in the member's area of Spankingteenbrandi.com
Comments: