The Spanking Blog
This is an adult site dedicated to the exploration of spanking between consenting adults. The main focus is on disciplinary spankings portrayed in various spanking videos and pictures, with sample pictures and reviews of the spanking content. The most recent blog posts appear below, and the free spanking picture galleries on this site can be found on the menu on the left. All spanking content on this site is free, and any link leading you outside of this site is clearly labeled as such. You must be 18 years or older to view this site.
[ Wednesday, August 18, 2010 ]
Face Slapping Corporal Punishment
I am not sure how I feel about this. It is clearly a very real punishment in which there is no acting required. It is very similar to spanking, only the face is the target. I find it more appealing than a single slap to the face, and somehow the fact that it is between two women makes it more acceptable in my eyes. If this was an M/f face slapping scene of the same intensity, I think it would piss me off. Regardless, it is unique and there is no doubt that it seems to be an effective means of discipline.
[ Tuesday, August 10, 2010 ]
White butts needing a little pink
I am not sure why, but I have always had a thing for the whitest of butts as a result of tan lines. I am guessing that part of it is the fact that when I first discovered Playboy in the 70's, most of the models had milky white breasts and the whitest of bottoms. I am sure that part of it is also the fact that a white butt shows pink and red, from a good spanking, so much quicker and clearly. Here are some white butts that clearly need some color added to them....any volunteers?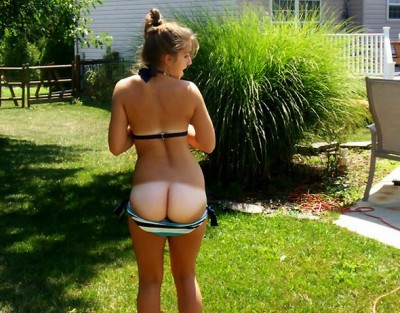 [ Monday, August 09, 2010 ]
Oh what fun it is to lunge…
The newest staff members at RealspankingsInstitute.com are staying plenty busy. In these videos the young ladies are getting their butts bruised while in the lunge position. The punishments are topped off with some uncomfortable corner time. From recent updates in the member's area of RealspankingsInstitute.com.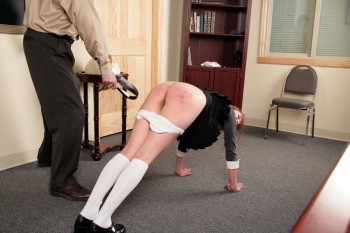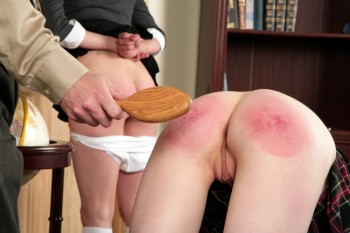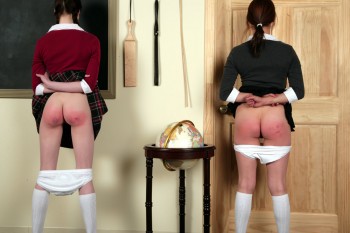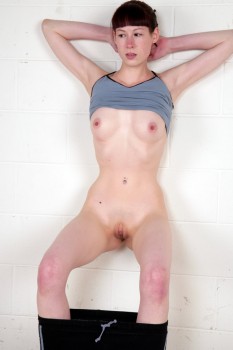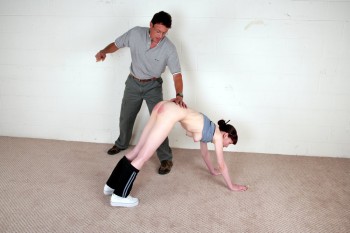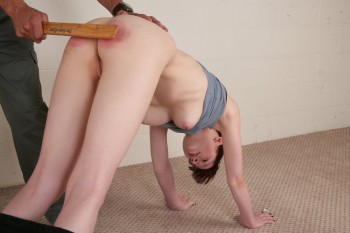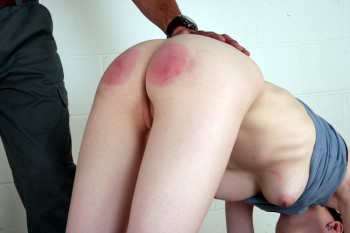 Spanking Needed
Three bare butts lined up, seems as though a spanking might be required.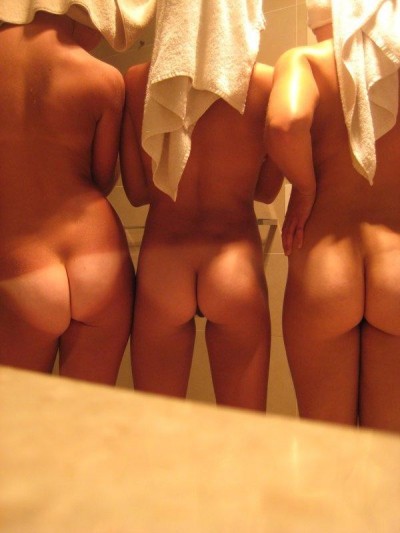 [ Friday, August 06, 2010 ]
The belt, the paddle, drop seat pj's…and a couple of bruised bottoms.
When will these girls learn? Maggie and Lila learn a hard lesson from Danny. They each bend over, drop the seats of their pj's, and take a turn for some very serious discipline. The belt is used on Maggie's bottom, but poor Lila gets the hardwood paddle, which leaves her bottom black and blue for days. From the video in the member's area of Realspankings.com
.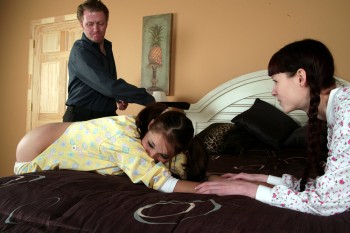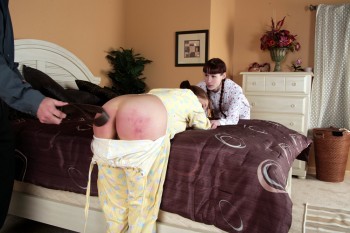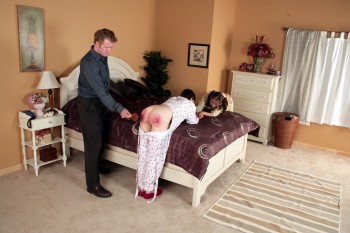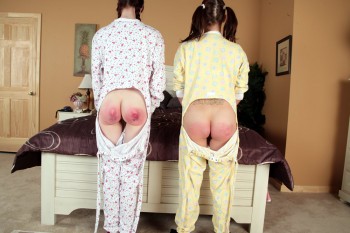 Teen girls whose butts need a good spanking
I have made it clear in the past that I am opposed to the spanking of children. However, sometimes you see evidence of young men and women that clearly need a good bottom smacking especially in the later teen years. This is one reason that I am not opposed to corporal punishment in the schools in which the student can elect to take a good paddling as opposed to other forms of discipline. It is clear from the pictures below that these young ladies might need a trip to mom and dad's room for a little time with the belt. When will these young ladies learn that taking dirty little pictures of themselves and sending them to their boyfriends is never a agood idea? I bet a mandatory paddling policy for sexting, implemented nationwide, would cut down on the amount of young offenders. These pictures give a good peek at the area of the body requiring some discipline.
[ Wednesday, August 04, 2010 ]
Sorority Paddling and Spanking for Fun
Sometimes spanking is just fun. I prefer it as a disciplinary punishment, but all of these folks seem to be having a good time with it, so who am I to judge?
Two girl school corporal punishment
Two of our newest and cutest models feel the sting of the strap and the wooden paddle at the hands of Miss Betty. From recent updates in the member's area of RealspankingsInstitute.com.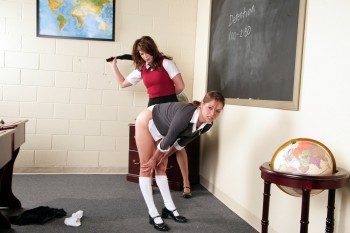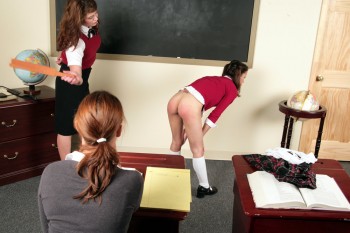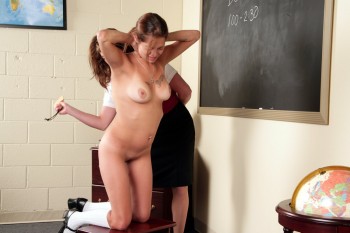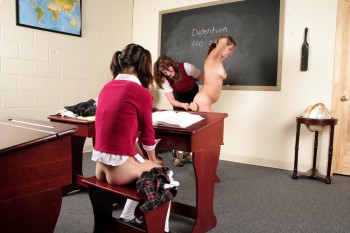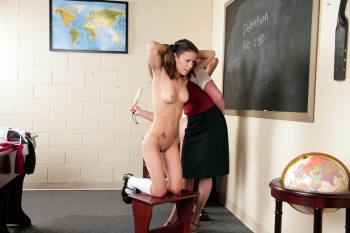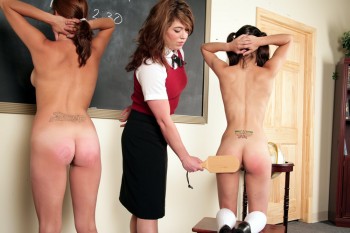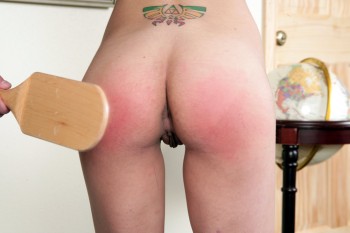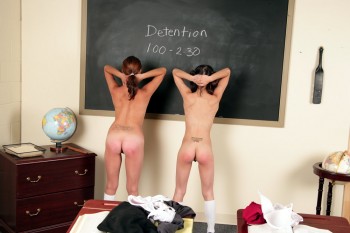 [ Tuesday, August 03, 2010 ]
Realism is spanking pictures
It is a little funny in the fact that over the years I have always tried to produce realistic spanking content, that is, spanking content that is real as we can portray between contensting adults. But as I browse the web, I find the most realistic feeling spanking photos are the ones in which faces are not shown, or there is a little ambiguity as to what is really happening. I guess a tiny bottom also seems to help a little regarding content that is more realistic. Here are some pics that make my point for me...which is maybe I need to start cropping heads in the photos I take.
How I spent my summer
Greetings. We are getting close to the season in which I work full-time...I should be back at work full-time by the last week of this month. While I spend much time with my duties at home during the summer, which results in little blogging or time on the forum, it does not mean that I have not been blistering bottoms. Over the next few days I will catch you up a little on some of our recent shoots, new models, and even a new automated spanking machine. Here is an example, based on a specific request from The Forum.