Bare bottom paddling they will both remember
Scenes three and four from today, to be posted in the member's area of Realspankings.com. Not much of a storyline for these two videos. One at a time, each girl is made to wait with her pants and panties around her ankles, with the paddle to be used on their bare butts in their hands.
While there is no stated offense for Monica's paddling, off camera I let her know that this was her 2nd shoot in a row to be more than 5 minutes late for. Her and I have a long history and she knows better than to make myself, another model, the director of photography, and Betty sit around for any amount of time waiting on her. When you see the video, there will be no doubt in your mind that I meant business. Her bottom is bruised and sore when I am done with her.
For Lila's paddling, it was all about testing and exploring limits. This is only her second shoot with us, but I have let her know that I am grooming her for greatness. While the previous strapping she took earlier in the day was fairly rough, nothing tests limits like a wooden paddle. However, she was 15 minutes early for her shoot and did not get it quite as bad as Monica. But, as you can see from the pics below, she will be sitting on a bruised bottom for days to come. I was not sure she was going to get through it and she has the most unique verbal responses to a severe spanking. I assure you her reactions are quite real, I think her purple bottom proves that point.
Once again, both of these videos will be added to the member's area of Realspankings.com in the coming weeks. I am slowly phasing out the Coach and Miss Burns content (which we still have much of) and beginning to supplement with our latest and greatest work. I still have three new models that we have hired that have yet to shoot for us...their first shoots will happen in the first few weeks after Thanksgiving. Here are pics from today's 3rd and 4th scenes: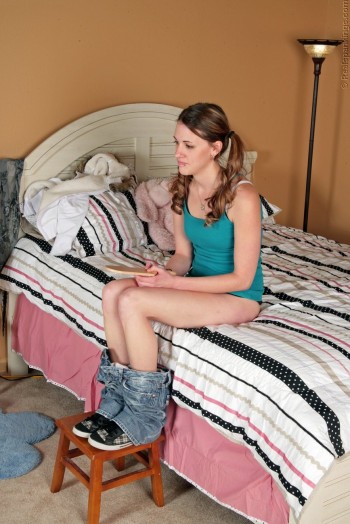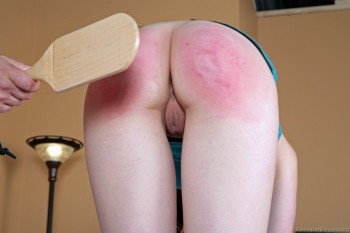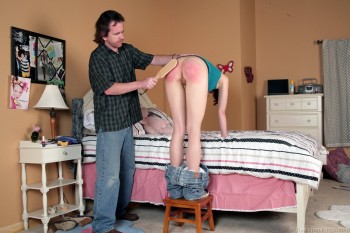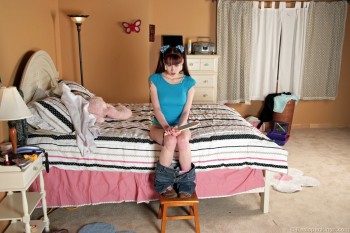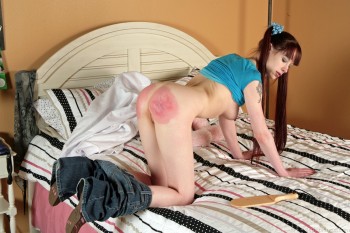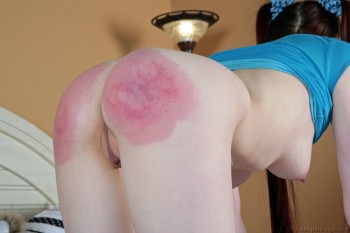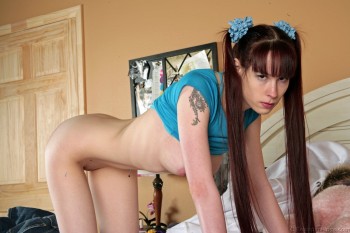 Comments:
Looks like a great shoot, Michael.
One suggestion -- those shirt colors are SO close to being the same, it confused me for a while. (Yes, one is tank and the other is short sleeved -- that's how I finally figured out who was who, in the long shots where their faces aren't distinct.) Might want to advise costuming next time that they are not twins being dressed identically by their mother.
I was a bit surprised that Lila was challenged by this paddle, when it's your distinctive "handle thicker than the blade" school swats paddle that's designed to be a bit lighter and thus enable longer paddlings, whereas the paddle you used during her FIRST shoot was full thickness. I guess you paddled longer and harder this time?
I'm also surprised how large the bruise marks are on Lila's butt. I know it wasn't because you moved the swats around. Because of your healthy respect for the power of the paddle, you always keep it on the same spot (between the crest and sit spot). I assumed that on girls with a plumper butt, the bottom would spread out more under the paddle, leaving a larger bruise, but with a very lean butt like Lila's (made all the leaner by being bent a full 90 degrees) the paddle couldn't sink in as far (the bone isn't that far under the surface) and the bruises would be smaller and darker. I appear to be wrong.
Thanks for the photos and the report.
Super hot! These girls look really great. Can't wait to see more of them. Any chance of reviving bi-spanking with them?
Quite lovelyyyyy model--goodness! I'm also digging the real bedroom, adds a lot of authenticity.