The Spanking Blog
This is an adult site dedicated to the exploration of spanking between consenting adults. The main focus is on disciplinary spankings portrayed in various spanking videos and pictures, with sample pictures and reviews of the spanking content. The most recent blog posts appear below, and the free spanking picture galleries on this site can be found on the menu on the left. All spanking content on this site is free, and any link leading you outside of this site is clearly labeled as such. You must be 18 years or older to view this site.
[ Sunday, November 19, 2006 ]
Asian Discipline
Alright, it's official, I am moving to Japan

.
japanese_corporal_punishment_picture.jpg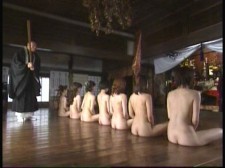 [ Saturday, November 18, 2006 ]
Serious Paddling in fraternity and sorority houses
Let's face it, most of the fraternity and sorority paddling pictures that I post, show young ladies being paddled in somewhat of a festive atmosphere. Before the first paddle swat had landed, generally the paddler and the person being paddled have smiles on their faces. As you are probably aware of by now, I tend to see the purpose of spanking and paddling to be for discipline. As a result, I am most attracted to the photos that have a feel of a punishment, or at least that of the paddler taking their job seriously and the person being paddled looking nervous or unhappy about the pain their bottom is about to feel.
A good example is the young lady below. Everyone in the background is smiling and enjoying what is about to happen. She is bent over, presenting her bottom, with someone holding her hand for comfort, but she looks less than thrilled. Something tells me that she has a little experience with being spanked, because unlike most sorority paddling photos, you can tell that she knows exactly how her poor bottom is about to feel.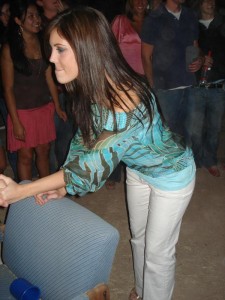 Regardless of the expression on the face of the person waiting to be paddled, I also like to see a very focused look on the person swinging the paddle. Realistically, you would hope any person that is about to swing a very large board and hit someone's butt with it, full force, would be paying attention to what they are doing. The paddler in the next two pics is doing exactly that. She is holding an extremely long and very thick paddle and she is very focused on the task at hand. It is clear that she is not about to apply a fun little tap for the sake of the camera. In the first picture, with a two handed grip, you can even see her getting her hips into the swing, much like a swing meant to hit one out of the park. I have no doubt that the young ladies she paddles in these pictures were able to see visible results from this paddling the next day.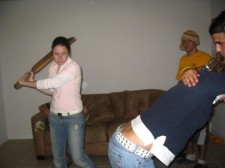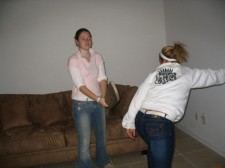 I have posted these last three pictures before, but thought them to be worth another viewing. These have been favorites on my blog and for good reason. These pictures demonstrate everything that I discussed above. There is no doubt that the paddler seems very serious about making a very real impression on the upturned bottoms before her. Time has been taken to make sure these sorority girls assume a proper and safe position. There are no crowds, no one is smiling, and it does not seem like it is being done for the benefit of the camera. It seems more as though it was decided that these young ladies earned a good hard paddling and they were taken outside and paddled by the most capable paddler. While I may be reading too much into it, this is the type of sorority paddling that I like to see the most.
pledge_punishment_paddling1.jpg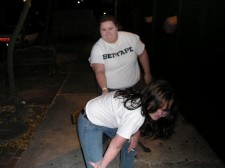 pledge_punishment_paddling2.jpg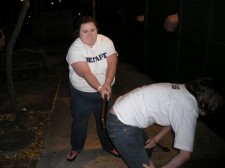 pledge_punishment_paddling3.jpg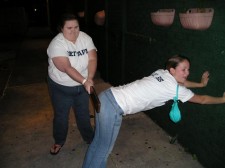 [ Friday, November 17, 2006 ]
Fair is Fair
I try to hold myself to decent standards when it comes to what pictures I will and will not use on my blog. First and foremost, I do not use pictures that come from a pay spanking site without credit and a link to the producer. In the blog world, I had previously felt that there were some unwritten rules. Specifically, if someone found a picture, such as the sorority paddling pictures that I introduced to the spanking world, other bloggers would not use this picture without at least crediting what blog they got it from. Clearly, I did not take any of the sorority paddling pictures I have featured, but I think everyone will admit that the great amount of candid paddling pictures, for the most part, were first noticed here. I have seen that in my absence, these pictures have become widely used on other blogs, that used to respect the unwritten rules. In addition, I have actually seen entire websites spring up entirely from these paddling photos. All the pictures that I posted have been resized from the originals, so it is easy to tell if the pictures were taken from my blog. In addition, it seems that bloggers are going a bit crazy now days with copyright infringement and I am seeing photos from my paysites being widely used without credit being given. This means two things. First, it is time to get the lawyers back into action, it seems I will have to start shutting down websites and blogs again. Secondly, if I find photos that I like and want to use, on a blog that is using my content or pictures that originated from my blog, I will not be giving credit to where I found the pictures. I guess everyone thought I was gone for good and it was time for a feeding frenzy, guess again. For those of you out there using uncredited pictures without permission, get ready, my legal team is cleaning their guns.
Bottoms of the week
It takes a little time to punish the bottoms of 19 naughty Asian women. I suggest taking a little break after completing the first row, and then moving down the second row with a renewed energy. It may take a few passes down each row, but do whatever it takes to get the point across.
japanese_bottoms_waiting_to_be_spanked.jpg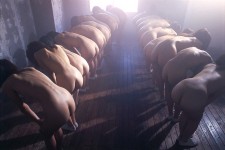 Let's catch up on some sorority paddling pictures.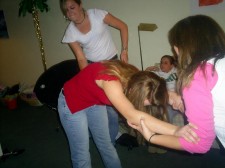 Many of the sorority paddling pictures I have posted come from the cermony in which the "Little Sister" gives her "Big Sister" the paddle she has made for her. Traditionally, a single swat is exchanged between the two sorority sisters and nothing more. But in some cases, in which we may never actually know more than we see in the pictures, some girls are paddled by several different members of the sorority. This sequence is nice for a few different reasons. First, I really like the fact that one girl holds the other in place during the paddling. The second feature is that it appears that the girl with the green shirt, is paddled by every girl that is visible in all of the pictures in the set. Was she just a pledge that found herself in trouble? Maybe she just likes to be paddled? I guess we will never know. Click the "MORE" link for the entire set of paddling pictures.
[ Thursday, November 16, 2006 ]
The Truth
Alright, I guess all of you out there deserve at least this. As you know, I have put myself out there more than your typical spanking site owner. I have tried to give you considerable insight into the industry and a pretty honest peek at various aspects of my life. With this comes a little fear...it was not all that long ago that I was completely in the closet in regards to my fetish. But, there are certainly many things I have tried to keep very private. But with my long absence, there has been some speculation as to where in the world I went. I even read a post in my comments that stated that I had gone to jail. Well, it is time to just let this one out of the bag and hopefully not have to bring it up again. Awhile back, J and I increased the size of our family. We were in a place in our life and our business that allowed us to step away and just be parents and nothing else. I am taking it slow with my return, but felt you all deserved an explanation. Keep checking the blog, the updates will increase as I start a path back to full-time work. I have turned off the comments for now so I can catch up on all of the spam comments that have overrun the blog. I have big plans for the blog and along with my regular updates, you will begin to see it expand in its content and scope. Please spread the word that this is once again a site worth checking out.
Feeling the severe sting of the sorority paddle
While sorority paddling pictures seem to becoming more common on the web today, clearly many of them are posed. In the pictures below it is very clear that these young ladies will be waking up with bruised bottoms in the morning. Enjoy!
reactions_to_being_paddled1.jpg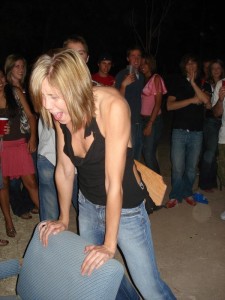 reactions_to_being_paddled2.jpg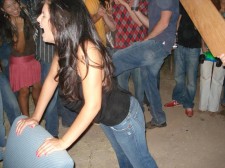 reactions_to_being_paddled3.jpg