Serious Paddling in fraternity and sorority houses
Let's face it, most of the fraternity and sorority paddling pictures that I post, show young ladies being paddled in somewhat of a festive atmosphere. Before the first paddle swat had landed, generally the paddler and the person being paddled have smiles on their faces. As you are probably aware of by now, I tend to see the purpose of spanking and paddling to be for discipline. As a result, I am most attracted to the photos that have a feel of a punishment, or at least that of the paddler taking their job seriously and the person being paddled looking nervous or unhappy about the pain their bottom is about to feel.
A good example is the young lady below. Everyone in the background is smiling and enjoying what is about to happen. She is bent over, presenting her bottom, with someone holding her hand for comfort, but she looks less than thrilled. Something tells me that she has a little experience with being spanked, because unlike most sorority paddling photos, you can tell that she knows exactly how her poor bottom is about to feel.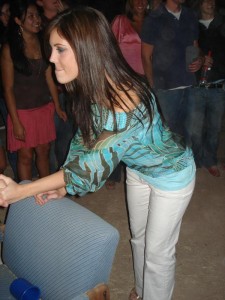 Regardless of the expression on the face of the person waiting to be paddled, I also like to see a very focused look on the person swinging the paddle. Realistically, you would hope any person that is about to swing a very large board and hit someone's butt with it, full force, would be paying attention to what they are doing. The paddler in the next two pics is doing exactly that. She is holding an extremely long and very thick paddle and she is very focused on the task at hand. It is clear that she is not about to apply a fun little tap for the sake of the camera. In the first picture, with a two handed grip, you can even see her getting her hips into the swing, much like a swing meant to hit one out of the park. I have no doubt that the young ladies she paddles in these pictures were able to see visible results from this paddling the next day.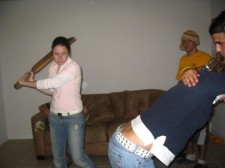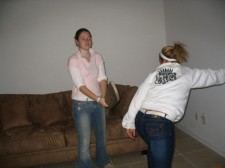 I have posted these last three pictures before, but thought them to be worth another viewing. These have been favorites on my blog and for good reason. These pictures demonstrate everything that I discussed above. There is no doubt that the paddler seems very serious about making a very real impression on the upturned bottoms before her. Time has been taken to make sure these sorority girls assume a proper and safe position. There are no crowds, no one is smiling, and it does not seem like it is being done for the benefit of the camera. It seems more as though it was decided that these young ladies earned a good hard paddling and they were taken outside and paddled by the most capable paddler. While I may be reading too much into it, this is the type of sorority paddling that I like to see the most.
pledge_punishment_paddling1.jpg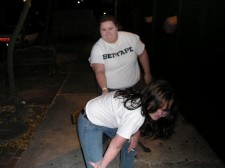 pledge_punishment_paddling2.jpg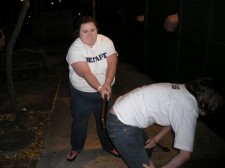 pledge_punishment_paddling3.jpg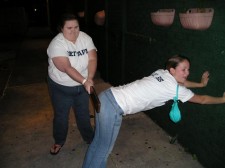 Comments: