Paddling Pass
I thought I would give you a brief update of all the paddling action you would be seeing if you had the Realspankingspass.com. As you all know, I am a big fan of paddling content, so as you would expect, there tends to be a lot of wooden paddles hitting bottoms on my various sites.
All of the pictures (and the videos that go with each of them), and the sites listed below are all part of the Realspankingspass.com, or each site is also avialable individually.
From Bispanking.com
Claire looks on as Jasmine's bottom is paddled in the classroom for not turning in her work.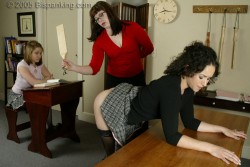 Mr King serves as a witness as Jessica bends over for some very serious licks.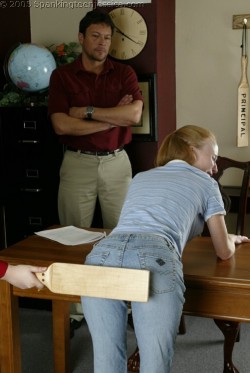 From RealspankingsInstitute.com
Kailee's bottom shows the mark of the paddle and Michelle patiently waits her turn to be punished.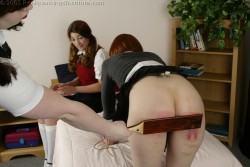 Brandi's school girl skirt is raised and her panties dropped, for a long session with the small and thick paddle.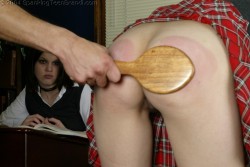 From Realspankings.com
Miss J makes an appearance to assure that both bottoms see the proper amount of bruising with the school paddle.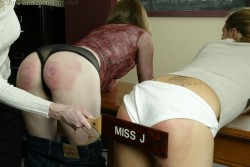 Check out Realspankingspass.com today for access to all five sites at a discounted rate.
Comments:
Well Done, Now this IS what I'm into!!!! ANY interested Daddies/Mommies/BIG Brothers&Sisters please reply; maybe we can get together for some SPANKing good fun

:-!!!
Hello Mr. M,
I was wondering if you could tell us more about
Miss J. I have seen her in action in some of your videos and I must say that she is excellent! She knows how to handle men and administer spankings in a firm but yet sensuous manner. She is the best female dominant I've seen yet. I might even consider doing a video with her! Well, start talking and tell us about Miss J!
Hello Mr M.
I am a member of realspanking. In a number of the videos you talk about a chat room or a forum however I can not find this site. could you send me the web site please.
Thank you
Krazy
Hi Krazy,
The site is
http://www.worldspankingforum.com/
, you can access the chat from there as well.
Cheers,
M