Catching up with Firmhand
It has been a little while since I covered any of the content that I have been enjoying over the past several weeks. There is so much to get to, so I guess I will start with Firm Hand Spanking. I have mentioned before how much I like Samantha Woodley as a spanking model. She has such a cute look and seems so innocent. They have been changing things up a bit, so in addition to having her wonderful bottom smacked, she is also seeing some time administering spankings as well.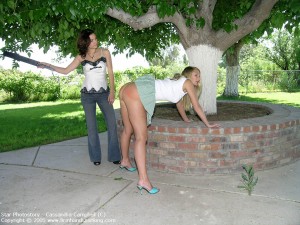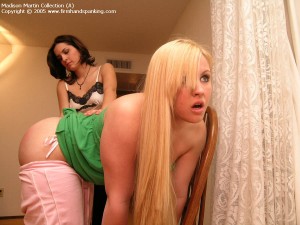 But don't be alarmed, there are still many updates that feature her gettings her bottom smacked. In fact, five of the last six updates featuring her involved the wooden school paddle or a hairbrush. The last update we are treated to her having her bare bottom paddled, while topless, and in front of a witness.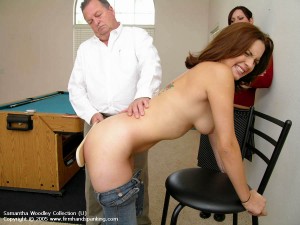 You can check all of the recent updates, as well as watch the videos to go with these scenes at Firm Hand Spanking
Comments:
Firm hand needs to fly Lady D and Mr. M, down there for a week...in order to teach their spankers how to use implements a bit more safely and properly. That one chick is rapping the shit out of her spankee in the top pic here. You can see a nice long red mark on the spankee's right hip.
Thanks for the great pics here Mr. M.
Very nice!
Razor
Thanks for turning me on to Samantha. She and donna just might be prettier wincing (?) under duress than their normal natural beauty! Also love the nadine sorority series as well.
The BOTTOM LINE is that FirmHand does excellent work. The models are as tough as they are georgous and the photography is incredible! I must admit that there is something to be said for Mr. Lyons voice as he is one serious male dom. Catching up with FirmHand will not be an easy task for the Real Spankings Institute but they differently have the talent and motivation to do so! With Masterson's leadership and direction it will eventually happen in the near future-you can count on that!
MJ