New Free Spanking Videos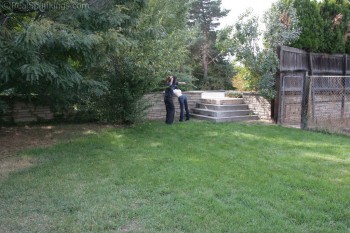 For those of you who have not looked at our work recently, I thought I would point you towards some of our new free videos. As most of you know, I returned to full-time production in early 2009 in our newly built studio. This was a return for us to the early days in which I was involved either on camera or off in all aspects of our spanking production. After a couple good years in our new studio, I grew tired of this space and the dealings with the owners of the building. I saw this as an opportunity to move into a new space, a 8000 sq. ft. estate on three gated acres. This new property is large enough to have all of the sets we ever dreamed of, not fake rooms intended to look like a real house. In addition to a pool, hot tub, wood shed, and every outdoor set we could ever dream of, we now have a fully functional kitchen, many bedrooms and bathrooms, a locker room, gym, and a brand new learning lab for the Institute and much more. We have not changed out the samples on Realspankings.comfor quite some time, so I thought I would highlight for you some of our recent work. These are not trailers or highlights; these are full clips direct from our member's area. These clips show you some of the work from the last studio and some of our most recent clips from the new estate. In addition, we now have MP4's which are viewable on your IPads and IPhones. Our member's area also has full flash clips which are viewable on newer smart phones such as the Droid, that have Flash support. Finally, we have just upgraded all camera to full HD. This means that we will soon be offering true HD at 1080P with encoding up to 3000KBPS. This means better than DVD quality and at full screen, even on your TV. To take a look at some of our most recent work for free, please visit the free videos area at Realspankings.com. Here is the link:
Realspankings Newest Free Videos
Comments:
A whoodshed ? Who is going to be the first one taken there for a good belting
Hi Michael
I found your new video's on Realspankings yesterday and was VERY pleasantly surprised! I had all but given up on this website as the photos are okay, but the videos remained unchanged for years?
My thinking was that if the videos were so old, what was the rest of the website like, and I kept away!
I have enjoyed the maid video so much that I am planning on joining the site - is their more of that girl in maid uniform's or anything else for that matter? She is absolutely gorgeous!!
Thanks for the updates!
Grant
Hi Grant,
That model is Sophie and she is featured heavily on RSI and RS, she is one of our regulars and shoots 3-6 new scenes a month with us. She is into the scene and loves being spanked. Some of our greatest new videos feature her.
Cheers,
Michael Masterson