Three Girl Spanking
I had much fun in a recent shoot for both Realspankings and RSI. It is always great when we have multiple girls in the studio and on this day we had Betty, Sophie, and our newest model Frankie. They are all a joy to work with and life is always easy when all girls enjoy being spanked. This allows us on the spanking side of things to relax a little as we do some of the harder scenes. On this day we filmed 9 separate spankings, strapping, and paddlings. We even did a fun little scene in which Betty taught Frankie how to administer a proper OTK handspanking with Sophie on the receiving end. Frankie was quite the natural and spanked very hard. I anticipate using her for future shoots on Women Spanking Men, which has been seeing a lot of new content filmed lately. Here are some pics from our three girl spanking day...enjoy!!!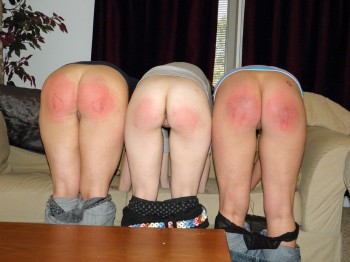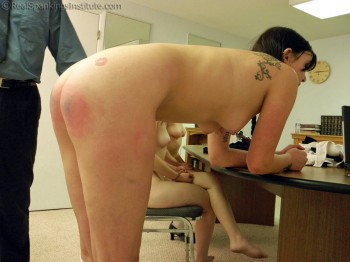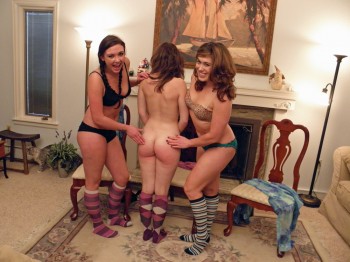 Comments:
I'm not as much into breast as into bottoms, but I like the array of titties in the second photo!
I love the pic with the girls in their knee socks! So sexy!
Will
Thanks for the photos. Looks like a good time was had by all. This may be an odd thing to mention -- it certainly wasn't the FIRST thing I noticed -- but I gotta love the socks in the next to last photo. I know the studio provides many of the costumes, but I always figured the models brought their own socks. So did that splendiferous display happen purely by luck? Well, luck plus the temperature in Colorado in the winter, which pretty well guarantees SOME form of warm sock will be in the wardrobe.
I did indeed supply the socks, glad to see they are liked...we will use them again.
Cheers,
M
Great photos. But why isn't Sophie updating her blog?
A triumvirate of hawtness. The last pic is especially super cute and awesome.
Kneesocks - hot
Bare boobs - hotter
3 well spanked bottoms - hottest