The Spanking Blog
This is an adult site dedicated to the exploration of spanking between consenting adults. The main focus is on disciplinary spankings portrayed in various spanking videos and pictures, with sample pictures and reviews of the spanking content. The most recent blog posts appear below, and the free spanking picture galleries on this site can be found on the menu on the left. All spanking content on this site is free, and any link leading you outside of this site is clearly labeled as such. You must be 18 years or older to view this site.
[ Friday, August 26, 2016 ]
Severe Corporal Punishment PPV
Now available at Spanking Library.
For many of us that watch spanking videos, there is often one thing that really defines if we like the video or not…realism. It can be presented in many different ways, but in general, it is the severity of the punishment that shows us what is and is not real. I grow tired of the videos in which a young lady is getting a gentle handspanking and is screaming her head off like she is being beaten with a 2x4.
Today we are proud to announce the release of our video "Severe Corporal Punishment". These videos have all been hand selected by me as ones that I feel show spankings as they are intended to be…as a means to discipline a young lady and change her behavior. You will see no warm-ups, no acting, just strict and severe corporal punishment being administered very hard from the beginning to the end. There are lots and lots of tears, bruised bottoms all around, and at no point will you think that any of these young ladies are acting. This is the hard stuff, for those that like such things, and filmed for pay or not, none of these young ladies will be sitting down any time soon.
This video includes 16 different hard corporal punishment scenes featuring 11 different models. In the over 80 minutes of this video you will watch as real corporal punishment is applied with the intent of changing the actions and behaviors of naughty girls. This video features a lot of the use of a heavy wooden school paddle, as that is how real lessons are learned, but also includes strict discipline with the wooden spoon, Tawse, prison strap, and hairbrush. These are all new scenes, filmed in 2016.

Sweet-Reverie
Since I am highlighting new models today, this next model really requires her own post. Earlier this year we interviewed and hired an absolute superstar model named Reverie. She is so amazing, that after her first shoot, the cameraman and I simply looked at each other and pretty much simultaneously said "Wow"! I then said, "I am pretty sure I could marry that girl", and he replied "get in line". We get a lot of amazing models in here, but it is rare when you get such beauty, grace, intelligence, and full blown kinkster all at the same time. She is a full on lifestyle girl, and loves everything to do with spanking, discipline, submission, and service to her man. I asked her in her interview out of all of the kinky stuff she loves, if she could only choose one, what would it be? Her answer was anal, as its only purpose is for the pleasure of another, and not herself. She LOVES to be spanked and requests to be caned every time she walks into the studio. She loves for her spankings to be purposely exposed and embarrassing and wants to be put on display for our viewing pleasure. She is a social media superstar on Fetlife, with almost 20,000 followers (about 19,000 more than me). While she does modeling photos, we are blessed to be the only ones shooting her on video. All of her videos are quite severe, as she really wants to go home with a very bruised bottom, and after each and every one I catch her in the dressing room checking out her bottom in the mirror and snapping butt selfies on her phone. If you have not watched her videos, you owe it to yourself to take a look. Here are some samples from her recent work in the member's areas of Realspankings.com and RealspankingsInstitute.com.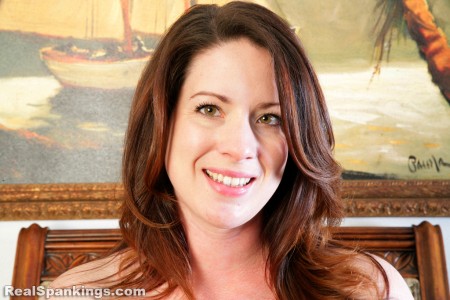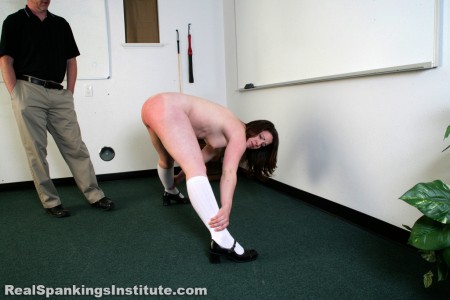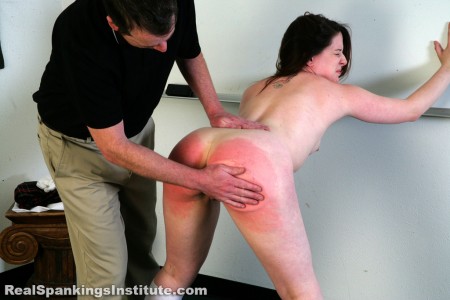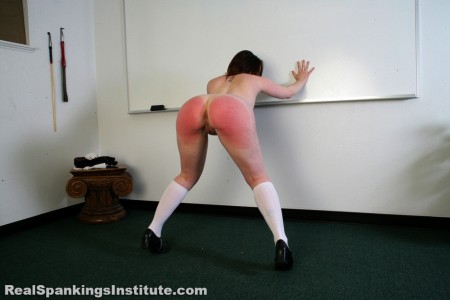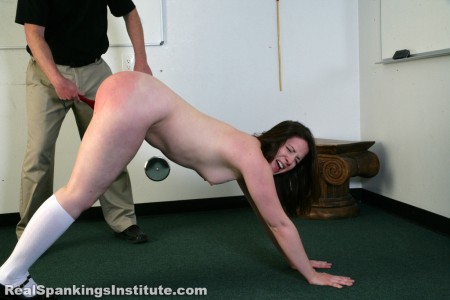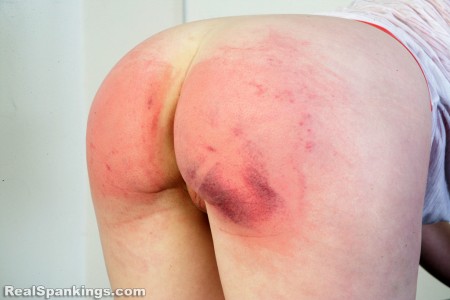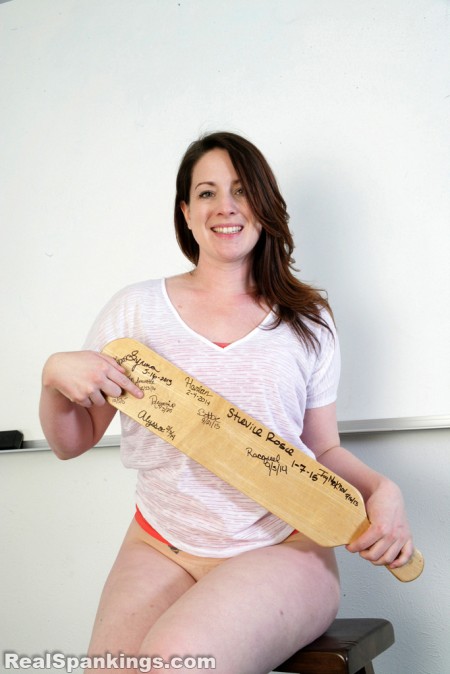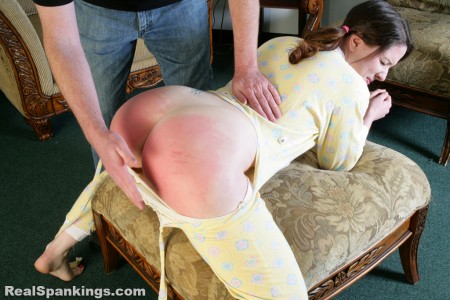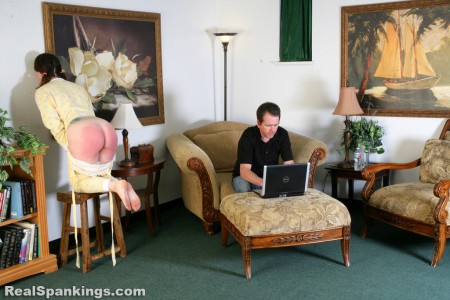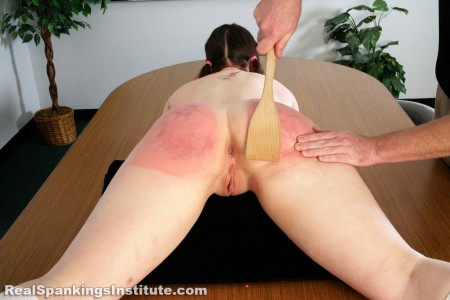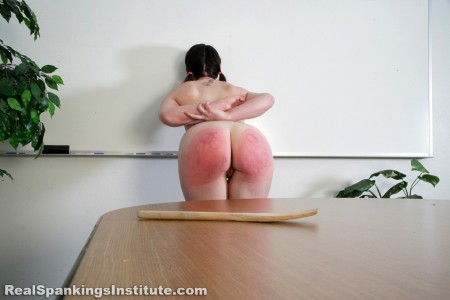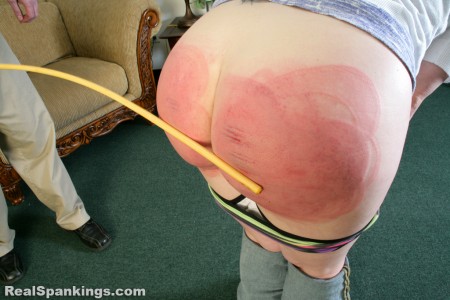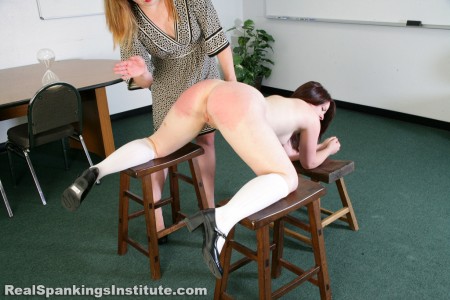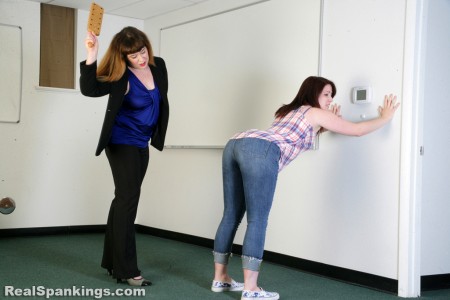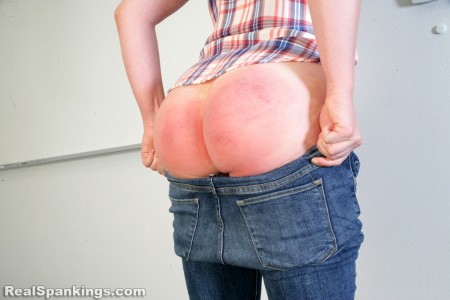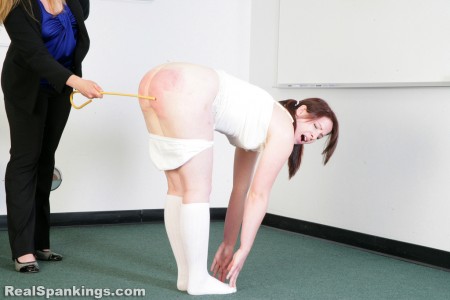 Fresh faces and new spanking stars
We have always been known for having such a wide variety of models for all of our sites, and I have to admit, are model pool was getting a little low, and while we had some great stars, it seems you all wanted to see more of a variety. I have received so many emails asking for new models that I changed my approach to hiring. We still get new models from our tried and true method but I decided to branch out. I became much more active on the social sites for kinky folks as well as started attending large scale spanking events. This has led to me meeting so very many young ladies that are really into being spanked, and may or may not have done it on camera before. I am pleased to announce that in 2016 alone we have added 17 new models to our sites. Today I am going to highlight 8 that we have hired and shot with in just the last four months.
Meet Stella. She is quite the kinkster, and while enjoys being spanked on some level, it is not her primary kink. She is quite active in the fetish scene and is one of the cutest kitties around. She can take a pretty hard spanking but seems to cry just about every time. We have found her to be a wonderful addition to the sites.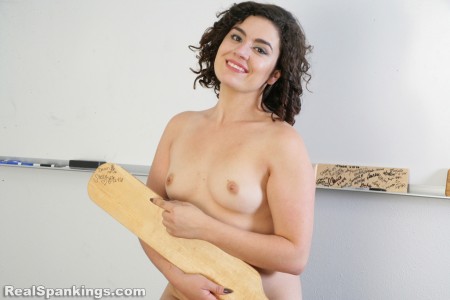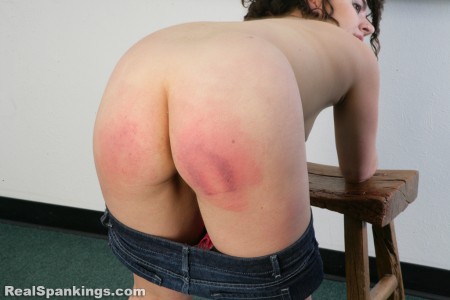 This next model came to us as a total surprise and probably the first model to ever be hired without an interview. She tagged along with her friend Summer, who we had hired and came in for her first shoot. As it turns out, Daisy is a hard wired spanko with a huge desire to be disciplined on a regular basis. Not only did we hire her on the spot but we granted her request to be harshly caned, on her very first day, with a dragon cane of all things. You are going to love this girl.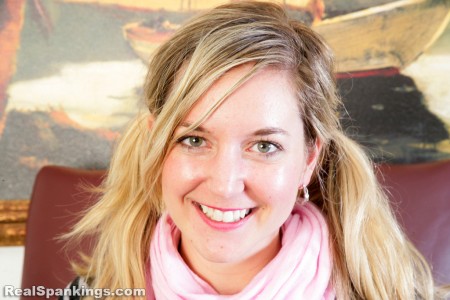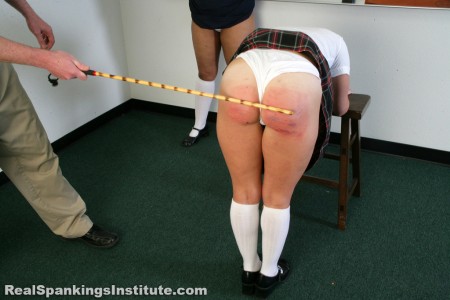 I met Summer at an event in Vegas and got to know her. I quickly realized two things, there are very few people in the world with a more powerful desire to be spanked than her and there is no one as sweet. After watching her take an at least 10 minute long session, with a giant leather prison strap, I knew we needed her. This girl can take a spanking and then spend the next 5 minutes lighting up the room with her smile.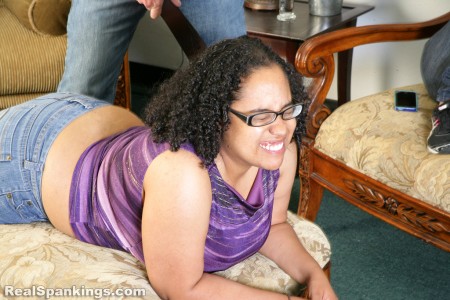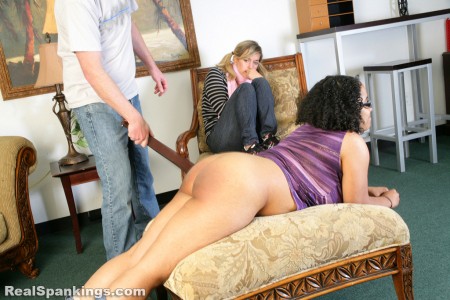 While in the past I have mostly stayed away from hiring known industry models, after having the pleasure of getting to know several of them this year, and becoming friends with them socially, it just seemed like a good fit in a few cases. I met Harley and Maddy at an event in Vegas in February and was not aware of their work in the industry. While I did not know they were spanking models, I certainly noticed them quickly at the party as they are so beautiful. I was able to watch Maddy, do what had to be a 20 minute scene in which she was double teamed from both sides with prison straps. When that was done, she was then caned for a very long time. When I say "scene" I am not talking about some paid or on camera. This was just her and a couple of friends having fun on a Friday night. I could not help myself and gave her my card. Harley and Maddy are besties with the lovely Alex Reynolds and they all decided to join me for a day of shooting and brought along the talented Princess Kelley May as a guest spanker. What a great day and you will be seeing much more of all of them.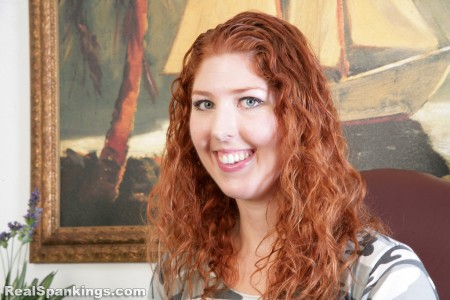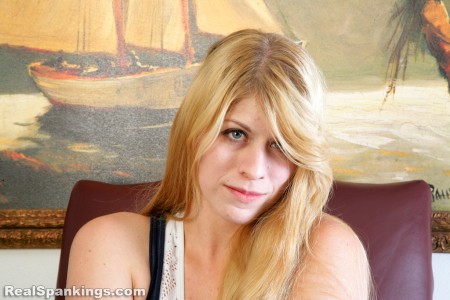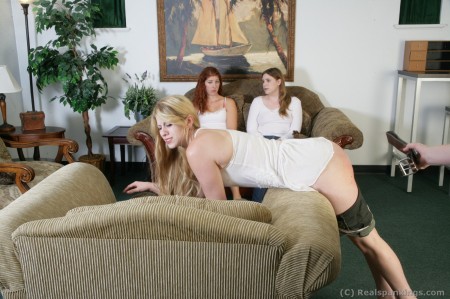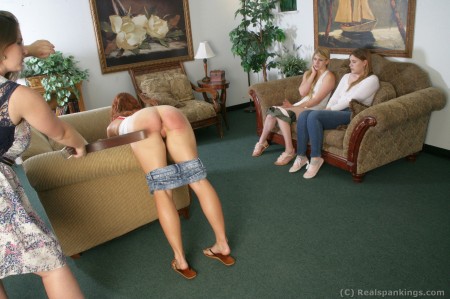 A good friend of Stella is the lovely miss Kitty. Based on their mutual kink it is clear that they both would make good pets. Another fun aspect of having them in the studio is that they hate to be dressed and pretty much just stay naked the whole time. Miss kitty is full of fun and fire and I think you will enjoy her scenes.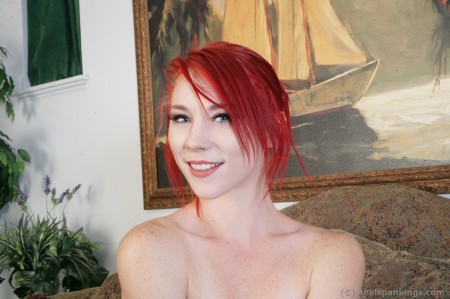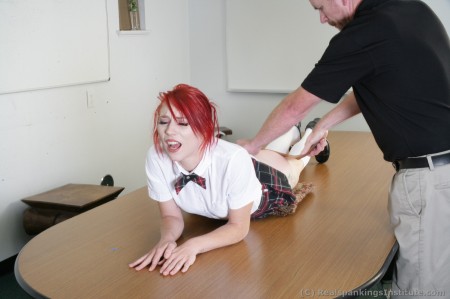 My good friend Joe, someone not in the industry, but is pretty much king of the spanking social scene, is the person who talked me into attending my first National spanking event this year, his private party in Vegas that takes place every year. When he dropped into Denver a few weeks ago, he asked if I might be interested in shooting with his amazing friend Kenzie. I started up a conversation with her as a result and soon she was in our studio. This girl is a hard wired spanko, but actually received her very first spanking this year. She is wasting no time in jumping right in and she is just such a pleasure to be around. She is beautiful, amazing, has a smile that lights up a room, and is such a joy to be around. In addition, this girl can take a spanking like champ and come back and ask for more. I have a feeling we are going to start seeing a lot of her throughout the industry.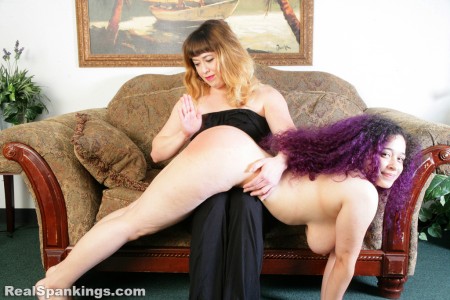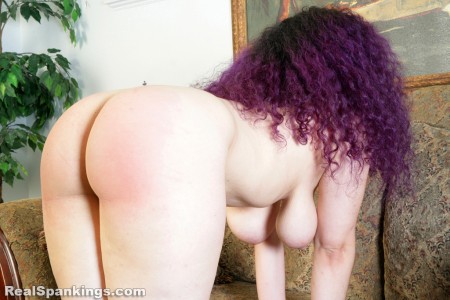 And now I am quite please to present to you miss Mable. It has been quite some time since THAT girl walked into our studio for an interview. She came to us for exactly one reason, she wants more spanking in her life, and I am not exaggerating. She is quite young, and is also married, but her husband as much as he is trying, is not quite giving her the punishments in her life that she requires. She is a little shy, but not when it comes to getting spanked. Her first day shoot was not the typical first day, and when we were done, she asked if we could maybe do something with a heavy wooden school paddle as well. Who I am to deny such a sweet young lady's request? I have put Mable on the fast track and she will be shooting more than just about any model for the next few months. You will be seeing so much more from Miss Mable, but here is a preview from her first day with us. We will see her again in just a couple of weeks.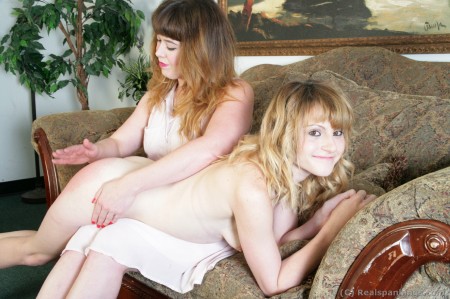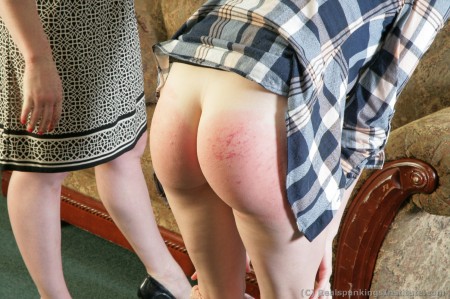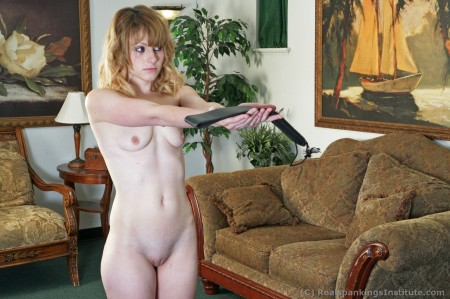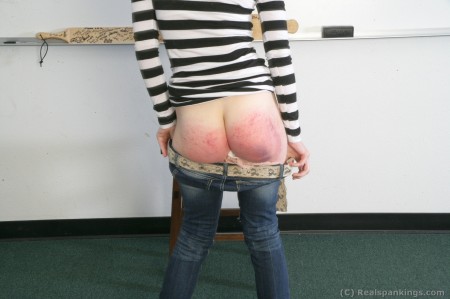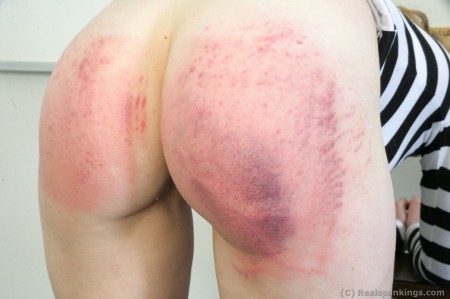 All of these new models currently appear in the member's areas of Realspankings.com and RealspankingsInstitute.com
[ Wednesday, July 13, 2016 ]
It's all about that thud
I find that thud is one of the most important elements when it comes to a punishment spanking. Yes, sting is an integral part of any spanking, and will generally accompany the thud at some level, but the real long term learning comes for as much thud as possible. Don't get me wrong, the goal of any punishment spanking should be for both to exist as we certainly want to set her bottom on fire. A leather implement goes a long way for providing discipline as long as it is actually being applied, but that sensation tends to fade fairly quickly within minutes after the spanking is over.
With an implement such as a heavy wooden paddle, or a hairbrush, there is the potential after several heavy swats for so much adrenaline and endorphin production to create an overall numbness. But thuddy implements such as these are more for long term learning than short term. Certainly those first few are going to hurt very much, but each one after is more for the benefit of a sore bottom over the next few days.
Ideally, the punishment will start with something that stings as much as possible and should be applied for a couple of minutes at least. We are looking to make that very moment in time as uncomfortable as we possibly can. But when that is over, if that is the end of the spanking, she will just be left with nothing but a warm glow. This is why something thuddy is essential. With a heavy wooden paddle we are able to go beyond just stinging her skin, we are able to bruise her bottom in a manner that leads to changes in behavior. Let's take a closer look.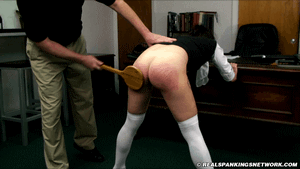 In this scene, poor Devon has been quite bad at the RealspankingsInstitute and clearly some discipline was required. This paddle is so very effective at providing the type of thud I am describing. With a round head, it is the perfect size to cover a good portion of her gluteus maximus with each swat. The paddle is oak, quite heavy, and a little more than ½" thick. This is not at all about the sting and all about the thud. It pushes the skin and fat out of the way and gets right to the spot we are looking for. After just a dozen of these we are assured that she will be sitting gingerly for a few days.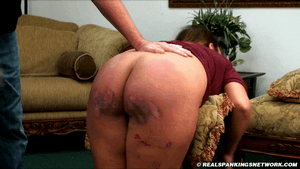 This is our newest model Bianca and I also serve as her disciplinarian. This is a real punishment session that was filmed and just went online at Realspankings this week. While she has a little extra paddling on her lovely bottom, you can see how the bath brush compresses her skin and is able to make contact with the muscles of her bottom. Each swat leaves a mark, and with my concentration on her sit spot, there is no doubt that this lesson will stay with her for several days.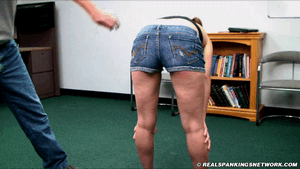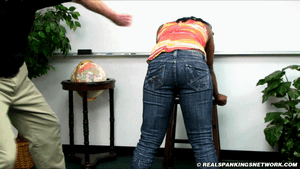 In these next two, we can see why school paddling is so effective as a disciplinary tool. Syrena, and new model Rylee, show that even when fully clothed, a nice thuddy paddle can still achieve results. In both cases, with a full force paddle swat, you can see the waves as the paddle digs deep and makes contact with the desired area. While the amount of overall sting is limited, you can tell from their body reactions that this is still an effective punishment. In both cases they were left with very bruised bottoms after only 10 swats. Sometimes black and blue is a requirement for a punishment, and even though not on the bare bottom, with the heavy paddle, we were able to achieve our goal. Both scenes are from the member's area of Realspankings.com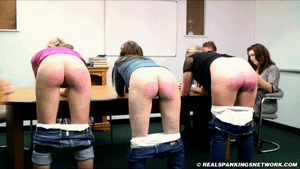 Even better is the opportunity to administer a school paddling on the bare bottom. For this Realspankings scene, all three girls are paddled on their bare butts in the teacher's lounge, with witnesses present. By this point I have already made several passes and you can see that there are bruised bottoms all around. A bare bottom paddling adds a great element of sting while still achieving long term soreness which was the goal.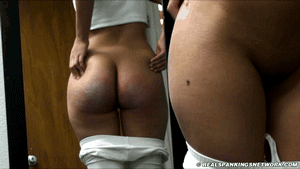 In the above animations we can see the exact result that can be achieved with a proper paddling. For this Realspankings scene, young Kiki is sent to the office for an intense paddling. The yoga pants do very little in the way of offering protecting so there is still a good amount of sting. However, as you can see, once she is back in the locker room, that we still achieved the desired results. She has deep bruising at the lowest part of her bottom and will be sore for more than a day.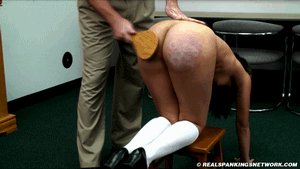 In this next scene, for RealspankingsInstitute, we once again have Kiki, and while I am not using a heavy wooden paddle, I have made adjustments to make it just as effective. By having her bend beyond 90 degrees, her bottom is pulled tighter bringing the muscles closer to the surface. This allows me to target the same areas that I would with a heavier paddle, achieving similar results. You can see that her bottom is reacting just as I would want, leaving her little bottom bruised and sore.
Remember, using a heavy wooden implement can be dangerous and is not for the beginner. Great care has to be taken to avoid the tailbone at all cost. But when done properly, a young lady will be left sore and sorry for days, assuring that a long lasting lesson is learned. All of these animations come from updates from the last few months at Realspankings.com and RealspankingsInstitute.com which together, currently have 4,285 scenes online.

[ Tuesday, July 12, 2016 ]
Female student paddled at school
Dress code requirements in school are put in place to make sure that the focus of the students is based on learning. Without these regulations, especially at the high school, clothing choices for both the male and female students quickly start getting out of hand. Guys walk around with their saggy pants and their underwear showing, while the female students' outfits quickly start getting skimpier and show off much more than is appropriate at school. Dress code violations are dealt with in various ways, but for many of the high schools in the South, corporal punishment is often utilized.
For many young ladies, such as the one below, she sees her clothing choice to be a right, not something to be governed by school policy. She is 18 after all, a legal adult, and old enough to join the military, vote, and even get a tattoo. It is exactly this attitude that leads to young ladies beginning to push the limit. On this particular day, her choice was made as she changed for gym class. For whatever reason, she made the decision to not wear a bra for gym class, and it was quickly obvious to the teacher in charge. As this is a coed class, he found her participation in the various activities to be quite a distraction to the boys in the class. Her nipples were clearly visible through the thin exercise top, and her breasts bounced around in a manner that was drawing too much attention.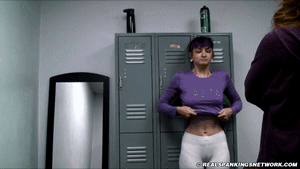 He pulled her aside and asked her why she was not wearing a bra, and she outright lied to his face and said she was wearing a bra. She assumed it would have to be left at that as there was no way that he could personally verify if a bra was being worn or not. He had her take a seat in the gymnasium and went and found a female teacher. The teacher marched her into the locker room for some privacy and required that she lift her shirt to prove that she had the proper undergarments. She was quite embarrassed to have to do so, but slowly raised her shirt and showed the female teacher that she was indeed braless.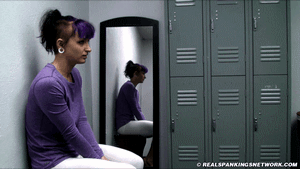 She was instructed to put her shirt back down and have a seat in the locker room. She had lied to him in the first place as she knew that dress code violations often lead to a paddling, and that was the last thing in the world that she wanted over her thin little leggings. She knew that things would now be worse as a result of lying right to his face. She waited nervously in the locker room for more than 10 minutes before he entered to join her. Just as she feared, he was carrying a very thick and heavy wooden paddle with holes drilled into it. He had very few words for her except that she needed to stand up, place her hands on the lockers, and bend over. While quite nervous about it all, she knew that this was not the time to argue, and she did as she was asked.
He informed her that had she been honest that she would have received only 2 licks with the paddle, but that as a result of her dishonesty, she would be receiving 8 licks, the maximum allowed under school policy. He told her to hold on and he got right to work. She was about to find out firsthand that his reputation as a heavy hitter with the paddle was not unfounded. She felt the heavy paddle touch her bottom for just a moment and then it all began. The first swat echoed throughout the locker room and sounded like a gunshot. It buckled her knees immediately and her eyes instantly began to fill with tears. Her hands slid down the locker as she tried her best to stay in position which certainly was not easy.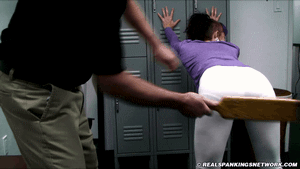 She was not sure how she could take any more, but it was not her choice at this point. The next paddle swat landed on top of the first one, on the lowest part of her bottom. The crack in the locker room reverberated and the pain became much more intense. Her knees once again buckled and the tears continued to build. Her reactions had no effect on his approach to the paddling. He knew from many years of experience yielding a paddle that lessons are not learned gently. She broke a very clearly defined rule, AND lied right to his face, so her bottom was going to pay the price. It never made any difference to him at all if he was paddling a male or a female. The intensity of a paddling was determined by behavior alone and her behavior required that he do the best job possible. He was confident that after 8 full force licks with the paddle that this little bra issue would never be a problem again.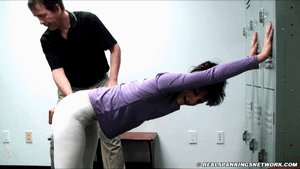 It took everything within her power to stay still for the entire paddling, but she somehow managed to do it. After the last swat landed, he told her to compose herself, get a bra on, and get back to the gym. She was quickly left alone with more than just her thoughts; she was now feeling a pain to her bottom like she had never experienced before. It throbbed so very intensely with each beat of her heart and even though the paddling had stopped, the pain seemed to grow.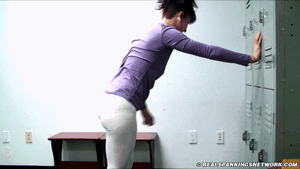 She rubbed her bottom for a moment as she tried to compose herself, and then gently pulled down her leggings to inspect the damage. She found that the lowest part of her bottom was hard to the touch. Her little butt cheeks had swollen up so very quickly. She pulled her panties to the side to reveal very deep and dark bruises and began to rub them intensely. It hurt to touch, but she somehow felt like she could rub the pain away, she did not have much luck.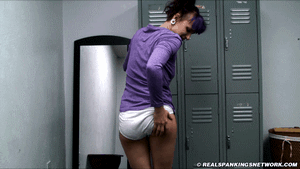 These animations come from the very intense paddling video in the member's area of Realspankings.com the largest producer of realistic school corporal punishment videos in the world.

[ Friday, May 13, 2016 ]
World Spanking Forum
Sorry for the delays, it took quite some time to rebuild and then recover the database. The World Spanking Forum is back and can be viewed here.
[ Tuesday, March 22, 2016 ]
Girls getting a good whoopin 2
In the new installment of our bestselling series, we further explore how corporal punishment is used in the real world. In this 1 hour and 10 minutes video, you will witness 10 different girls, in 21 different scenes receiving very real and very strict corporal punishment with a heavy leather belt. This series explores exactly how the teen girl in America is really punished at home. You will see the belt used as a very effective disciplinary tool in a variety of situations. You will see bottoms blistered over the jeans, pj's, panties, and on the bare. This is as real as it gets and tears are often the result. Each and every girl ends up with a red, bruised, and swollen bottom showing just how effective the belt is as a learning tool.
Now available at Spanking Library
[ Monday, March 07, 2016 ]
Lone Star Spanking Party
Well it is official, I will be going to my second spanking event, this time in my home state of Texas. Details below, I will see you there.
May 19-23, 2016 in Houston, Texas, Event Page Here

[ Thursday, March 03, 2016 ]
Reflections from my first spanking party
In 2002 I attended my first spanking event which was the Shadowlane party in Palm Springs. We went more for business efforts, launching at the time our first full scale production, "Road Trip" and the goal really was DVD sales and making industry contacts. I did not participate in any of the fun, attend suite parties, or really do anything spanking related. Well, I take that back, I gave exactly one spanking that weekend, it was late at night, in private, and Lady D asked me to give her a caning because she had never received an intense one before and felt it was important that she knew what the models experienced during a caning. But up until last weekend, that was the extent of my experience with "play parties", spanking events, or anything even similar.
People have found it surprising that I have never attended a play party, and I have found myself over the years trying to explain why. I think the main reason is that I have already taken something that I love and has been important to me since I was very young and turned it into work. I know, "waah, waah, waah, you spank girls for a living, please shut the fuck up about your problems". But my career path really has had a way of diluting something that is one of the strongest components of my sexuality. This is why outside of work I have kept spanking as something that I only engage in for disciplinary purposes. I have always been concerned that play parties would just further dilute this thing I love so much, plus, the disciplinary part of spanking does not exist at the level that I prefer when it comes to public spanking play.

[ Monday, February 29, 2016 ]
Awards
I was blessed an honored over this weekend to hangout with some of the coolest people I have ever had the pleasure of meeting. Thanks to Spankingblogg for the awards process that left me feeling blessed to have won Male Spanker of the Year, Website of the Year, and the Lifetime Achievement award.